A Healthy Festive Menu with a Twist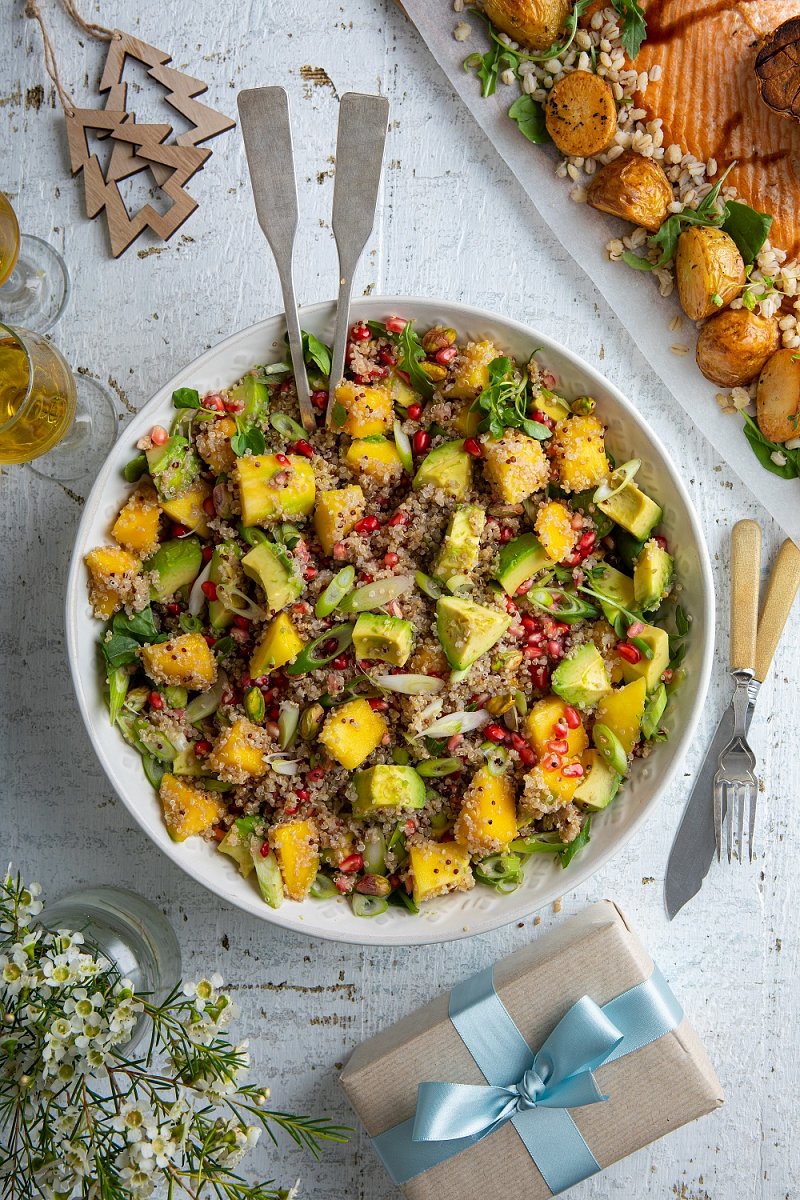 The festive period isn't normally associated with healthy eating, but it doesn't have to be this way! Many of the foods we often associate with Christmas (or Chanukah or the festive season in general) – think turkey, smoked salmon, potatoes, brussel sprouts, cranberries… are actually very healthy if used in the right way…. you just have to be creative!
Below I've used some festive flare to create a healthy flavoursome feast which uses some of my favourite festive ingredients…
Cauliflower is super low in calories and carbs, and amazing for gut health!  Salmon is jam packed full of Omega-3 fatty acids, which are vital for a healthy heart, brain and nervous system, as well as glowing skin!  Dark chocolate that is 70% cocoa or above is a rich source of anti-oxidants, whilst nuts are packed full of protein, fibre, healthy fats and many important nutrients.
So here's my Healthy Festive (or any time of year!) Dinner Menu with a Twist…
TO START
Dairy-Free Creamy Cauliflower Soup
You'll have a hard time believing this soup is so low in calories and fat, and totally dairy free.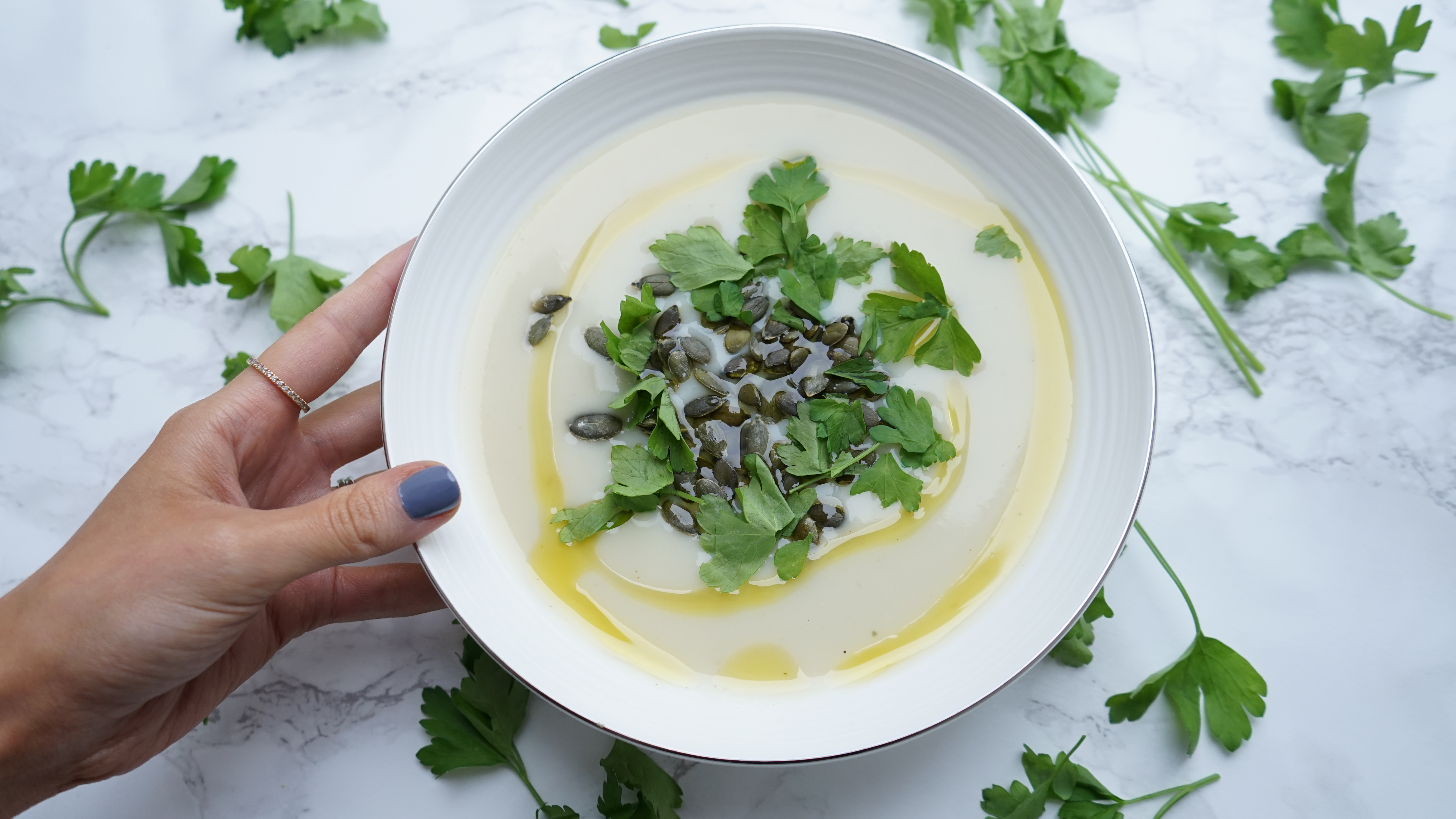 Ingredients
Serves 8
1 tbsp. olive oil
900g frozen cauliflower
 1 large onion, peeled and chopped
2 garlic cloves, peeled and crushed
1 litre of vegetable stock (made from MSG-free vegan stock powder)
230ml unsweetened almond/ cashew/ soya milk
1 tsp. sea salt
Freshly ground black pepper, to taste
Truffle oil, to drizzle
Pumpkin seeds or za'atar to garnish, optional
Variation: stir through a tsp. of ground turmeric and a sprinkling of curry powder for a delicious twist on this recipe!
Method
Heat the oil in a large saucepan and cook the onions and garlic until translucent. Add the cauliflower and saute for several minutes until cauliflower softens.  Pour stock over and simmer until the cauliflower is soft (around 30-40 minutes).  Blend with a hand-held blender.  Season with black pepper to taste and stir the almond/cashew milk through.  Re-heat until just warm.  Ladle into bowls and drizzle with truffle oil. Garnish with pumpkin seeds or za'atar to serve.
THE MAIN EVENT
Grilled Salmon & Baby Potatoes on a Bed of Greens & Barley
A showstopper of a dish that will leave your guests asking for more.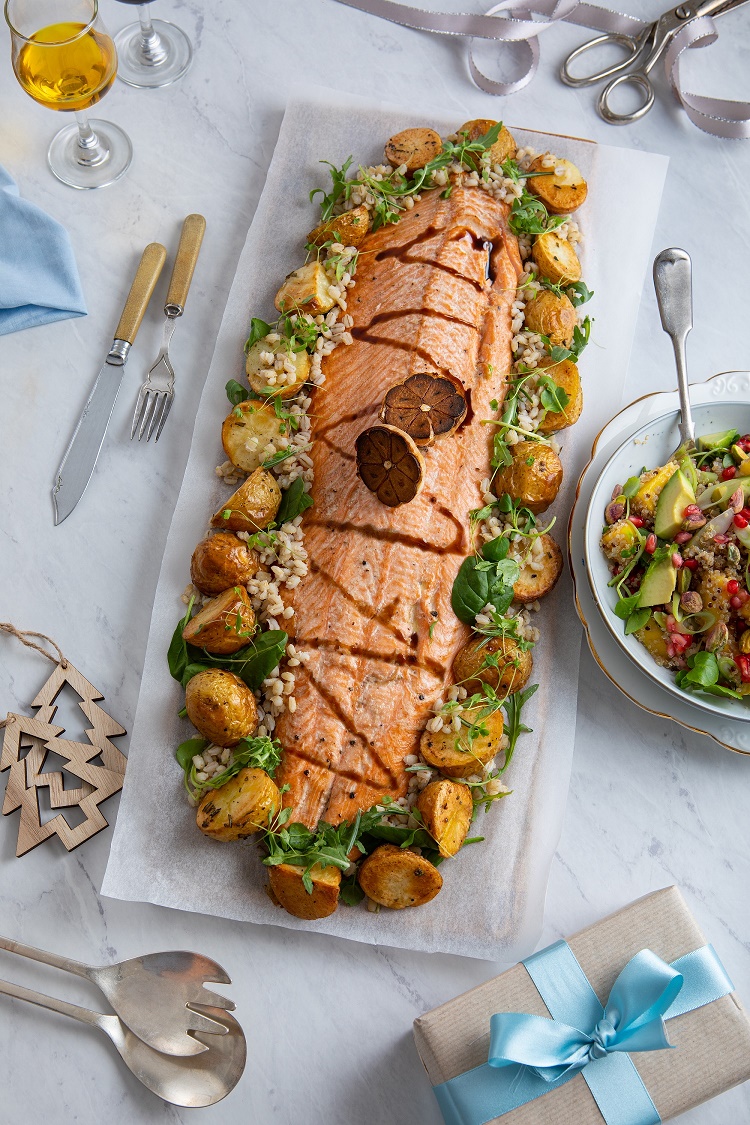 Ingredients
Serves 4-6
1 whole side of salmon fillet (around 1kg), with skin removed
1kg baby potatoes, washed and cut in halves
240g mixed greens
250g cooked barley (or brown rice)
1 head of garlic
6 tablespoons olive oil divided
½ teaspoon dried rosemary
½ teaspoon salt
¼ teaspoon black pepper
3 tablespoons low sodium soy sauce
½ teaspoon dried mixed herbs
80ml of balsamic vinegar
Salt & pepper, to taste
Balsamic glaze – for drizzling
Method
For the salmon:
Heat oven to 200°C.  Toss baby potatoes with 2 tablespoons olive oil, rosemary, salt and black pepper.  Cut a 1/4 off the head of garlic horizontally, and wrap it in foil.  Place potatoes and garlic on a parchment lined baking tray and roast in the oven for 40 minutes.  Coat the salmon with 2 tablespoons olive oil, soy sauce, dried mixed herbs and pepper. Place on another parchment lined baking sheet and place in the oven 20 minutes before the potatoes are ready. Roast salmon for 18-20 minutes.
For the dressing:
Blend together the balsamic vinegar, remaining 2 tablespoons olive oil, salt and pepper, and squeezed out roasted garlic. If too thick add a bit of water.
Complete the dish:
Combine a few tablespoons of dressing with the cooked barley, and the rest with the mixed greens. Arrange greens on a platter. Sprinkle the barley over the greens. With a large spatula place the salmon on the greens and barley and place the baby potatoes all the way around the salmon. Drizzle balsamic vinegar over the salmon to decorate.
Variation: You can also decorate with pomegranate seeds, flaked almonds or chopped spring onion
THE PERFECT SIDE
Quinoa Salad with Avocado, Mango and Pomegranate
An incredibly versatile recipe, this salad can be served alongside the salmon, but is also substantial enough to make a delicious light lunch or dinner on Boxing Day or in early January. Quinoa is packed with protein, so with the heart-healthy fibre-filled pistachio nuts, avocado and pomegranate seeds, this salads ticks all nutrition boxes.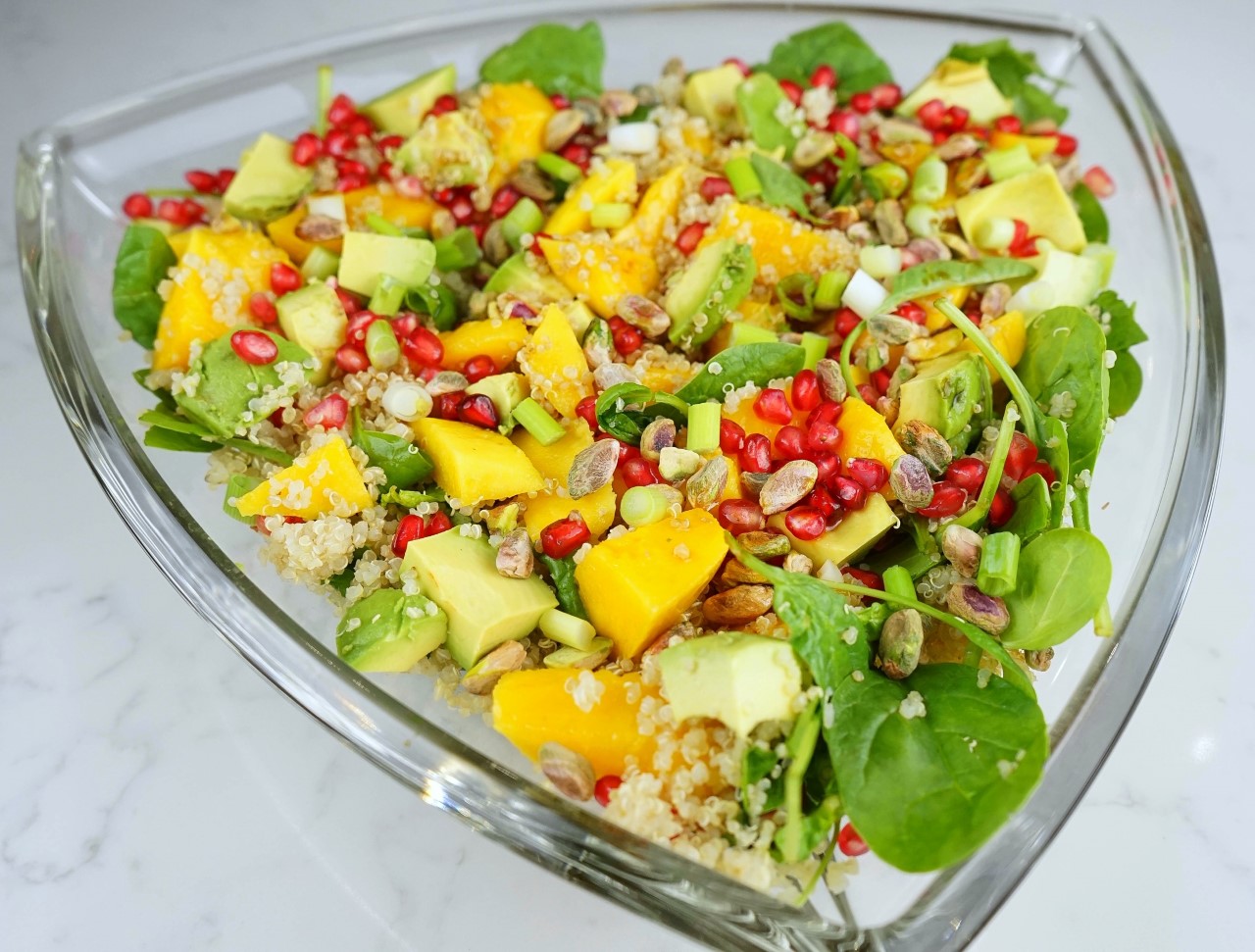 Ingredients
Serves 2 as a main course, 4 as a side dish
170g uncooked red quinoa (or regular white quinoa)
1 ripe avocado, diced
1 small ripe mango, peeled and diced
80g pomegranate seeds
20g pistachio nuts, shelled
4 spring onions, thinly sliced
A few handfuls of spinach or salad leaves
For the Dressing:
1 tbsp olive oil
2 tbsp balsamic vinegar
1 tsp sesame oil
2 tsp low sodium soya sauce
Method
Cook the quinoa according to the packet instructions. Allow to cool slightly. Put all the salad ingredients in a large bowl. Whisk together the dressing ingredients. Add to the salad, and toss well to coat.
DESSERT
Guilt-free Chocolate Protein Pudding
Using fat-free yoghurt and stevia or xylitol (a natural sugar alternative), instead of sugar, you won't believe these delicious puddings are actually healthy when you taste them.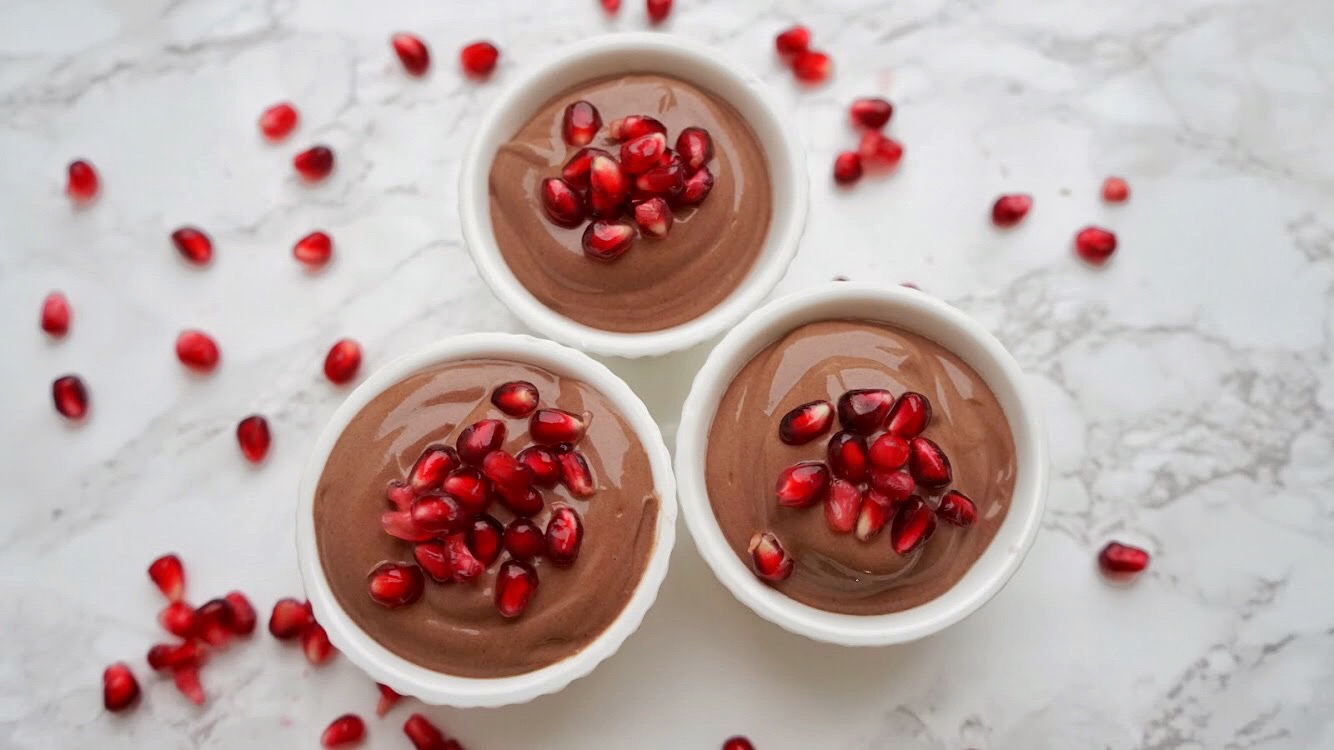 Ingredients
Serves 1
170g 0% Greek yoghurt
1 tbsp unsweetened cocoa powder
1 tbsp. stevia or xylitol
¼ tsp vanilla essence
Toppings (optional): blueberries, dark chocolate chips, sliced almonds, shredded coconut, chopped walnuts
Agave or maple syrup – to drizzle
Method
Mix all the ingredients together well in a mixing bowl, until the cocoa powder is fully mixed in, with no lumps left, and a smooth, pudding-like consistency is reached. Spoon into a serving bowl. Top with toppings of your choice. Drizzle agave or maple syrup.  To make the pudding more ice-cream like, you can pop it in the freezer for 30 minutes before tucking in.
Flourless Carrot Cake
Carrot cake must be one of the most popular cakes for slicing into at tea-time, as well as my own personal favourite too, and for good reason – it's absolutely delicious!  This healthy guilt-free version is easily made without flour or refined sugar, and it definitely does not compromise on taste!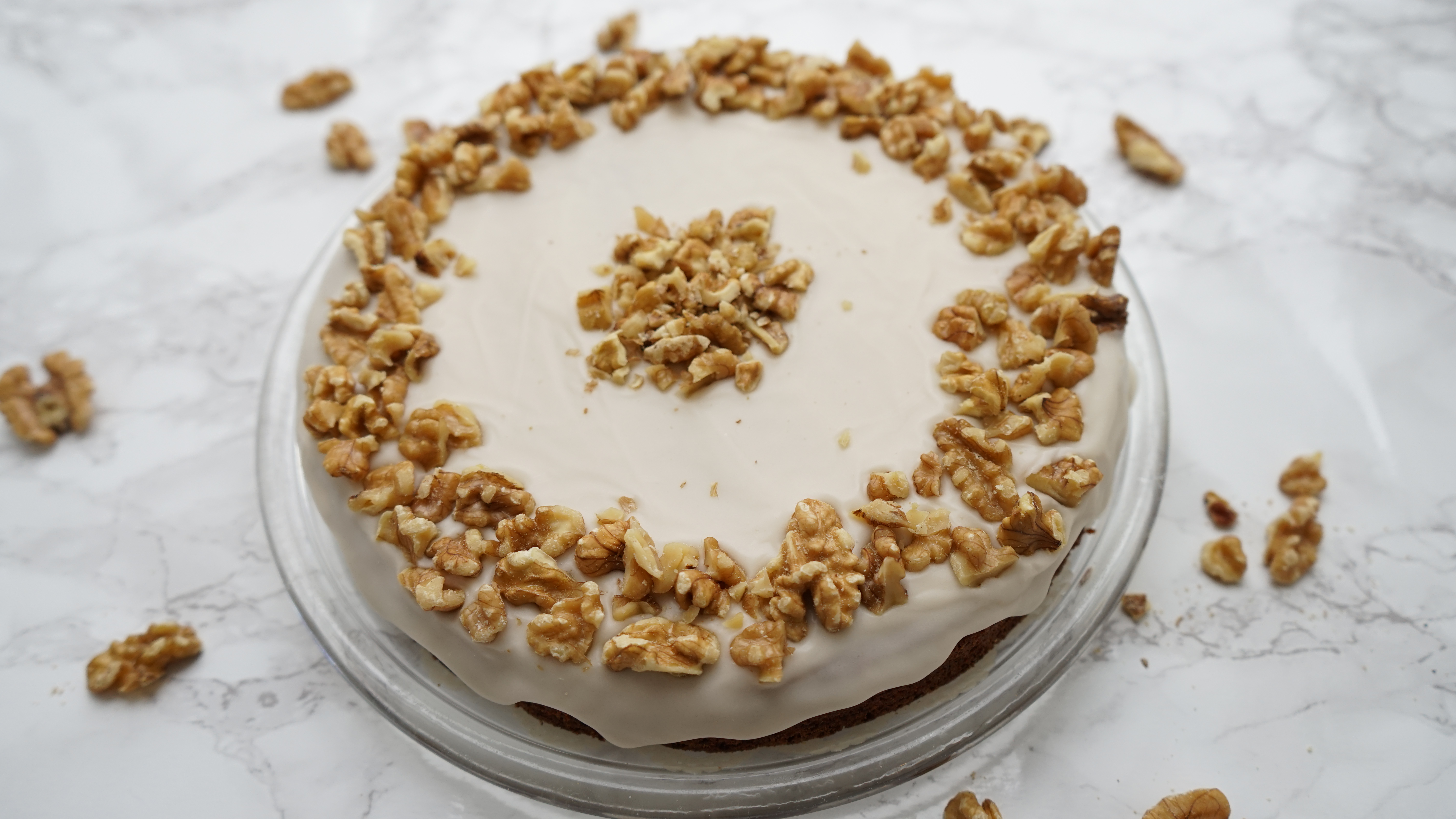 Recipe
Ingredients
3 large eggs
200g coconut sugar (or regular brown sugar)
2 tsp. vanilla essence
200g ground almonds
100g desiccated coconut (unsweetened)
2 tsp. cinnamon
½ tsp. nutmeg
½ cup melted coconut oil
1 cup grated carrot
100g pecan nuts/ walnuts – roughly chopped
Dairy Free Icing – recipe below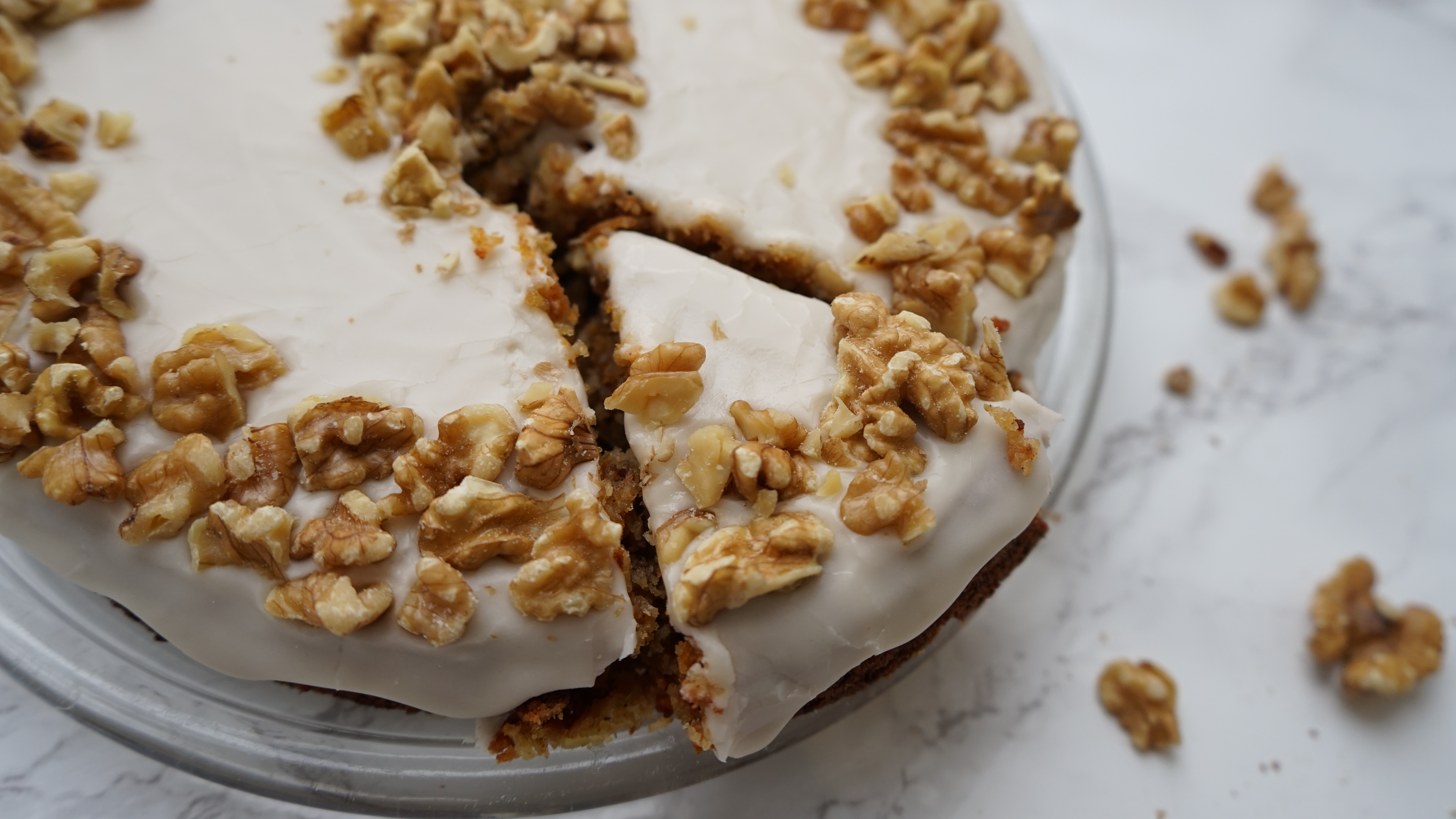 Directions
Preheat oven to 160°C. Beat eggs, sugar, coconut oil and vanilla until light and well combined.  Add the ground almonds, coconut and cinnamon and stir until just combined.  Then add the grated carrot and chopped nuts, and mix until well combined.  Line a 23cm springform tin with parchment paper and spray the sides with non-stick baking spray or oil.
Spoon the batter into the prepared pan.  Bake for 45 mins to 1 hour, until a toothpick comes out clean.  Allow the cake to cool in the tin for 10 minutes, then loosen the edges with a knife and remove from the tin to cool.  When totally cool, prepare Dairy-Free Icing (recipe below) and spread thickly all over cake, alternatively you can dust with icing sugar. Slice, serve, eat and enjoy! 🙂
Dairy-Free Icing:
1 cup raw cashew nuts soaked in boiling water for 30 minutes or overnight in cold water
1/4 cup agave or maple syrup
2 Tablespoons coconut oil
1 teaspoon vanilla extract
Pinch of sea salt
Directions:
Drain and rinse the soaked cashews.  Combine all of the ingredients in a high-speed blender or food processor, and blend until smooth and creamy.  You may need to scrape the mixture down and pulse a few times to achieve the desired consistency.  Remove from the processor/ blender and set aside.  Spread over carrot cake once it's completely cooled.  Enjoy! 🙂
Chocolate Hazelnut Clusters
Quick and easy to make, these 'no-bake' clusters require just a few ingredients. Delicious and low in sugar, they're perfect home-made treats.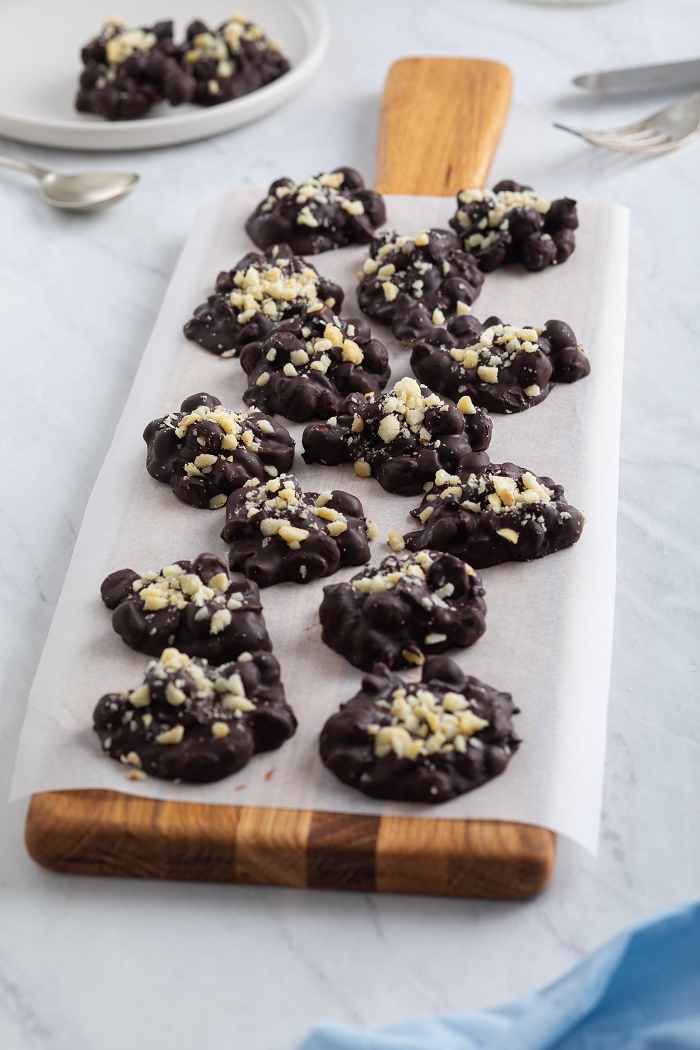 Ingredients
Makes approximately 20
340g 70% dark chocolate
226g hazelnuts (or other nuts)
Pinch of salt (if using unsalted nuts)
Method
Line a large baking tray with baking paper or foil and set aside. Melt the chocolate in a heavy-based pan over a low heat. Keep stirring, making sure you don't burn the chocolate. As soon as the chocolate has melted, turn off the heat. Add the nuts (and salt) to the melted chocolate and stir well until they are fully mixed in and coated.  Spoon heaping tablespoons of the mixture onto the prepared baking tray. Allow to cool.  Place in the fridge and allow to set for several hours. Remove from the baking paper or foil. Serve and enjoy!
Happy holidays!! xx
Comments are closed.