ALL HEALTHY RAW CHOCOLATE TRUFFLE BALLS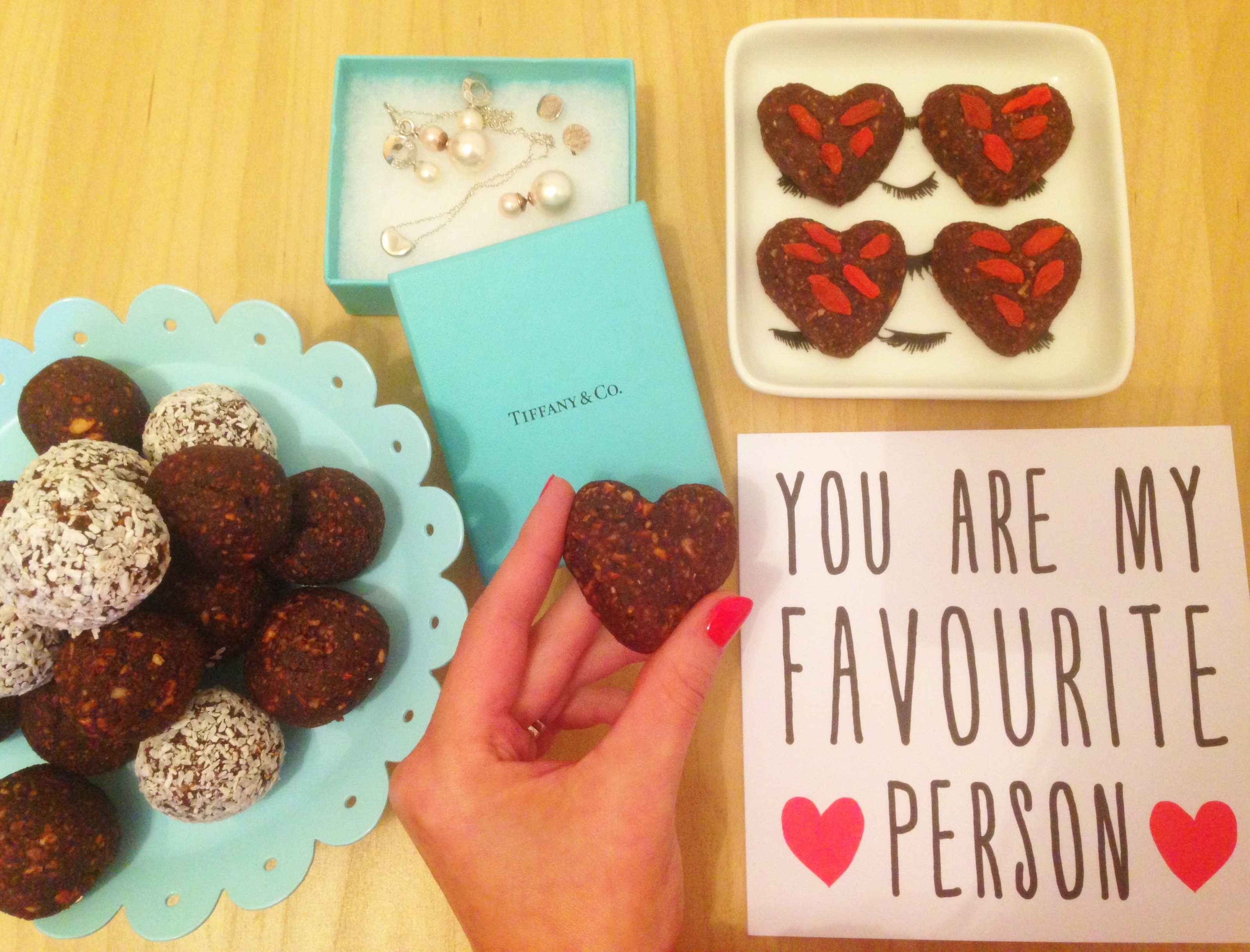 Looking for the perfect Valentine's Day treat?  These All Healthy Raw Chocolate Truffle Balls are just the thing!  Decadent, filling and delicious, you wouldn't believe that they're also super-healthy, good for you and all-natural too!
This was one of the first recipes to feature on the blog in my "Goodness Gracious Great Balls of Energy" post (HERE).  They're not only one of my favourite recipes, but my clients love them too.  They are also adored by kids (who would never guess they're so healthy!) and are the perfect thing for anyone looking to cut down (or cut out!) highly processed and sugary snacks.  Being free from gluten, grains, dairy, eggs and refined sugar – this really is the perfect healthy snack for both adults and kids alike!
With Valentine's Day just around the corner, I felt it was the perfect opportunity to do an updated post on this super healthy and easy-to-make chocolatey recipe!  These delicious Raw Chocolate Truffle Balls will please any of your loved ones – including yourself!
So let's get down to the heart of the recipe; the overflowing nutrients these truffles promise to deliver:
Anyone who knows me or follows The Food Effect will know I'm a huge nut lover and advocate them everywhere I can (you can read all the nutritional benefit of nuts in my "Nuts About Nuts" post HERE.)
Dates are a rich source of potassium and a good source of fibre, protein and the immunity boosting minerals zinc, magnesium and selenium.
Cocoa has also been shown to have tremendous health benefits.  It's full of anti-oxidants, which help the body defend against aging, tissue damage, inflammation and diseases such as cancer and heart disease.  Studies have also linked chocolate consumption to lower blood pressure, reduced risk of strokes, lower (bad) LDL cholesterol and increased (good) HDL cholesterol.  Recent studies have also shown that regular consumption of chocolate was consistently associated with a reduced body mass index (BMI), compared with occasional consumption!
All in all, these are the perfect snack to have on hand to satisfy those mid-afternoon munchies or late night sweet cravings, and definitely the perfect treat to whip up this Valentine's for your special someone.  I have not a doubt in my mind that they will be welcomed with oodles of love. <3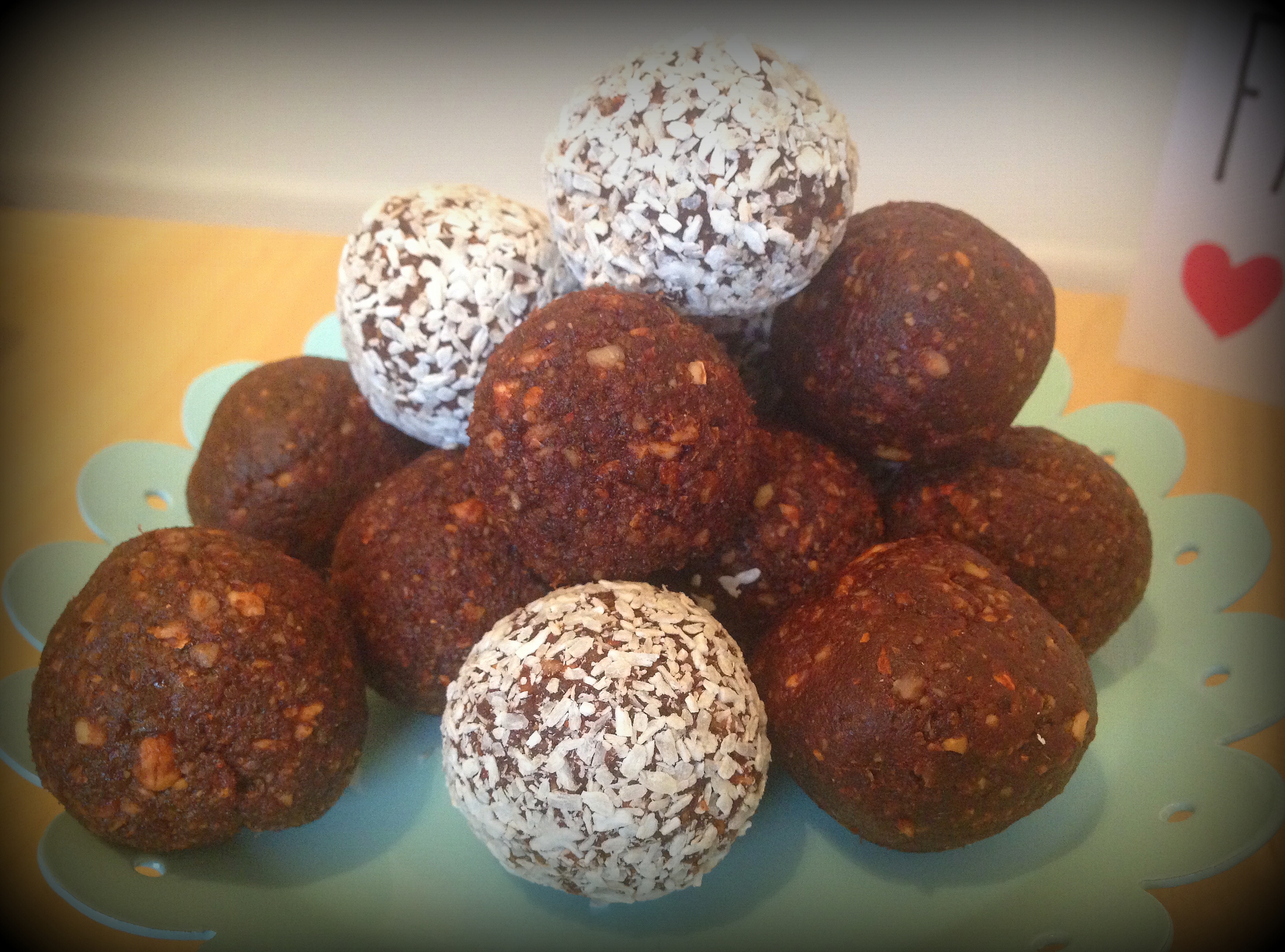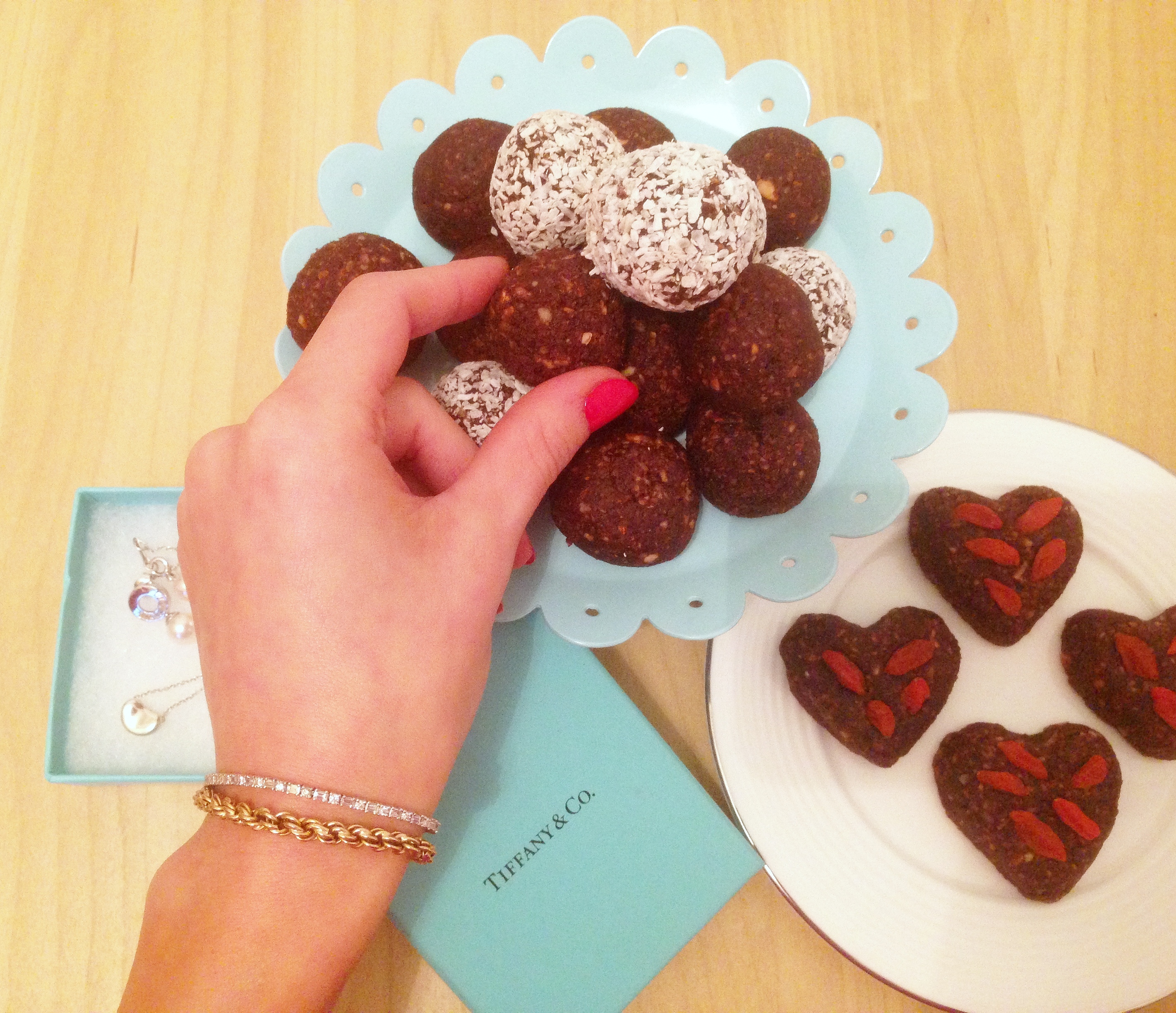 Recipe
Makes 15-18 balls
1 1/2 cups (265g) pitted Medjool dates (soak in hot water for 10-20 minutes if they are not soft)
¼ cup (25g) unsweetened cocoa powder
½ cup (70g) unsalted almonds
½ cup (70g) unsalted walnuts or peanuts
¼ tsp. salt
2 teaspoons vanilla extract
Optional: 1 cup shredded coconut (for rolling) and/ or goji berries to decorate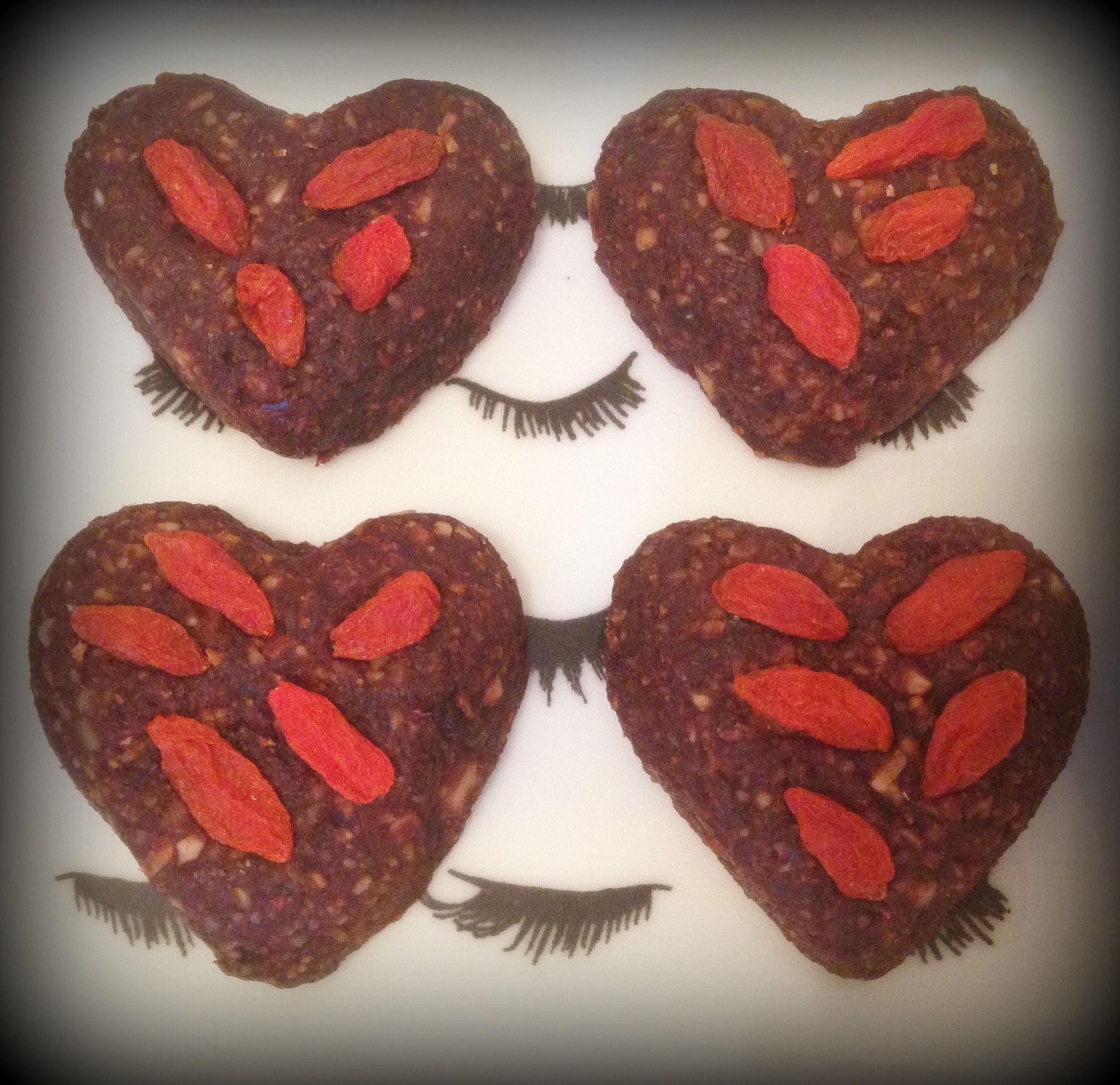 Put all ingredients (excluding coconut) in a food processor.  Blend for a few minutes until a thick "dough" is formed (but still keeps some fine texture from the nuts).  Keep scraping down the sides of processor to incorporate all the dry ingredients incorporated.  Transfer the mixture to a bowl.  Scoop into 1 heaped Tablespoon size portions and roll into smooth balls with your hands.  If using, place coconut (or any desired topping) in a shallow bowl, and roll the dough balls in it to fully cover.  Place in the fridge for at least 30 minutes before serving.
Note: These also freeze well – I love keeping a batch in stock so that healthy snacks are always on hand!
Leave a Response
You must be logged in to post a comment.