ALL NATURAL SKINNY BLUEBERRY MUFFINS
Bursting with sweet blueberries and packed with natural fibre and whole-grain goodness, these All-Natural Skinny Blueberry Muffins are both moist and full of flavour.  Whilst of course they're great any time of day, they come especially handy for breakfast, when frantically running around in order to make it out on time, means you urgently need something to grab on-the-go.  Time constraints aside, they are also far better for you than any regular store-bought baked goods you might be tempted to buy (yes … even those coffee-shop "Skinny" Blueberry Muffins are full of refined sugars and flour, relatively high in calories and certainly NOT "all natural").  These low-calorie, healthier alternatives, however, are free from refined sugar and flour, and contain no added fats or oils, so you can enjoy them guilt-free, without piling on the pounds!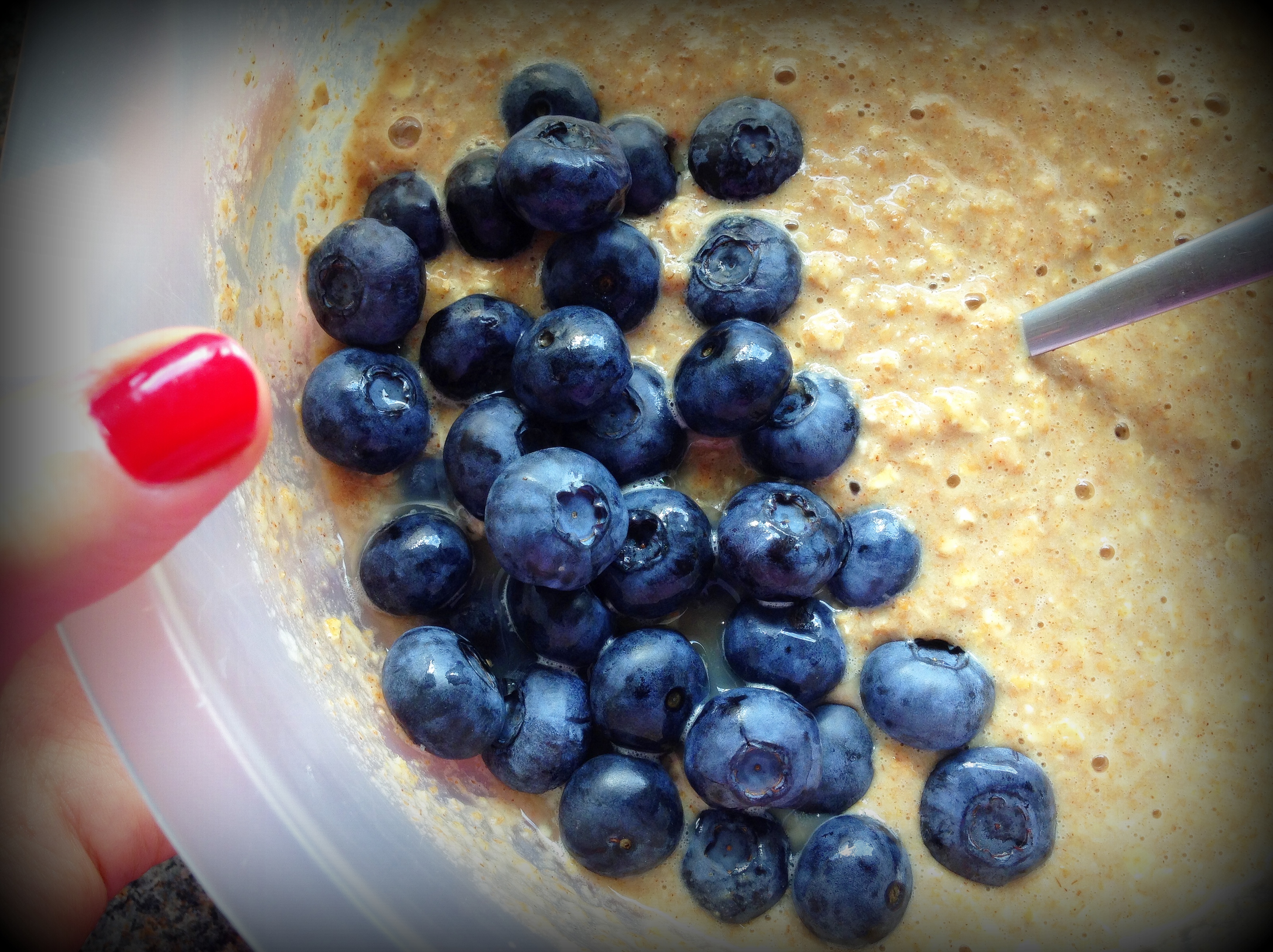 If that's not enough to convince you, the unrefined whole-wheat flour, oats and applesauce also means they're full of natural fibre – the applesauce adding a good source of soluble fibre, pectin.  Oats themselves contain multiple nutrients and a specific type of fibre (beta-glucan), that has been shown to help lower harmful LDL-cholesterol, as well as prevent spikes in blood sugar levels.  The magnesium contained in oats also helps regulate insulin secretion.
Coconut Sugar (also known as "Coconut Palm Sugar") is made from the sap of the coconut palm tree. It has a GI score of 50, which is MUCH lower than that of refined http://www.buyambienmed.com white sugar, brown sugar and honey, and is also a good source of the essential minerals iron, zinc, calcium and potassium.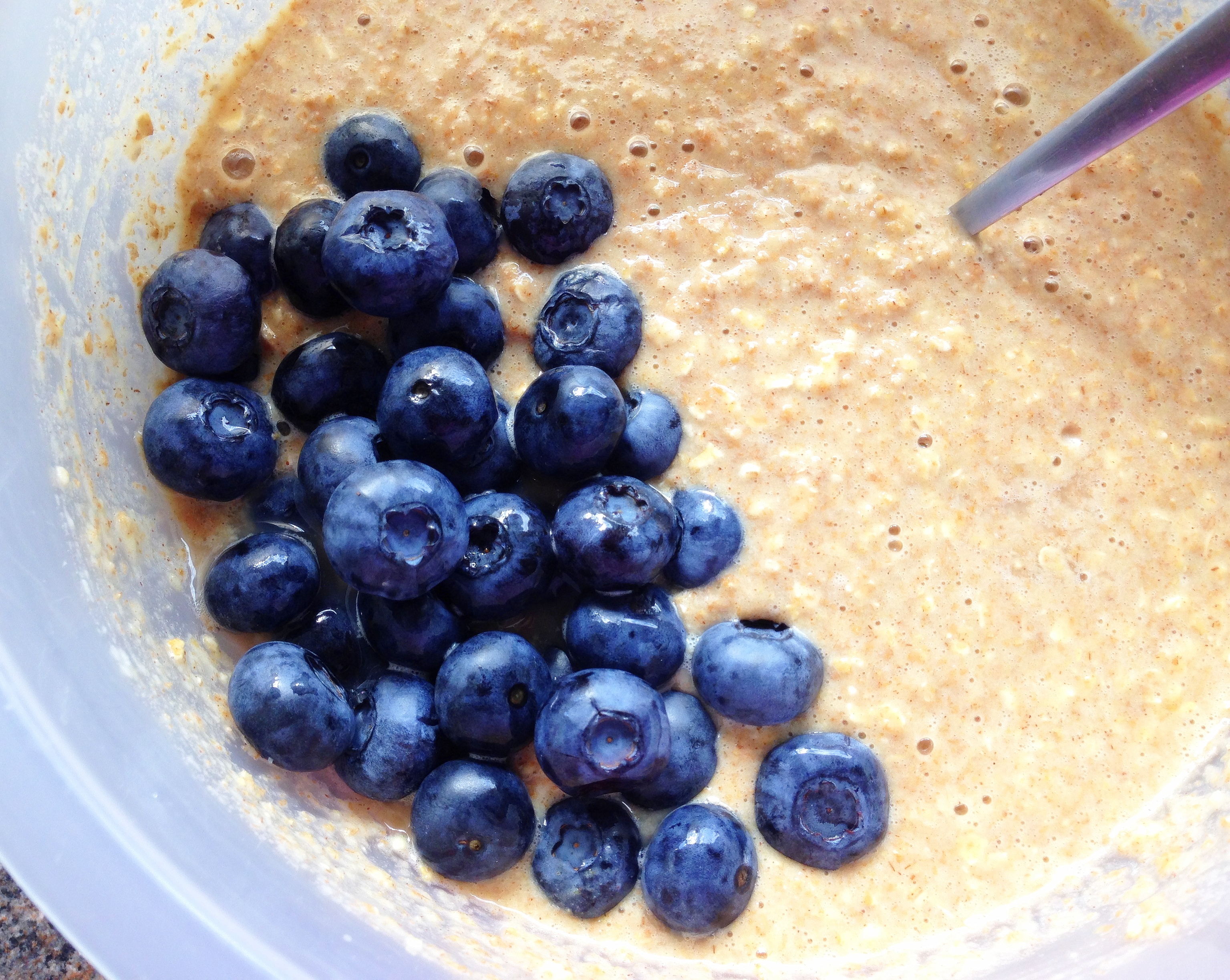 The milk, egg and oats also provide a substantial amount of protein.  This, combined with the high fibre content and lack of any refined white sugar or flour, means that unlike sugary high-GI, baked goods, these muffins will keep you both full and satisfied, without leaving you tired, hungry and craving the next sweet or starchy thing in sight soon after, as a result of spiked blood sugar levels!
Blueberries of course, deserve a special mention – there's good reason they're known as a "superfood"… they're an excellent source of anthocyanidins (compounds which exert exceptional antioxidant activity) which means this tiny, unassuming fruit is packed with health benefits.  In fact, when researchers at Tufts University analysed 60 fruits and vegetables for their antioxidant capability, blueberries rated the highest!  They are also a good source of Vitamin C, fibre, manganese, the anti-oxidant Vitamin E and riboflavin.  What better way to get your dose of all this than from enjoying these muffins!?  Doctor's orders. 🙂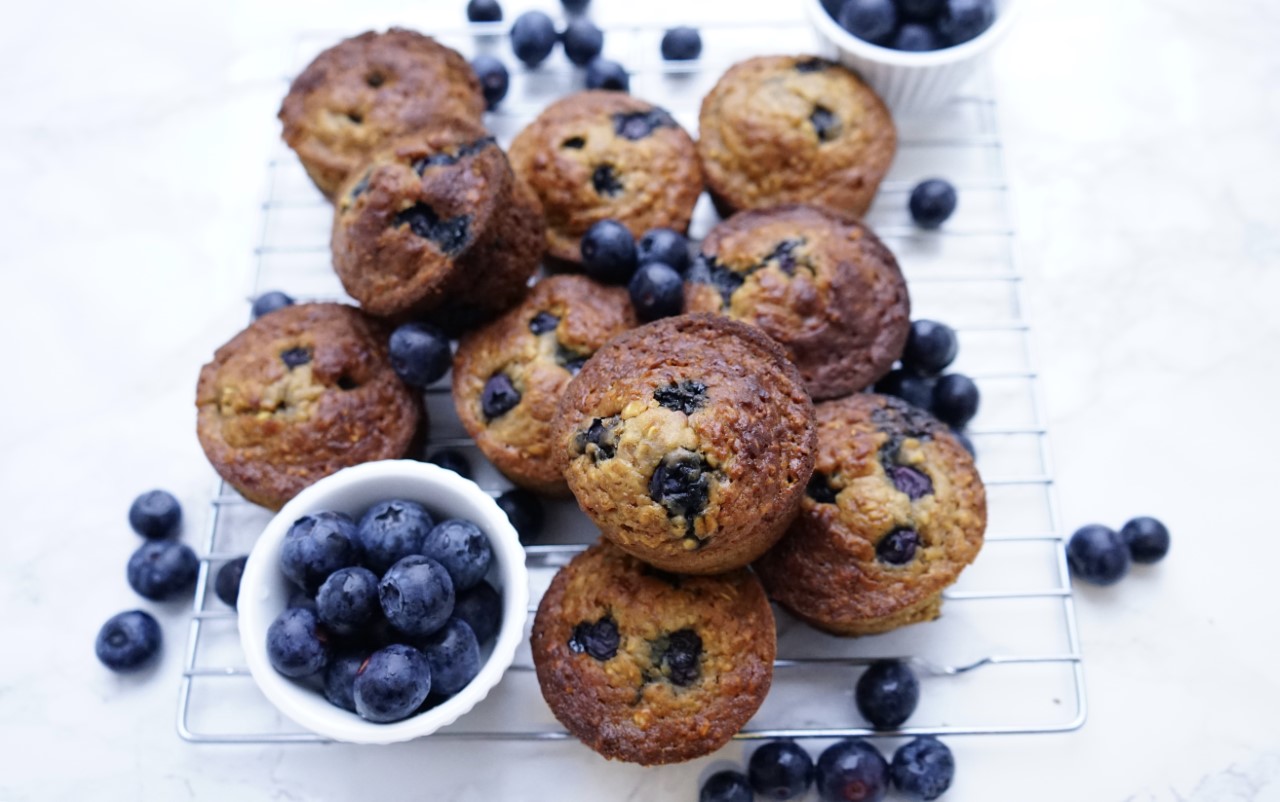 Recipe  Makes 10 – 12 medium size muffins
Ingredients:
1 cup (100g) oats
1 cup (140g) whole-wheat or spelt flour
2 tsp. baking soda
½ tsp. cinnamon
¼ tsp. salt
½ cup (125g) coconut sugar
1 whole egg
1 cup (240ml) almond or soya milk
115g natural apple sauce (no added sugar)
2 tsp. vanilla essence
1 cup (150g) blueberries (fresh or frozen*)
* if using frozen blueberries, do not thaw them before adding to the batter.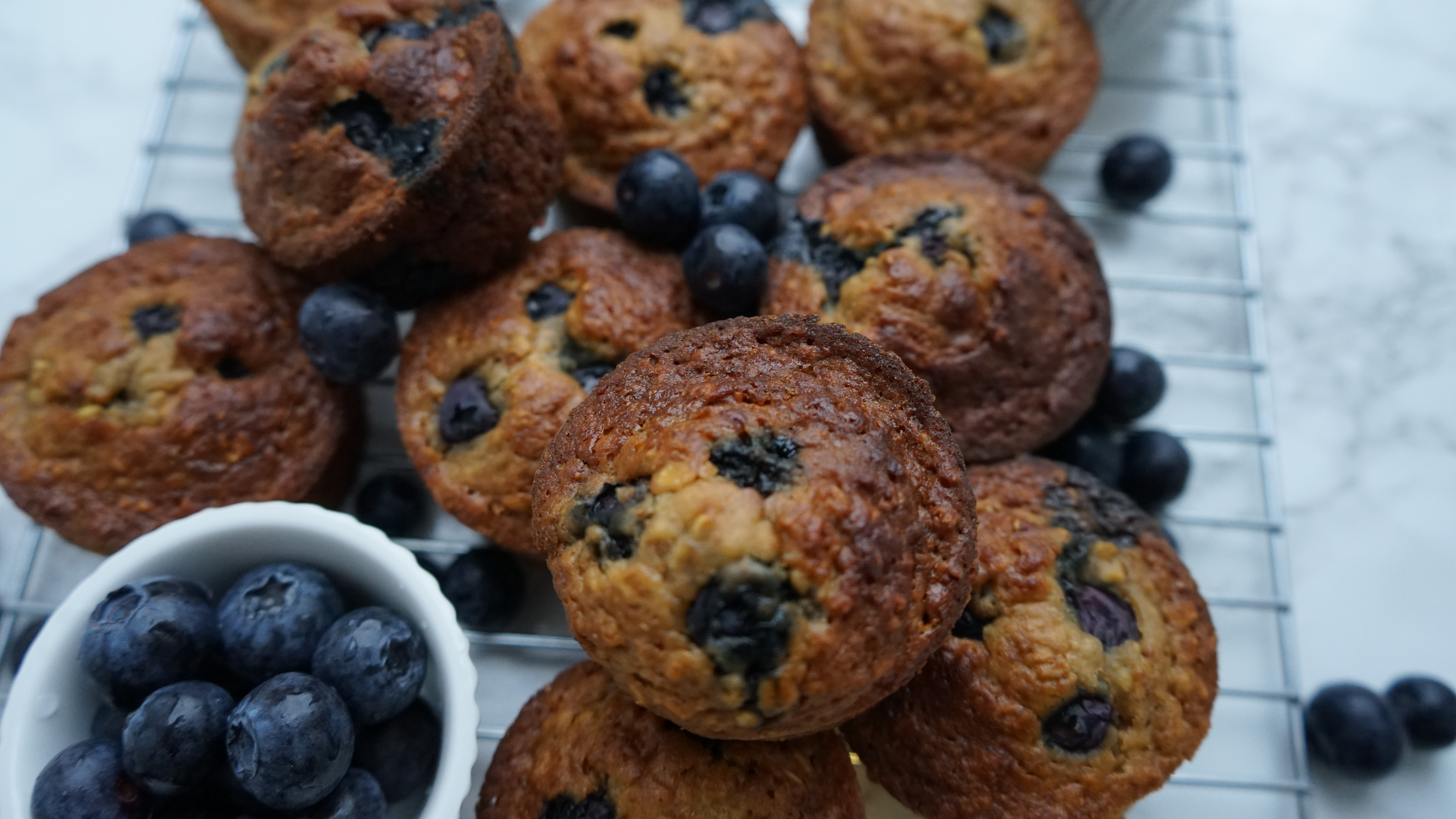 Directions:
Pre-heat oven to 180ºC.  Combine the dry ingredients in one bowl, and the remaining ingredients in another.  Combine the two and stir together.  Mix until just fully combined; do not over-mix.  Pour the batter into a greased muffin tray or muffin tray lined with silicone or paper cases, filling each until ¾ full.  Bake for 20-25 minutes, until firm and springy to the touch, or until a toothpick inserted comes out clean.
The muffins can be stored in an airtight container or Ziploc bag for several days, or frozen to be enjoyed whenever you fancy! 🙂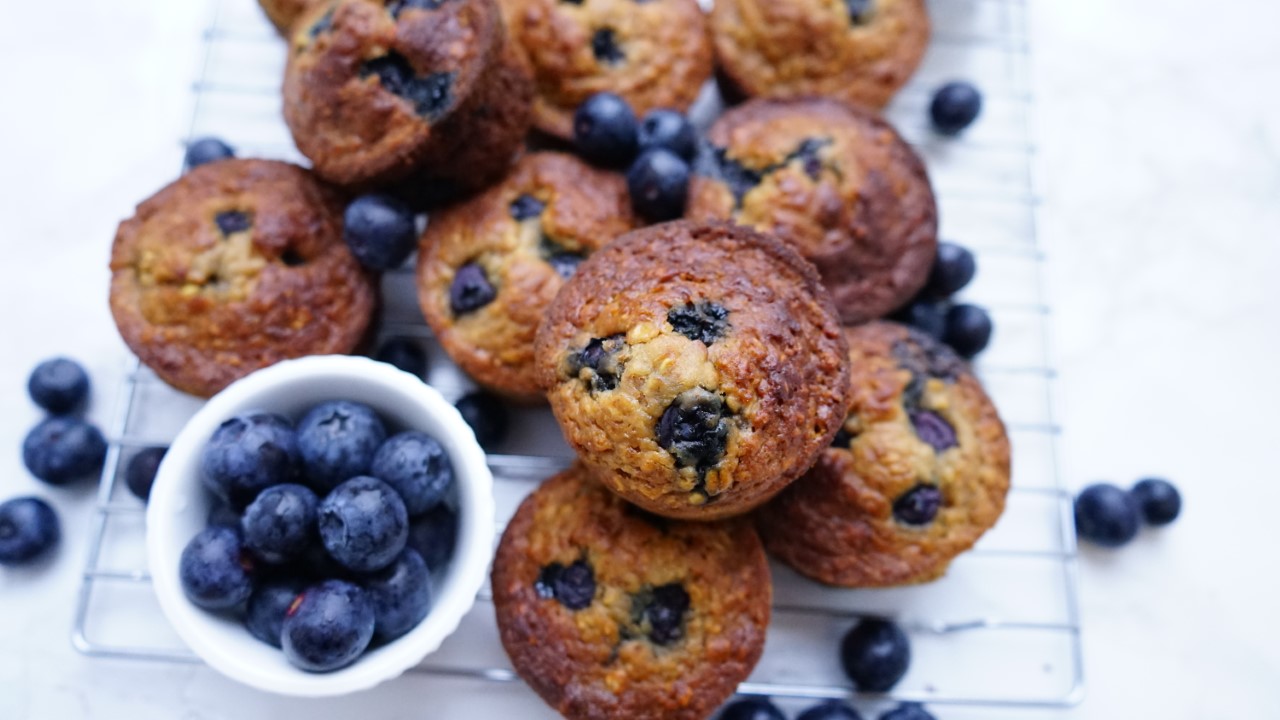 Leave a Response
You must be logged in to post a comment.