BEST EVER VEGETABLE BOLOGNESE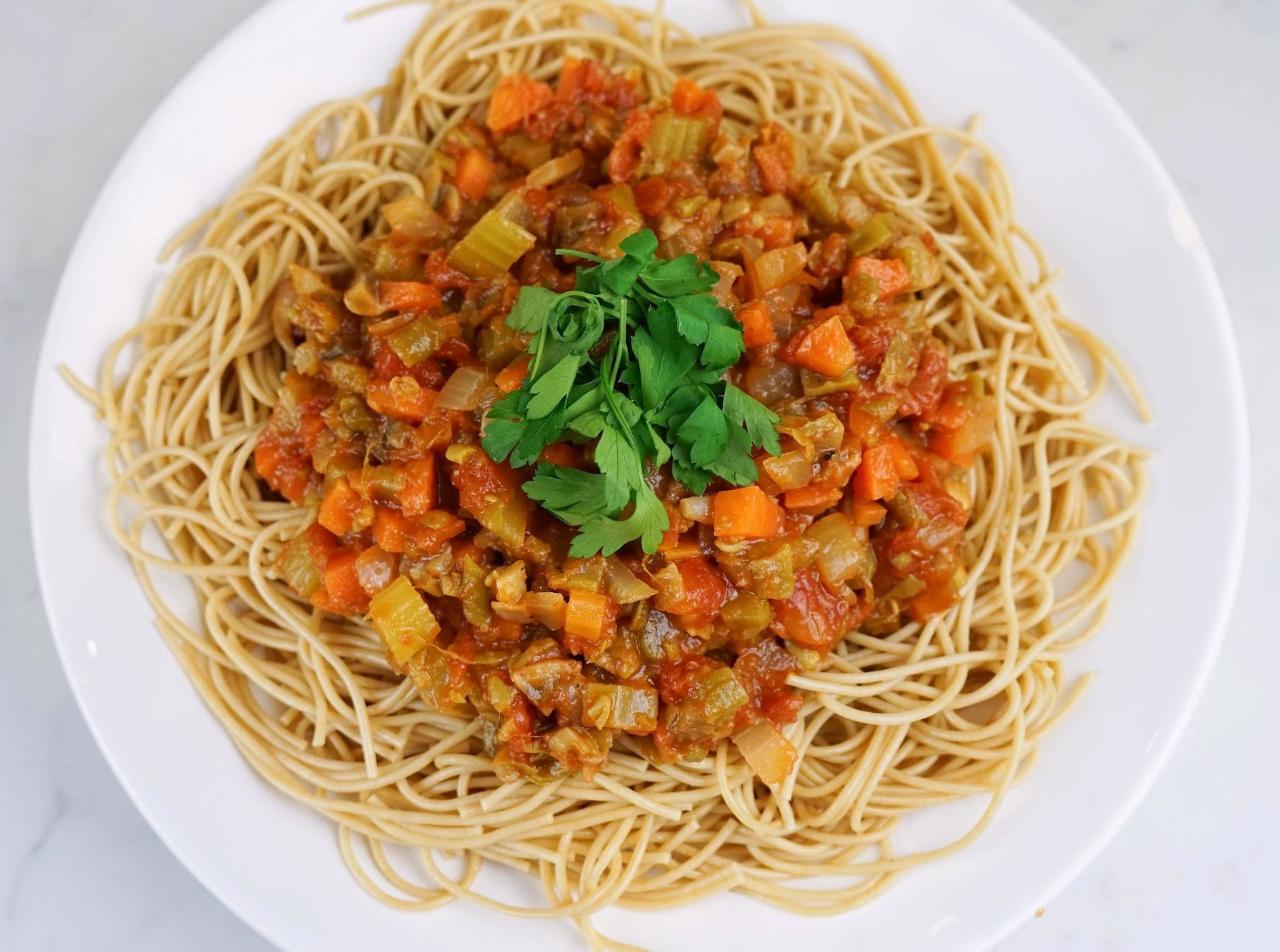 This is a totally delicious, healthy and vegan version of the classic favourite, spaghetti bolognese.
Growing up, spaghetti bolognese was one of my all time favourite weeknight suppers. But if you've red my books or been a client of mine, you'll know that red meat is one food that I do recommend trying to cut down on, for so many reasons.
Now if you do eat red meat, I'm not at all telling you not to, but even reducing red meat intake slightly for example by replacing one meat meal a week for a meatless one – especially a delicious healthy one like this – brings so many health benefits…   it reduces risk of heart disease, high cholesterol, decreased risk of so many cancers, it's better for gut health and our gut microbiome, it's better for the environment AND so much more economical! I think that's enough good reasons!!
And I can tell you that even my meat loving husband, absolutely adores this meal!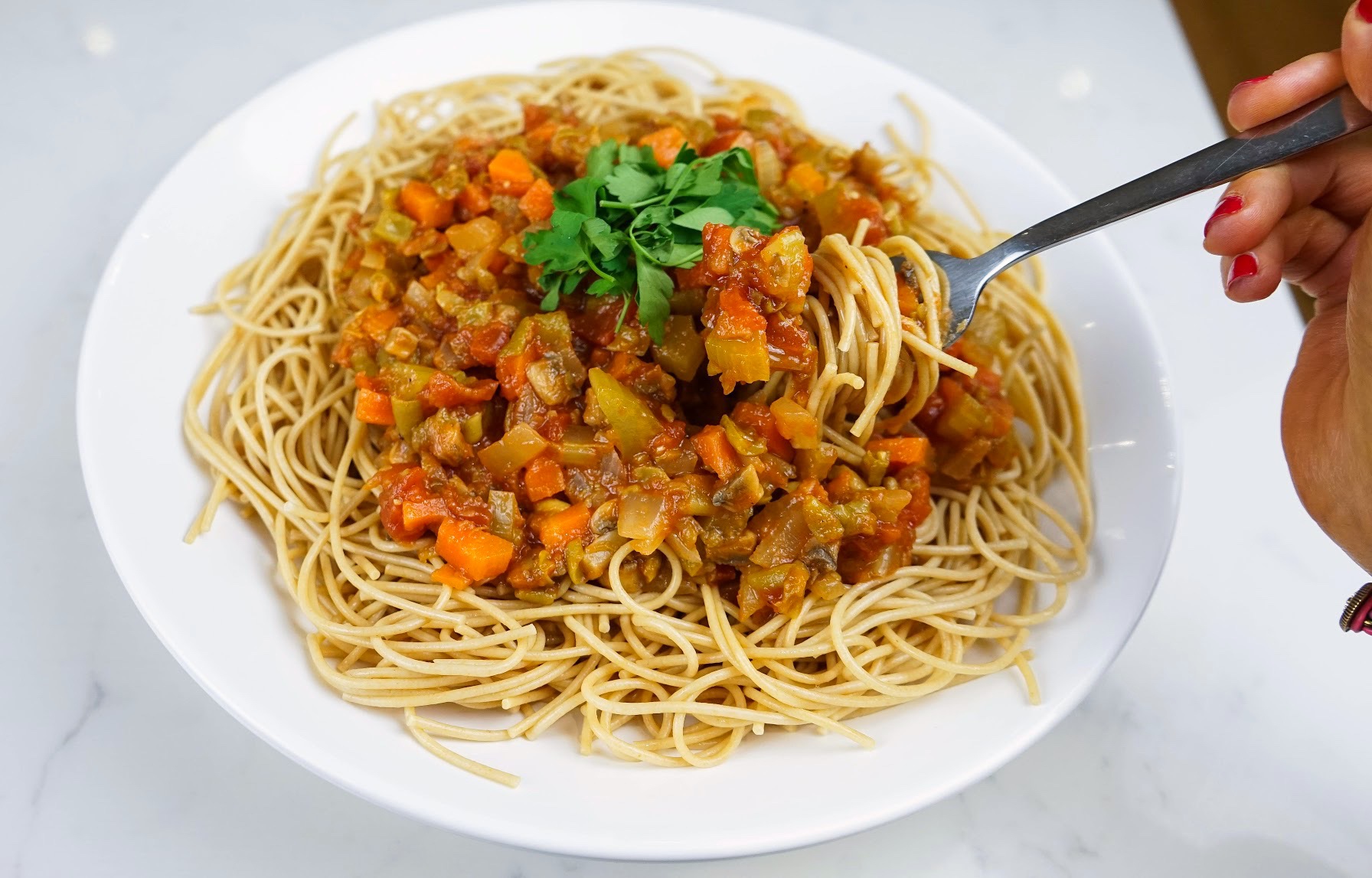 What I also love about this recipe, is that there is no need for any processed store-bought meat replacements, like vegan mince (nothing against those things, lots of recipes with them) but this uses the most simple wholesome pure vegetable ingredients, that are all natural, and found in any basic grocery store or supermarket and cost literally just a few pounds (or dollars!) to make this whole recipe that serves 4 adults.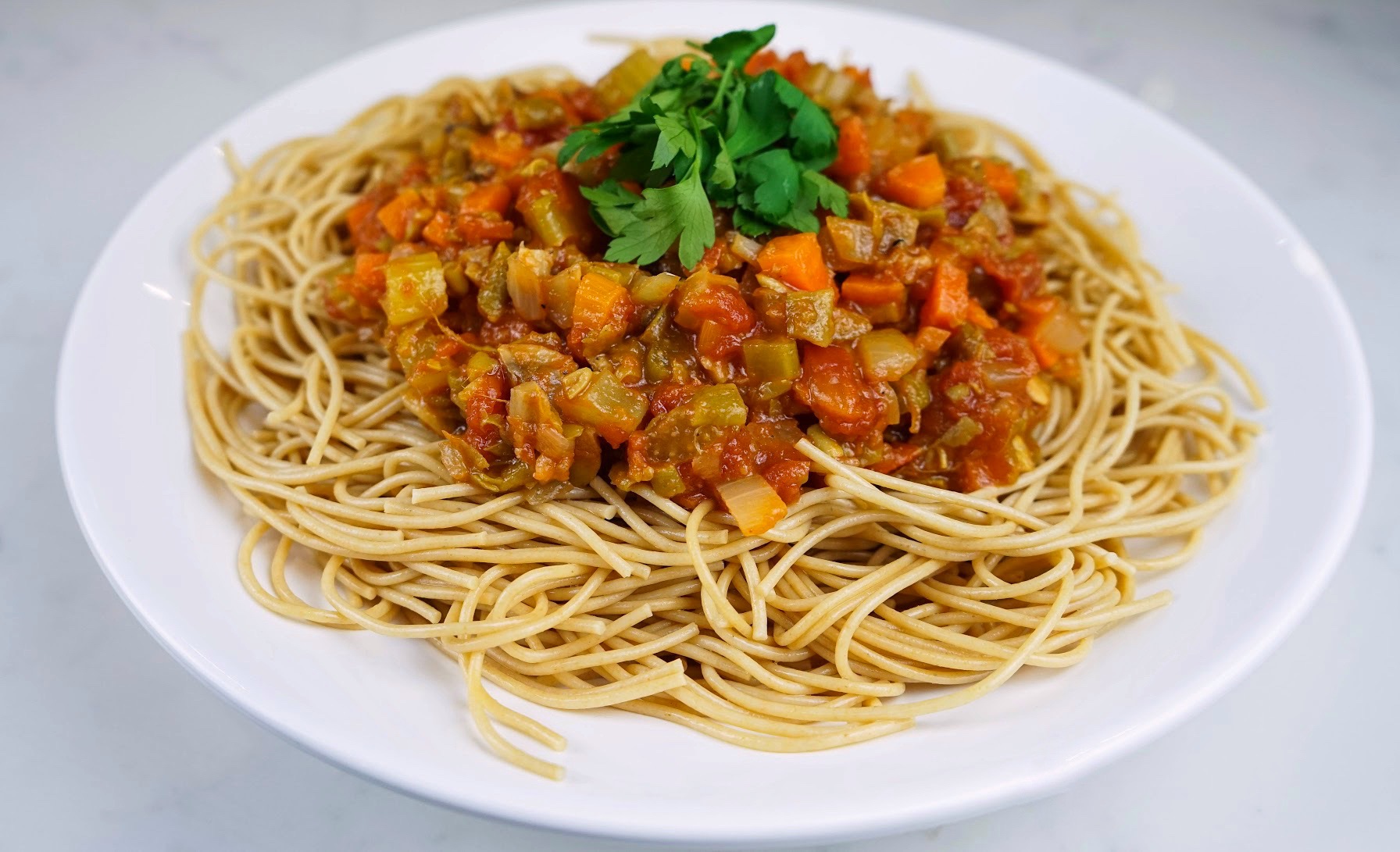 This is also a great way to get your kids to eat a ton of veggies in an exciting way. My baby girl Sienna absolutely adores it!
It's amazing for their gut health, and packs in a ton of goodness too. And you can serve it with any pasta shape they prefer or even switch it up with shapes, such as fusilli or macaroni, whatever they like!
Wholewheat pasta is high in protein and fibre and B vitamins. In case you're thinking "where's the protein?" – wholewheat pasta actually contains 13g of protein per 100g, which is more than 2 boiled eggs or half a tin of tuna. You can also use chickpea pasta, red lentil pasta, whatever you prefer. Or brown rice pasta to make this dish gluten-free.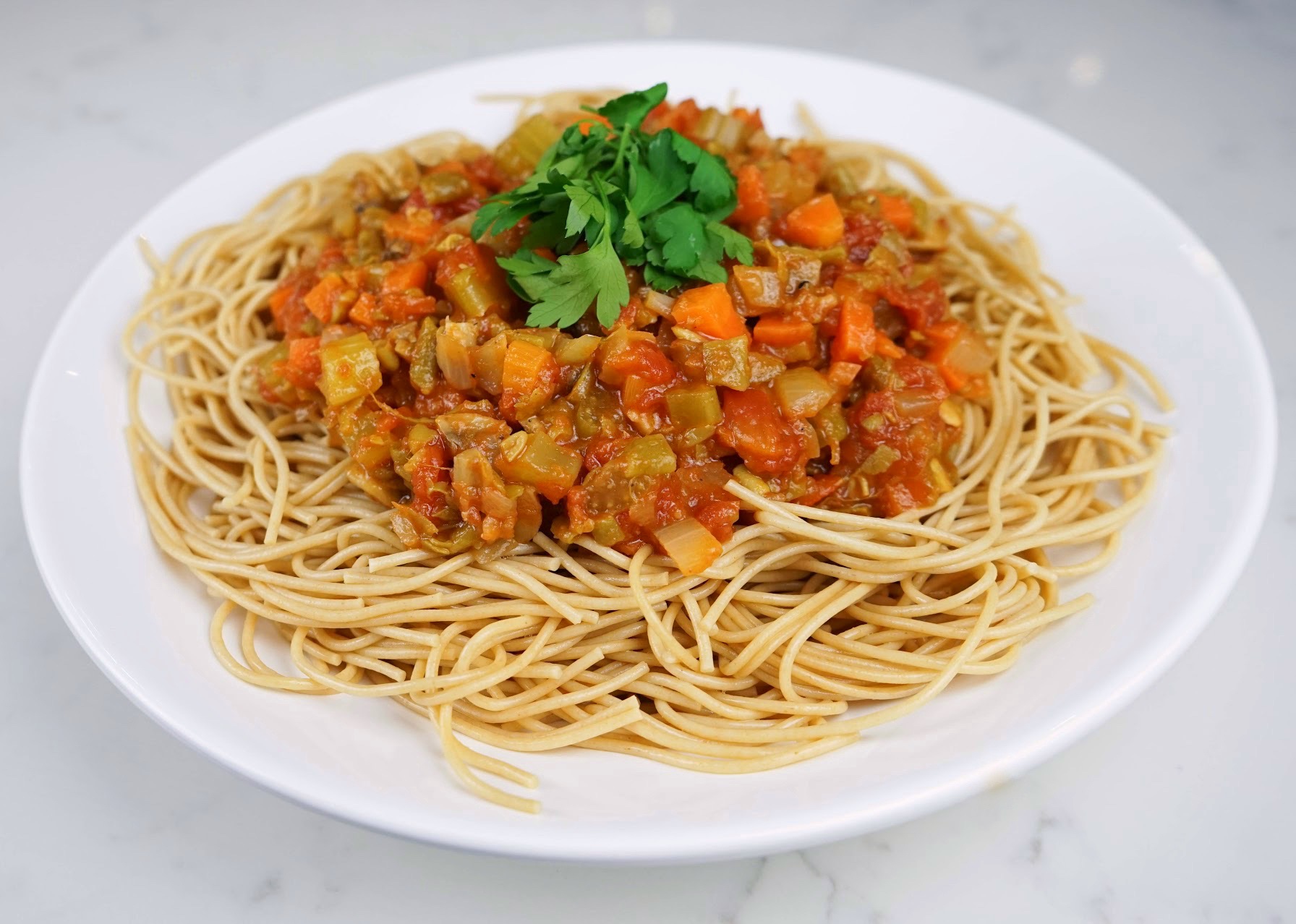 I also love the sauce over rice or couscous – it's so extremely versatile!
The sauce (and pasta) keeps well in the fridge for several days, and freezes well too. Perfect for batch cooking, so you have a wholesome, healthy, hearty meal ready in minutes on busy days. I hope you love it as much as I do!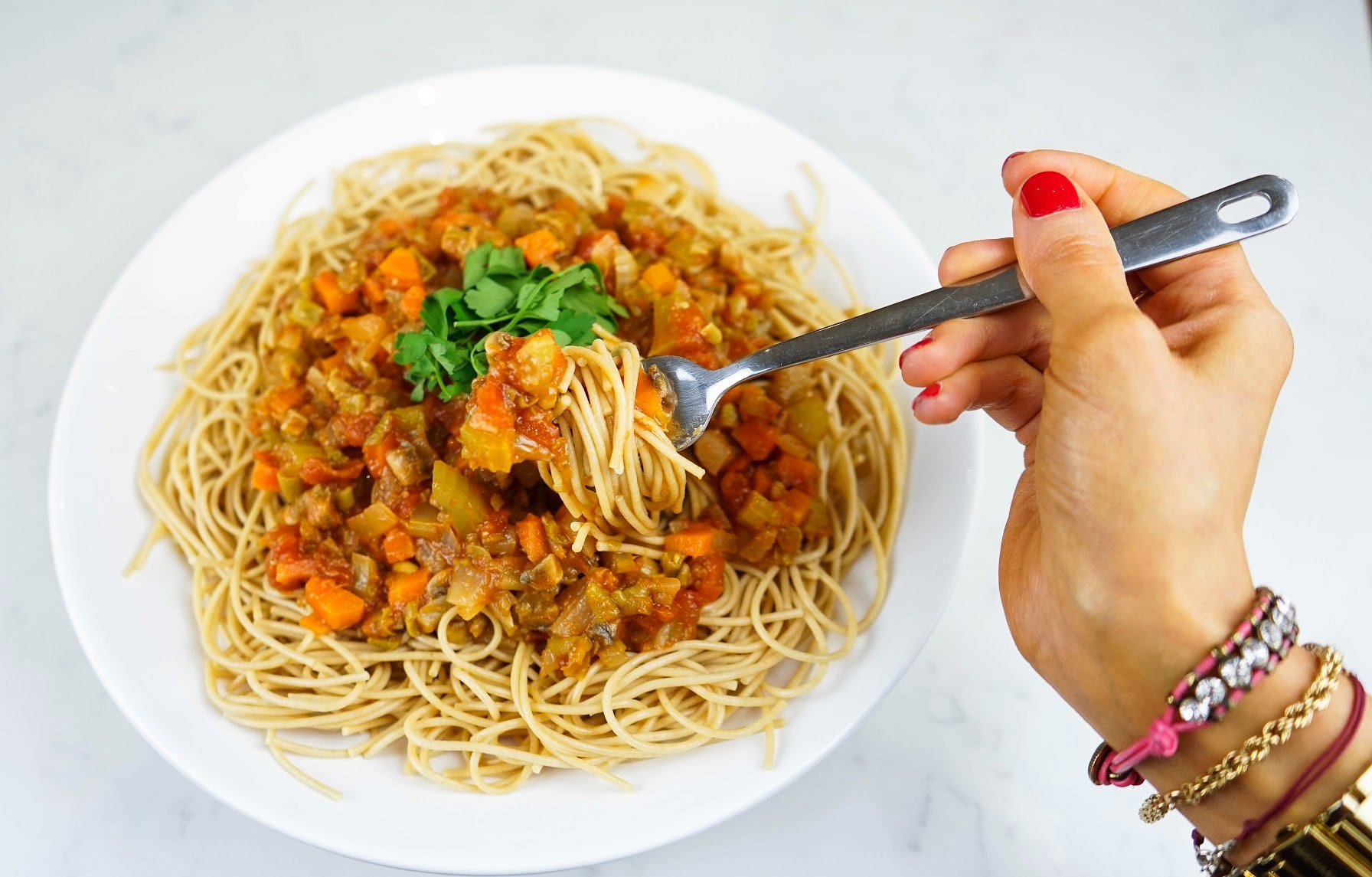 Recipe
Serves 4
300g (dry weight) whole-wheat or brown rice spaghetti (for gluten-free)
1 tbsp olive oil
1 onion, peeled and chopped
2 carrots, peeled and finely chopped
2 sticks of celery, sliced
300g tin cut green beans in water, drained and chopped
400g tin chopped tomatoes
2 tbsp tomato puree
125g mushrooms, chopped finely
¼–½ tsp cayenne pepper (optional)
Salt and pepper
10g fresh parsley, chopped
Nutritional yeast or parmesan cheese, to serve (optional but recommend!)
Bring a large pot of water to the boil. Add a generous pinch of salt and stir. Add the spaghetti and cook according to the packet instructions. Reserve 1 cup of pasta water before draining! Drain the spaghetti when cooked, and set aside.
In the meantime, heat the olive oil in a saucepan. Add the chopped onion and fry over a low heat for 3–5 minutes, until softened and translucent but not browned. Add the carrots, celery and green beans. Stir in the chopped tomatoes, tomato puree, mushrooms and cayenne pepper. Add a generous pinch of salt (~1 tsp.) and pepper to taste.
Allow to simmer for 15-20 minutes, until the liquid absorbs and it all starts to thicken. Add in some of the reserved pasta water to "loosen" the sauce. Stir through the fresh parsley.
Divide the spaghetti between four serving plates. Top each serving with a quarter of the bolognese sauce. Top with some freshly ground black pepper, and nutritional yeast or parmesan cheese, if using. Serve hot. Enjoy! xx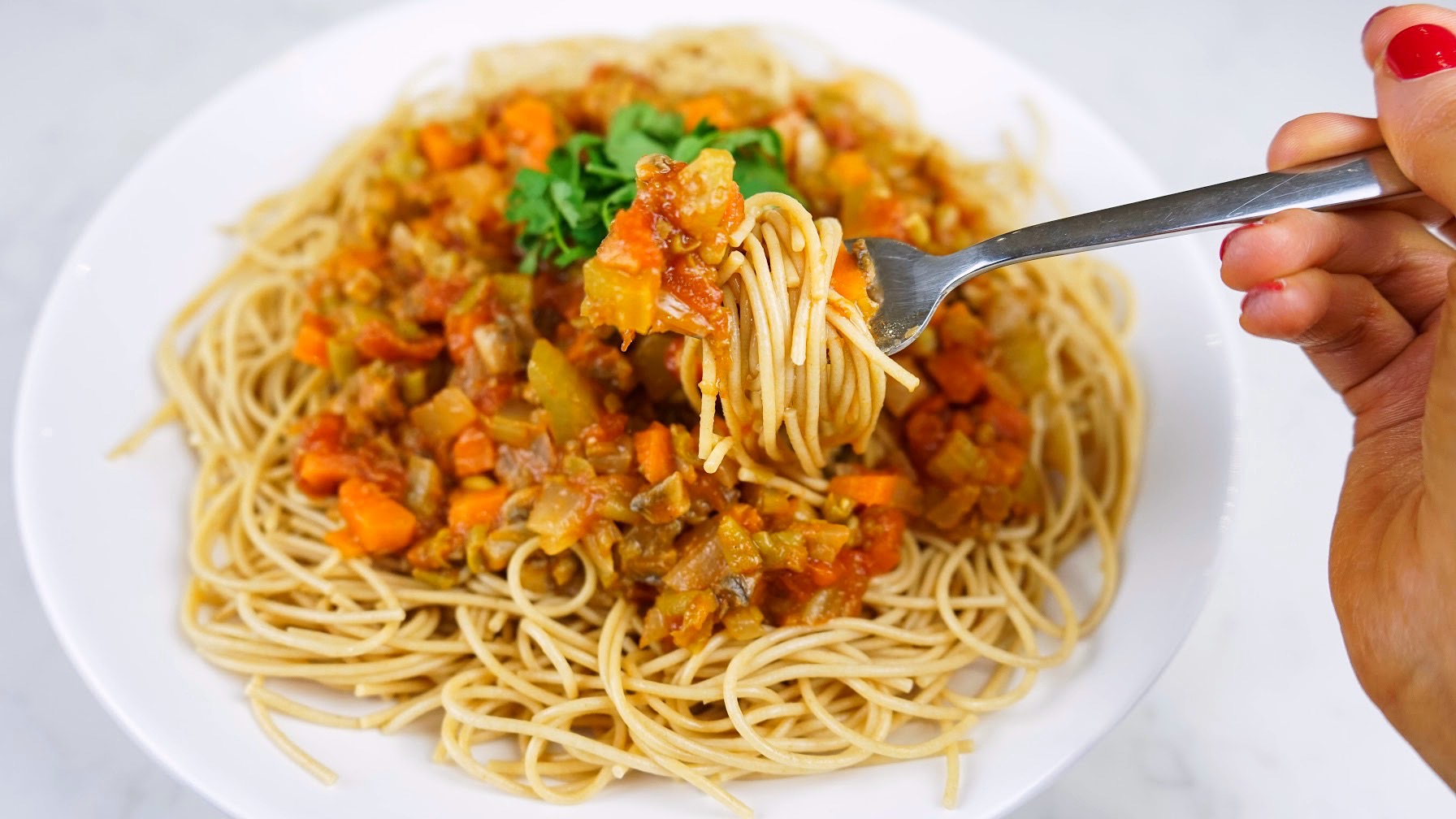 Comments are closed.