Clean Eating Cajun Chicken (with Red Cabbage Slaw)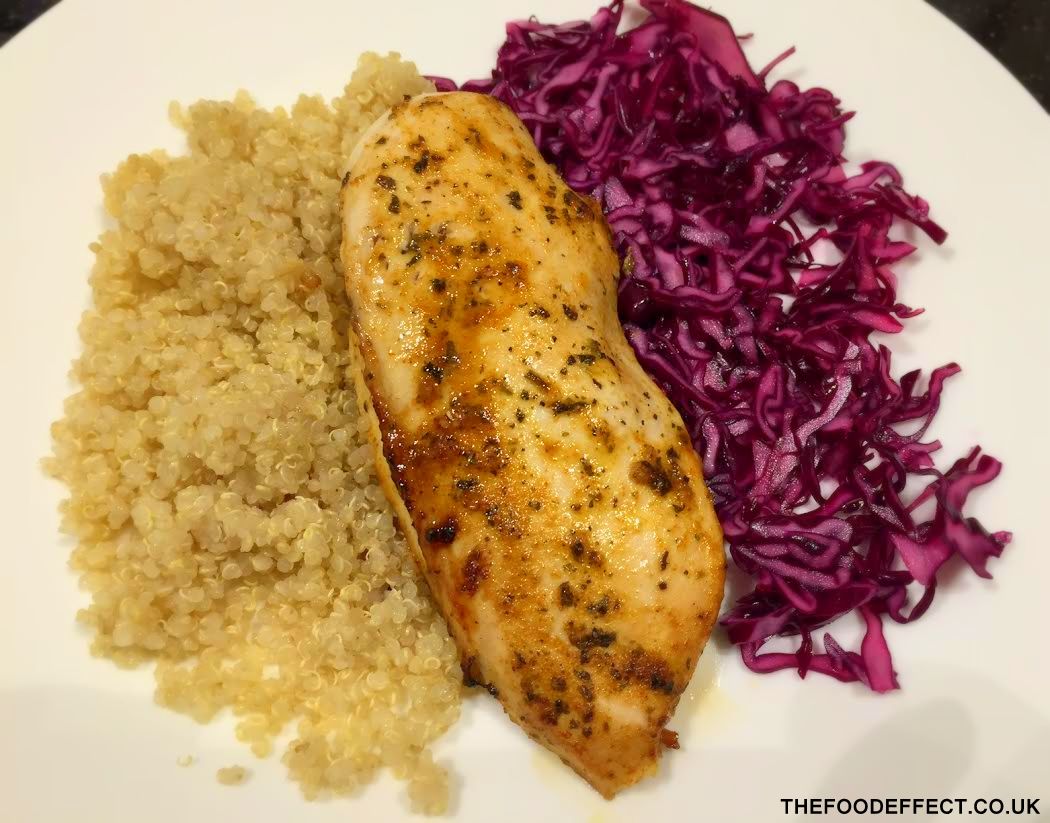 This Clean Eating Cajun Chicken recipe which I've created makes a perfectly healthy protein-packed meal, and is both easy and versatile to whip up – either for a filling lunch or a delicious week-night dinner.  Chicken is a healthy, easy-to-prepare choice that features in all of my meat-eating clients' meal plans, and I advocate it along with a serving of unrefined carbs – such as sweet potato, brown rice or quinoa – and, of course, plenty of veg!  Believe it or not, living off dry chicken breast with steamed broccoli or lettuce leaves is neither preferable for weight loss or as a way of life!
Chicken (especially lean chicken breasts) – is super high in satiating protein, low in calories and fat and incredibly versatile.  It contains virtually no carbohydrate, cholesterol or saturated fat – making it an ideal choice of lean protein for meat eaters.  Chicken is also a very good source of niacin (important for energy production, fat, cholesterol & carbohydrate metabolism, and the production of sex & adrenal hormones), selenium (which helps prevent free-radical damage, thereby reducing the risk of cancers, cardiovascular disease, inflammatory diseases & premature ageing), vitamin B6 (critical in maintaining a healthy nervous system, red blood cells, hormonal balance & proper immune function) and phosphorus (essential in an abundance of bodily functions including energy metabolism, DNA synthesis & calcium absorption).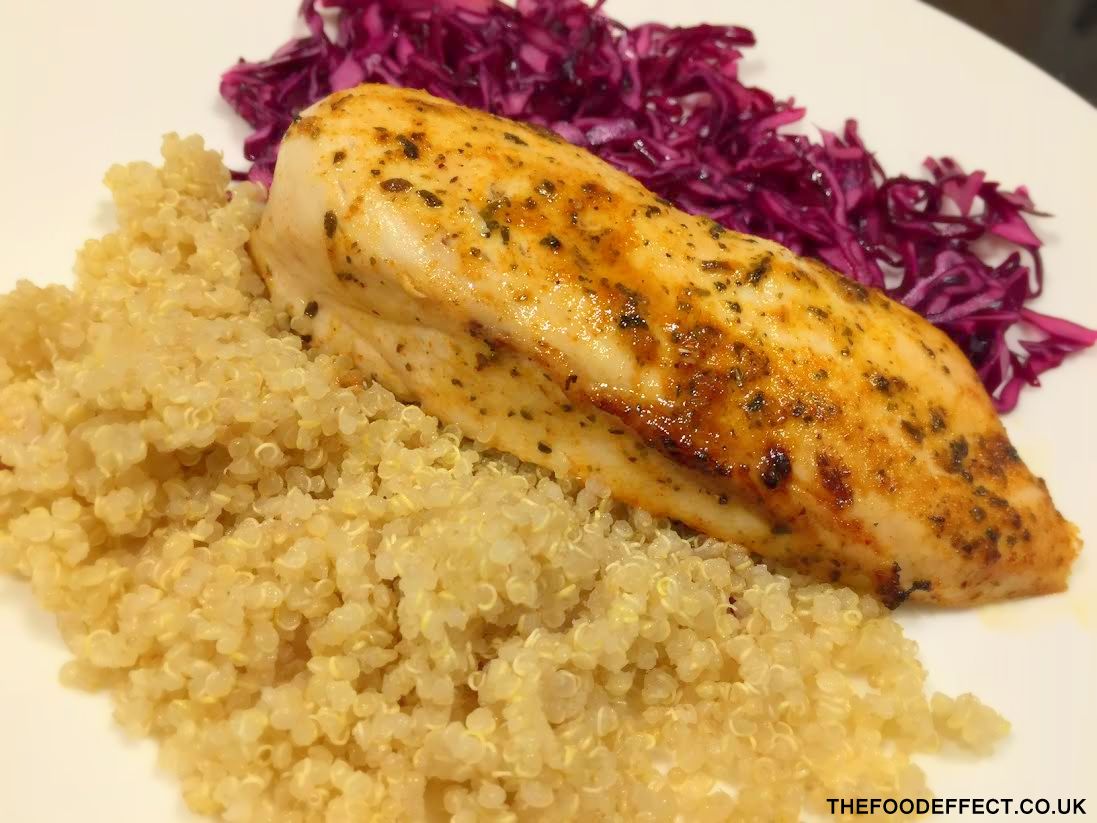 This Cajun Chicken dish is fabulously light yet extremely filling.  It also completely adaptable – you can replace the red cabbage slaw with whatever vegetable you fancy, for example fresh spinach leaves, chopped tomatoes, steamed green beans or broccoli, and it can be served with brown rice, quinoa (as pictured here) or whole-wheat couscous – whichever way you go, I can assure you, will be delicious!  Leftover chicken also makes an ideal sandwich filler in a whole-wheat pitta or wrap (I've included a recipe for Cajun Chicken Breast Pitta below).  Winner winner chicken dinner! 🙂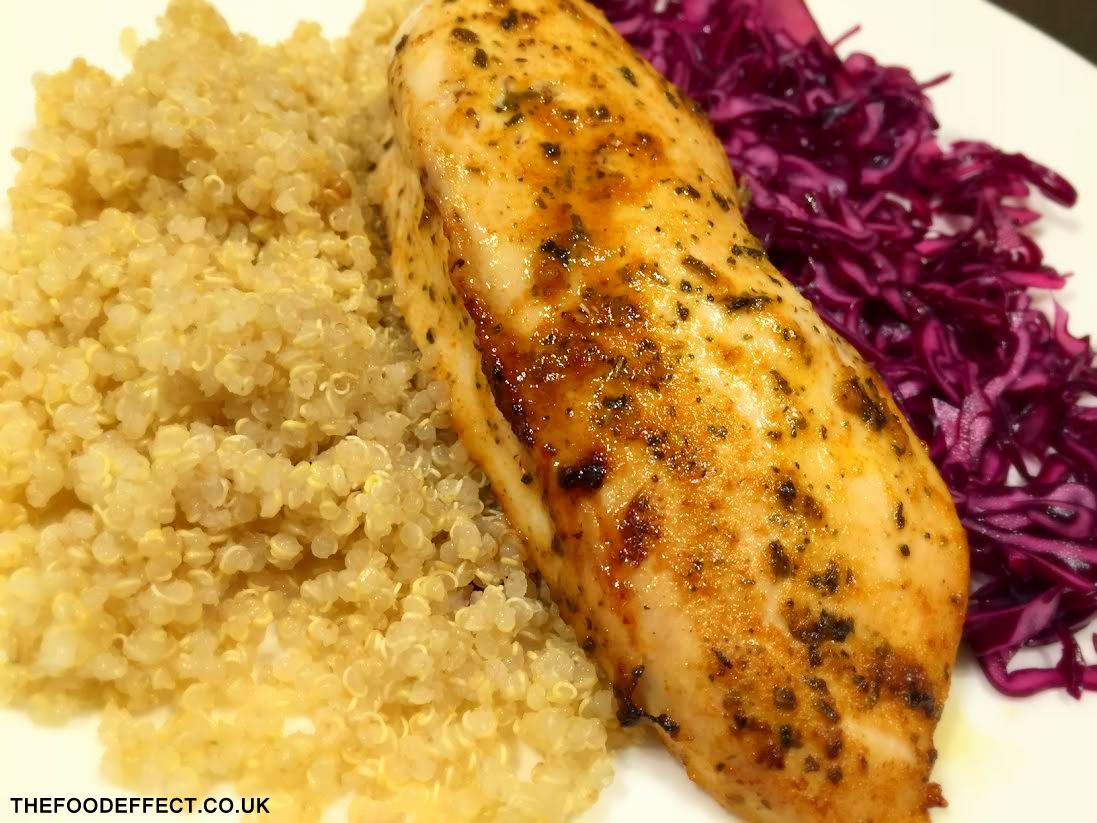 Recipe
Clean Eating Cajun Chicken (with Red Cabbage Slaw)
Serves 4
Ingredients:
4 skinless, boneless chicken breasts (150-200g each)
2 Tbsp. lemon juice
2 Tbsp. olive oil
1 tsp. chili powder
½ tsp. cumin
½ tsp. dried coriander
½ tsp. paprika
½ tsp. dried basil
2 cloves of garlic, crushed
Salt & pepper
Directions:
Rinse chicken and pat dry.  Season chicken breasts well with salt and pepper.  Combine lemon juice, olive oil, seasonings and crushed garlic in a small mixing bowl or glass.  Pour over chicken, ensuring both sides are well coated and allow to marinate for at least an hour (at room temperature), or overnight (up to 24-hours) in the fridge.
Pre-heat oven to 180°C.  Arrange marinated chicken in a single layer on a baking tray or ovenware dish that has been lightly greased/ coated with olive oil or spray oil.  Pour marinade over chicken.  Bake uncovered for around 20 minutes – do not overcook!  Serve with red cabbage slaw or a fresh green salad, and some brown rice or quinoa.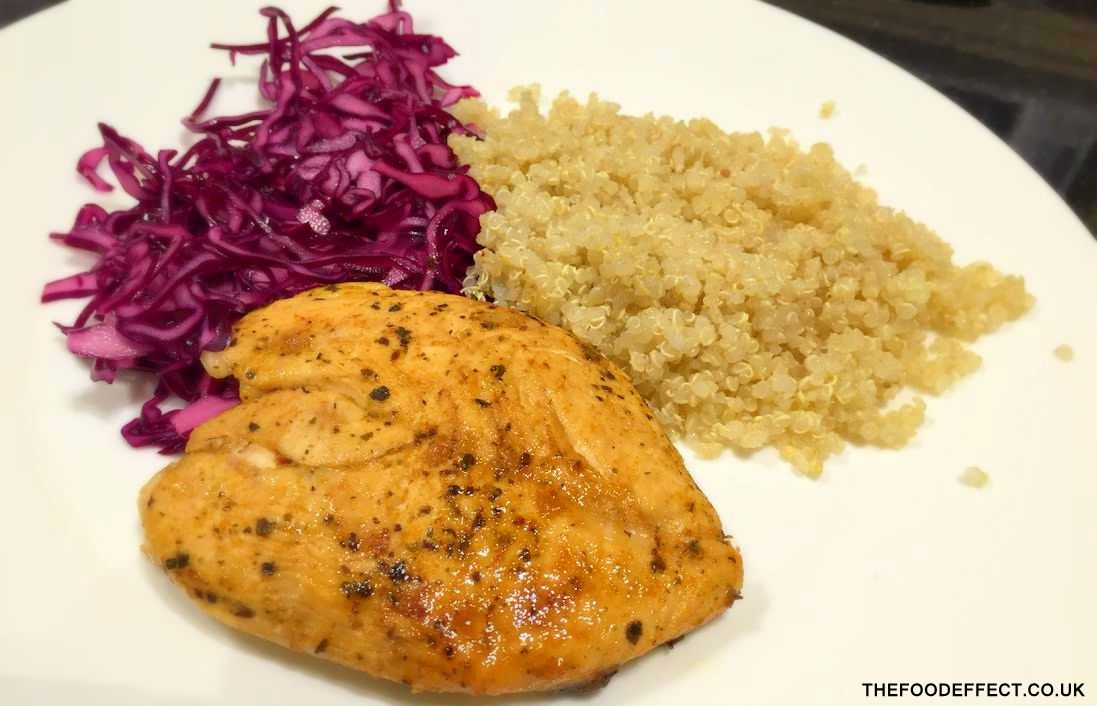 Red Cabbage Slaw
200g red cabbage, core removed
½ cup apple cider/ malt vinegar
4 Tbsp. agave syrup
2 tsp. salt
Directions:
Shred cabbage very finely using a food processor or sharp knife.  Tip into a large bowl.  Mix together the vinegar, agave and salt until well combined.  Pour over the cabbage; mix well.  Set aside and allow to "sit" for at least one hour before serving.  Mix again well before serving.
Cajun Chicken Breast Pitta
An easy, healthy and delicious way to use leftover chicken!
Serves 1
1 cooked "Clean Eating Cajun Chicken Breast" – see recipe
1 whole-wheat pitta
2 Tbsp. mustard
1 Tbsp. reduced sugar ketchup
Lettuce, sliced cucumber, tomatoes & red pepper
Use warm or cold cooked chicken breast – slice thinly on the diagonal.  Cut pitta bread in half.  Spread inside of each half pitta with mustard & ketchup.  Fill with salad greens, desired veggies and sliced chicken.  Enjoy! 🙂
Leave a Response
You must be logged in to post a comment.