All Healthy Coconut French Toast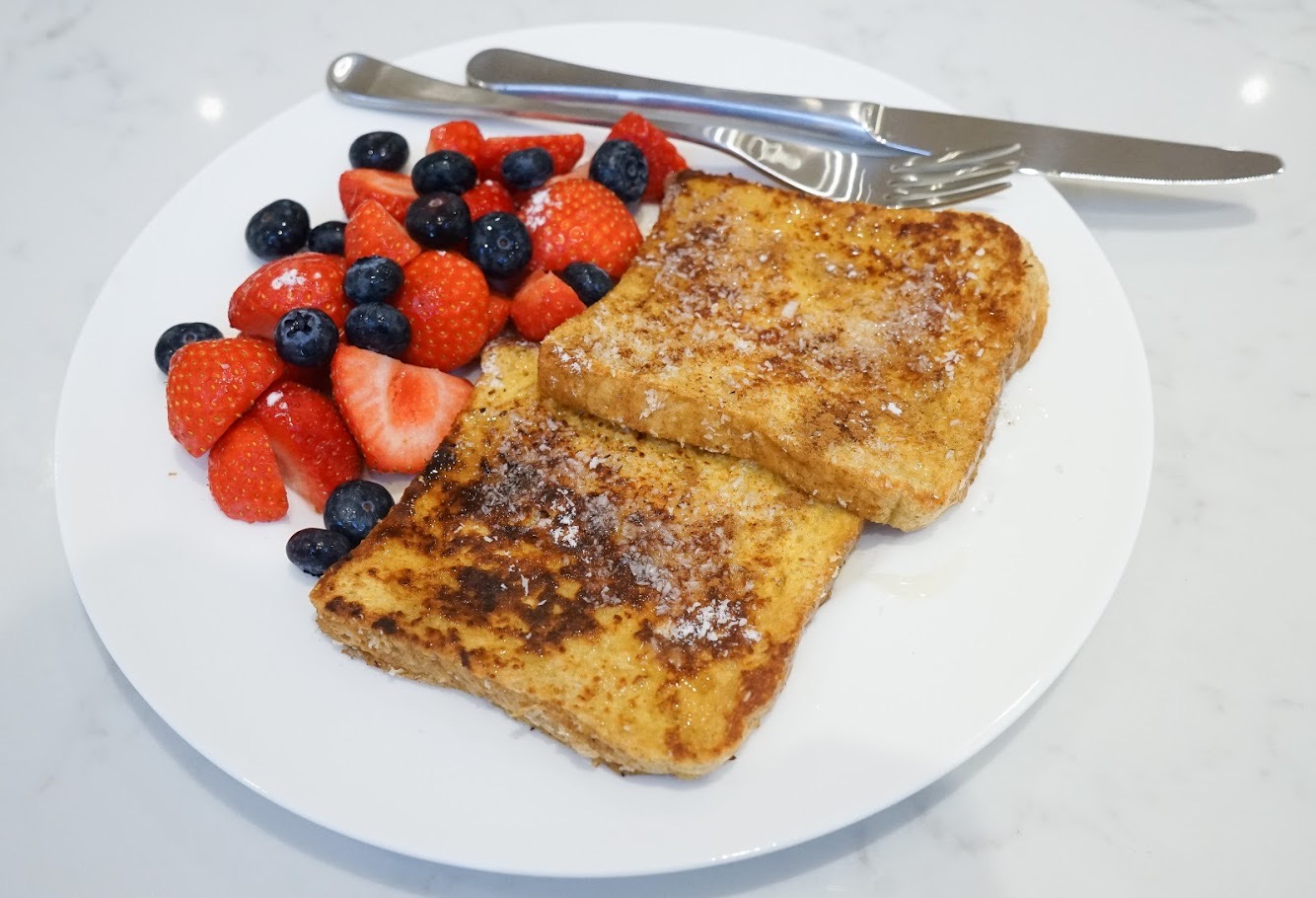 Traditional French toast is typically made with thick white bread coated in egg and milk mixture, fried in ample butter or oil, and served with a thick coating of refined white sugar (& possibly with some high GI golden syrup to top it off!)… a sure fire recipe for raising blood sugar levels, then causing them to come crashing down – leaving you hungry, tired and in search of more sugary starchy food not long after.  Definitely not what we want from a healthy breakfast, or if you're looking to lose weight!
With this recipe however, you can eat French Toast for breakfast (or lunch, brunch or supper!) without worrying about any of that happening, or piling on the pounds as it doesn't contain the refined carbs, added sugar and calories of the standard version.
It's made from all-natural, healthy ingredients, so this is a great one to make for kids too – and you can feel smug that you're not just feeding them a ton of white bread and sugar (like the thick challah French toast I had in my youth), but they're not missing out on the delicious taste and treat of having French Toast.
And I can vouch that it tastes just as delicious as the far less healthy, more sugar laden one of my childhood!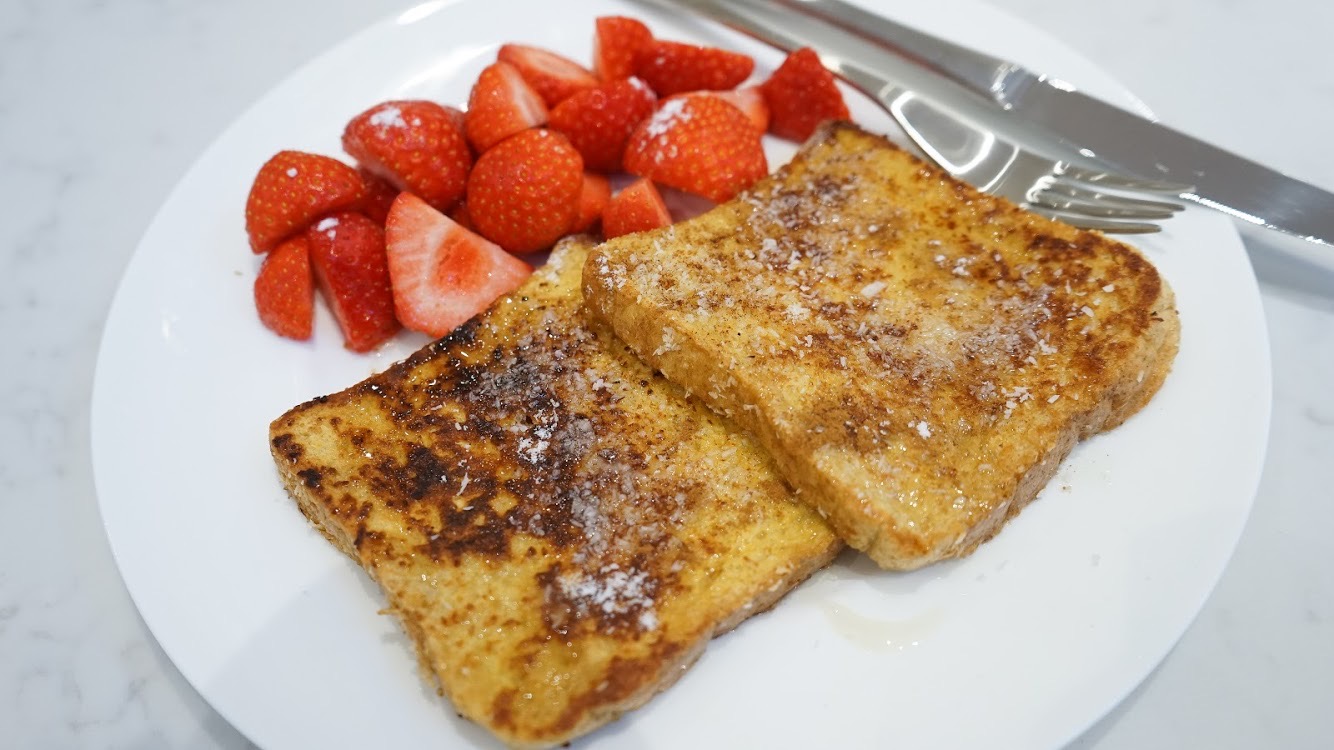 It's even a breakfast option in the 28-day "Attack Phase" plan in both my books, and there is a vegan version of it in my vegan book, The Food Effect Diet Vegan.
This recipe packs in gut-loving whole-grain goodness and fibre, a perfect dose of protein, and super healthy, metabolism boosting fats from the coconut, as well as a hit of vitamins, minerals and anti-oxidants from the berries.
It tastes so decadent and delicious, you'll have a hard time believing it's waistline friendly… AND super good for you too!
Coconut in all its forms has an endless array of health properties that have been shown to benefit the heart, brain, and digestive system, due to its unique healthy fat content, antibacterial effects, and balance of dietary fibre, protein, antioxidants, vitamins and minerals.  The rich source of healthy fats (medium-chain triglycerides (MCTs) found in the coconut flesh and oil (both of which are included in this recipe), have been shown to help lower the risk of heart disease, by increasing healthy (HDL) cholesterol, without raising unhealthy (LDL) cholesterol.  These wondrous MCT's also help with weight management, by reducing appetite, boosting metabolism, and increasing the activity of fat-burning cells.
Enough good reasons to whip this up for your next breakfast (or any time of day for that matter!)… you can thank me after!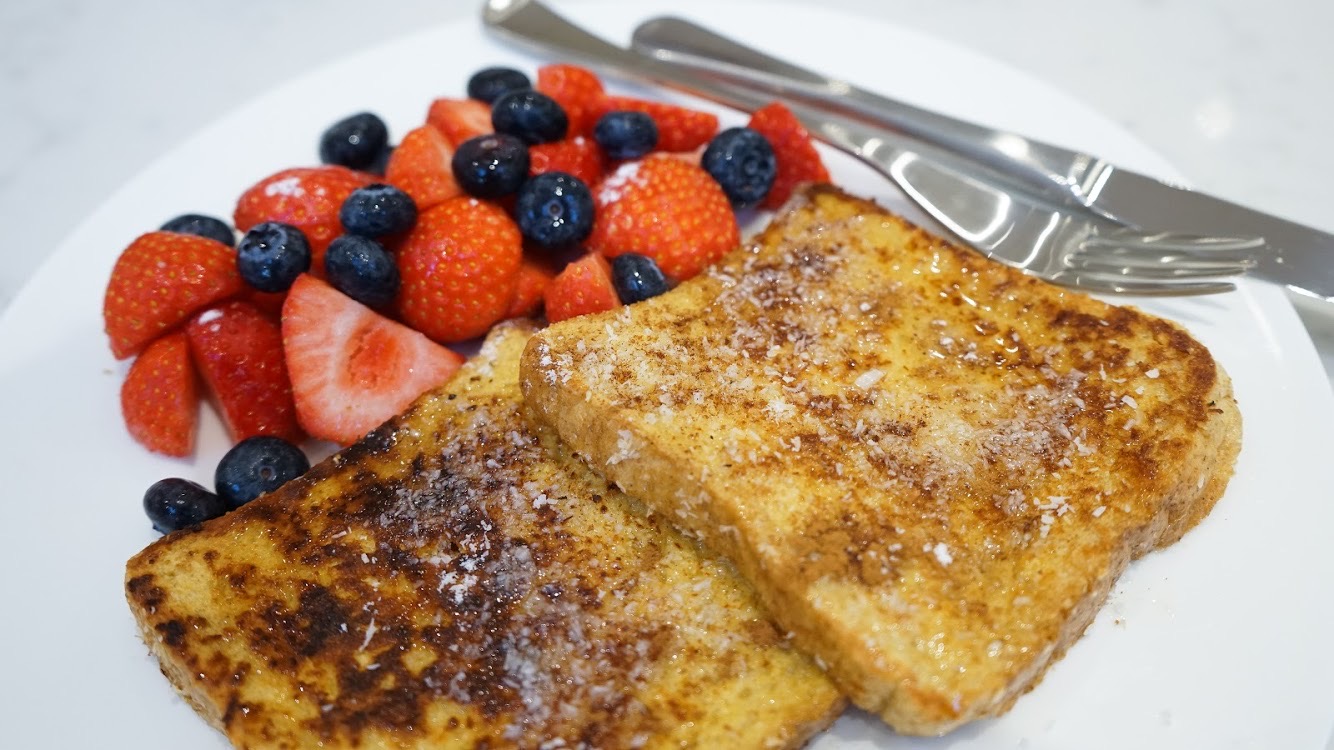 Recipe
Serves 1 – can easily be doubled (or multiplied for more!)
1 egg
1 tbsp milk of choice – skimmed/ semi-skimmed, soya or almond milk
1 slice wholemeal bread (or any bread of your choice, such as spelt or gluten free)
Shredded or desiccated coconut (unsweetened)
Coconut oil or cooking spray, for greasing
Granulated sweetener, e.g. stevia or xylitol or erythritol
Cinnamon
Mixed berries or strawberries, to serve
Agave syrup, to serve
Mix together the egg and milk in a shallow bowl. Dip the bread into the egg mixture to cover fully. Remove the bread from the bowl. Sprinkle the coconut generously over both sides to coat the bread.
Grease a non-stick pan lightly with coconut oil or cooking spray, and heat over a medium heat.
Fry the bread on both sides until golden. Transfer to a plate. Sprinkle generously with granulated sweetener (stevia or xylitol) and cinnamon. Serve with the mixed berries or strawberries alongside, and a drizzle of agave syrup on top. Enjoy!!
Leave a Response
You must be logged in to post a comment.