CURRIED CHICKEN SALAD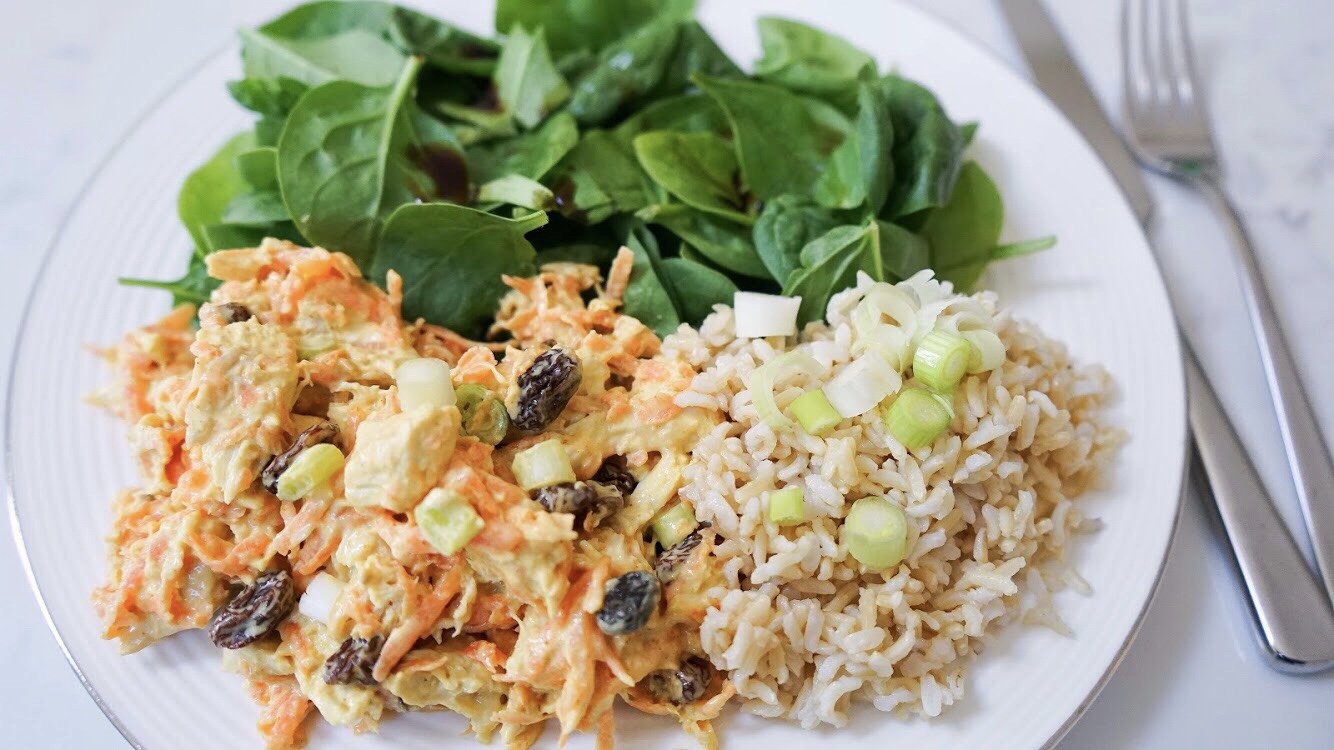 Regular followers of The Food Effect might be somewhat surprised to see a recipe featuring chicken on the blog, as up until now, it has not featured heavily in my online presence.  Don't get me wrong, with a meat-loving husband and South African parents, it is a frequent component of my kitchen, but for my protein intake, I personally prefer the taste of fish, eggs, cheese, yoghurt, milk, beans, pulses, whole-grains and nuts, and usually stick to those.
Nevertheless, chicken is a healthy, easy-to-prepare choice that features in all of my meat-eating client's meal plans and I advocate it along with a serving of unrefined carbs such as sweet potato, brown rice or quinoa, and plenty of veg! Living off dry chicken breast with steamed broccoli or lettuce leaves is neither preferable for weight loss, or as a way of life!
Chicken – especially lean chicken breast – is a fantastic source of satiating protein that is extremely low in fat and incredibly versatile. It is also a very good source of niacin (important for energy production, fat, cholesterol & carbohydrate metabolism, and the production of sex & adrenal hormones), selenium (which helps prevent free-radical damage, thereby reducing the risk of cancers, cardiovascular disease, inflammatory diseases & premature ageing), vitamin B6 (critical in maintaining a healthy nervous system, red blood cells, hormonal balance & proper immune function) and phosphorus (essential in an abundance of bodily functions including energy metabolism, DNA synthesis & calcium absorption).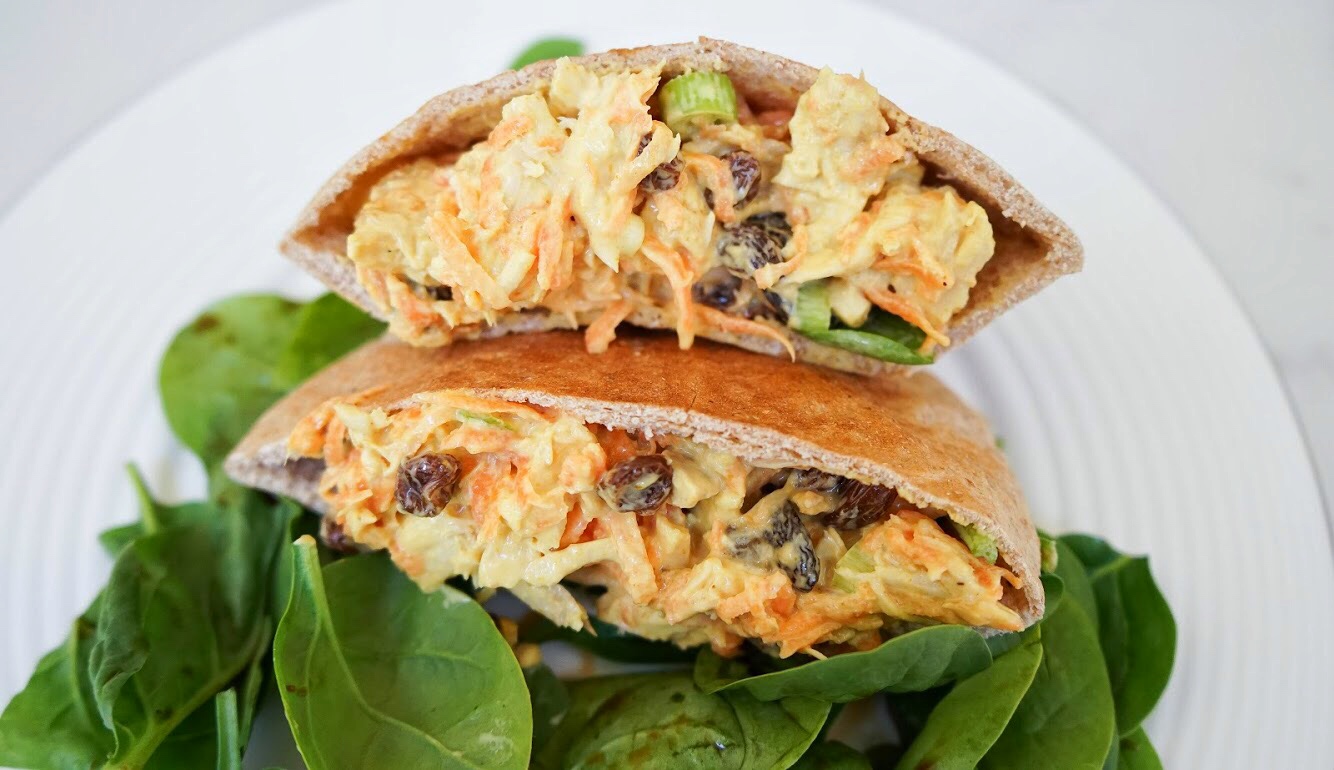 This chicken dish is super light yet extremely filling, and is also both versatile and completely adaptable.  You can add or replace whatever vegetables or fruit you fancy, for example red pepper, chopped apple or a handful of raisins – all will be delicious.  This dish can be served as a main alongside fresh salad leaves for a healthy lunch or light protein packed dinner, or makes an ideal sandwich filler on healthy whole-grain bread, in a whole-wheat pitta or wrap or topped on some crackers served with fresh crudités.  Whichever way you go, I assure you it will not disappoint!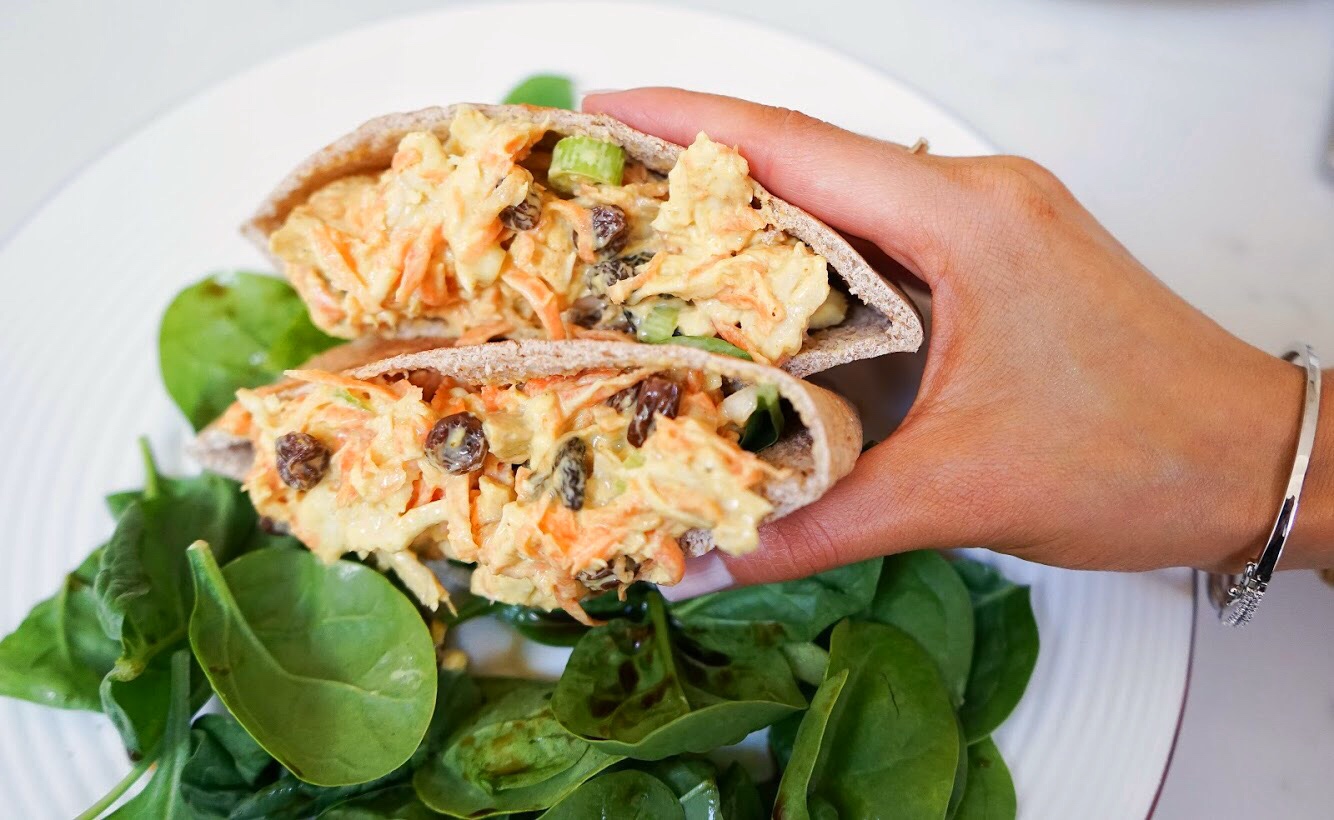 Recipe  
Serves 1-2
Ingredients
150g cooked chicken breast (skin removed), diced or shredded
2 spring onions, sliced thinly
1 celery stalk, finely diced
1 small tin of sweetcorn (150g) OR 1 large carrot, grated
6 Tablespoons light mayonnaise
1 Tablespoon mustard
1/2 teaspoon curry powder
1 Tbsp. agave syrup or honey
1 teaspoon lemon juice
generous pinch of salt
¼ tsp. black pepper
2 Tbsp. raisins or dried cherries (optional)
Directions
Combine mayonnaise, mustard, curry powder, agave syrup, lemon juice, salt and black pepper and stir together well.  Add all other ingredients to a mixing bowl, add the curry dressing and mix together until everything is well combined. Season with additional salt &/ or pepper to taste.  Enjoy! xx
Leave a Response
You must be logged in to post a comment.