CURRIED CHICKPEA SALAD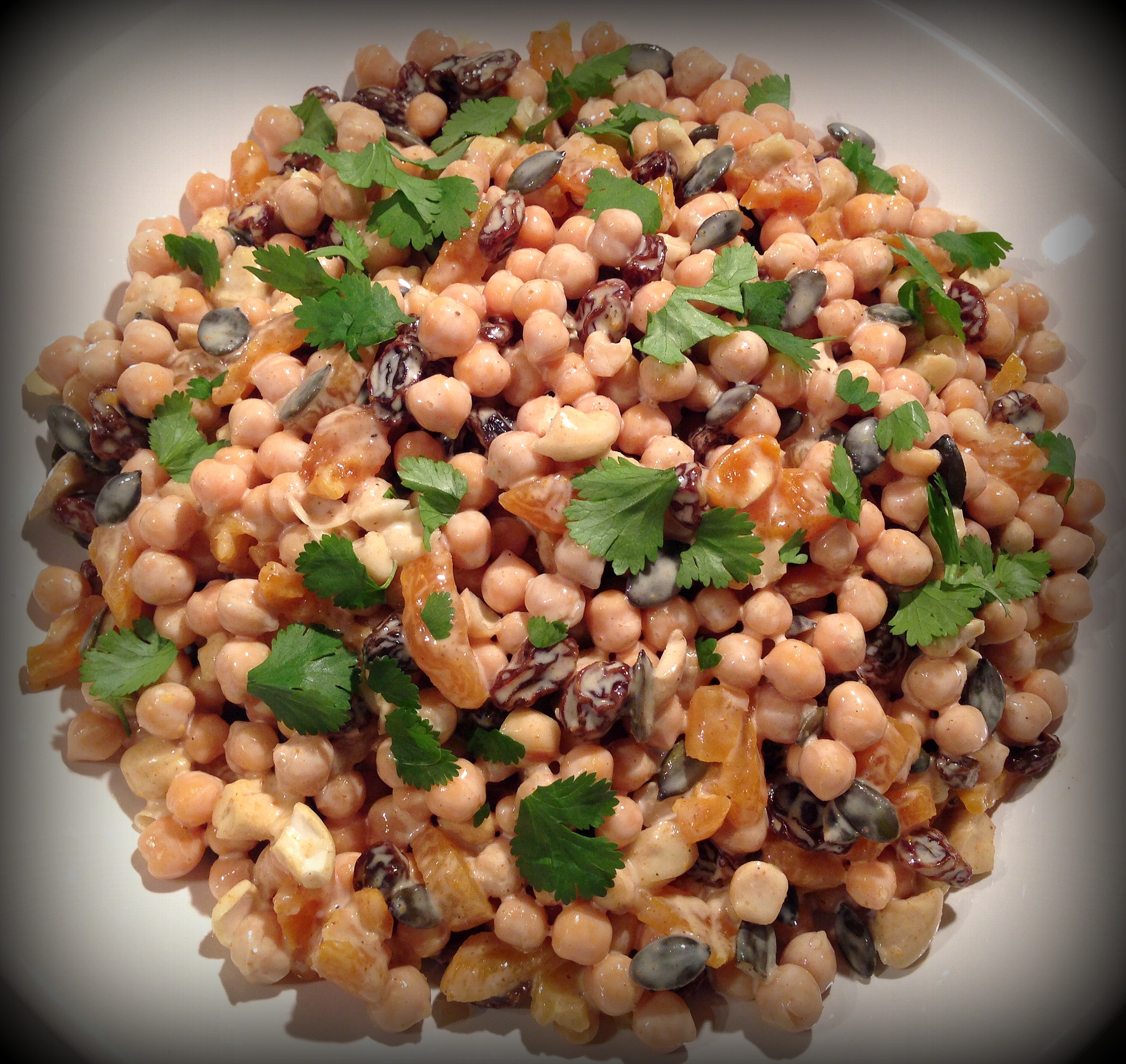 From Curried Chicken Salad (see my last post HERE) to Curried Chickpea Salad…. this is one of my all time favourite recipes that's sure to please vegans, veggies and meat eaters alike.  As mentioned in my last post, I prefer to stick to plant-based protein sources (as well as fish and eggs) in favour of chicken and meat, so this dish is right up my street!  But it's equally adored and polished off by all the meat lovers in my life, whenever I whip it up for a meal.
The salad is colourful, versatile, and nutrient-dense, and is guaranteed to be a hit whatever way it's served.  It's perfect paired with fresh spinach leaves and some whole-wheat couscous or quinoa, for a delicious healthy lunch or light protein packed dinner, or makes the ideal accompaniment alongside grilled fish or chicken, along with some fresh green salad, chopped tomato, and brown rice.  I often whip up a batch to have on hand for a few days, for lunches or dinners (or a sneaky spoonful from the fridge in between… it's that good!)
The combination of ingredients is perfect – wholesome chickpeas, crunchy cashew nuts and seeds, fresh carrots and sweet juicy raisins and dried apricots, topped with the easiest, most delicious, sweet, creamy, curry dressing.
Chickpeas are a fantastic source of fibre and protein, and have a low glycaemic index.  This powerful combination makes them particularly good at helping with weight management.  In an Australian http://premier-pharmacy.com/product-category/mans-health// study, adults who ate 100g of chickpeas a day for four weeks, ate fewer processed snack foods, and felt fuller, compared to when they didn't include chickpeas in their daily diet.  One cup of cooked chickpeas provides 50% of your daily fibre requirement, so it's no wonder this legume provides long-lasting energy, keeps you feeling full, promotes good digestion, curbs appetite and has even been shown to help lower (bad) LDL cholesterol.
Even enjoying just ½ cup of chickpeas daily will help keep you feeling full and consuming fewer calories, and I guarantee you that meeting your quota from my Curried Chickpea Salad will not disappoint! 🙂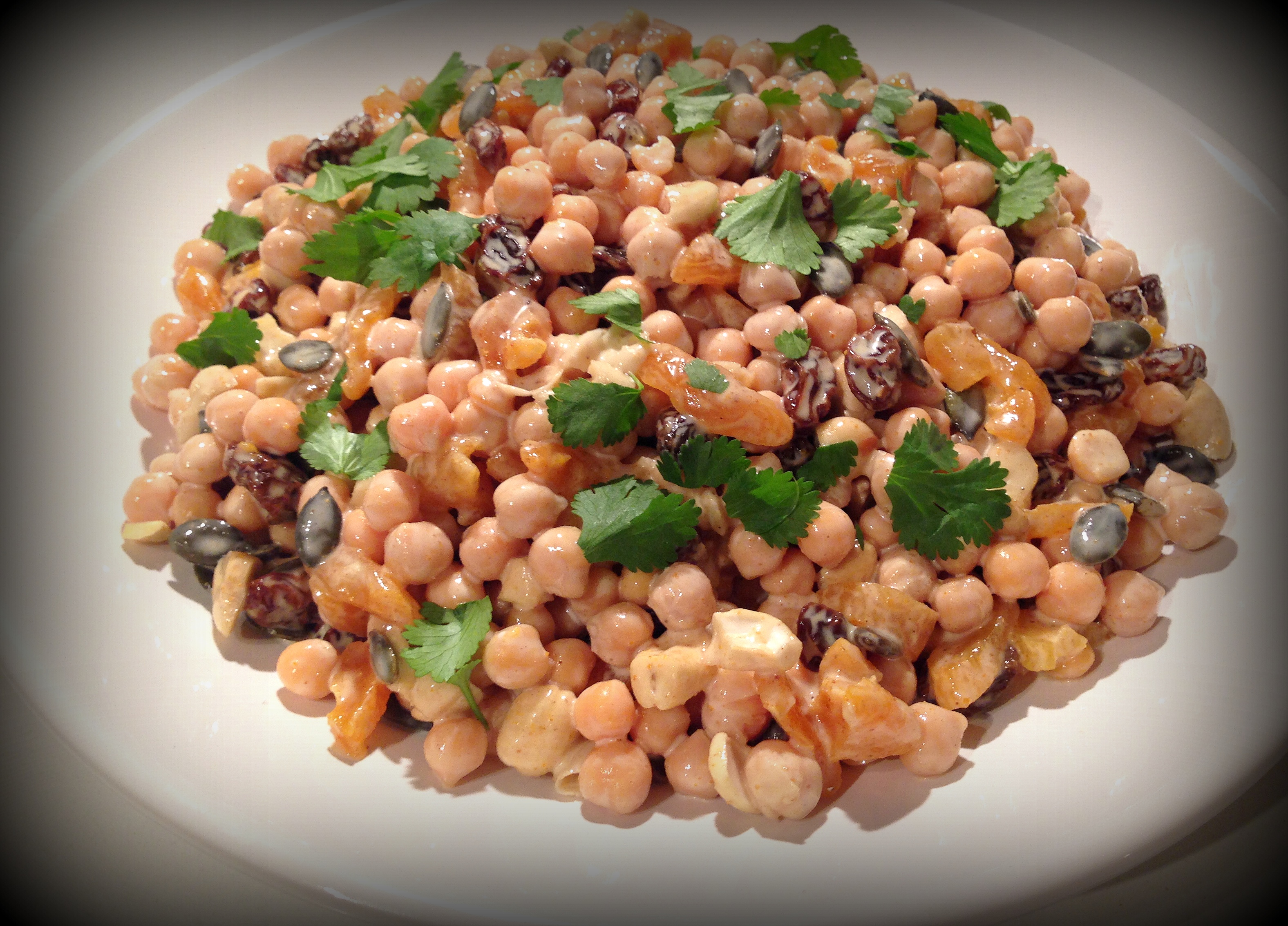 Serves 4
Salad Ingredients:
2 cups cooked chickpeas (or 2x 400g tins)
1 large carrot, grated
½ cup raisins
½ cup dried apricots, sliced
½ cup raw cashew nuts, chopped
¼ cup pumpkin seeds
2 Tbsp. chopped coriander (for garnish)
2 spring onions, sliced (for garnish)
Dressing Ingredients:
½ cup low-fat mayonnaise/ veganaise
½ Tbsp. mild curry powder (increase to 1 Tbsp. if you like spicier!)
½ tsp. salt
1 Tbsp. agave syrup
1 Tbsp. lemon juice
Mix all dressing ingredients together by hand in a small bowl or mug. Combine all salad ingredients (apart from coriander and spring onion) together in a large bowl.  Add dressing and mix through, until everything is well coated.  Sprinkle chopped coriander and sliced spring onions over the salad to serve.  Serve either at room temperature or chilled from the refrigerator.  Leftovers keep well in the fridge for a few days.  Enjoy! 🙂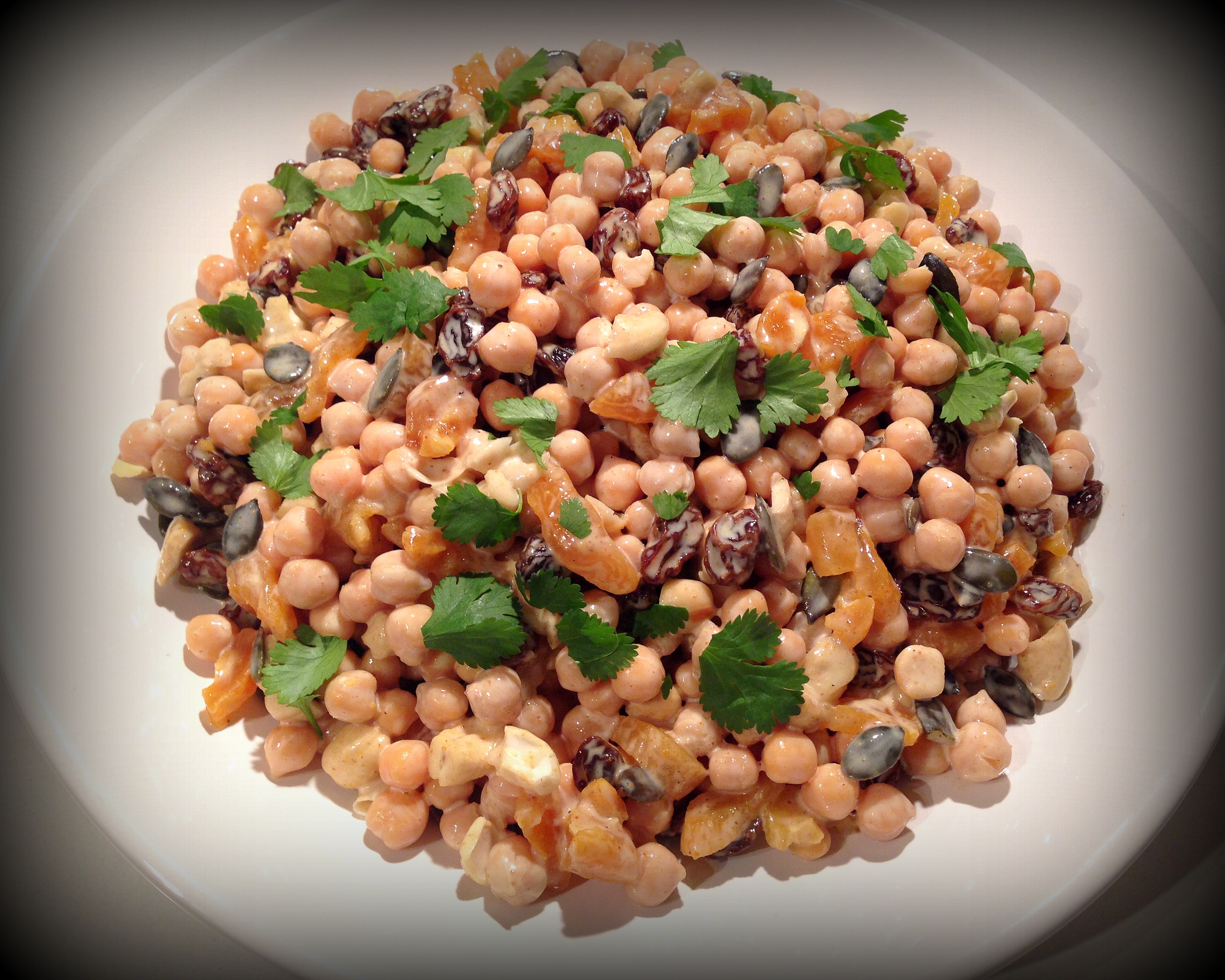 One Response to "CURRIED CHICKPEA SALAD"
OMG this looks so delicious and healthy too!
Will be making this ASAP .
Leave a Response
You must be logged in to post a comment.