EASIEST EVER SKIN GLOWING SHAKSHUKA
Now you might not associate Shakshuka with glowing skin – but it's actually the PERFECT skin glowing meal packed with all the right nutrients to get you glowing from the inside out!  More about that in a minute…
Firstly if you've never heard of or tried Shakshuka – it's a traditional Middle Eastern dish (that's recently appeared across restaurants in London, and worldwide!) – that consists of a thick tomato sauce with eggs cooked inside. There are lots of variations, but that's the basic gist of it.
It's usually served with some bread alongside for dipping, which I highly recommend!!  And lucky for you carbs are totally allowed on The Food Effect Diet!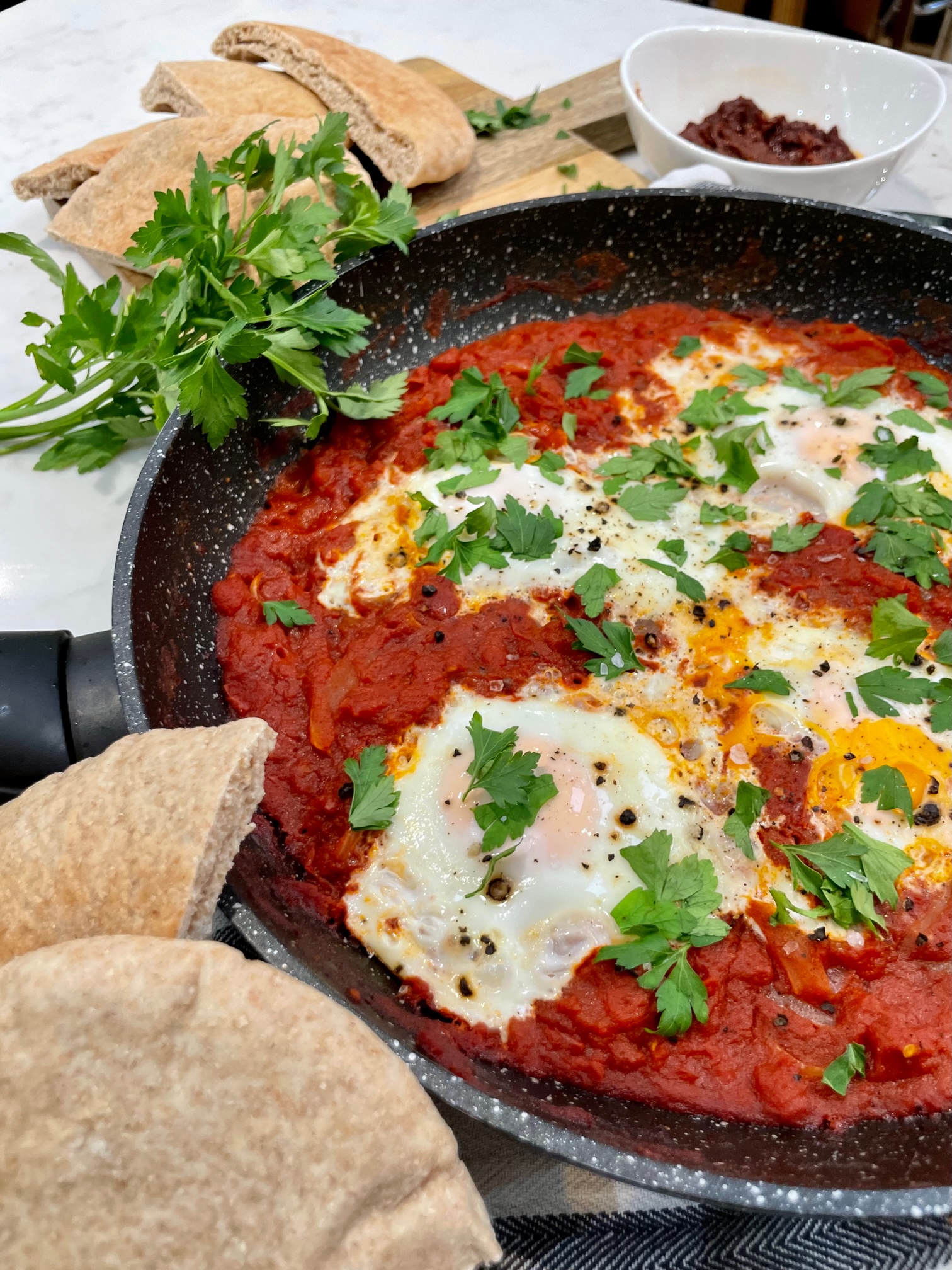 Shakshuka is typically served as a breakfast or brunch dish, but we love it as a supper in The Food Effect house!
If you've only ever seen or ordered it in restaurants, it looks like a fancy complicated dish, but it's actually incredibly easy once you learn how to make it yourself! Watch my YouTube video to see how…
Back to why I've updated my Easiest Ever Shakshuka to my Easiest Ever "Skin Glowing" Shakshuka …
I recently recorded a "Top Foods for Glowing Skin" YouTube video which will be coming out in a few weeks, stay tuned for that!  In doing my research (of course I know what foods give glowing skin, but I always love to keep up with my learning and do some reading around the topics I'm sharing about to give you all the best and up to date info) the top foods that came up consistently for glowing skin – were tomatoes, eggs and olive oil!

Literally the main ingredients of this dish!
I knew this dish was packed with so much good nutrition, and that my version was totally waistline friendly too – but it hadn't struck me until now that's it's also the perfect SKIN GLOWING MEAL!! Which makes me love it EVEN MORE!
If you want some info on the health and skin glowing benefits of the ingredients…
Tinned chopped tomatoes:
Tomatoes are one of the best sources of the antioxidant lycopene, which protects against ageing and various cancers, and helps our skin to naturally defend itself against harmful UV rays, and therefore ageing. Interestingly, lycopene in tomatoes is more easily absorbed when it is cooked, so canned chopped tomatoes are one of the best sources!
They're also rich in Vitamin C, which promotes collagen production.
Lycopene needs to be consumed with some healthy fats to be absorbed, which brings us onto the next skin glowing ingredient…
Olive Oil
If you watched my Eating Fats 101 video, you'll have heard that olive oil is packed with so many health benefits for all aspects of health. For skin in particular, it's rich in Vitamin E, an antioxidant that fights free radicals and is super important for skin health.
Olive oil also helps maximise absorption of all the vitamins and minerals from the foods we eat, including lycopene from tomatoes and also the fat soluble Vitamins, Vitamins A, D, E, and K, which need some fat to be absorbed, and are all found in our delicious eggs – so a real win-win combo all round!
Onto the star ingredient…
Eggs – a great source of protein (the most complete source second to human breast-milk!)  Protein is essential for every cell in our body, including maintaining healthy skin.
The yolks are a powerhouse of nutrients (including folate, iron, zinc, selenium, Vitamin D, B Vitamins, choline and lutein) important for every part of our body (including our brain, muscles, bones, eyes, hair and nails).
Choline in particular, is essential for skin (as well as hair & nails). It's found in the yolk – so ditch the egg white only omelettes and stick with my Shakshuka recipe instead!
Basically Shakshuka is skin glowing goodness, health and happiness in a pan… so go ahead and try it for yourself! 😍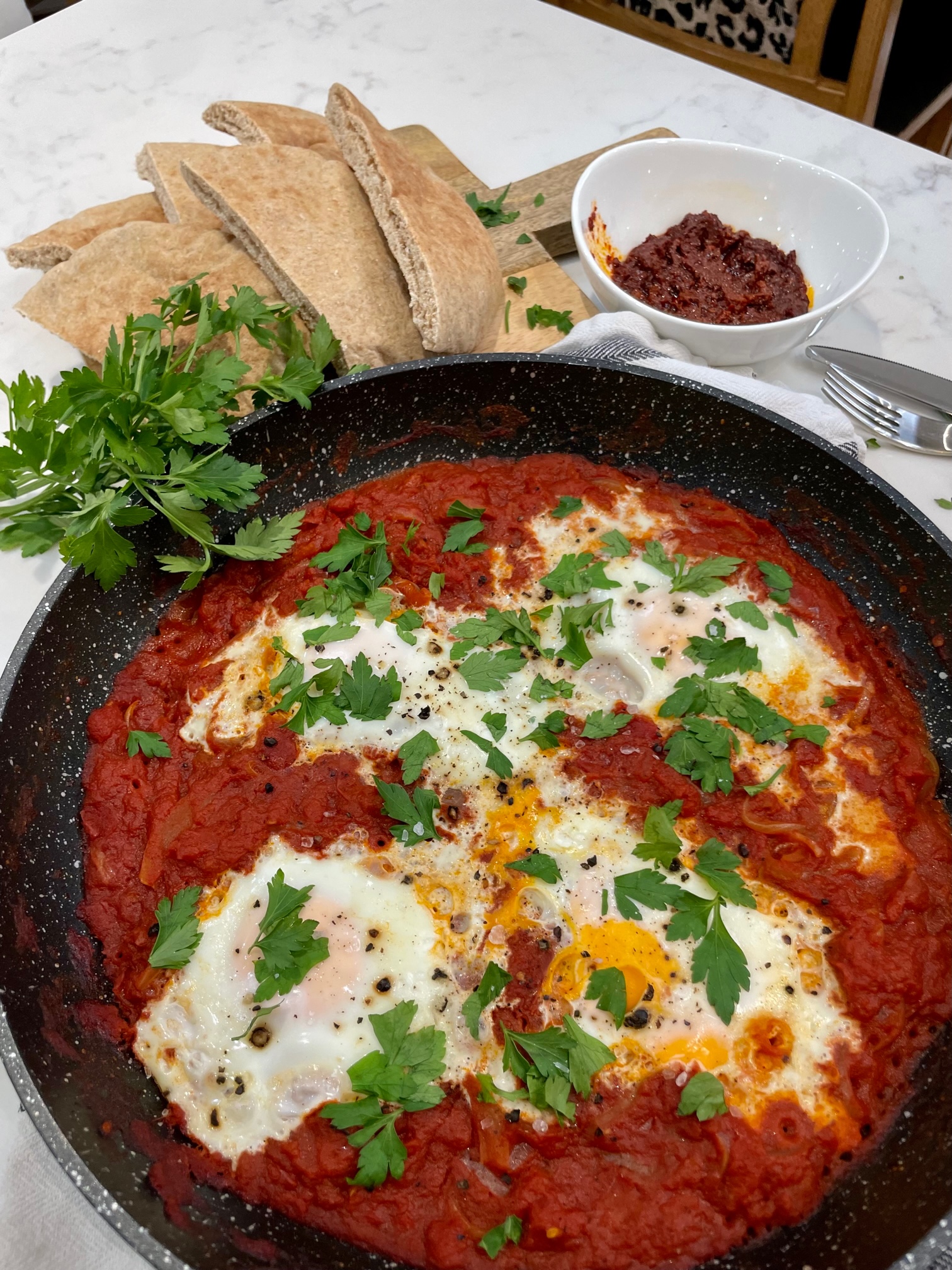 RECIPE
Serves 2
1 tbsp olive oil
1 medium onion, sliced
1 clove of garlic, crushed; or ¼ tsp. garlic powder
2 x 400g tins of chopped tomatoes
1/2 tsp. harissa paste (or 1 tsp. chilli powder) – both optional (omit if you don't like spice)
1/2 tsp. cumin
1 tsp. paprika
1/2 tsp. sea salt (plus extra to season)
4 large eggs
2 tbsp fresh chopped parsley
Salt and fresh black pepper, to taste
Thick whole-meal or sourdough bread, or pitta bread – to serve.
Heat the oil in a large lidded frying pan over medium heat.  Add the onion and sauté for around 5 minutes or until translucent. Add in the garlic (or garlic powder), harissa paste (or chilli powder), cumin, and paprika and cook for 1 minute.
Add the tinned chopped tomatoes and sea salt and bring to a boil. Reduce the heat simmer for 20-30 minutes, or until broth has thickened completely.  Create 4 small "pockets" in the sauce for the eggs and break the eggs directly into wells.  Season them lightly with salt and pepper.  Turn the heat down very low and cover the pan with a lid.  Let cook for about 8 minutes, or until the eggs are just set on top (cook for longer if you prefer more well done eggs).
Top with fresh chopped parsley and black pepper.  Serve immediately with plenty of fresh bread or pita for dipping.
Optional extras:
Add a pinch of cayenne pepper to the sauce (along with the additional spices) if you like things hot and spicy!!
Add sliced red or yellow pepper (or both!) when sautéing the onions.
Add feta cheese on top before serving.
Add sliced avocado on top before serving.
Top with olives (black or green, or both!)
Let me know if you make it. I am on Instagram @thefoodeffectdr if you do make it please share and tag me in your creations, I'd love to see! xx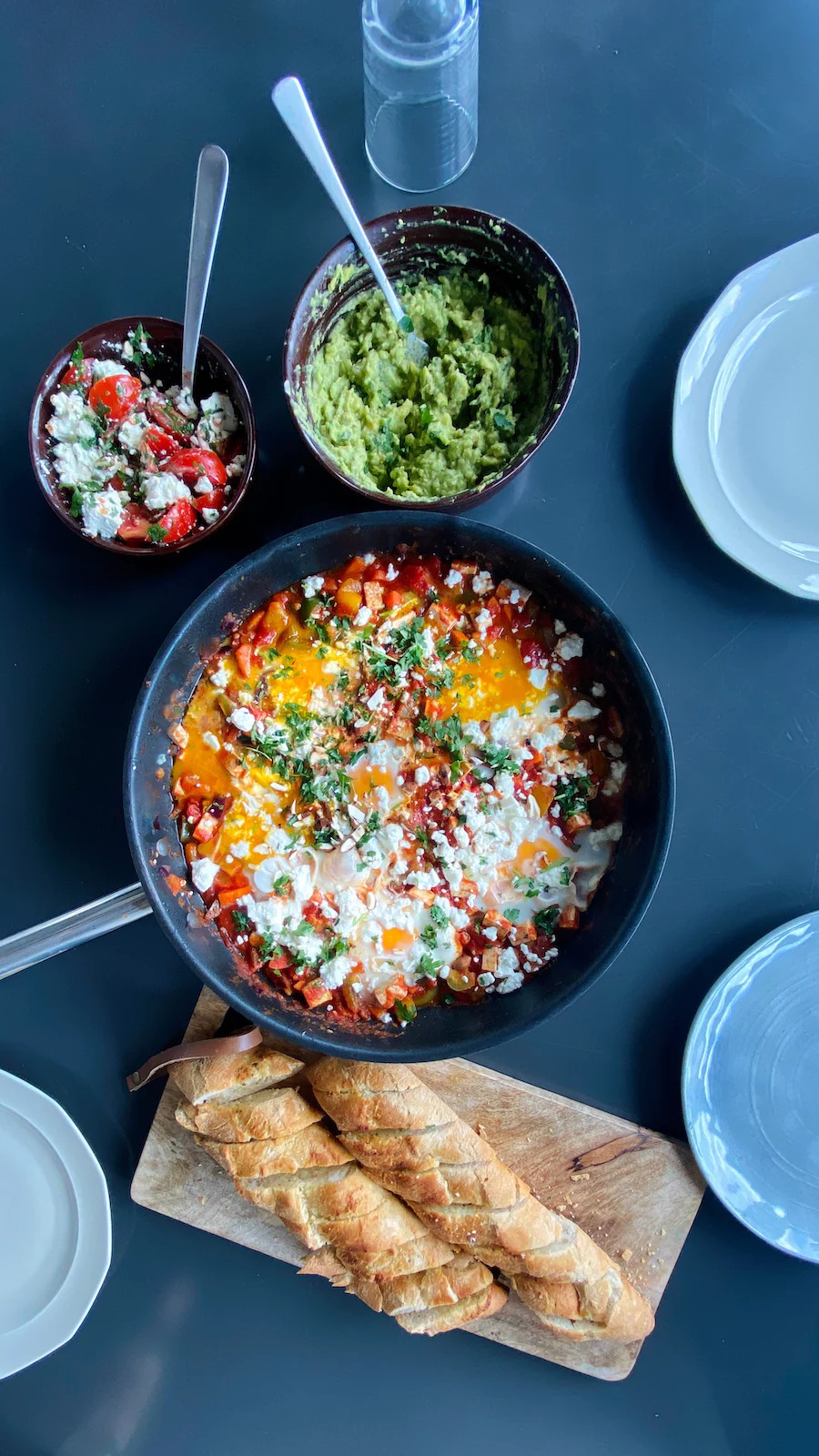 Comments are closed.