Flourless Carrot Cake (Gluten & Dairy Free)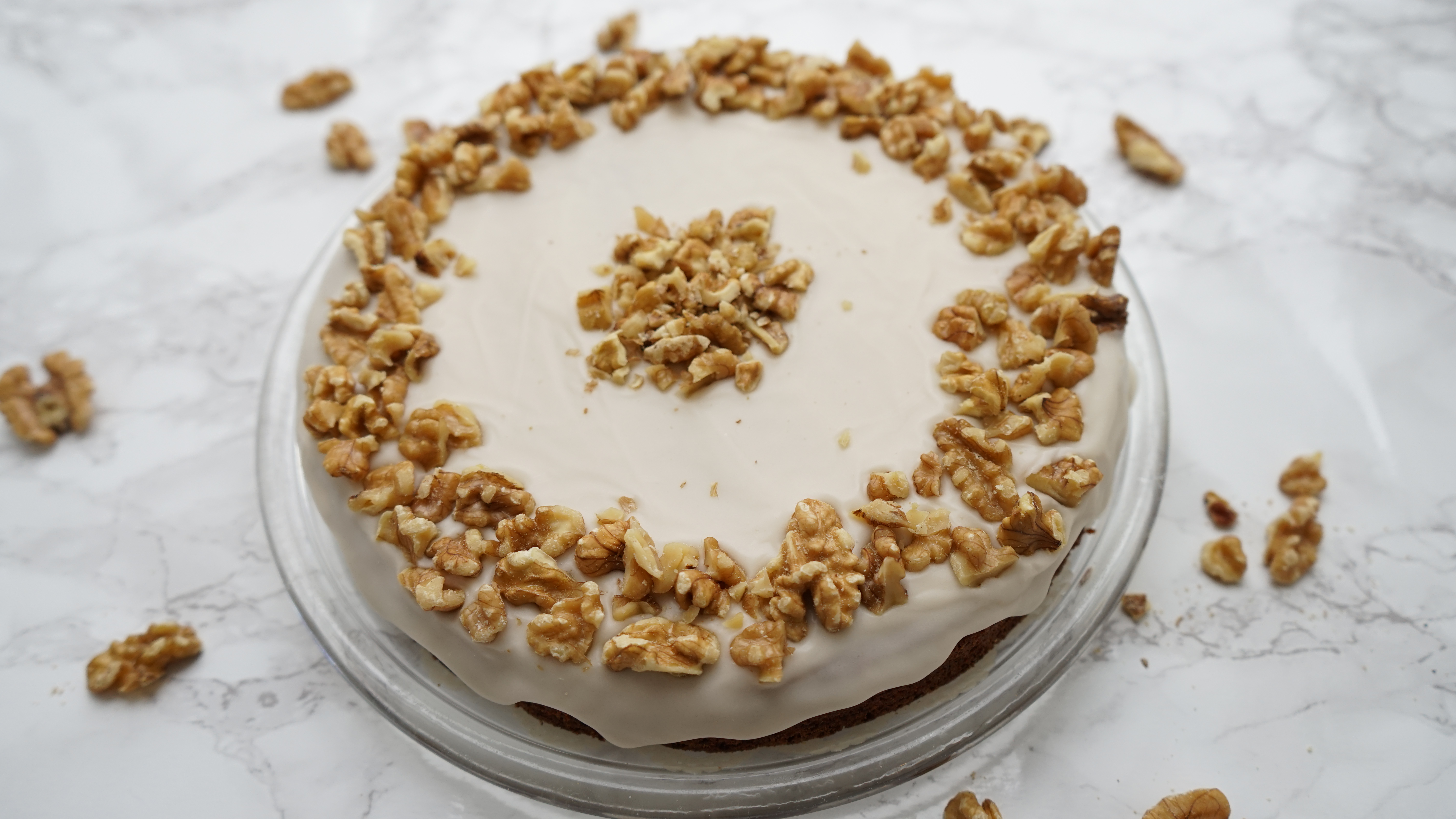 Carrot cake must be one of the most popular cakes for slicing into at tea-time, as well as my own personal favourite too, and for good reason – it's absolutely delicious!  This healthy guilt-free version is easily made without flour or refined sugar, and it definitely does not compromise on taste!
An extremely versatile cake – simply add the delicious dairy-free topping on top for a sweeter, more decadent cake – it's equally as good as is – perfect alongside a nice cup of tea!  Filling and moist, it has added protein and heart-healthy, skin-glowing fats from the nuts, whilst being low in carbs mean none of the insulin and blood sugar level spikes and crashes you get from typical white flour and refined sugar laden cakes (yes, carrot cakes included!).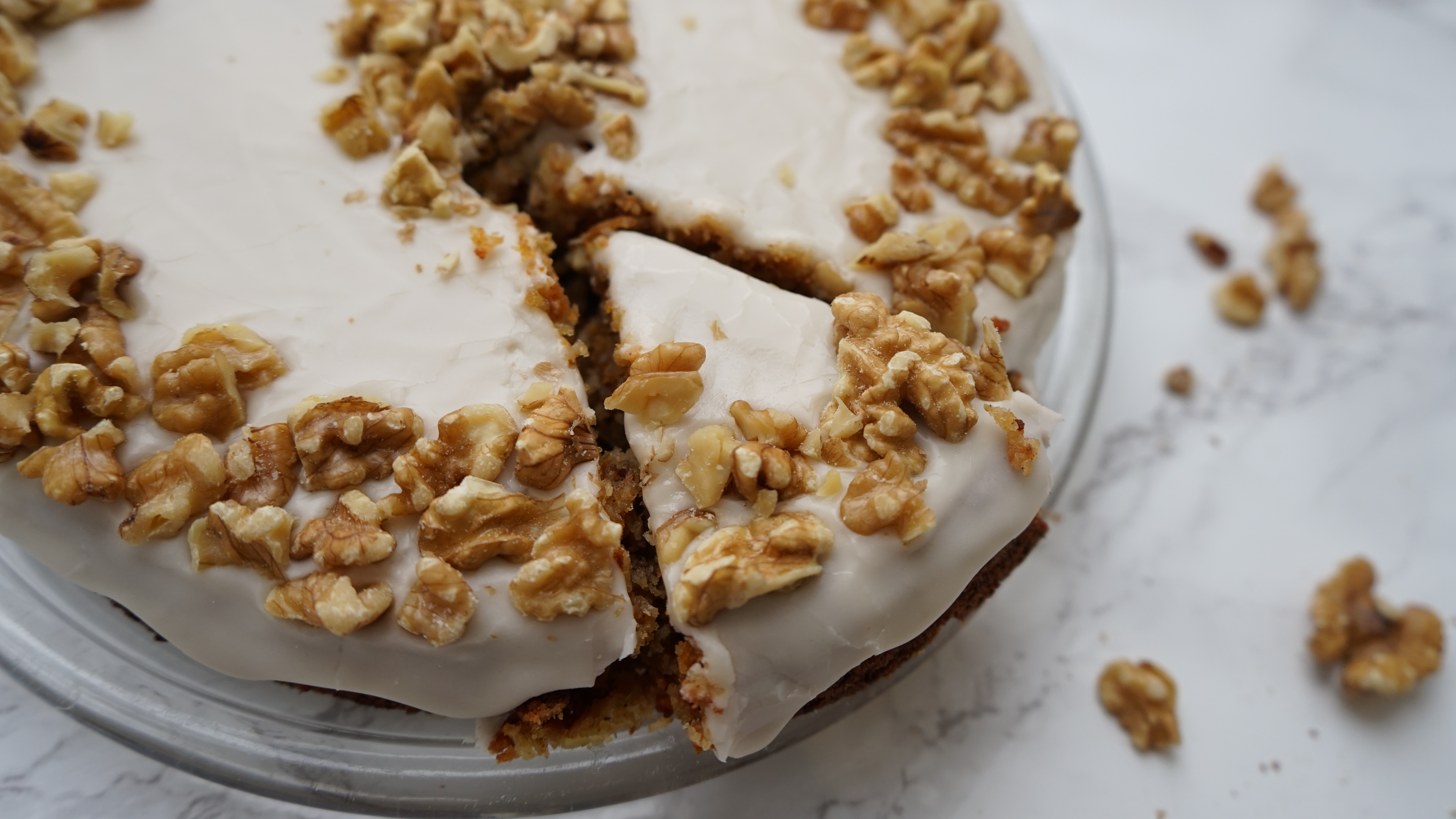 Apart from its delicious taste, this cake also has nutritional benefits to match:
Carrots provide one of the highest sources of pro-vitamin A carotenes, with just two carrots providing roughly four times the RDA!  They are also a fantastic source of Vitamin K, biotin, fibre, Vitamins C and B6, potassium and thiamine.  Carrots also contain high levels of antioxidant compounds (carotenes) that help protect against cardiovascular disease and cancer.  Interestingly, one study that examined the diets of 1300 elderly people in Massachusetts found that those who had at least one serving of carrots per day had a 60% reduction in their risk of heart attacks, compared to those who ate less than one serving of this carotenoid-rich veggie a day.  High carotene intake has also been linked to a 20% decrease in post-menopausal breast cancer and up to a 50% decrease in incidence of cancers of the bladder, cervix, prostate, colon, larynx, lung and oesophagus!  And of course, as most famously known, carrots also promote good vision – especially at night!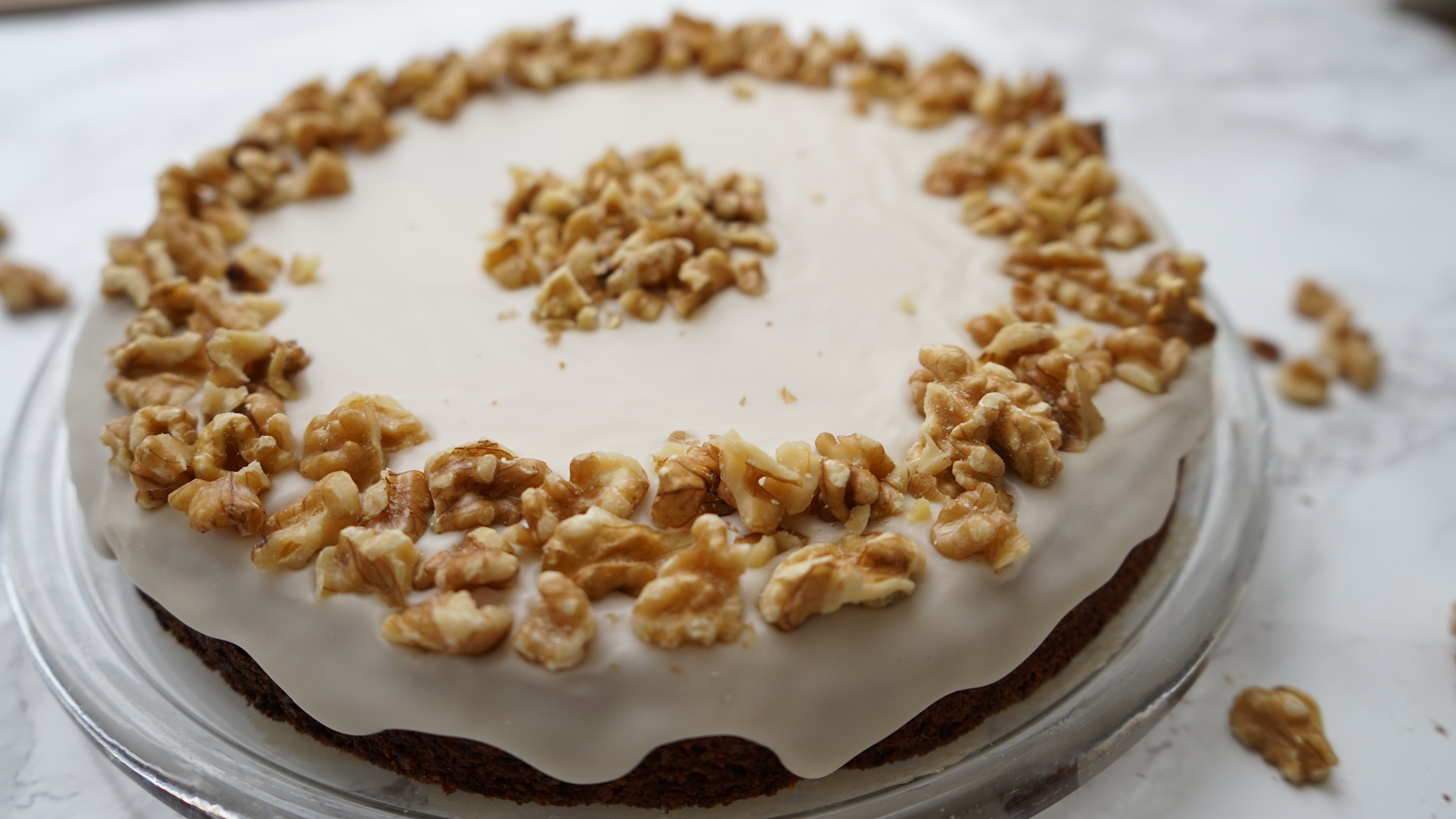 Coconut (in all its forms) has an endless array of health properties that have been shown to benefit the heart, brain and digestive system due to its unique healthy fat content, antibacterial effects and balance of dietary fibre, protein, antioxidants, vitamins and minerals.  The rich source of healthy fats, [medium-chain triglycerides (MCTs)], found in the coconut flesh and oil, have been shown to help http://premier-pharmacy.com/product-category/weight-loss/ lower the risk of heart disease by increasing healthy (HDL) cholesterol without raising unhealthy (LDL) cholesterol.  These wondrous MCT's also help with weight management by reducing appetite, boosting metabolism and increasing the activity of fat-burning cells.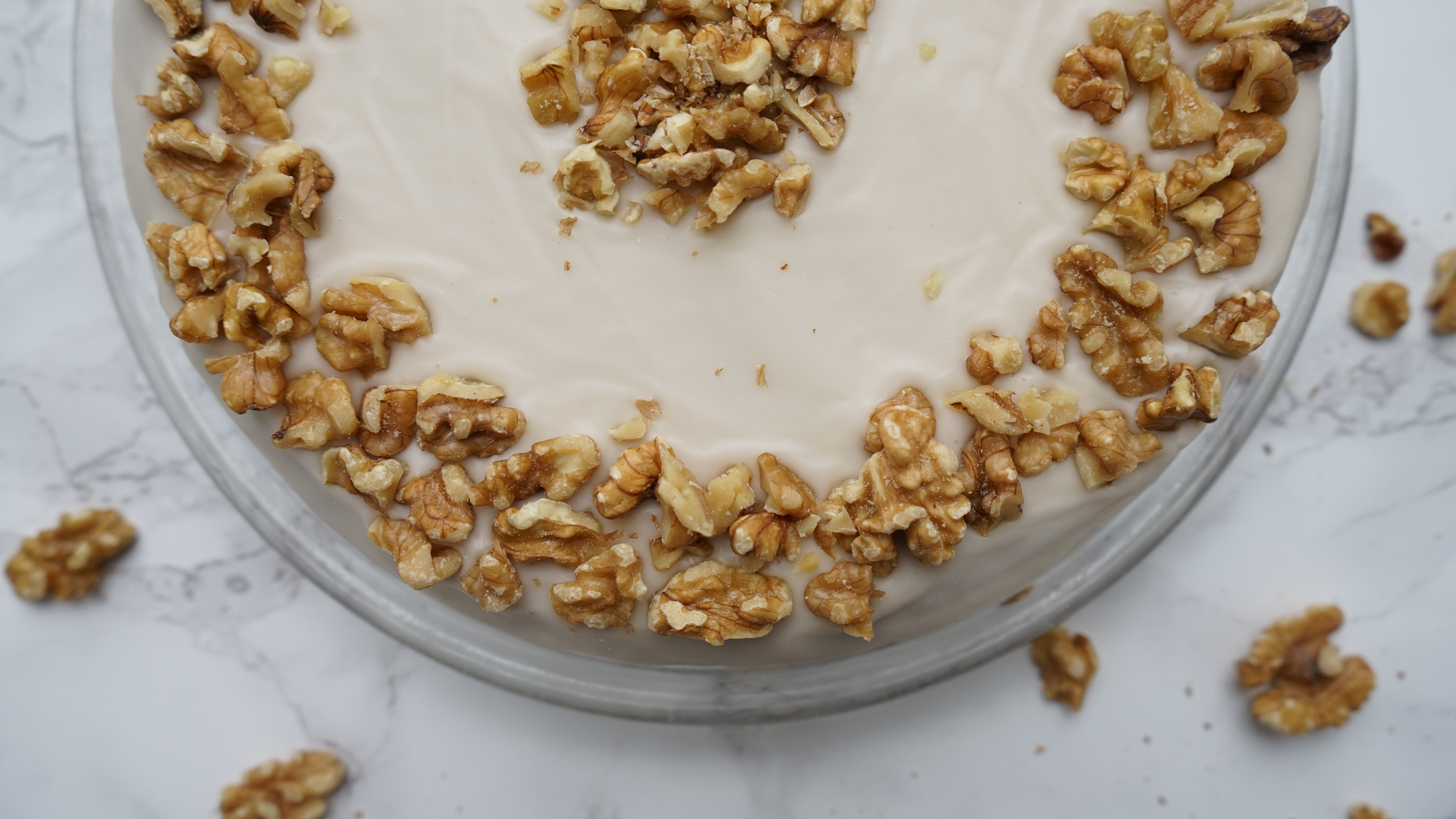 As with all nuts, almonds – which form the base of this cake – have too many health benefits to merely list, but you can read all about them in my Nuts About Nuts post HERE.
So what are you waiting for?  Whip up this Flourless Carrot Cake to keep yourself, friends and family happy and satisfied – not to mention full, trim and healthy!  Enjoy! 🙂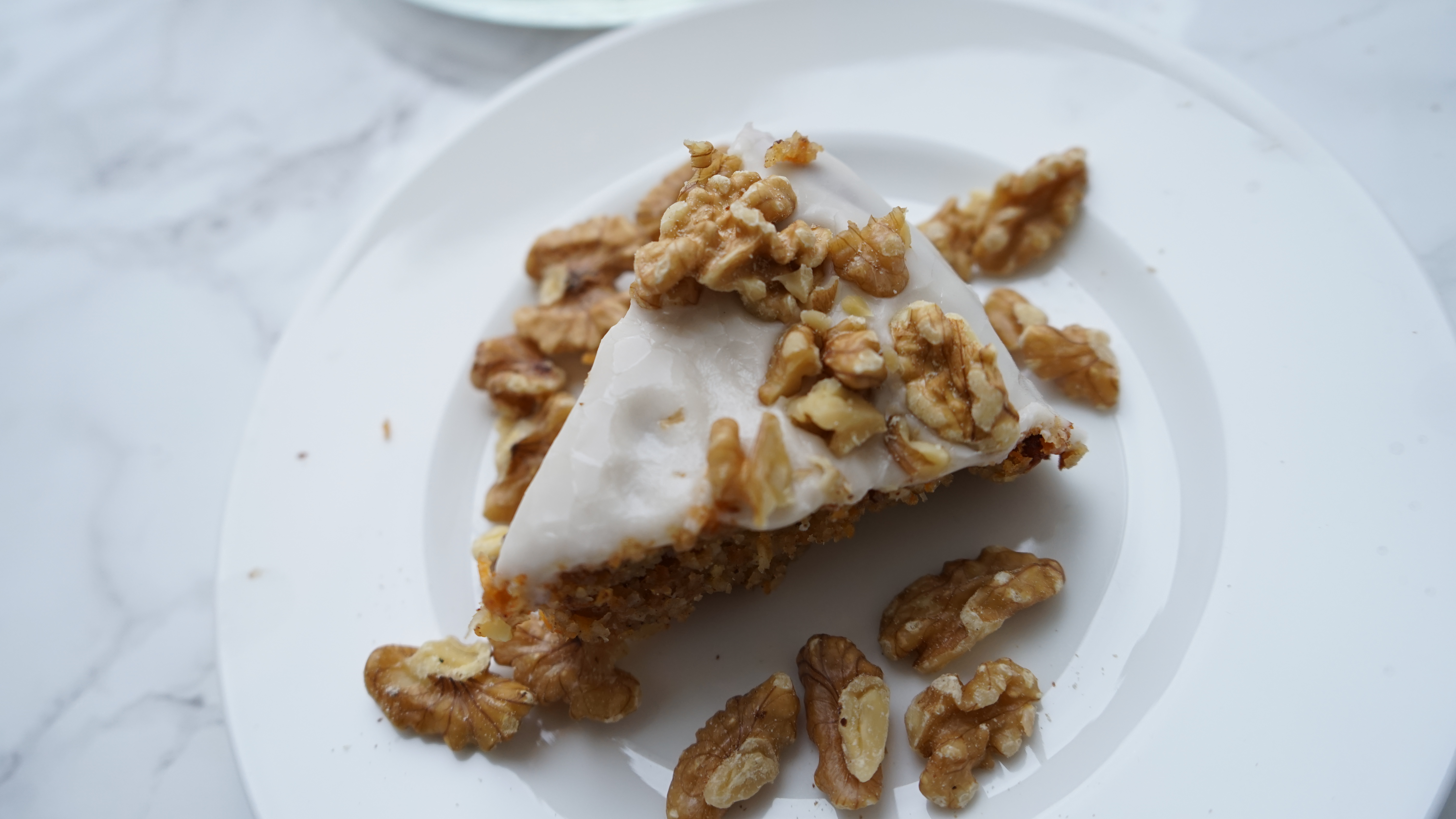 Recipe
Ingredients
3 large eggs
200g coconut palm sugar (can use light brown sugar instead)
2 tsp. vanilla essence
200g ground almonds
100g desiccated coconut
2 tsp. cinnamon
½ tsp. nutmeg
½ cup melted coconut oil
1 cup grated carrot
100g pecan nuts/ walnuts – roughly chopped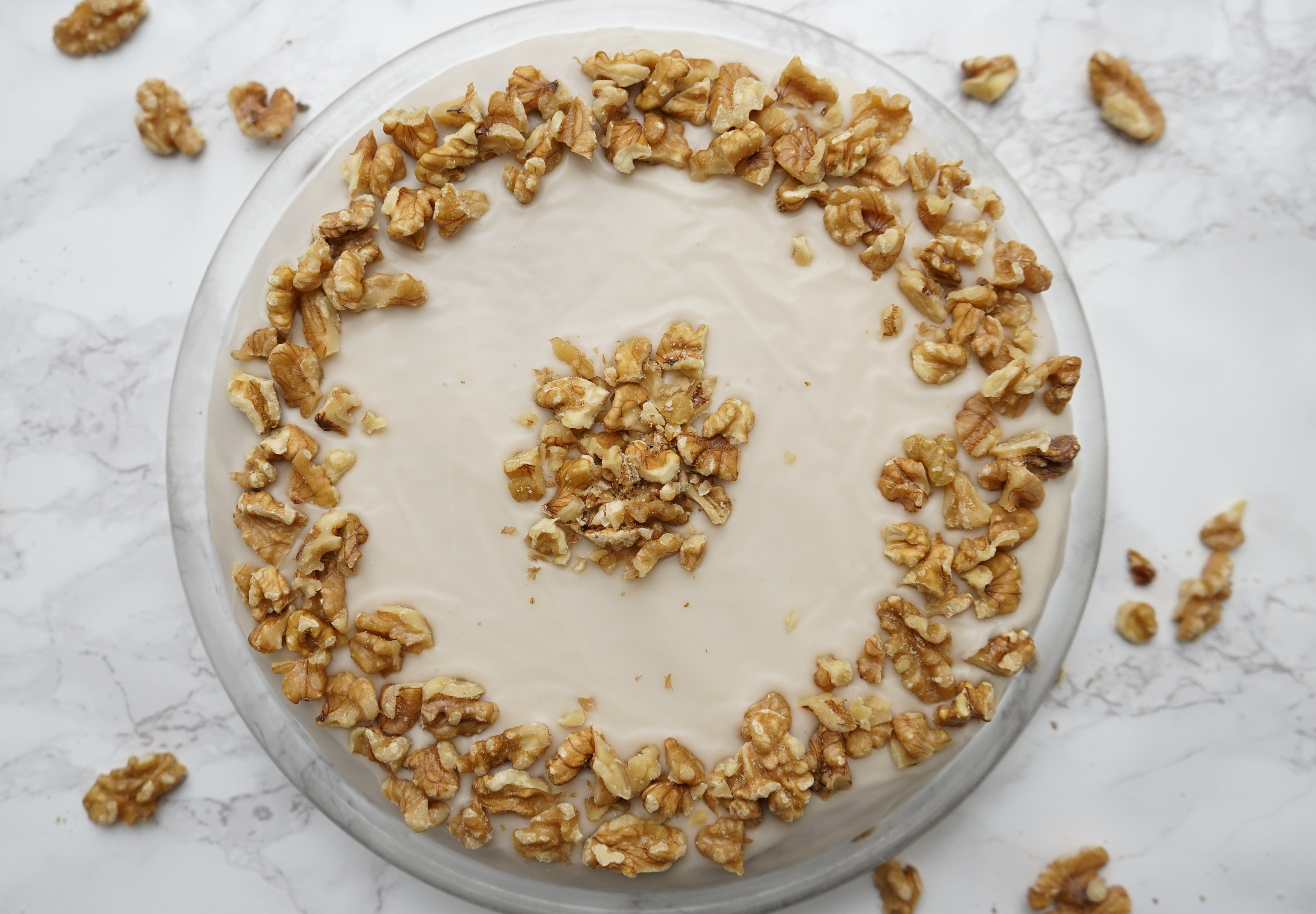 Directions
Preheat oven to 160°C. Beat eggs, sugar, oil and vanilla until light and well combined.  Add the ground almonds, coconut and cinnamon and stir until just combined.  Then add the grated carrot and chopped nuts, and mix until well combined.  Line a 23cm springform tin with parchment paper and spray the sides with non-stick baking spray or oil.  Spoon the batter into the prepared pan.  Bake for 45 mins to 1 hour, until a toothpick comes out clean.  Allow the cake to cool in the tin for 10 minutes, then loosen the edges with a knife and remove from the tin to cool.  When totally cool, prepare Dairy-Free Icing (recipe below) and spread thickly all over cake, alternatively can dust with icing sugar (that didn't come from me!) 😉  Slice, serve, eat and enjoy! 🙂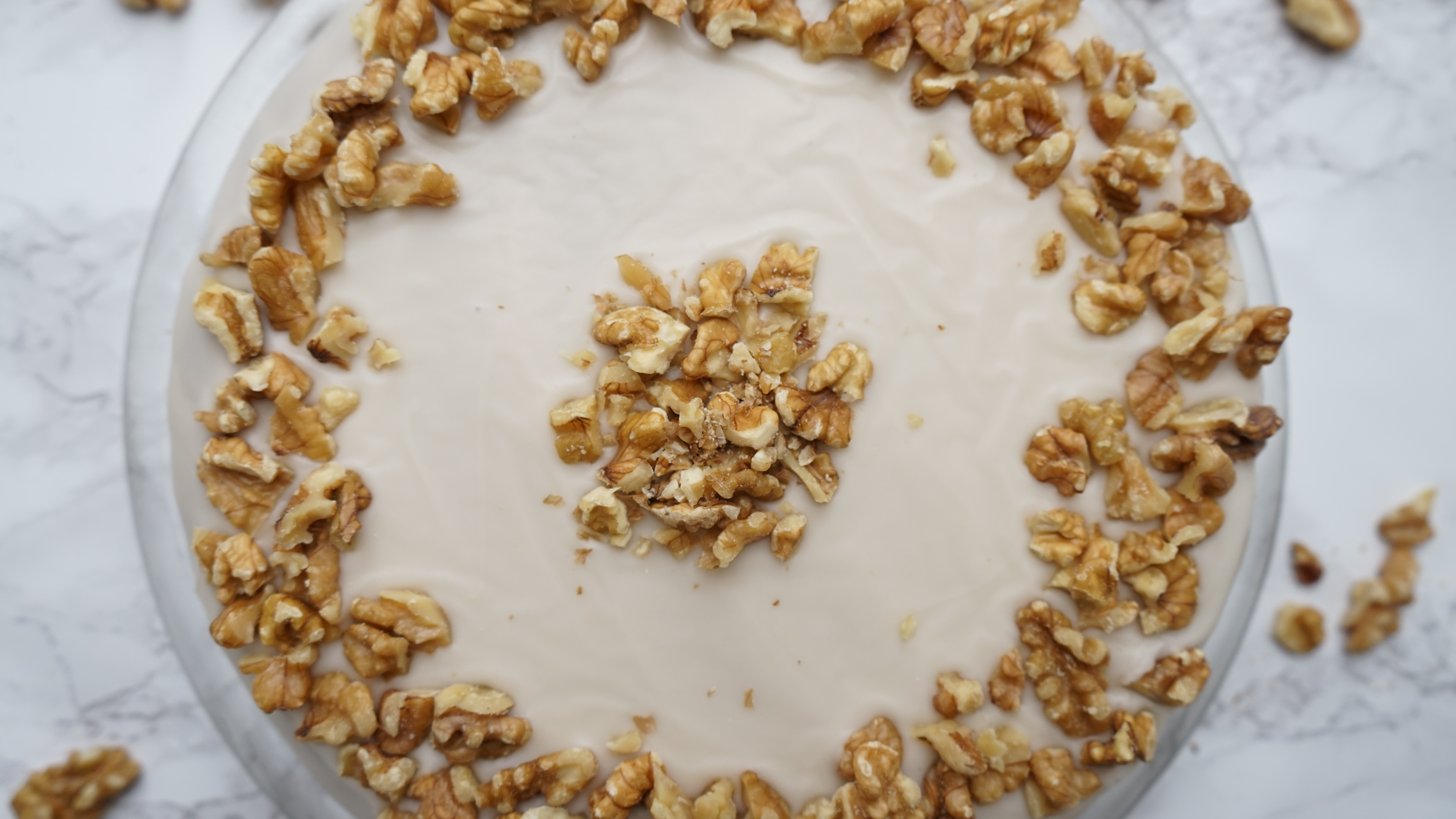 Dairy-Free Icing (optional):
Ingredients:
1 cup raw cashew nuts soaked in boiling water for 30 minutes or overnight in cold water
1/4 cup agave or maple syrup
2 Tablespoons coconut oil
1 teaspoon vanilla extract
Pinch of sea salt
Directions:
Drain and rinse the soaked cashews.  Combine all of the ingredients in a high-speed blender or food processor, and blend until smooth and creamy.  You may need to scrape the mixture down and pulse a few times to achieve the desired consistency.  Remove from the processor/ blender and set aside.  Spread over carrot cake once it's completely cooled.  Enjoy! 🙂