Fresh Tomato Soup with Mixed Green Pesto (Dairy Free)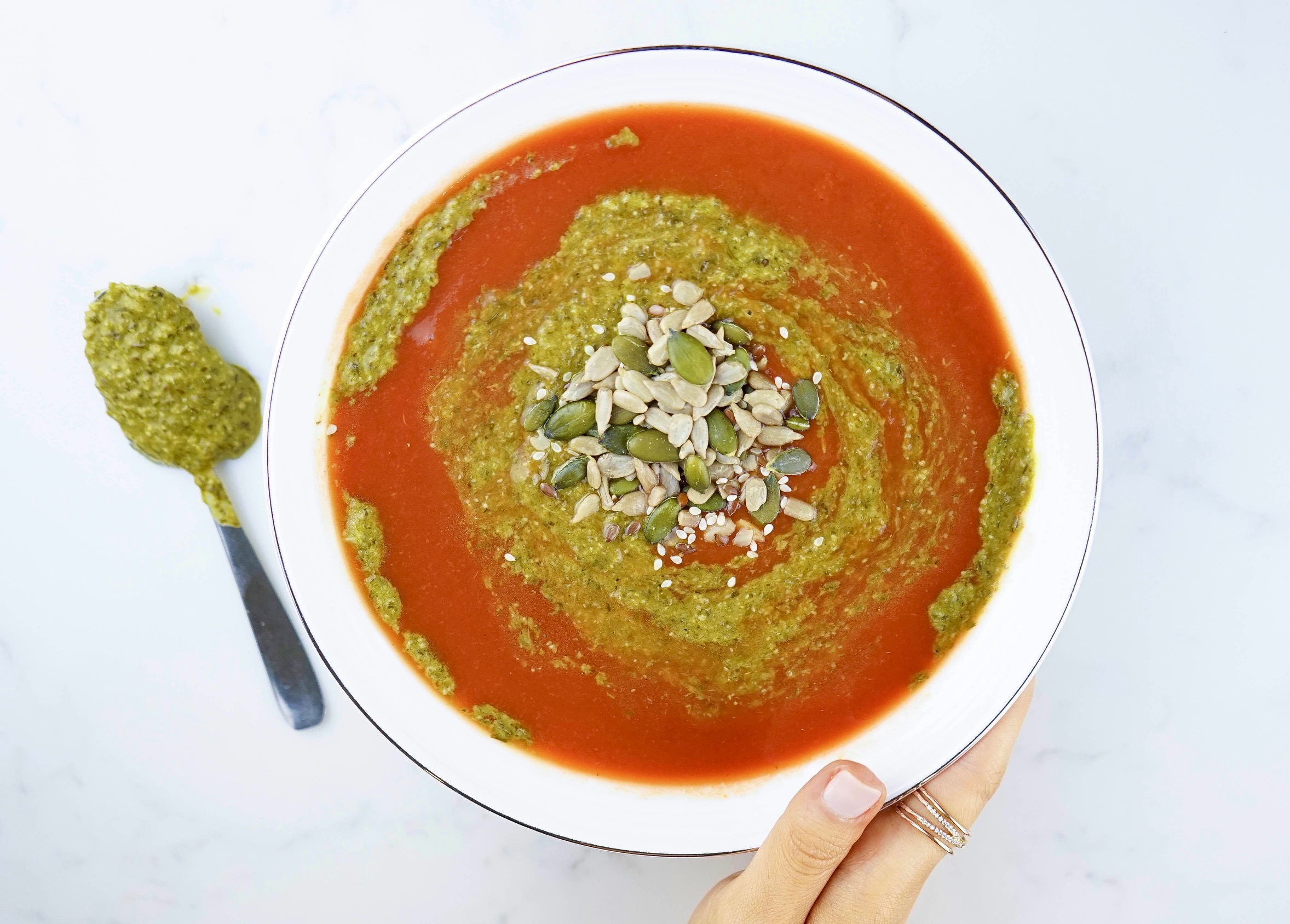 Nothing says comfort like a big bowl of homemade soup and this healthy Fresh Tomato Soup is no exception!
Low in fat and deliciously satisfying, this soup is packed full of fibre, vitamins, minerals and anti-oxidants, making it a nutritious, anti-inflammatory, immunity-boosting and waist-line friendly dish.  The addition of fresh spinach and basil pesto adds a ton of flavor too, as well as a wealth of nutritional goodness – just think of this dish as your "green juice for the winter".
You can pair it with crackers or crudités for a light meal or snack or, for a fuller meal, with lean protein or wholesome wholegrain bread, along with some hummus and carrot sticks.  It can also be made in bulk to last you through the week, or frozen in smaller portions to have on standby whenever you need.
This soup, along with my Gorgeously Green Soup, Easiest Ever Red Lentil Soup, Carrot, Ginger & Sweet Potato Soup and World Cup Pea Soup, definitely tops my list of all-time favourites – perhaps even taking the top spot!
Apart from its delicious taste, this soup also has nutritional benefits to match:
Tomatoes are a low-calorie food packed with nutrition.  They are an excellent source of Vitamin C, carotenes (especially lycopene), biotin and Vitamin K.  They are also a good source of Vitamin B6, pantothenic acid, niacin, folic acid and dietary fibre.  A 100g serving of cooked tomato provides just 32 calories with two grams of fibre!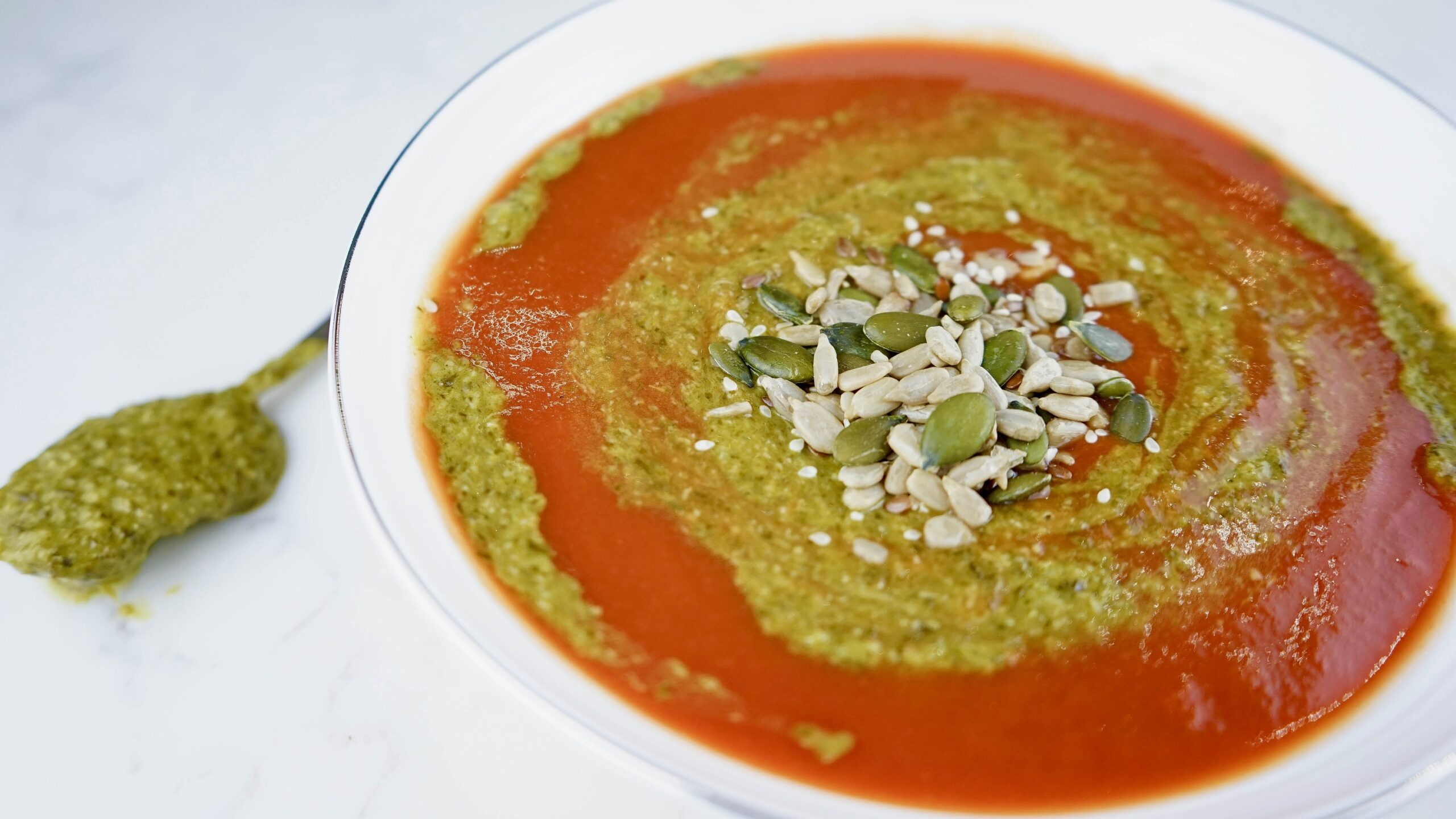 The health-promoting ability of tomatoes, due to their lycopene content, has received a lot of attention recently.  This anti-oxidant has been shown to be extremely protective against breast, colon, lung, skin and prostate cancers, as well as being proven to lower the risk of heart disease, cataracts, and macular degeneration.  One Harvard study found that men who consumed the highest levels of lycopene had a 21% decreased risk of prostate cancer!  Interestingly, lycopene concentration increases during cooking and food processing – explaining why ketchup is one of the richest sources of it!  You actually get up to five times as much lycopene from cooked tomatoes (such as this soup!) than you do from modafinil raw, because processing them "liberates" more lycopene from the plant's cells.
Consuming lycopene with olive oil also improves its absorption (just one of the many reasons a Mediterranean diet has so many healthful properties), so the addition of the pesto makes the perfect combination – and that's without getting into the endless health benefits of the spinach, basil and walnuts!
So in case its creamy, guilt-free deliciousness wasn't enough to convince you, there are more than enough good reasons to whip up a batch of this soup on a cold winter's night!  Enjoy! 🙂
To read all the health benefits of soup, see my Get Your Soup On article HERE.
Recipe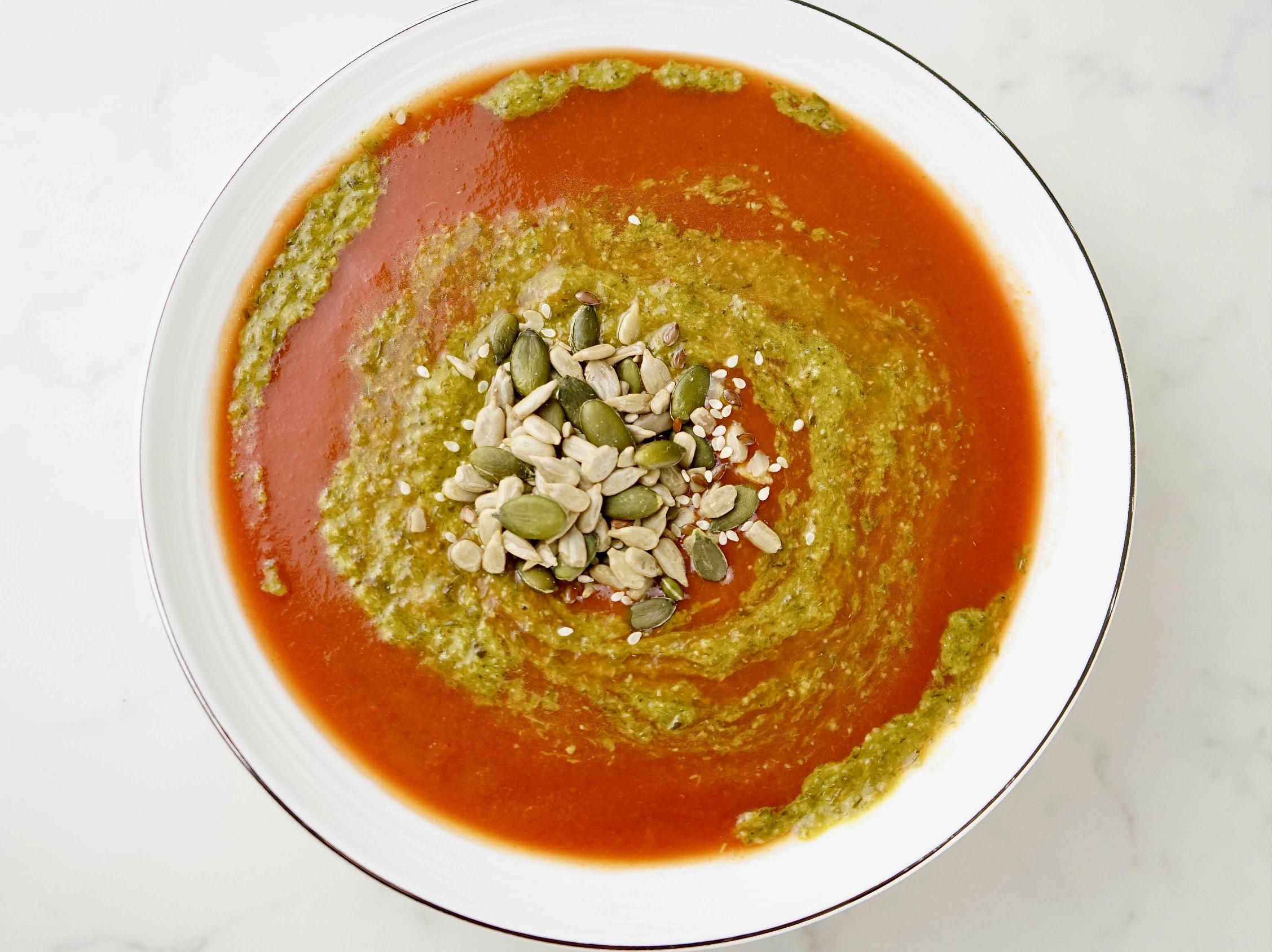 Ingredients
SOUP
1 ½ kg large, ripe tomatoes
1 tsp. dry oregano
2 Tbsp. olive oil
2 cloves garlic, crushed
1 onion, chopped
1 large carrot, diced
1 stick celery, chopped
2 cups vegetable stock (made from MSG-free stock powder)
2 teaspoons tomato purée
1 tsp. granulated stevia (I love this one)
Salt and pepper to taste
PESTO
100g fresh basil leaves washed
100g fresh baby spinach leaves washed
3/4 cup walnuts
5 Tablespoons olive oil
2 cloves garlic
½ – 1 teaspoon sea salt
Directions
Preheat oven to 200°C.  Cut the tomatoes horizontally and place cut side up on a parchment lined baking sheet.  Drizzle with oil and season with salt and pepper.  Place in the oven and bake until the tomatoes are soft and a bit charred ~45 minutes.  Meanwhile heat 2 Tbsp. oil over medium heat in a large pan and add the onion, garlic, carrot and celery.  Cook, stirring regularly for about 6 minutes until softened.  Add the baked tomatoes, plus all the juices from the pan to the onion mixture, together with the vegetable stock and tomato purée.  Simmer for about 30 minutes until all the vegetables are soft.  Allow to cool a little and then purée or blend the soup until smooth.  Season to taste with salt and pepper.  Serve the soup drizzled with the pesto.  Yum! 🙂
For the pesto:
Puree the spinach, basil, nuts, garlic and salt in a blender and then slowly add the oil to make a smooth paste.  (Add a bit of water if too thick.)  Pesto can be frozen in ice cube trays to use when needed! x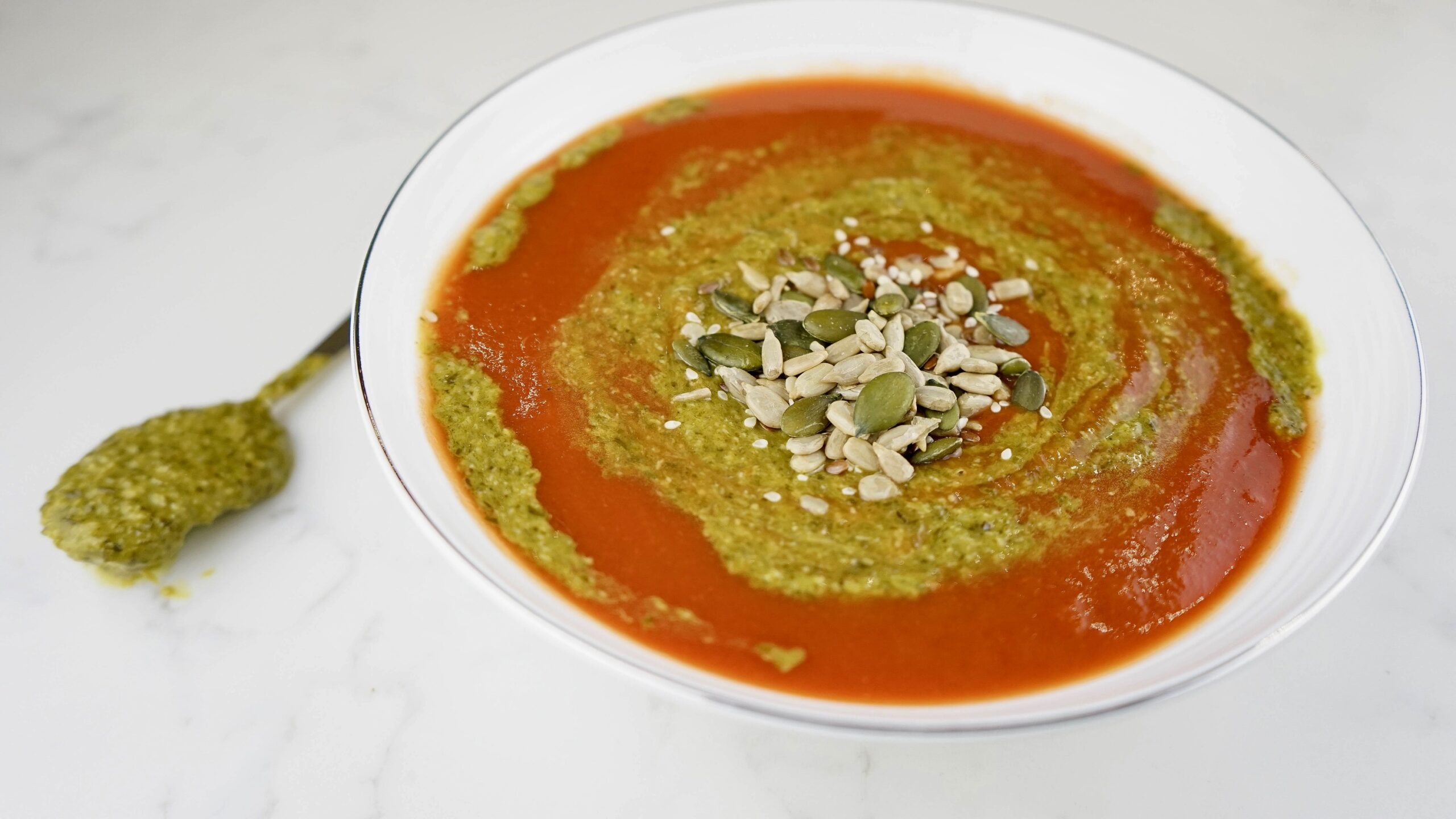 Leave a Response
You must be logged in to post a comment.