Fudgy Flourless Peanut Butter Hummus Bars – gluten & dairy free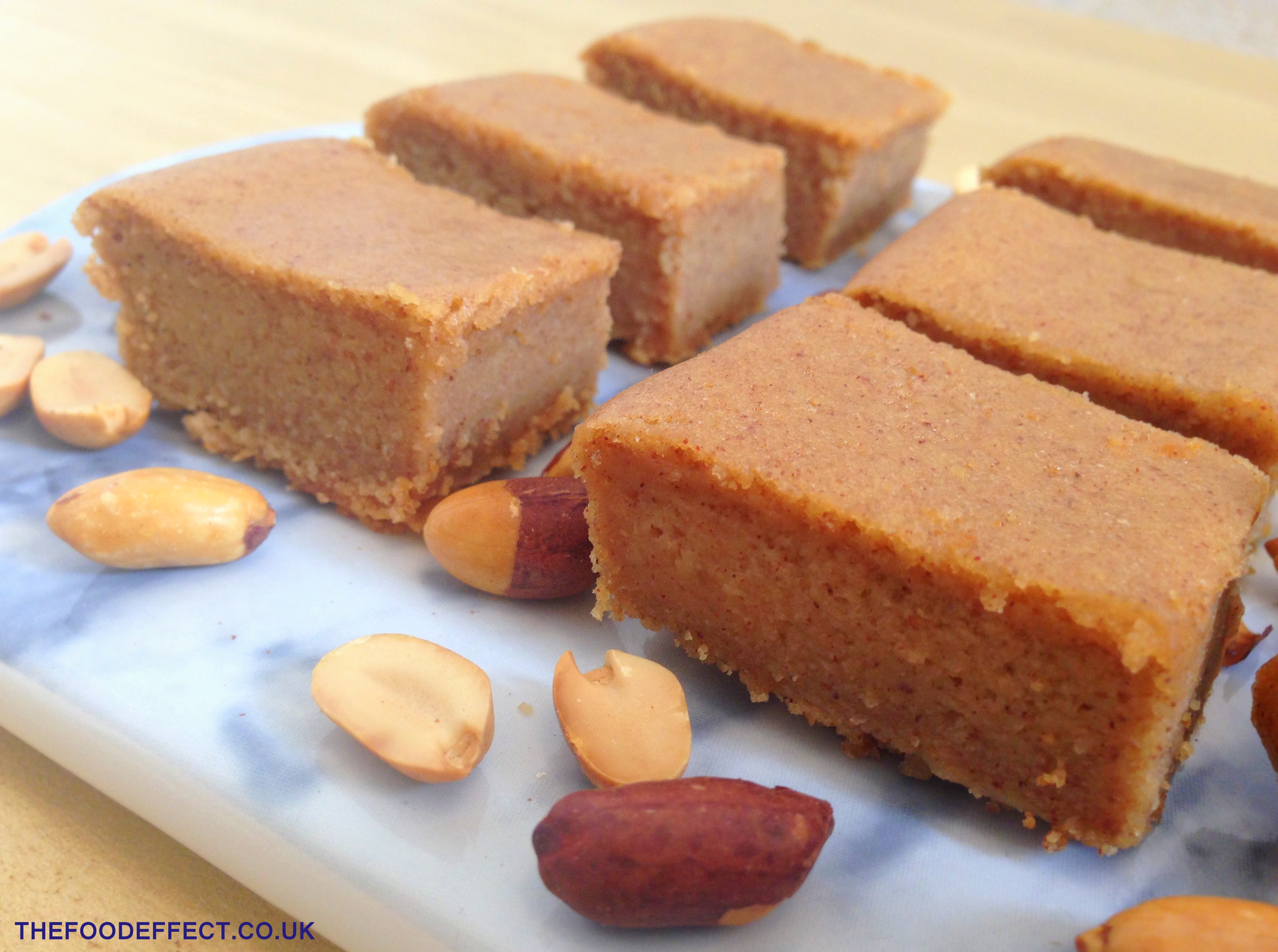 This delicious recipe came about by accident as a result of a late-night craving for my famous Flourless Peanut Butter Cookies.  However, in a first of its kind occurrence, I didn't have quite enough peanut butter to hand (I know I know, but I was going grocery shopping the next day!), so I thought I'd substitute the deficit with the half a tub of hummus sitting in my fridge.  "How different to peanut butter can it be??" I told myself, as I smugly combined the two – along with the rest of the recipe ingredients.  But alas… my "genius idea" turned into a batter that was far too "liquidy" in consistency to be formed into cookies!  I don't do wastage, so chucking the batter was NOT an option, and I wasn't quite up for risking salmonella to just eat it plain (as tempting as cookie batter normally is for me!).  So I decided to pour it into a loaf tin, stick it in the oven and hope for the best! 🙂
What a difference half an hour makes, as what began as a craving for peanut butter cookies ended with the most delicious, dense, fudgey bars – hailing from a deceptively unattractive looking loaf!
Boasting protein, healthy fats and fibre, these bars are a perfect option for a mid-afternoon snack (paired with some fruit), or a late-night sweet treat that will keep you full and satisfied and keep all your cravings at bay!  They are also gluten-free, dairy-free and contain no refined sugar, making them the perfect guilt-free snack for both adults and kids alike.
When sliced, the bars are moist and soft, with a faint peanut-buttery "hummusy" flavor.  They manage to taste both extremely wholesome and indulgent at the same time – exactly what you need when you have a craving that needs to be satisfied without spiking your blood sugar levels… by-passing the mid-afternoon chocolate bar or biscuits at the same time!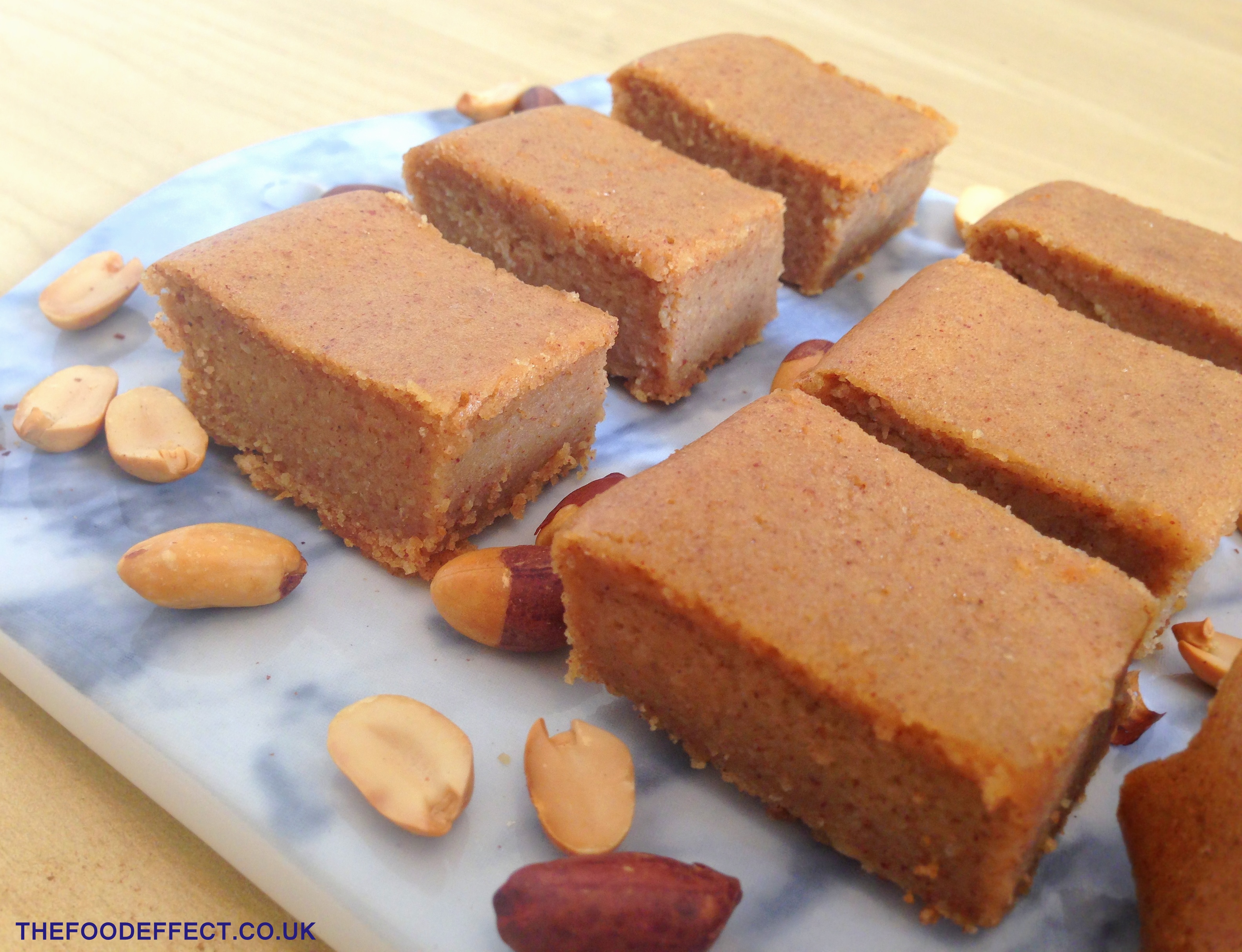 You can slice the loaf into little bites for snacks, or larger bars for "on-the-go" breakfasts or a more substantial "post-workout" snack.  They can be stored in the fridge in an airtight container for up to a week, or in the freezer for several months, so always have a batch of them to hand so you can grab one whenever hunger strikes!  I assure you, you won't regret it! 🙂
For more on the health benefits of peanut butter and hummus (the main ingredients in these bars), have a read of my posts on Healthy Homemade Peanut Butter and The Best Ever Healthy Homemade Hummus.
Recipe
Makes 8 medium size bars
Ingredients
1/2 cup hummus (store bought or homemade)
1/2 cup natural peanut butter (creamy/ crunchy)
1 cup coconut sugar (can use regular brown sugar if preferred)
1 large egg
1/2 tsp vanilla essence
1/2 tsp cinnamon
¼ – ½ tsp. salt (¼ if peanut butter is already salted, ½ tsp. if using unsalted)
Directions
Add all ingredients into a large bowl.  Mix together well using hand-held electric beater until smooth, well combined mixture.  Pour batter into small loaf tin lined with non-stick baking paper.  Bake at 180°C for ~ 25 mins until firm.  Allow to cool completely before removing from tin and cutting into 8 slices/ bars.
Leave a Response
You must be logged in to post a comment.