GOOD FOR YOU COOKIE DOUGH – 3 WAYS
(vegan, egg free, dairy free, nut free, low fat)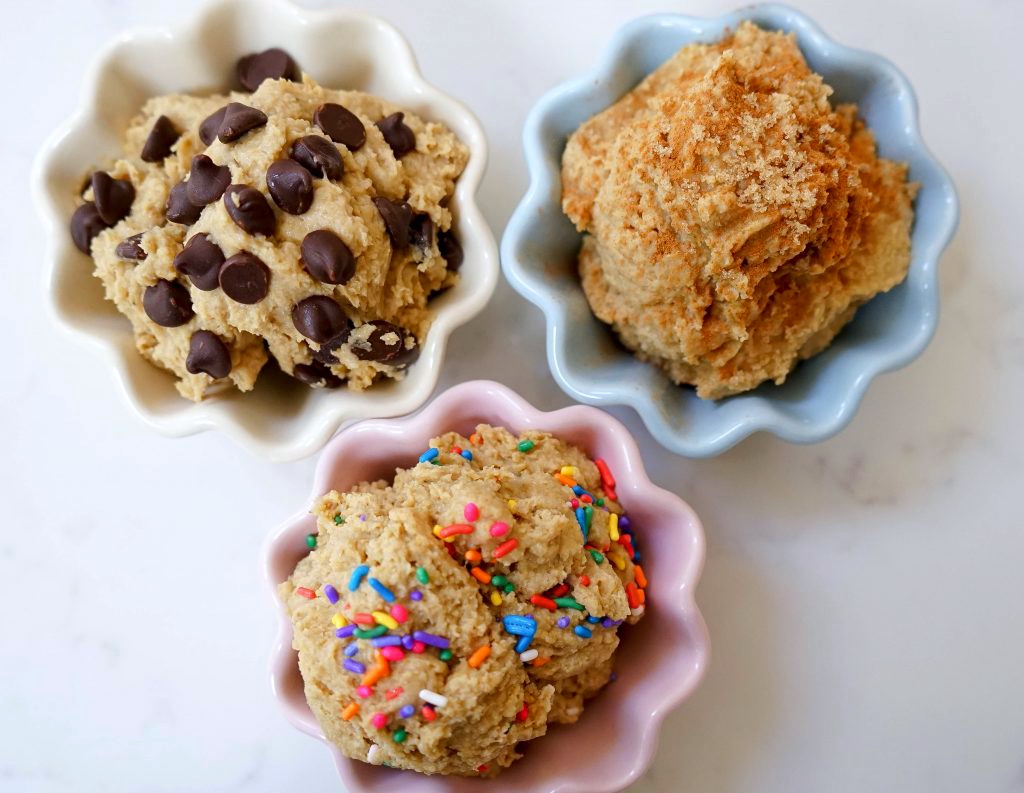 Remember standing there waiting for your Mom to finish baking those cookies so you could lick the left over batter? Well, now you can make this Good for You Cookie Dough and have a bowl full of batter… not just the leftovers!
This soft delicious cookie dough is so easy to make and requires no baking, and let's not forget it has nutritional benefits to match!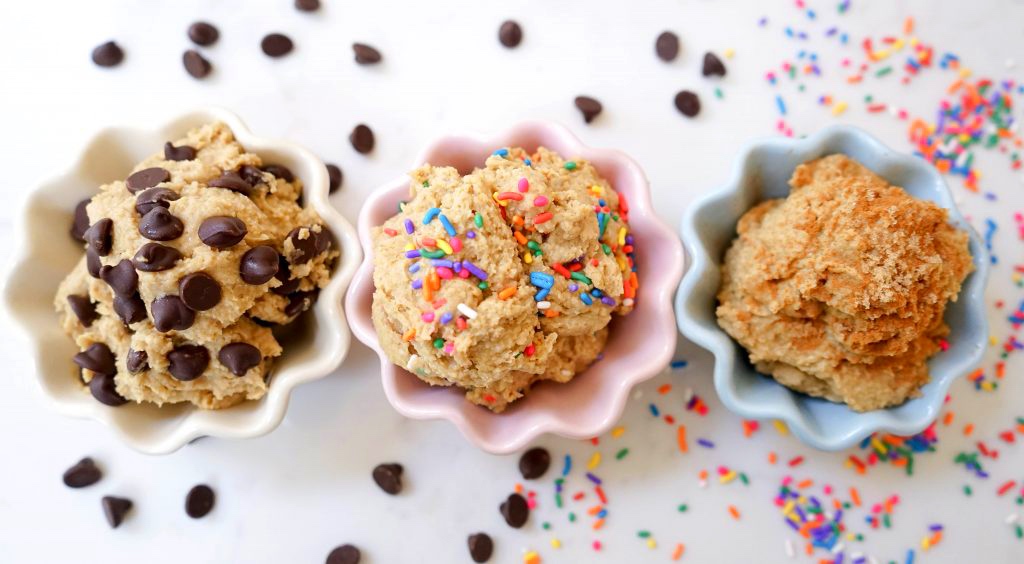 Chickpeas are a fantastic source of fibre and protein, and have a low glycaemic index.  This powerful combination makes them particularly good at helping with weight management.  In an Australian study, adults who ate 100g of chickpeas a day for four weeks, ate fewer processed snack foods, and felt fuller, compared to when they didn't include chickpeas in their daily diet.  One cup of cooked chickpeas provides 50% of your daily fibre requirement, so it's no wonder this legume provides long-lasting energy, keeps you feeling full, promotes good digestion, curbs appetite and has even been shown to help lower (bad) LDL cholesterol.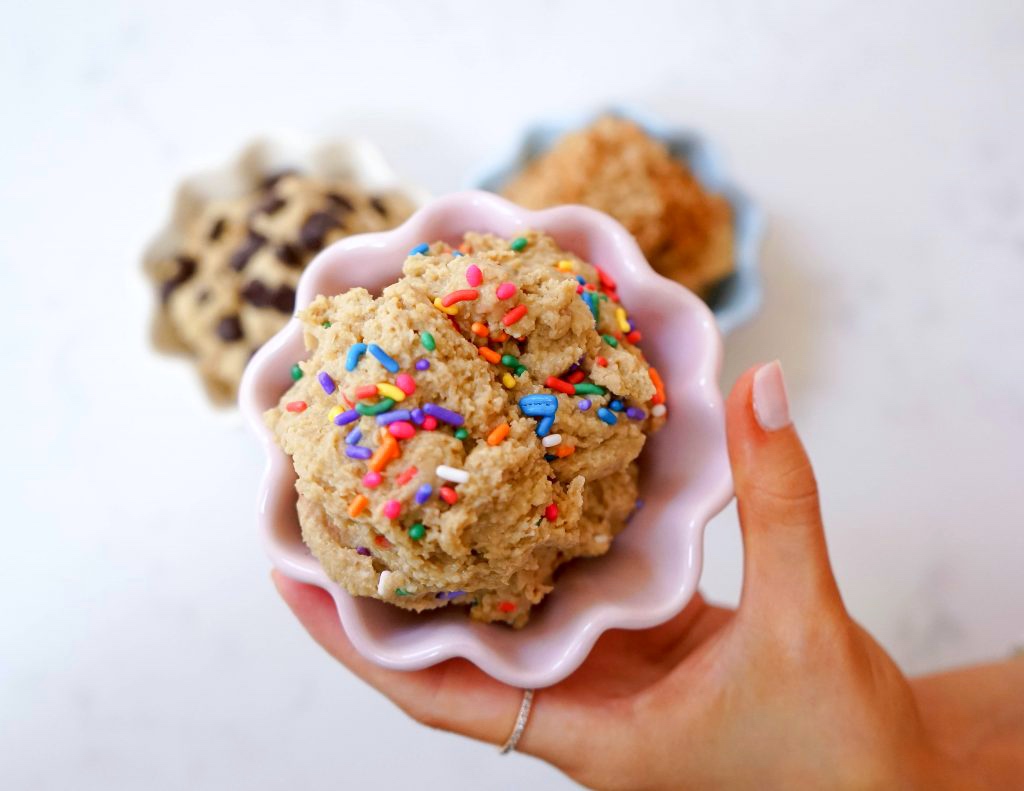 So whether prefer your cookie dough with chocolate chips, colourful sprinkles or a hint of cinnamon, get your spoons ready because you'll be eating this recipe straight from the bowl.
Recipe
Makes 3 servings
Version 1 – Chocolate Chip Cookie Dough
1 cup uncooked porridge oats
1 (400g) can chickpeas, rinsed and drained well
½ cup coconut sugar
2 Tbsp. almond milk (or any plant based milk)
3 Tbsp. agave syrup
2 Tbsp. tahini
1 tsp vanilla
1/4 tsp baking soda
Generous pinch of sea salt
1/2 cup chocolate chips – plus additional for decorating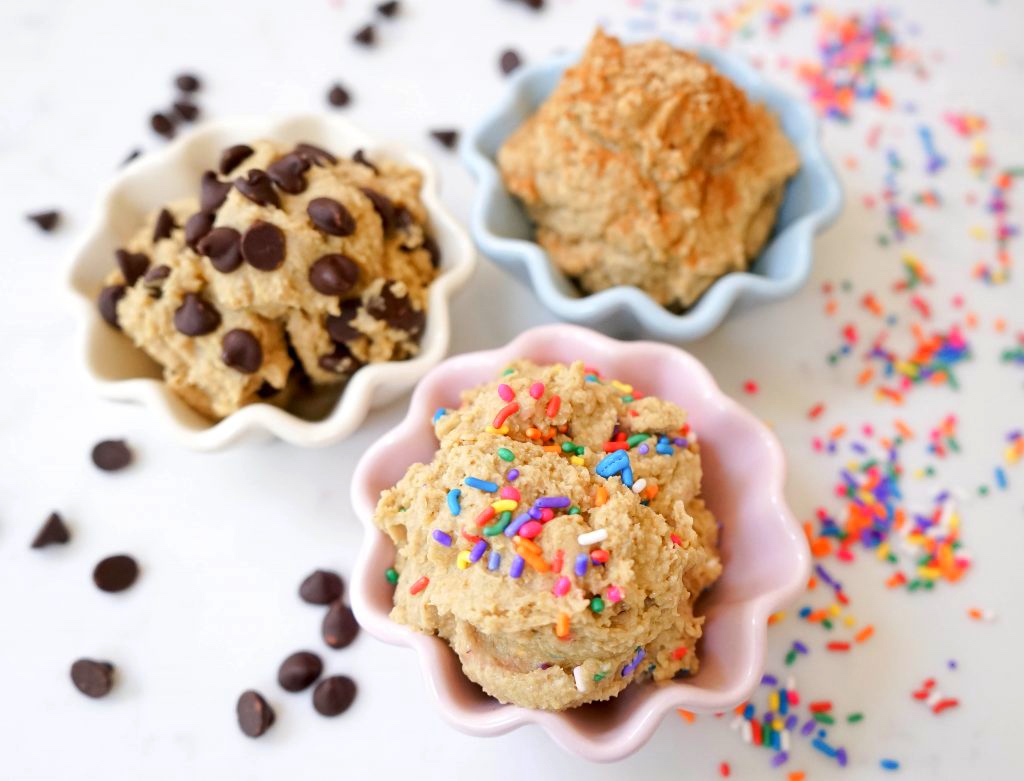 Place oats into the food processor and process until fully ground (like flour). Add all the remaining ingredients, except chocolate chips, and blend until completely combined and smooth. Stir in the 1/2 cup chocolate chips by hand, until well incorporated. Scoop cookie dough into serving dishes and garnish with additional chocolate chips. Store in the fridge until ready to eat. Devour with a spoon and enjoy! 😉
Version 2 – Birthday Cake Cookie dough
Omit the chocolate chips and replace with ¼ cup coloured sprinkles – stir these in by hand at the end.
Version 3 – Cinnamon Sugar Cookie Dough
Omit chocolate chips. Add 2 tsp. cinnamon to the batter in the food processor. Sprinkle with additional cinnamon and coconut sugar to serve.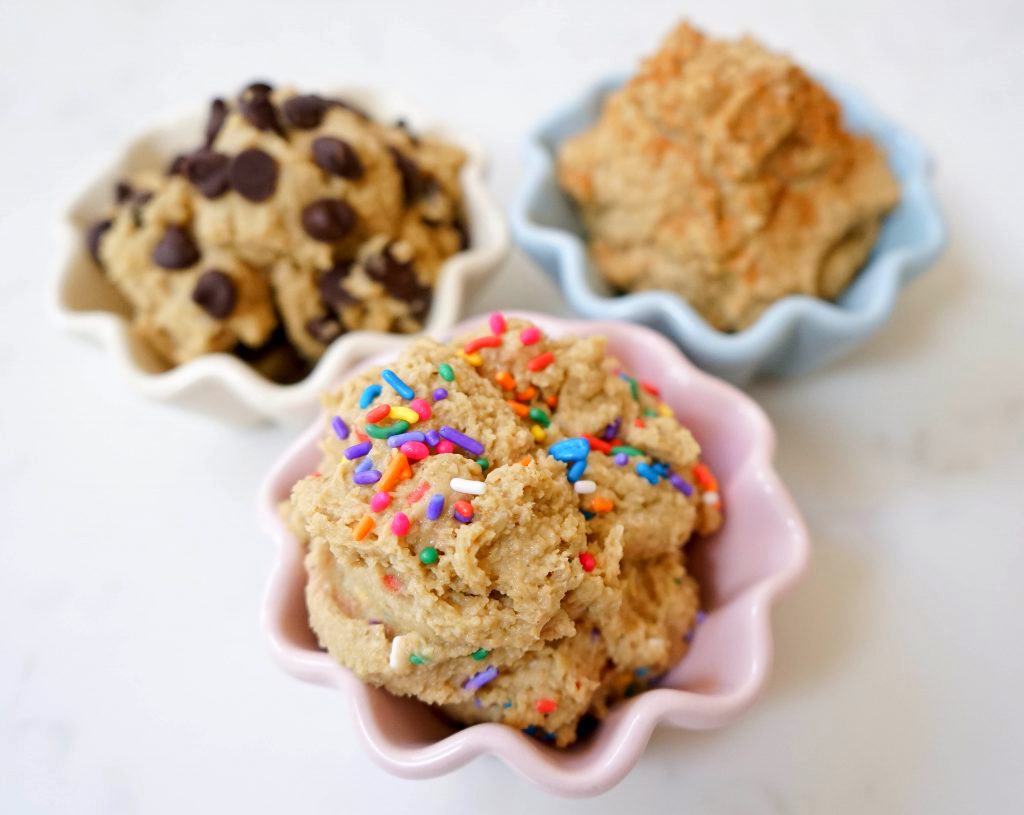 Leave a Response
You must be logged in to post a comment.