LOW-CALORIE CHOCOLATE PROTEIN PUDDING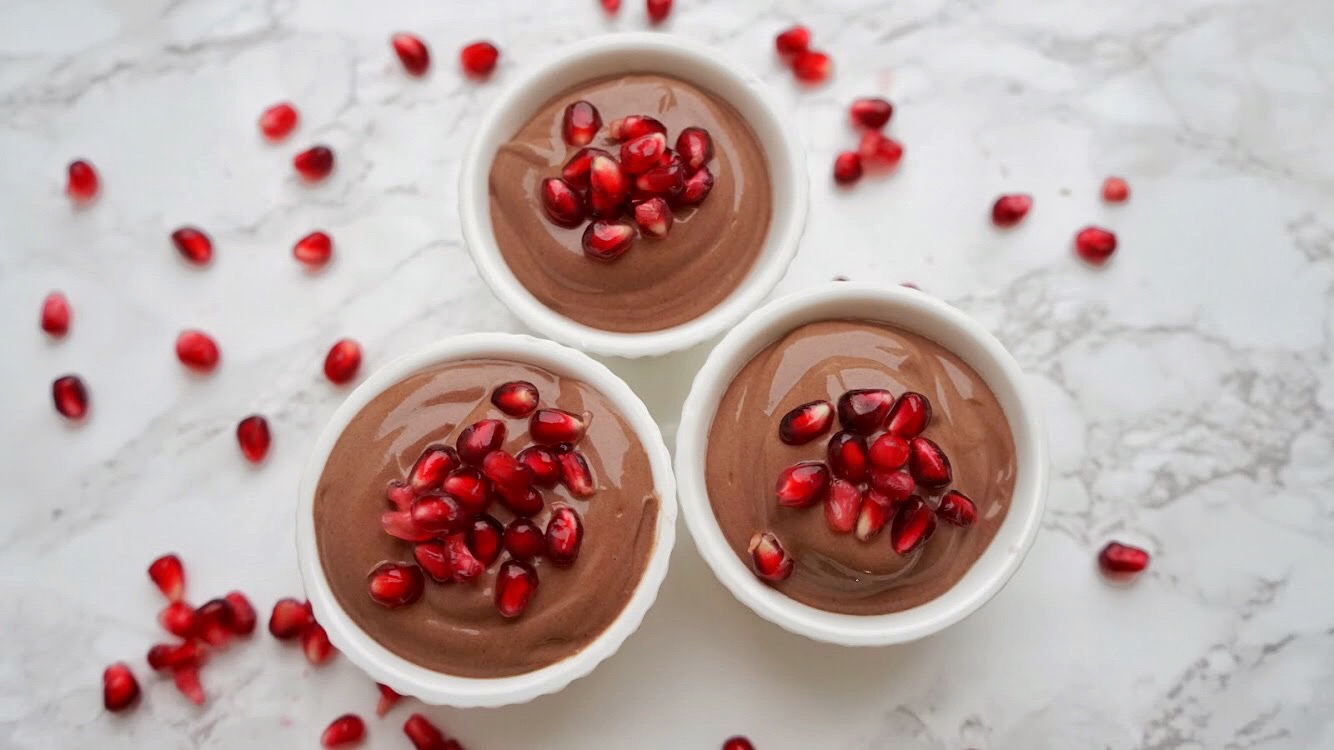 If the month of feasting and festivities that we've just come out of, has left you craving all things sweet, rich, creamy, decadent and delicious as the new year begins – but you don't want to ruin those New Year's healthy eating resolutions – this recipe is your answer!!
This Low-Calorie Chocolate Protein Pudding ticks ALL those decadent, delicious boxes, whilst at the same time being saturated fat-free, gluten-free, refined sugar-free, low in calories and high in protein, antioxidants, vitamins and minerals.
You can also use dairy-free yoghurt (I love this one) – to make this recipe vegan/ dairy-free. 
Having this recipe up your sleeve when those sweet tooth or chocolate cravings strike, can help you stay on track with your healthy eating plans from January and beyond!
This protein-packed pudding is ideal for a mid-afternoon or post-workout snack, a breakfast paired with some fruit and a handful of nuts, and it makes the perfect late night treat when you're craving something sweet but don't want to give in to the cookies and sweets!
This will leave you feeling full and satiated, unlike those sugar-filled empty calories of the unhealthy alternatives, that do just the opposite!
It tastes just like a decadent, rich, sinful chocolate pudding but nutritionally, is quite the opposite…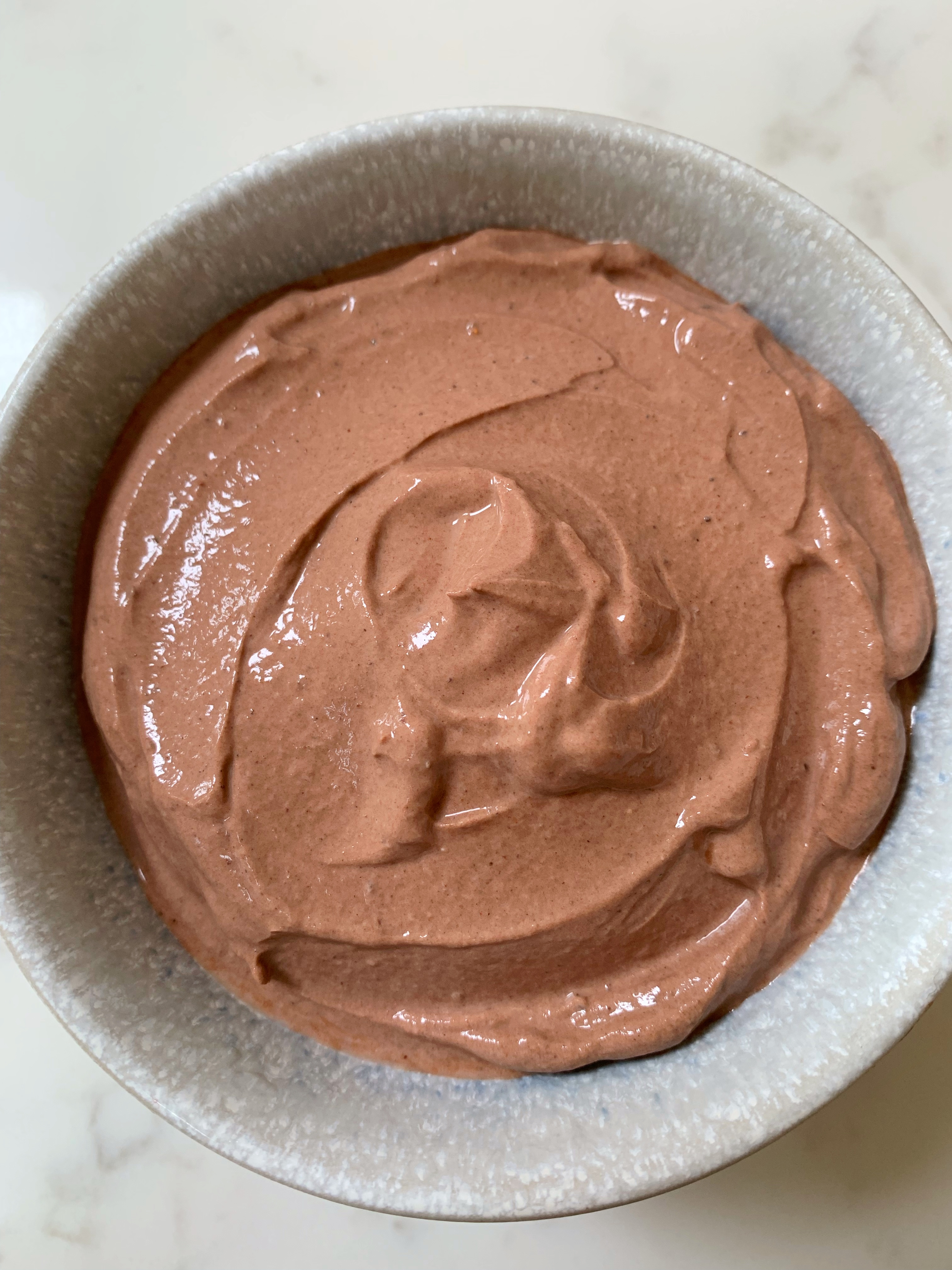 Greek yoghurt is packed full of protein, with 17.5 grams of protein per 170g serving (roughly double the amount of regular yoghurt & almost the same amount as three large eggs!). Just one serving of this thick, creamy yoghurt provides a whopping 20% of your daily calcium needs in just 120 calories – critical for healthy bones and a great metabolism boost!  Greek yoghurt is also low in carbs and sugars, and is a fantastic source of immune-boosting pro-biotics (a.k.a. the good bacteria in your digestive tract).
An interesting study published in Nutrition, Metabolism & Cardiovascular Diseases reported that among more than 8,500 European adults, those who enjoyed a serving or more of natural yoghurt every day (either low-fat or full fat) were 20% less likely to become overweight, and 38% less likely to become obese during the six-year follow-up compared to those who ate less than two servings of yoghurt each week!  The researchers believe that the protein, calcium, and pro-biotics in Greek yoghurt may all play a role in keeping you slim and trim!
Cocoa has also been shown to have tremendous health benefits.  It's full of anti-oxidants, which help the body defend against ageing, tissue damage, inflammation and diseases such as cancer and heart disease.  Studies have also linked chocolate consumption to lower blood pressure, reduced risk of strokes, lower (bad) LDL cholesterol and increased (good) HDL cholesterol.  Recent studies have also shown that regular consumption of chocolate was consistently associated with a reduced body mass index (BMI), compared with occasional consumption!
So what are you waiting for?  Whip this up for yourself to stay full, trim, satisfied and healthy for 2023 and beyond! 🙂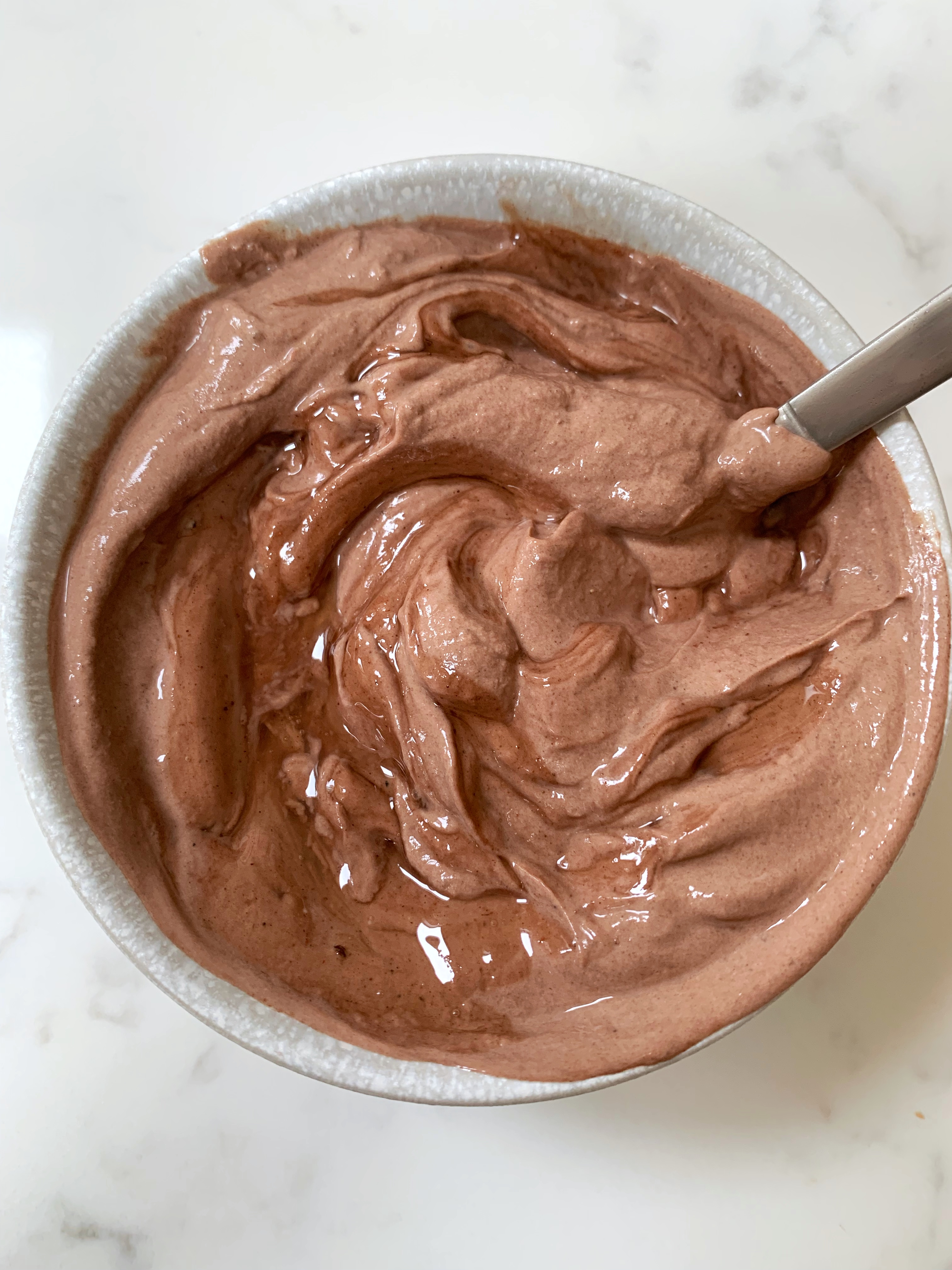 RECIPE
Ingredients:
170g Greek yoghurt (I love Total 0%) or dairy-free yoghurt e.g. Alpro Greek Style 
1 Tbsp. (unsweetened) cocoa powder
1-2 Tbsp. agave syrup or 1-2 tsp. Stevia (or a combination, see my YouTube video!) 
1/4 tsp. vanilla extract
Optional (toppings): blueberries/ dark chocolate chips/ sliced almonds/ shredded coconut/ chopped walnuts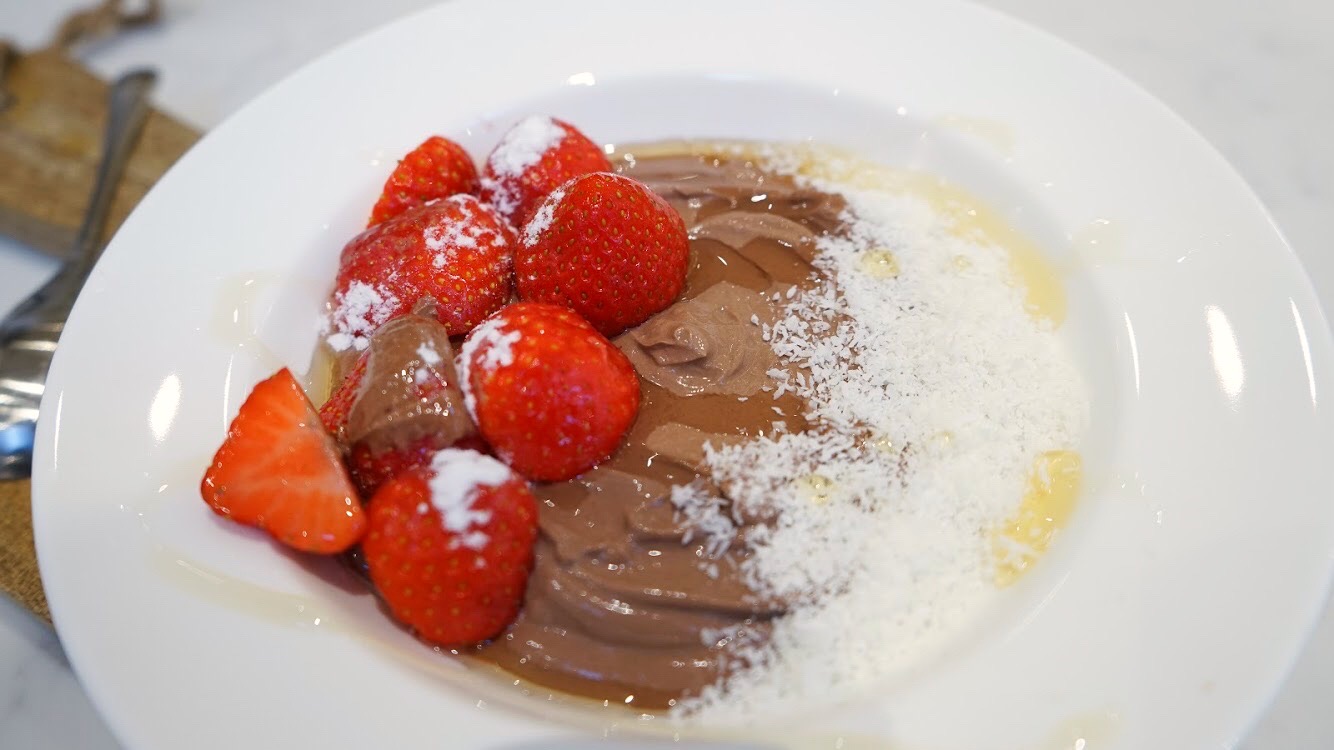 Directions:
Mix all ingredients together well in a mixing bowl, until the cocoa powder is fully mixed in (with no lumps left!) and smooth pudding-like consistency is reached.  Spoon into a serving bowl.
To make it more "fro-yo" or ice-cream like, you can pop it into the freezer for 30 mins before tucking in! (I recommend this!)
Top with: blueberries/ dark chocolate chips/ sliced almonds/ shredded coconut/ chopped walnuts.  Drizzle with additional agave if desired.  Enjoy! xx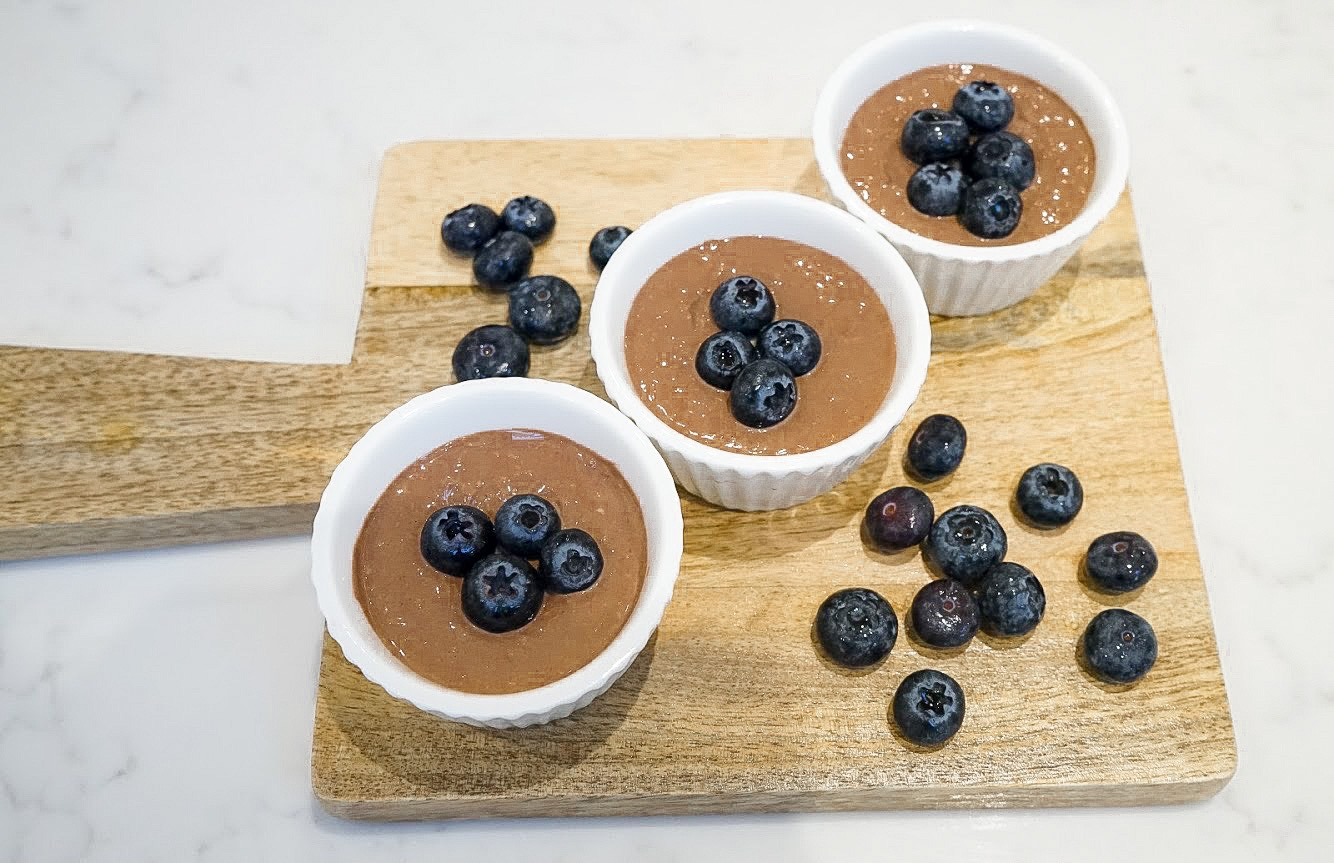 Leave a Response
You must be logged in to post a comment.