GUILT-FREE DAIRY-FREE CREAMY CAULIFLOWER SOUP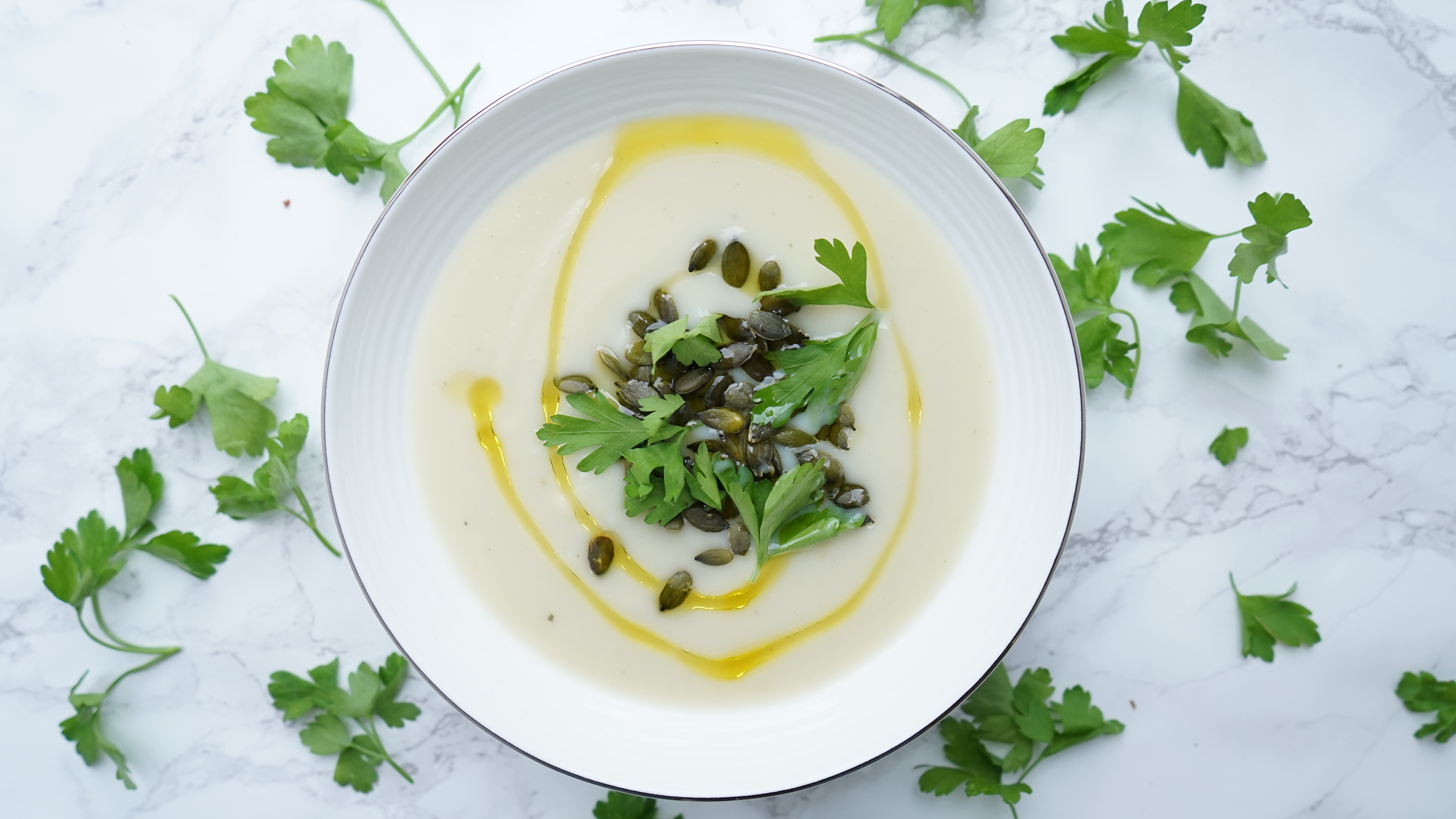 Although it's already June, the weather is still rather chilly here in London, making it still perfectly acceptable to be enjoying a bowl of soup!  This cauliflower soup is perfect to warm you up on colder days, but also super light and fresh tasting – making it just as perfect for summer months too.
It's super creamy but amazingly low in calories and fat, dairy-free, gluten-free, vegan friendly and packed with nutritional goodness…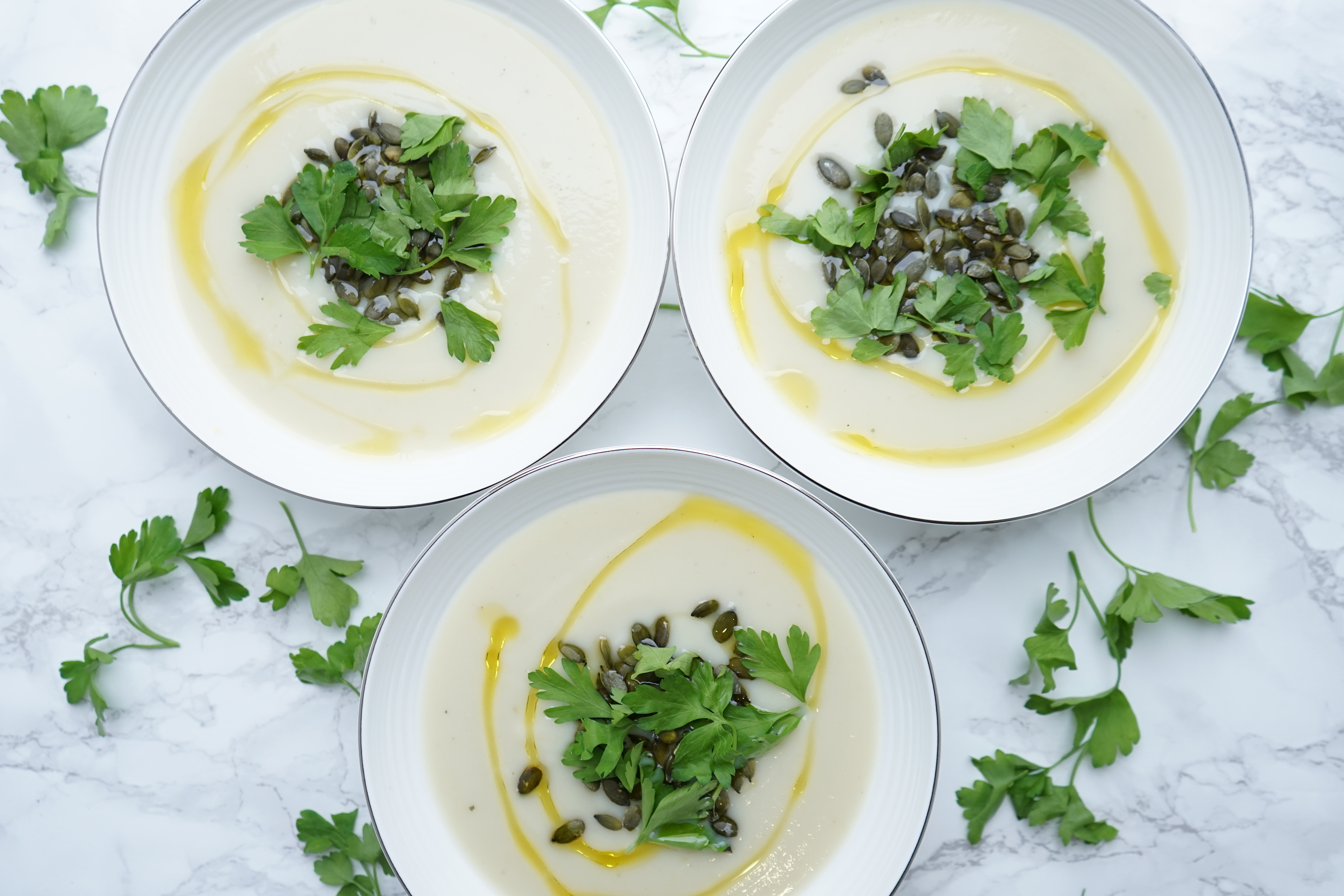 Cauliflower is one white food that's jam packed with nutrition!  It's a brilliant source of vitamins K and C, potassium, B Vitamins, phosphorus and fibre.  Cauliflower (along with other cruciferous vegetables such as broccoli, cabbage and kale) also contains compounds known to help prevent cancer.  These compounds appear to stop enzymes from activating cancer-causing agents in the body whilst also increasing the activity of enzymes that disable and eliminate cancer-causing carcinogens.  
A 100g serving of cooked cauliflower provides 2.3g of protein, 3.3g of fibre, 0.4g fat, 7.2g carbohydrates, zero cholesterol and just 35 calories!
So you can enjoy this delicious, creamy bowl of nutritional goodness without piling on the extra pounds.  Enjoy xx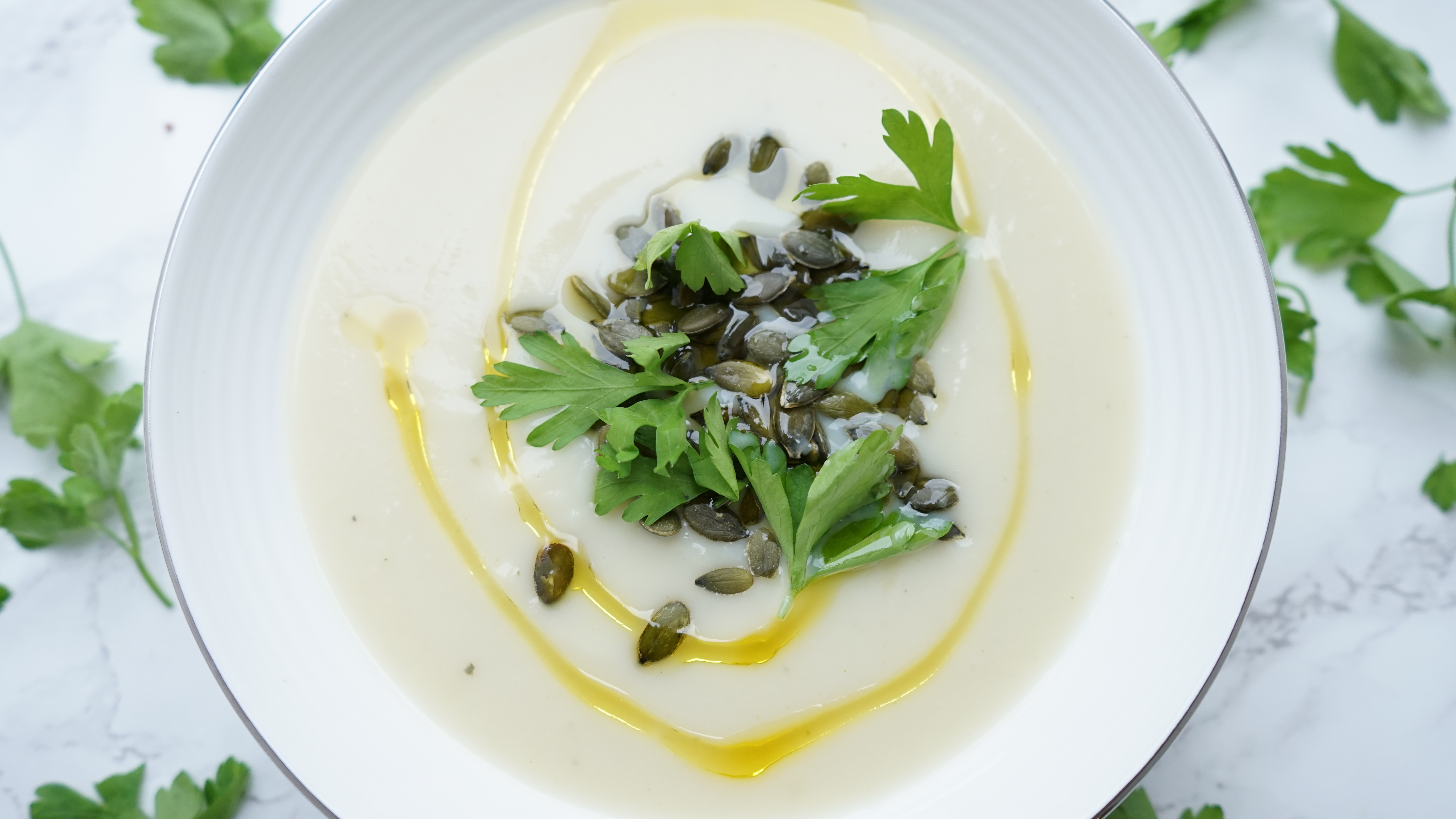 Recipe
Serves 8
1 Tbsp. olive oil
900g frozen cauliflower
1 large onion, peeled and chopped
2 garlic cloves, peeled and crushed
1 litre (4 cups) chicken or vegetable flavoured stock (I use vegan chicken flavoured stock powder)
1 cup almond/ cashew milk
1 tsp. sea salt
Freshly ground black pepper, to taste
Truffle oil, to drizzle
Pumpkin seeds or za'atar to garnish, optional
Variation: stir through a tsp. of ground turmeric and a sprinkling of curry powder for a delicious twist on this recipe!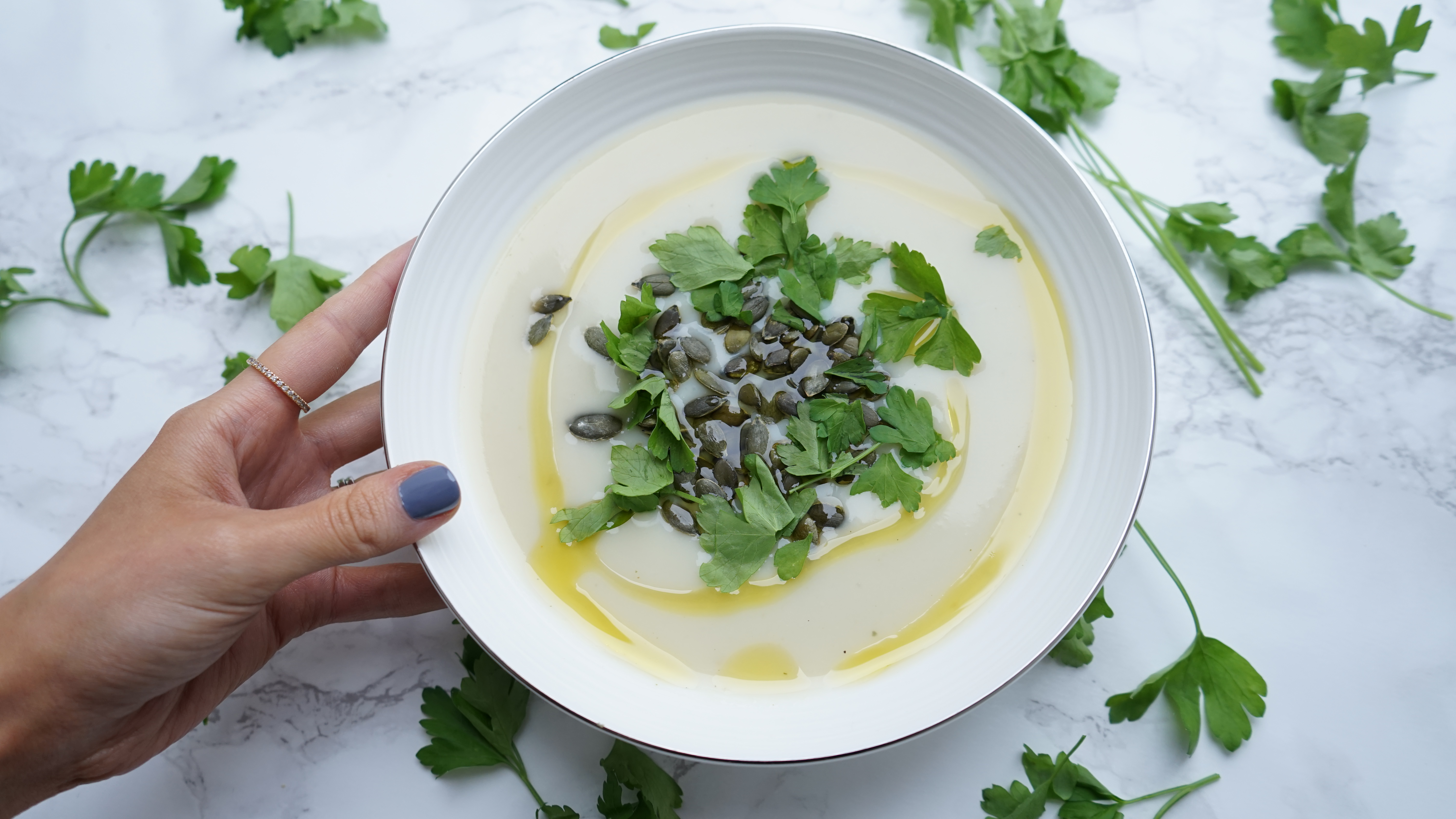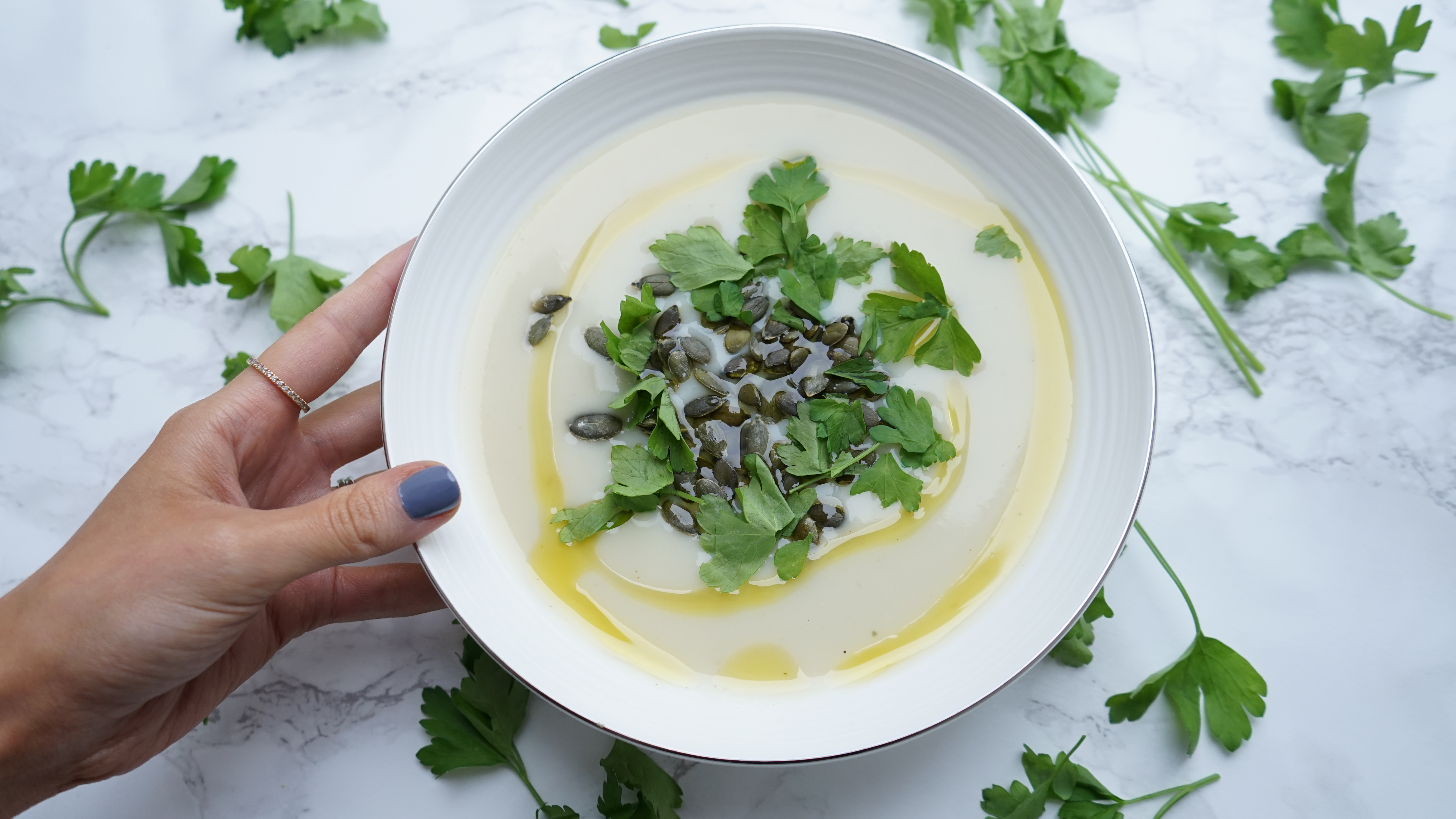 Heat the oil in a large saucepan and cook the onions and garlic until translucent.  Add the cauliflower and saute for several minutes until cauliflower softens.  Pour the stock over and simmer until the cauliflower is soft (around 30-40 minutes).  Blend with a hand-held immersion blender.  Season with black pepper to taste and stir the almond/ cashew milk through.  Re-heat until just warm.  Ladle into bowls and drizzle with truffle oil.  Garnish with pumpkin seeds or za'atar to serve.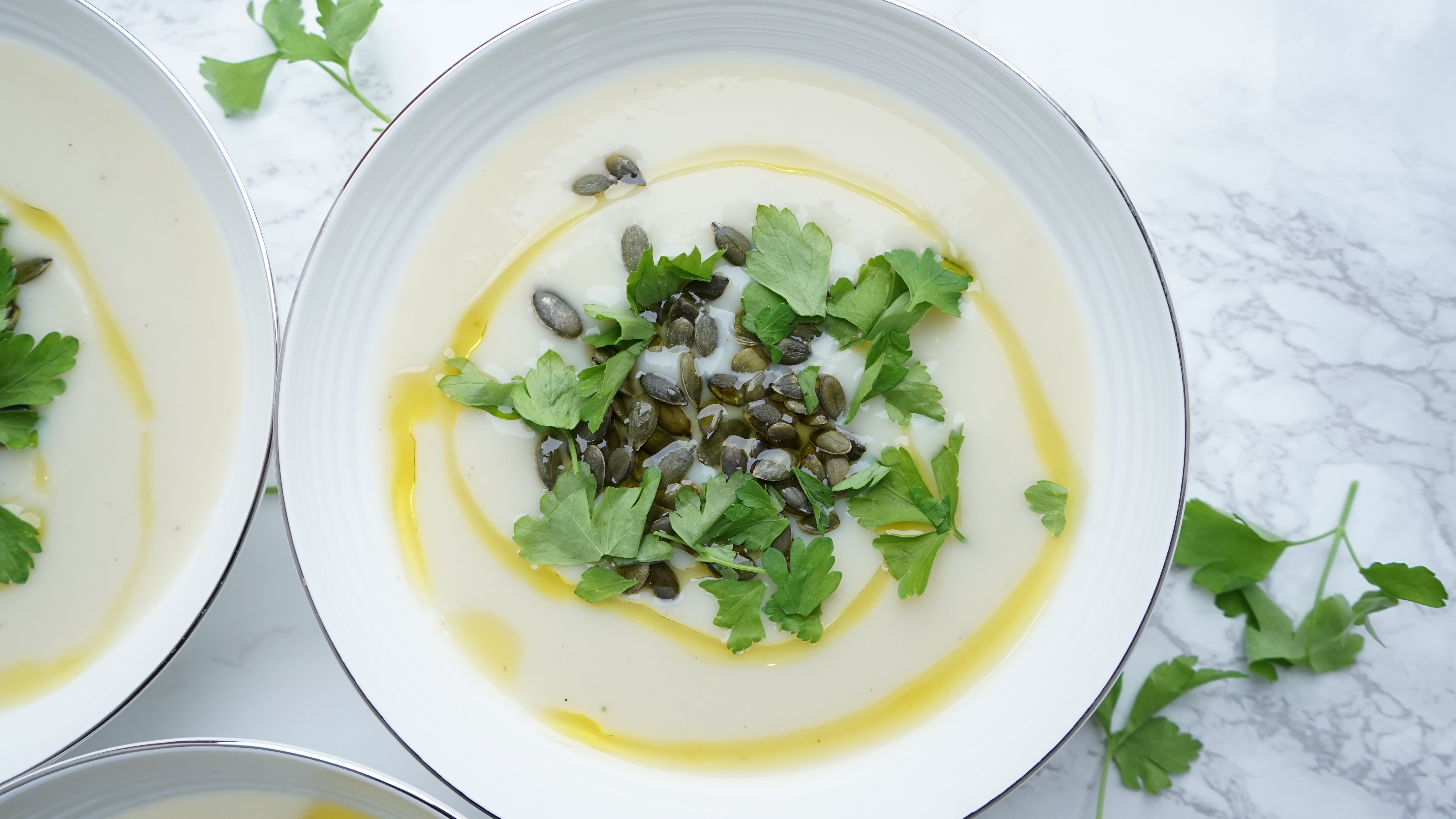 Leave a Response
You must be logged in to post a comment.