GUILT-FREE NO-BAKE MINI CHEESECAKES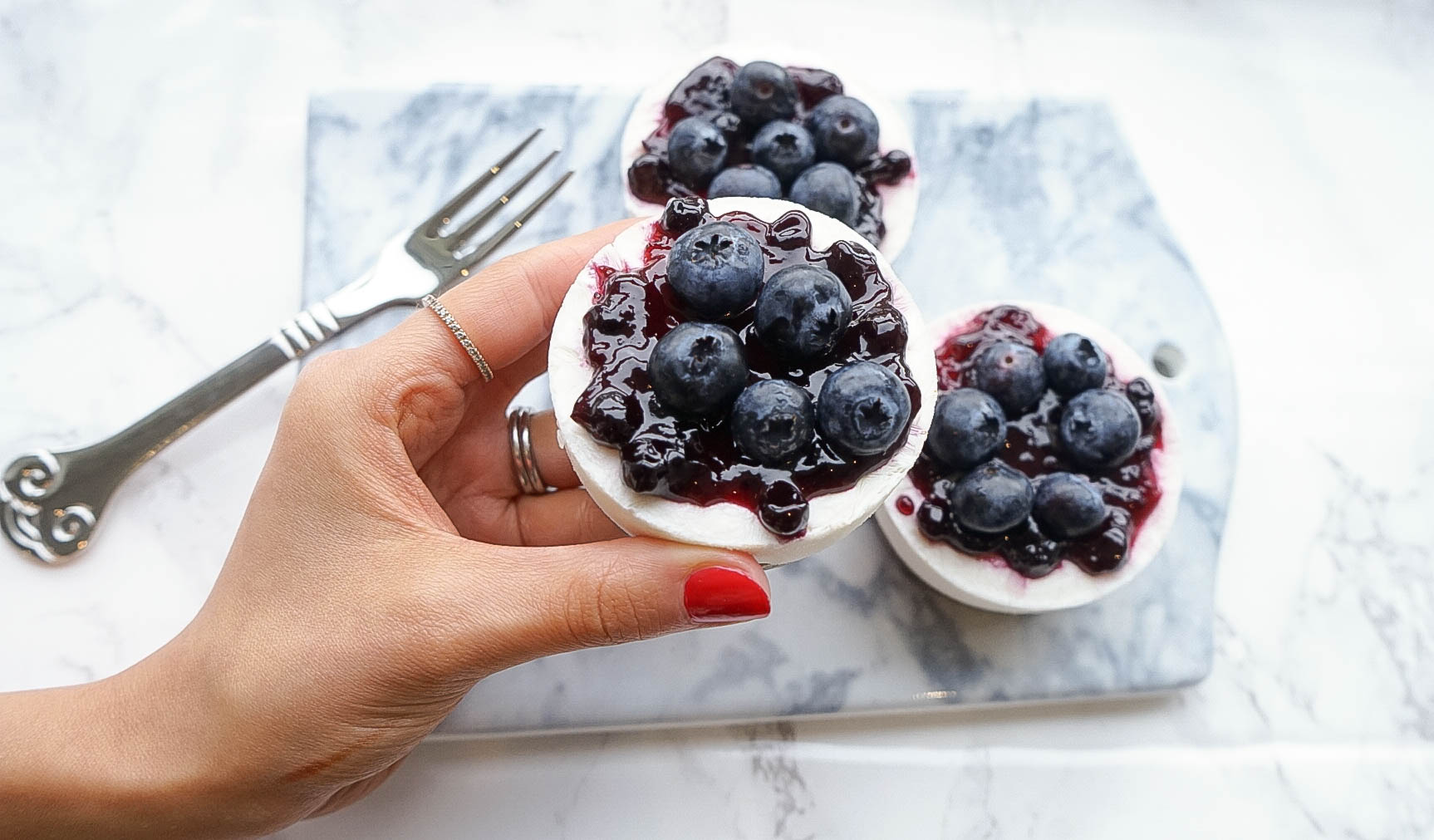 I'm a HUGE cheesecake lover and I know many of my clients, friends and family are too.  Whilst I'm all for allowing the odd indulgence, I know that a slice of this decadent dessert can wrack in hundreds of calories, not to mention grams of sugar and unhealthy saturated fat!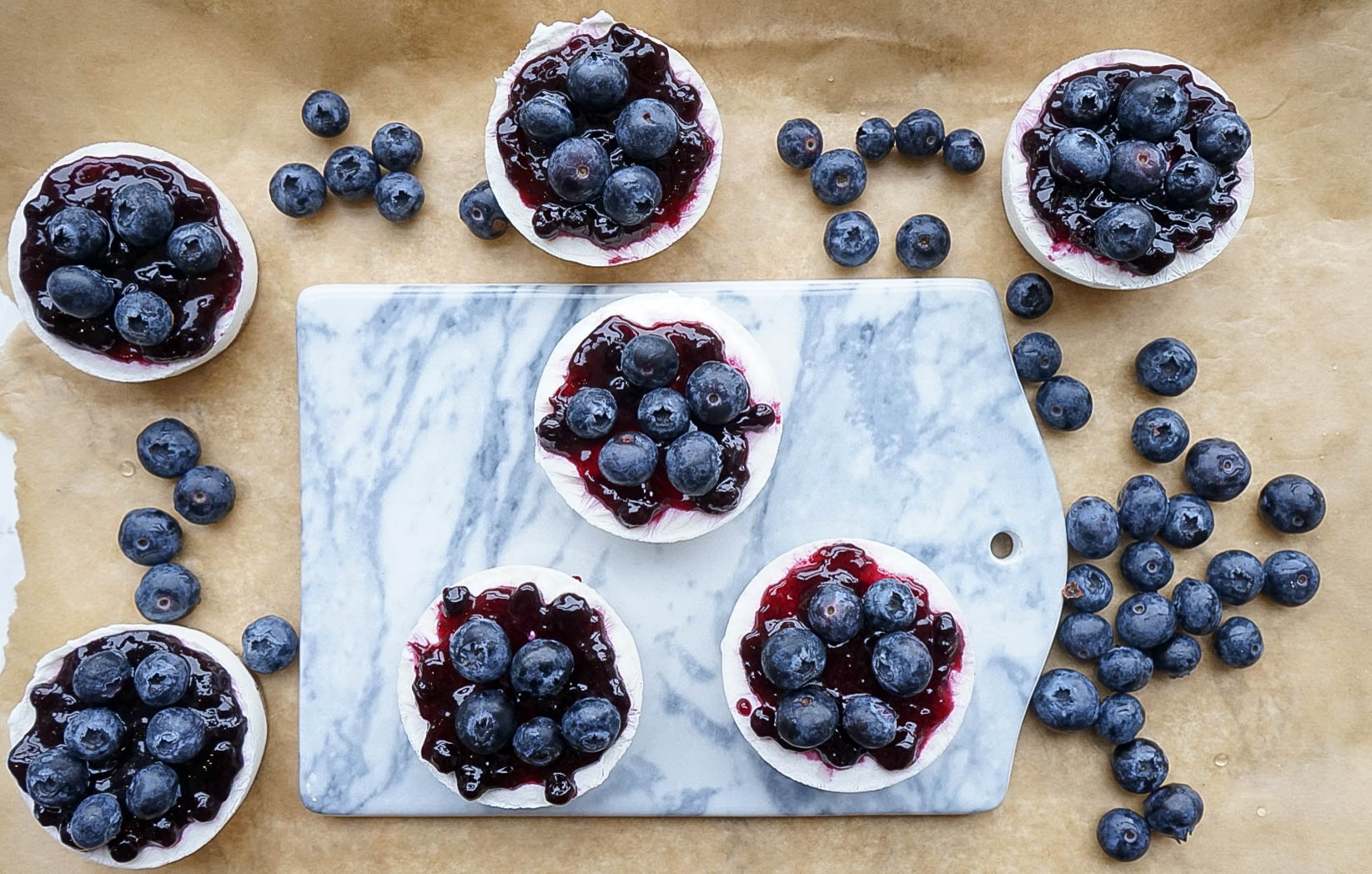 So… I have finally come up with the "Ultimate" Guilt-Free Cheesecake recipe that actually tastes just as good (if not better!) than it's calorie-laden counterpart.  Trust me you will not miss the traditional (fat & sugar laden) version!
This recipe works best as individual cheesecakes made in a silicone muffin tray.  I tried it out as one large cheesecake, but it didn't slice and serve well that way.  Making it in a silicone muffin tray was the perfect solution!  They pop out easily and serve perfectly as individual plated portions, to be devoured with a spoon.  Not a difficult task!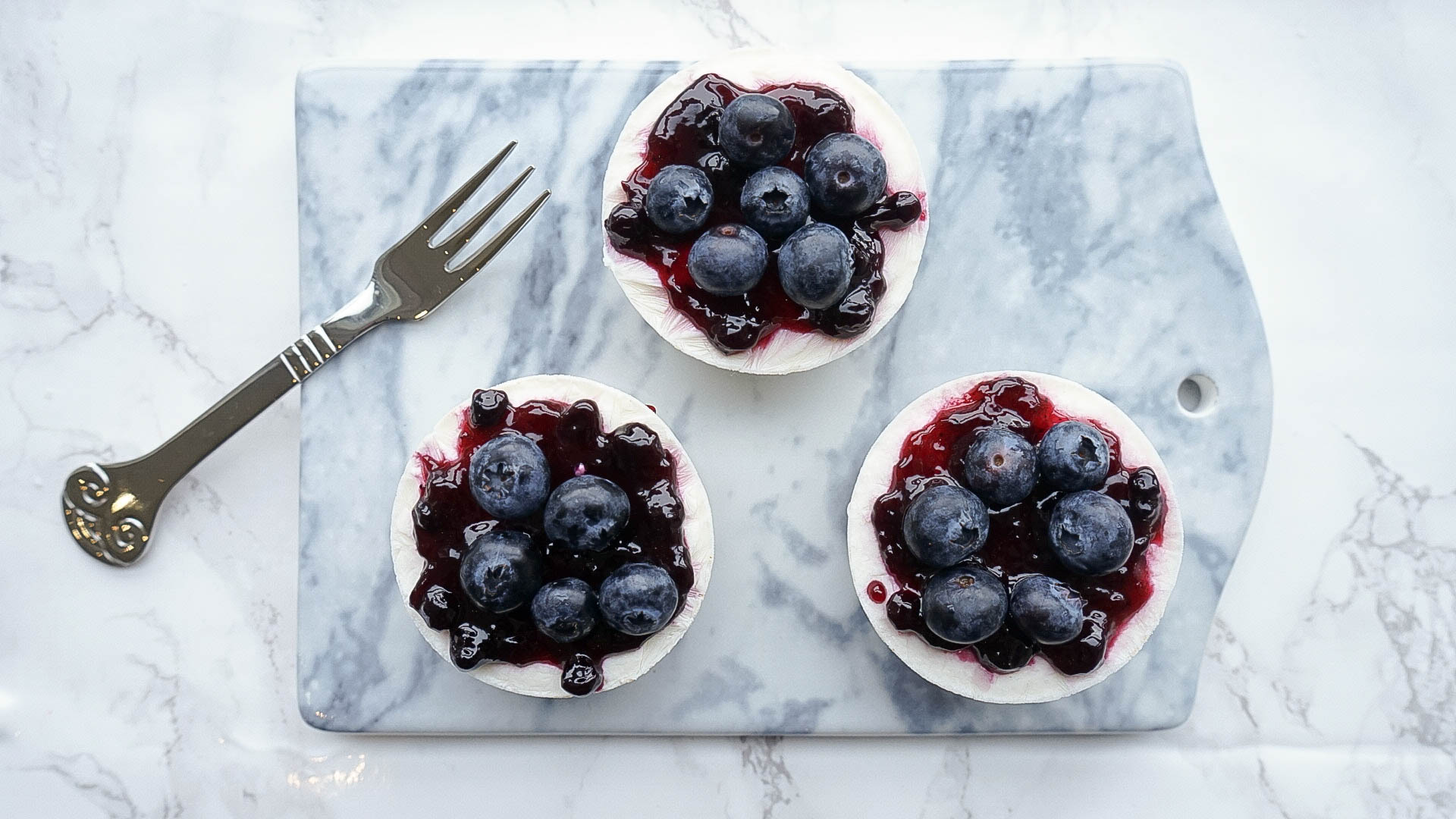 Apart from being guilt-free, this delicious dessert also has some amazing health benefits…
The base is made of just nuts and dates!  Nuts (including cashew nuts, which this recipes uses) are a nutritional powerhouse.  Anyone who knows me or follows The Food Effect will know I'm a huge nut lover and advocate them everywhere I can (you can read all the nutritional benefit of nuts in my "Nuts About Nuts" post HERE.).
Dates are a rich source of potassium and a good source of fibre, protein and the immunity-boosting minerals zinc, magnesium and selenium.
Low fat cream cheese and Greek yoghurt pack in an amazing amount of protein and calcium, whilst being super low in calories.  Consuming low fat dairy foods has been shown to aid weight loss, build bone mass, as well as improve muscle spasms and soothe tension.  In case you needed any convincing to eat cheesecake! 😉
Stevia (or xylitol, whichever you prefer!) is an all natural sweetener derived from a plant, that is perfectly safe; vegan, kosher, keto, paleo and diabetic friendly, and totally sugar-free!
So what are you waiting for… make a batch of these mini-cheesecakes for yourself, friends or family. Although once you try them, you probably won't want to share! 😉 xx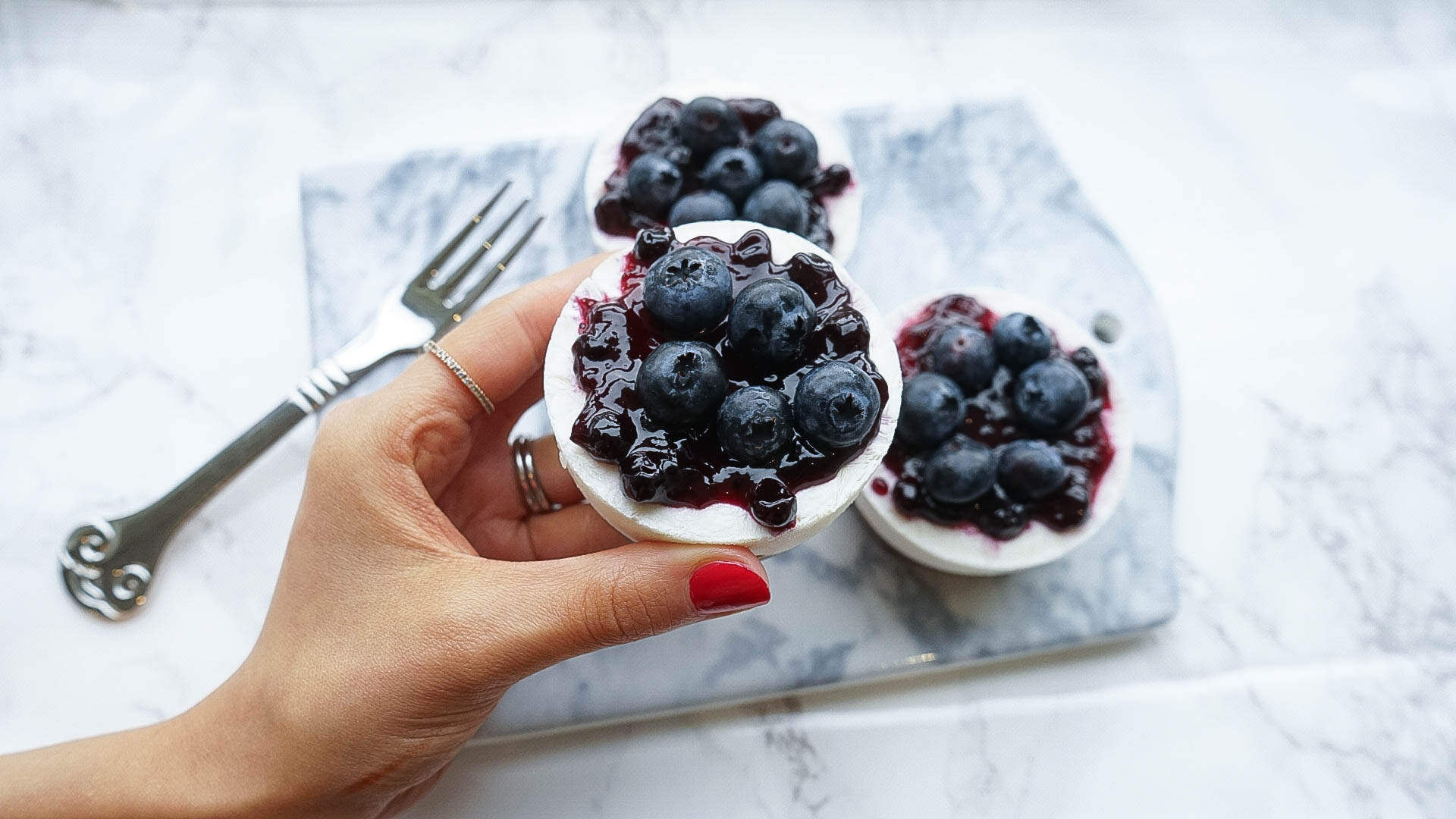 Recipe
Makes 10 individual single-serving cheesecakes
Base:
1 cup raw cashews (140g)
120g Medjool dates, pitted
1 Tbsp. Agave syrup
Pinch of salt
Filling:
400g low-fat cream cheese (not fat free)
300g 0% Greek yoghurt (I like FAGE Total best)
1/2 cup granulated stevia (I love this one or this one) OR 3/4 cup xylitol
1 tsp. Vanilla extract
1/2 tsp. Lemon juice
Topping:
Low-sugar blueberry jam
Fresh blueberries
Method:
Spray a large silicon muffin tray with non-stick spray.  In a food processor, blend together all the base ingredients, until you have a smooth "dough" (some bits of nuts and texture remaining is fine).  Divide the base mixture between 10 compartments. Press down well to cover the bottom of each compartment and also mould up the sides slightly.
For the filling, beat together the cream cheese, stevia or xylitol, vanilla extract and lemon juice until all whipped together.  Add in the Greek yoghurt and stir together by hand until fully combined (do not beat).  Spoon the mixture over the base.  Place in the freezer to set fully before adding the topping. Once completely frozen, remove from the freezer – spoon some blueberry jam to cover each cheesecake and top with fresh blueberries.  When ready to serve, remove from the freezer.  Use a knife to slide round the edges and release each cheesecake from the silicone tray.  Allow to defrost for 30 minutes before serving (do not leave it out longer else it will get too soft). Serve and enjoy!  Store remaining cheesecakes in the freezer!  xx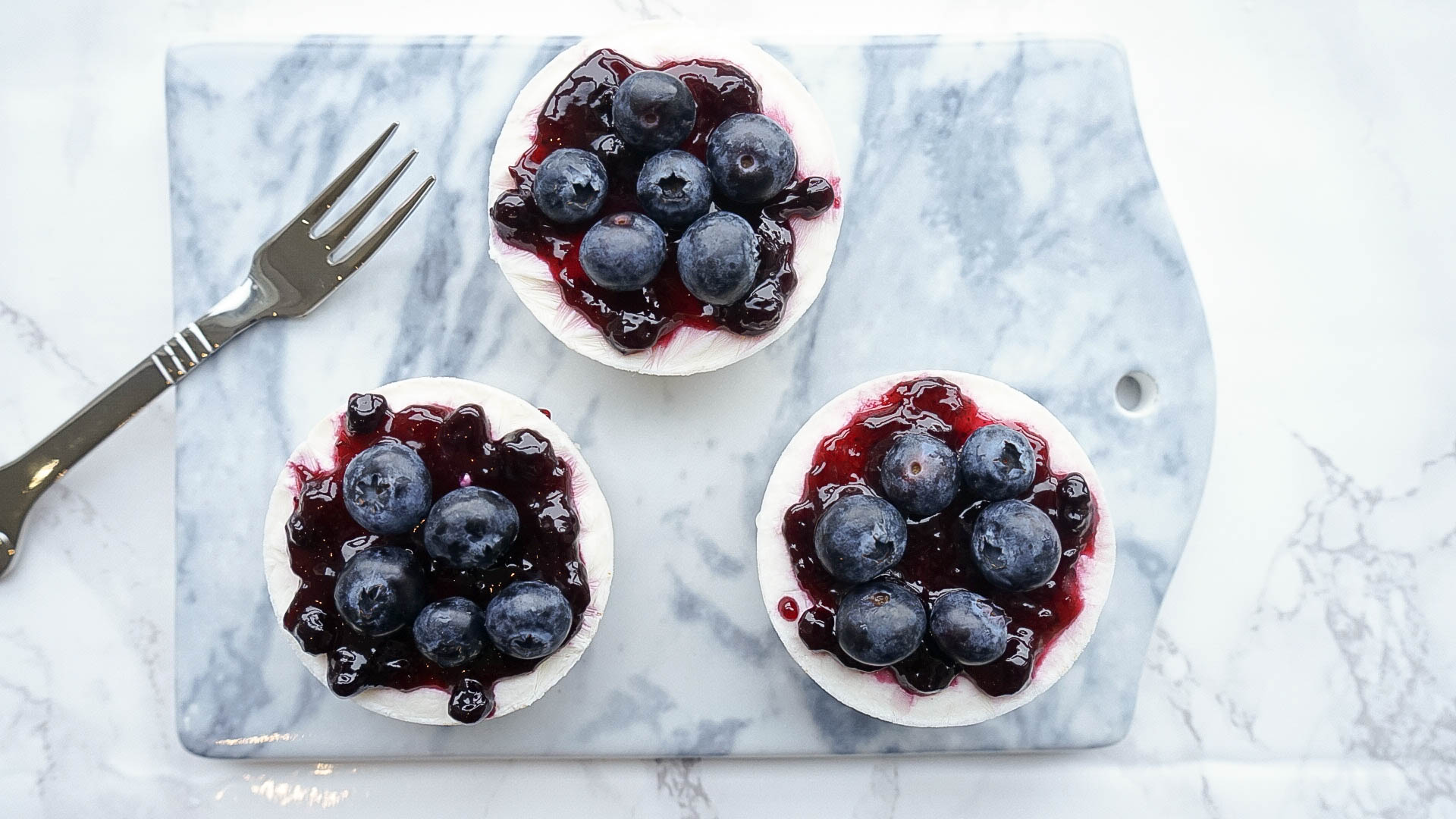 Leave a Response
You must be logged in to post a comment.