Living La Dolce Vita Part 2 – Staying Slim Whilst Enjoying Your Pasta: Recipes
This recipe post is a follow on from my last post: "Living La Dolce Vita: Staying Slim Whilst Enjoying Your Pasta".  For those of you that haven't read it yet, click here to read how and why you CAN, and SHOULD enjoy pasta as a healthy meal, without piling on the pounds! As you'll read in that post, I am certainly not advocating regular, white pasta – a simple refined carbohydrate, with little nutritional benefit.  For years this meant I stuck to, and only advocated whole-wheat pasta (being an unrefined complex carbohydrate), as a suitable alternative.  However, I recently decided to give brown rice pasta a try after discovering the Rizopia brand online.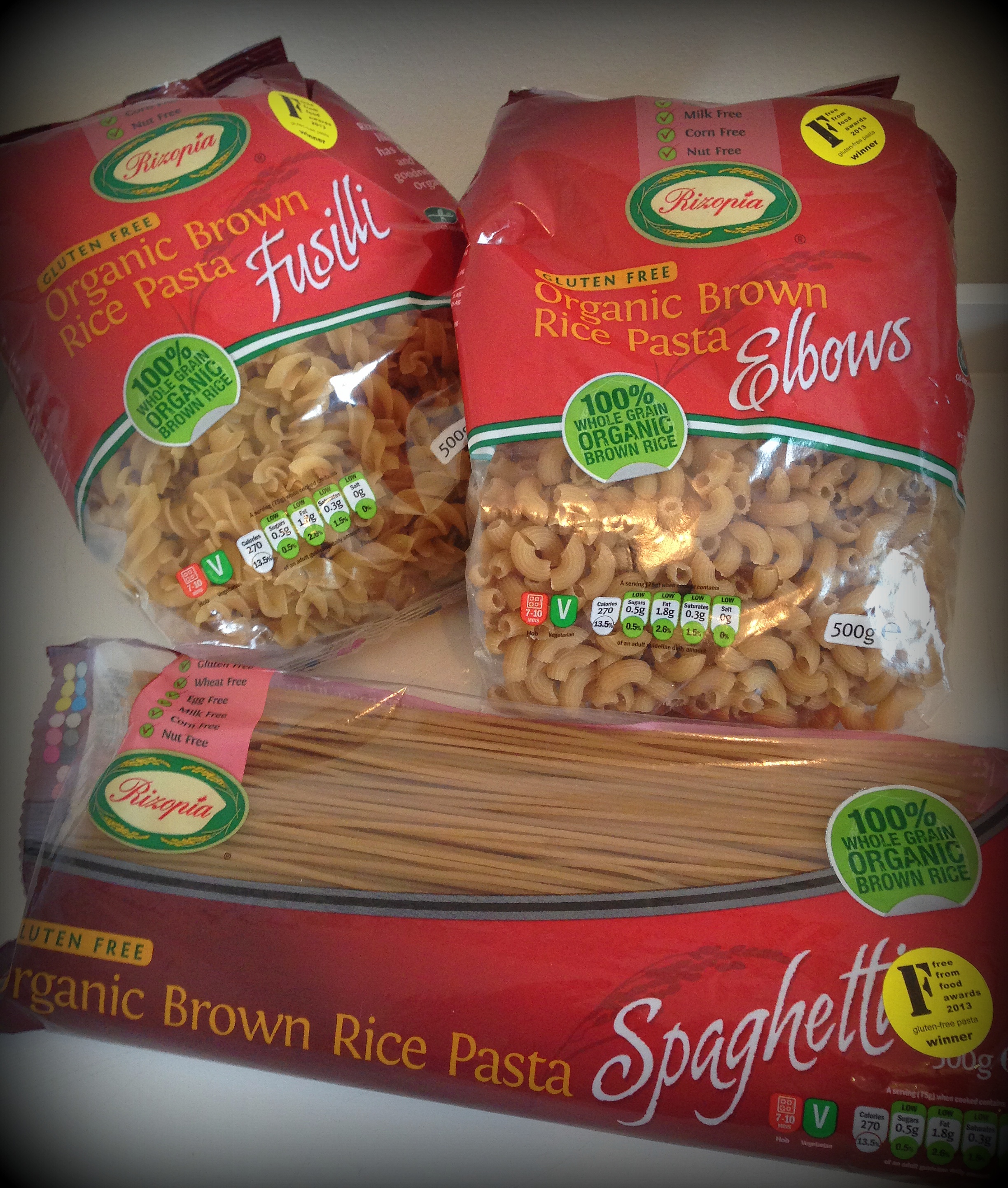 Their brown rice pasta is made from 100% whole-grain organic brown rice – this means it is wheat and gluten free (suitable for Coeliacs or those on a gluten-free diet), and free from sodium, cholesterol, eggs, dairy and trans-fats. It is also retains all the natural fibre, vitamins and minerals found in brown rice – making it as fantastic a low GI complex carbohydrate as brown rice is.
Whilst that's all well and good on a nutritional level, anyone familiar with The Food Effect approach will tell you that no matter how healthy it may be, I wouldn't want to recommend (or eat!) anything that wasn't up to par taste wise!  I must say I was skeptical… 100% whole-grain organic brown rice pasta that tastes good too?!  It sounded too good to be true.
Well… I can say in all honesty that this FAR surpassed my expectations and was as good as, if not far better than any pasta (whole-wheat or regular) I've ever tasted (and I've eaten a lot of pasta in my time!)  It even won the favour of an extremely particular husband, with very high standards when it comes to his food!  He agreed it was better than both white and whole-wheat pasta and certainly tasted the "real deal".  It cooks EXACTLY like regular pasta, and has the texture, appearance and taste to match.  It was super filling and satisfying, yet light and not at all heavy, which meant it didn't cause the stodgy feeling one can often be left with after a main meal of pasta.  Overall, it was so good that I'm sure someone who didn't know it was made of brown rice would be able to tell!
Here are 2 super healthy recipes I created as "Food Effect friendly" pasta meals.  I used the Rizopia brown rice pasta for those pictured here, but the recipes work equally well with regular whole-wheat pasta.
Enjoy! 🙂
Protein Packed Pasta Dish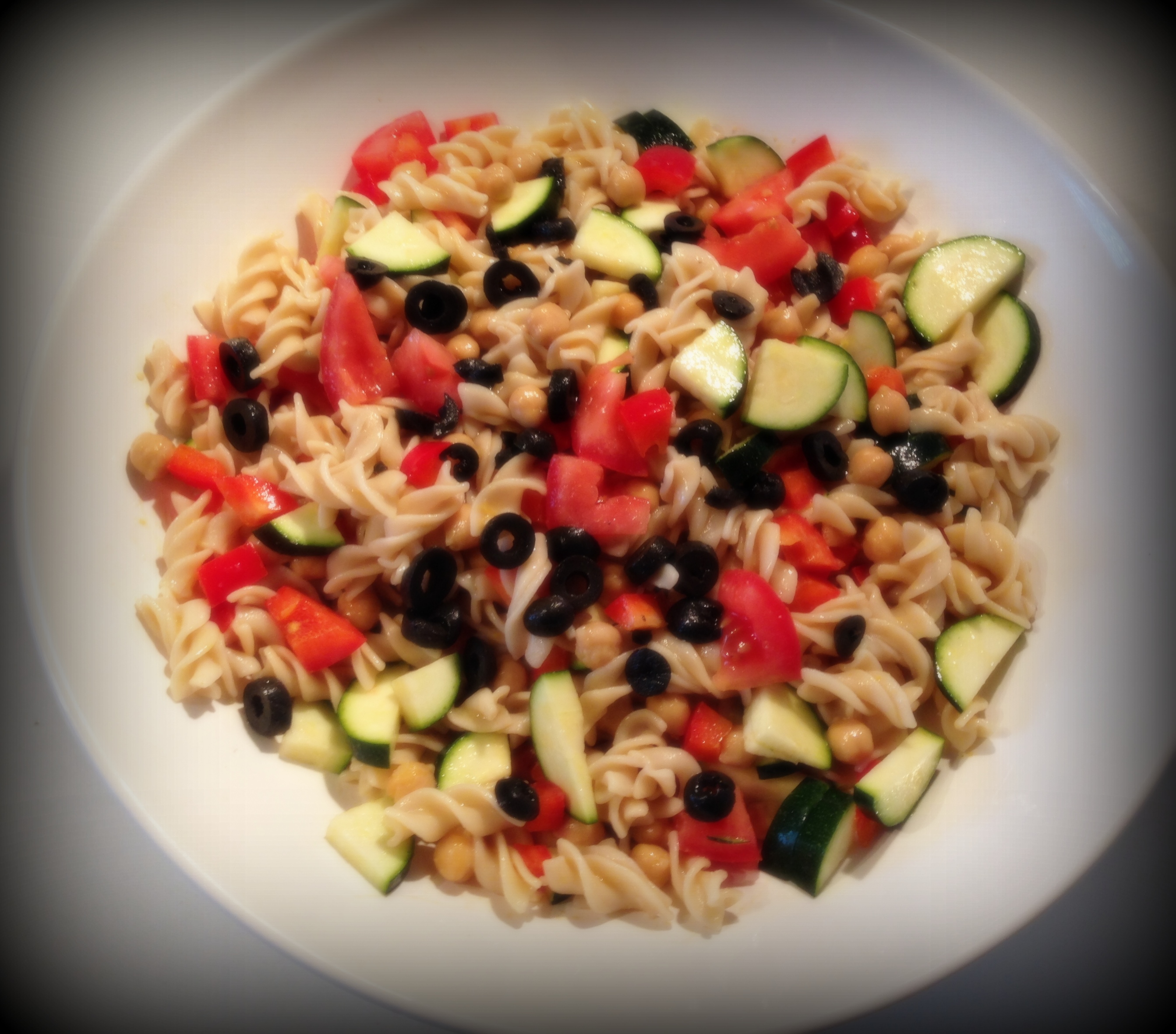 Serves 4 – as a lunch or light supper.
Ingredients:
300g (raw weight) spiral fusilli pasta – (whole-wheat or brown rice pasta)
1x (400g) tin of chickpeas
1 zucchini, thinly sliced & halved
1 red pepper, diced
2 large vine tomatoes, diced into chunks
1/4 – 1/2 cup sliced black olives
Dressing:
3 Tbsp. Apple cider vinegar
1 tsp. salt
1 Tbsp. mustard
3 gloves of garlic, crushed
3 Tbsp. olive oil
Pinch of cayenne chili pepper – optional (but recommended!)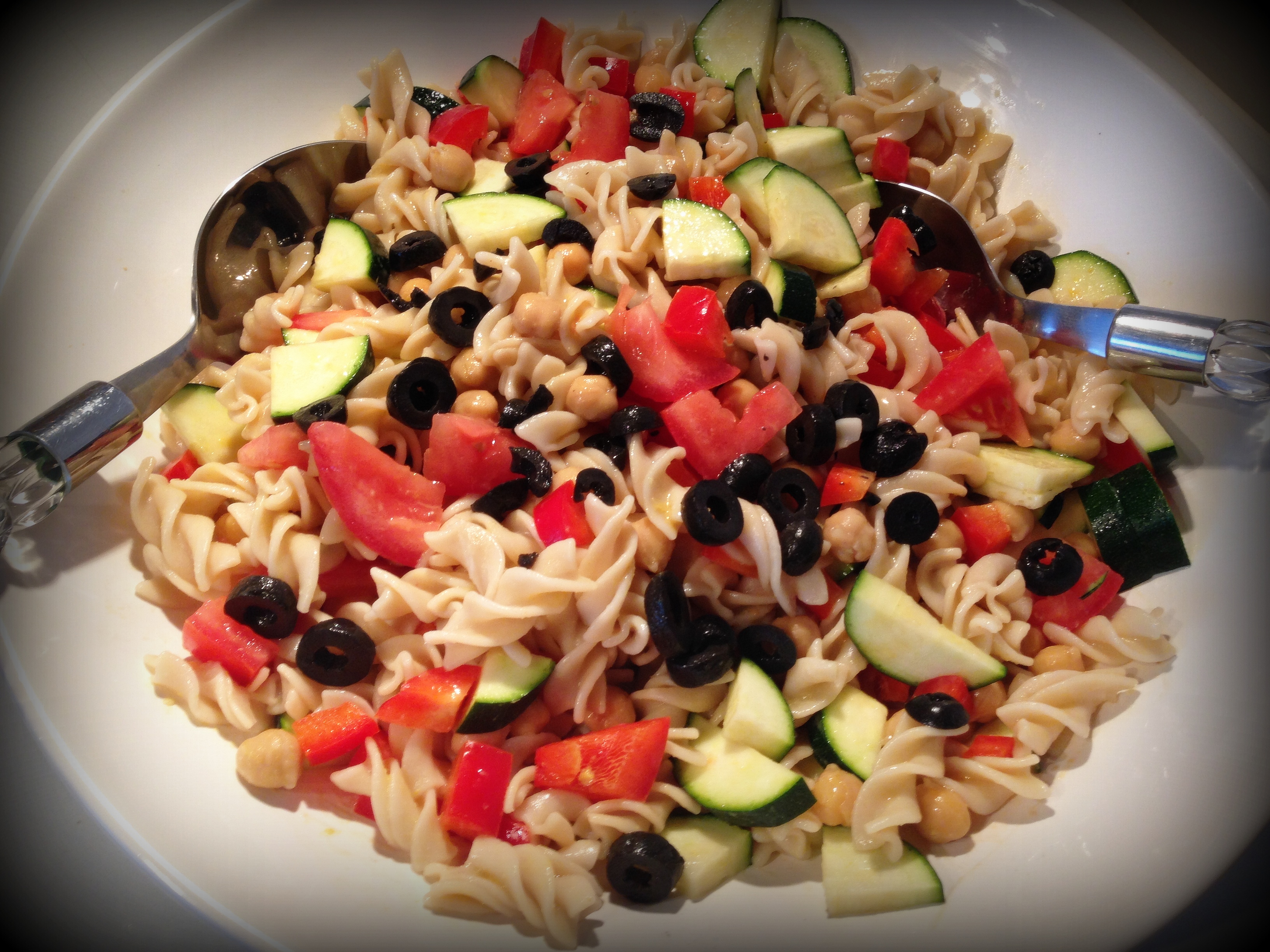 Cook pasta according to packet directions. Drain and set aside.
In a small jar, combine all dressing ingredients and shake well.
Place cooked pasta, prepared vegetables, chickpeas & olives in a large bowl. Toss with dressing & allow time to stand (for flavours to mingle) before serving.
Serve at room temperature or refrigerate and served cold.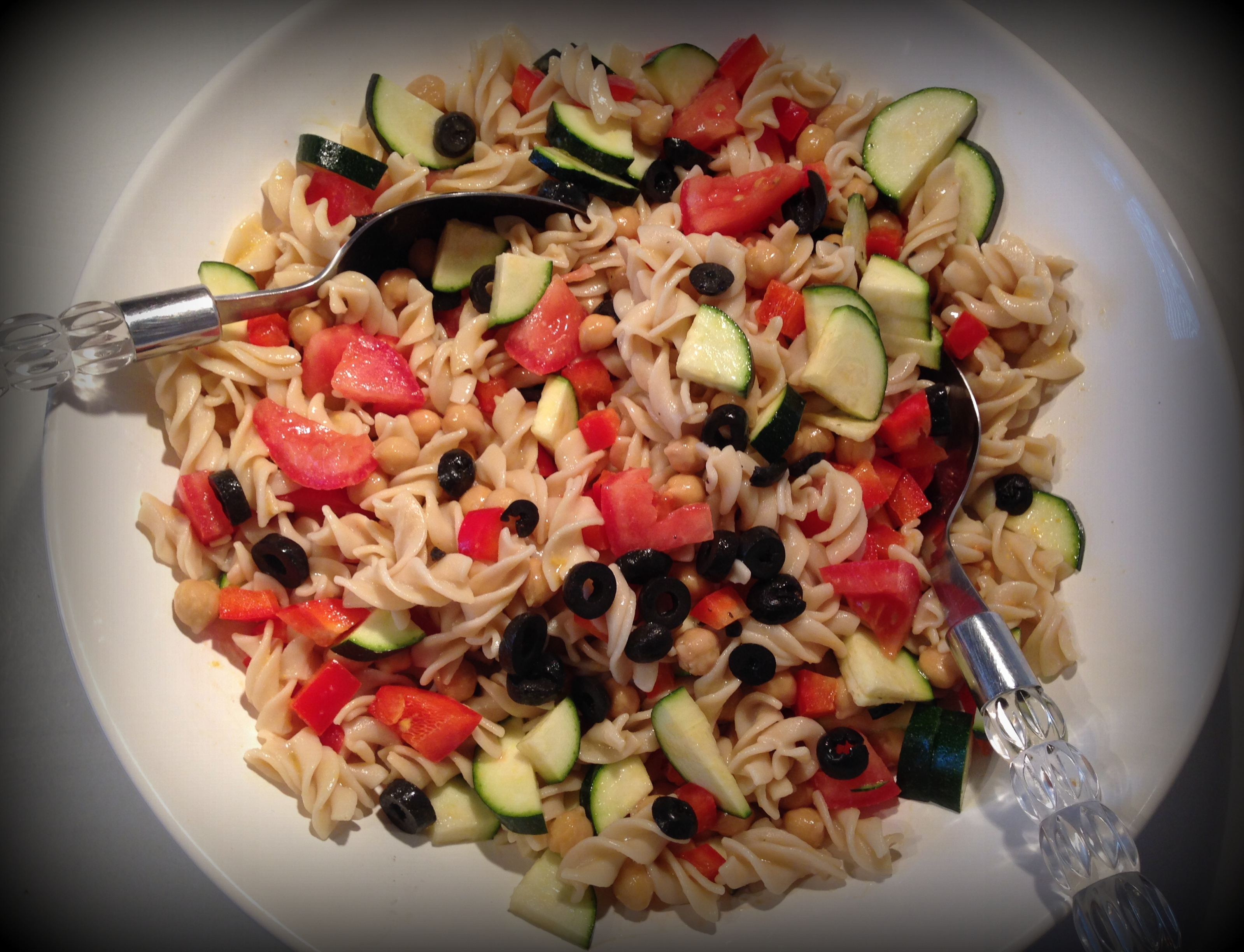 Vegetable Bolognaise
A healthy, delicious vegetarian version of the classic favourite Spaghetti Bolognaise.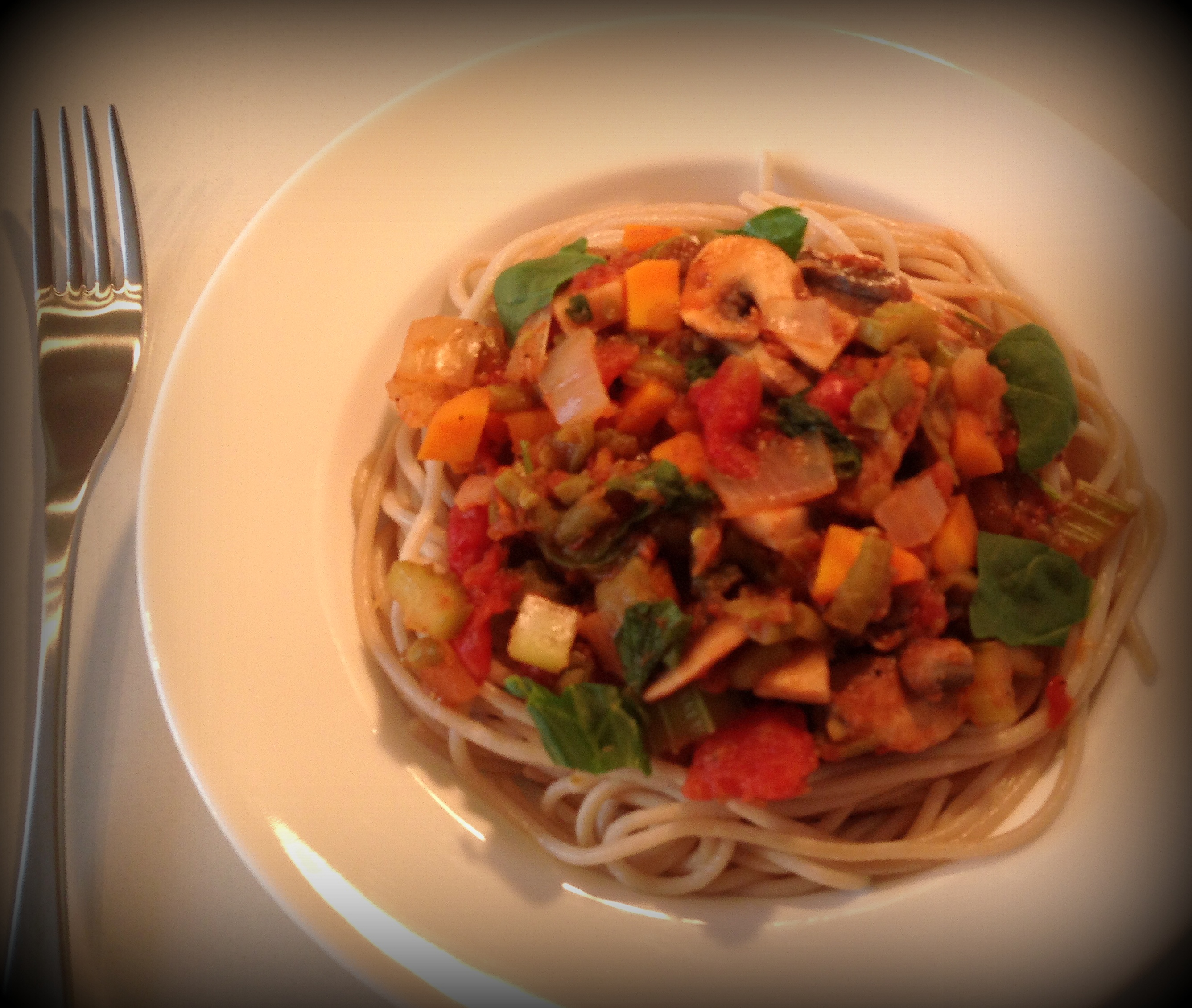 Serves 4
Ingredients:
300g (dry weight) whole-wheat or (gluten-free) brown rice spaghetti
1 onion, peeled and chopped
1x 300g tin cut green beans in water, drained and chopped
2 sticks or celery, sliced
2 carrots, peeled and finely chopped
1x 400g tin chopped tomatoes
125g mushrooms, sliced and halved
2 Tbsp. tomato puree
¼ – ½ tsp cayenne pepper
Salt & pepper
¼ cup fresh parsley, chopped
1 Tbsp. olive oil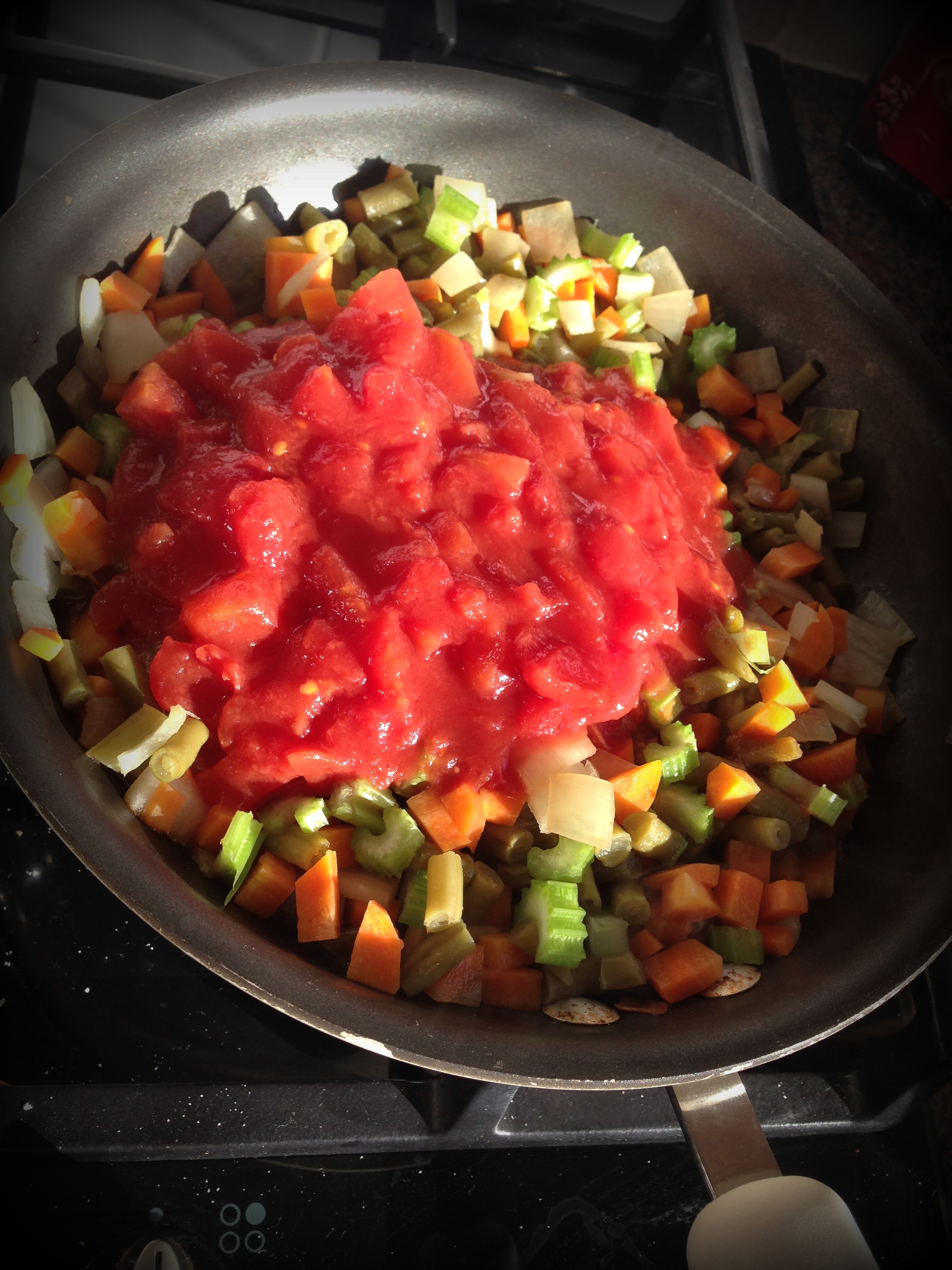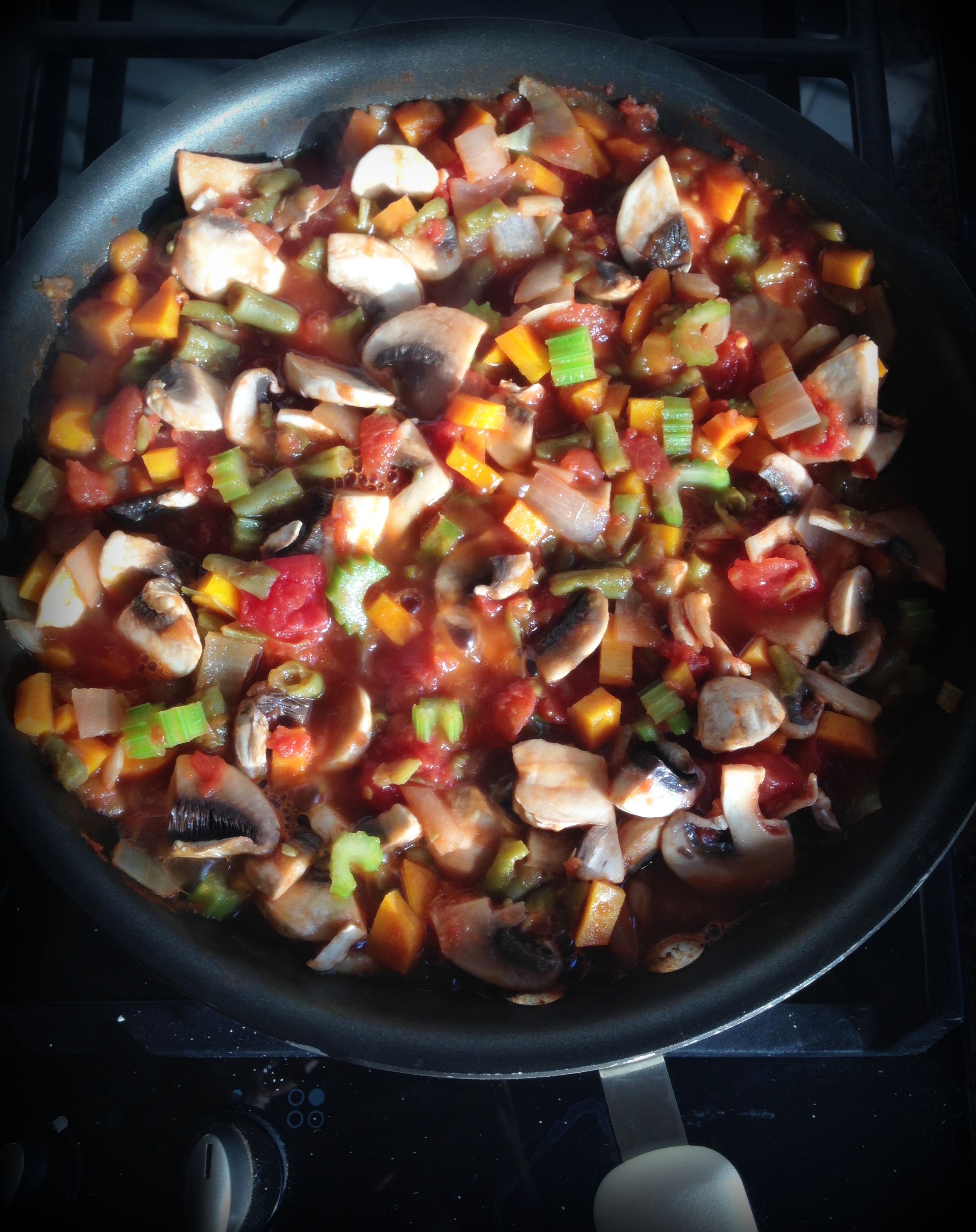 Directions:
Bring a large pot of water to the boil. Add a generous pinch salt and stir. Add the dried spaghetti and cook according to package instructions.
In the meantime, heat the olive oil in a saucepan. Add the chopped onion, and fry over a low heat for 3-5 minutes, until softened (but not browned). Add the carrots, celery and green beans. Stir in the chopped tomatoes, tomato puree, mushrooms and cayenne pepper. Add a generous pinch of salt and pepper to taste.
Allow to simmer for 10 minutes. Stir through the fresh parsley.
Drain the spaghetti when cooked and set aside. Divide between serving plates. Top each serving with ¼ of the "bolognaise" sauce. Top with some freshly ground black pepper. Serve hot and enjoy!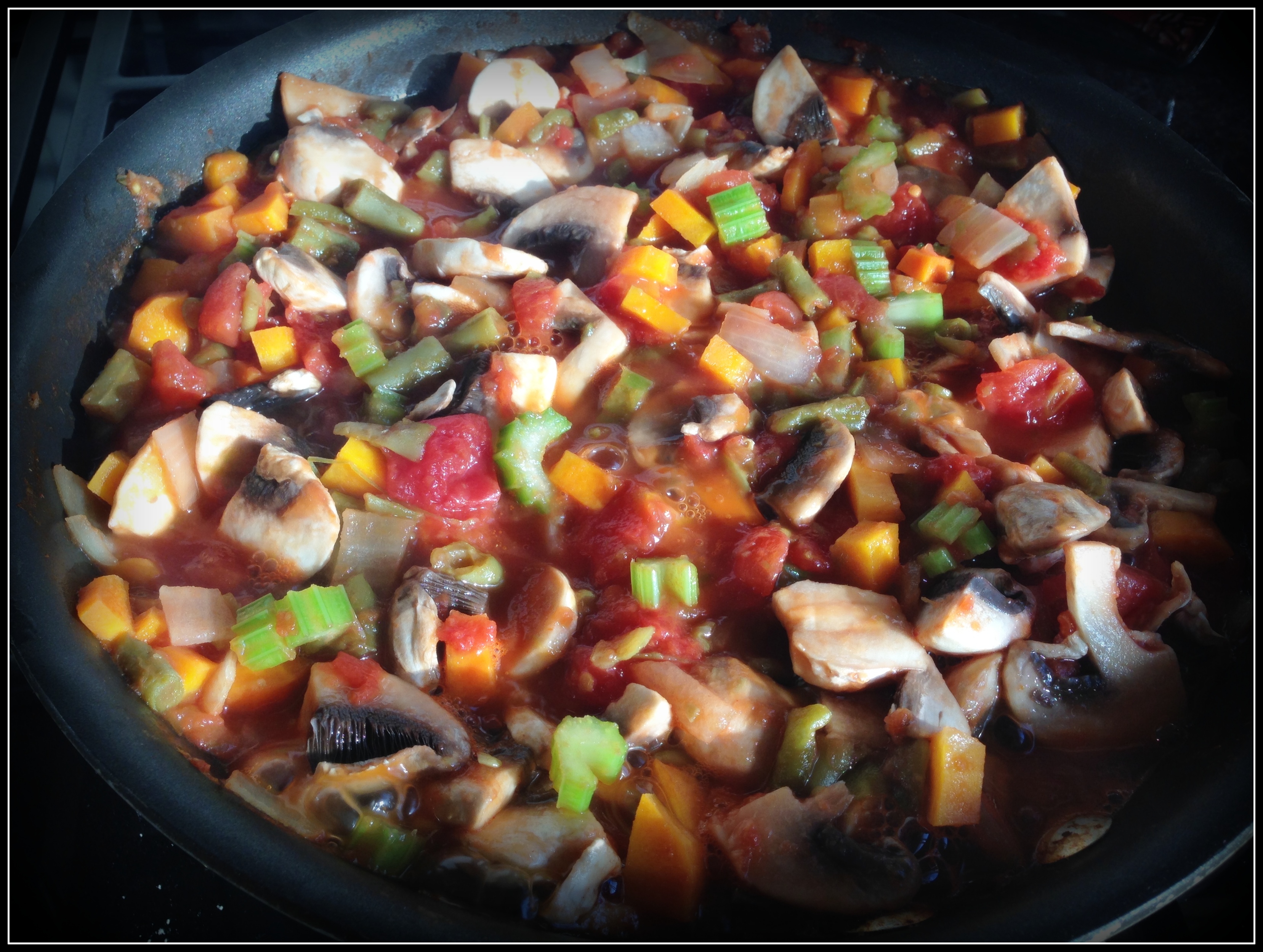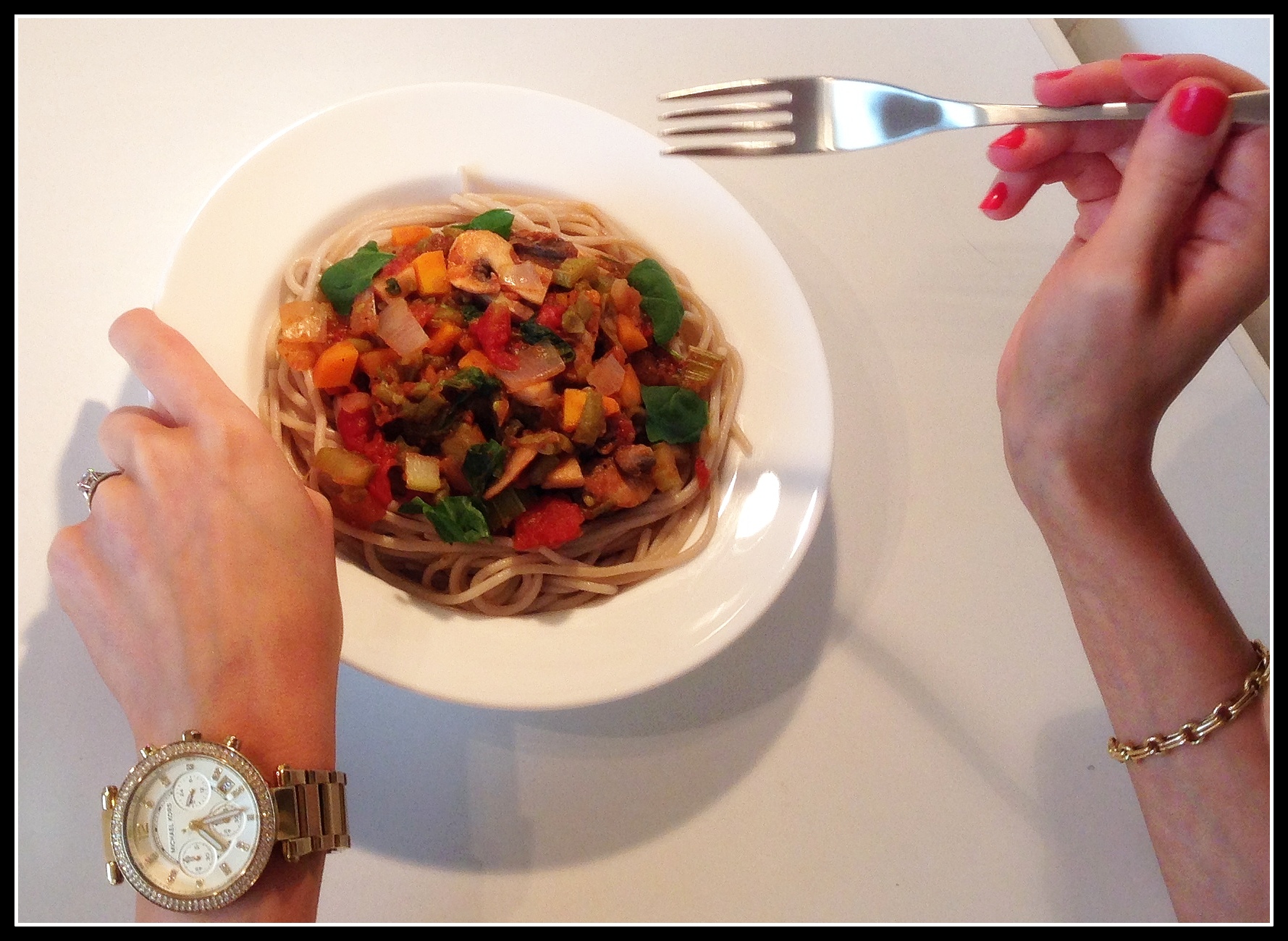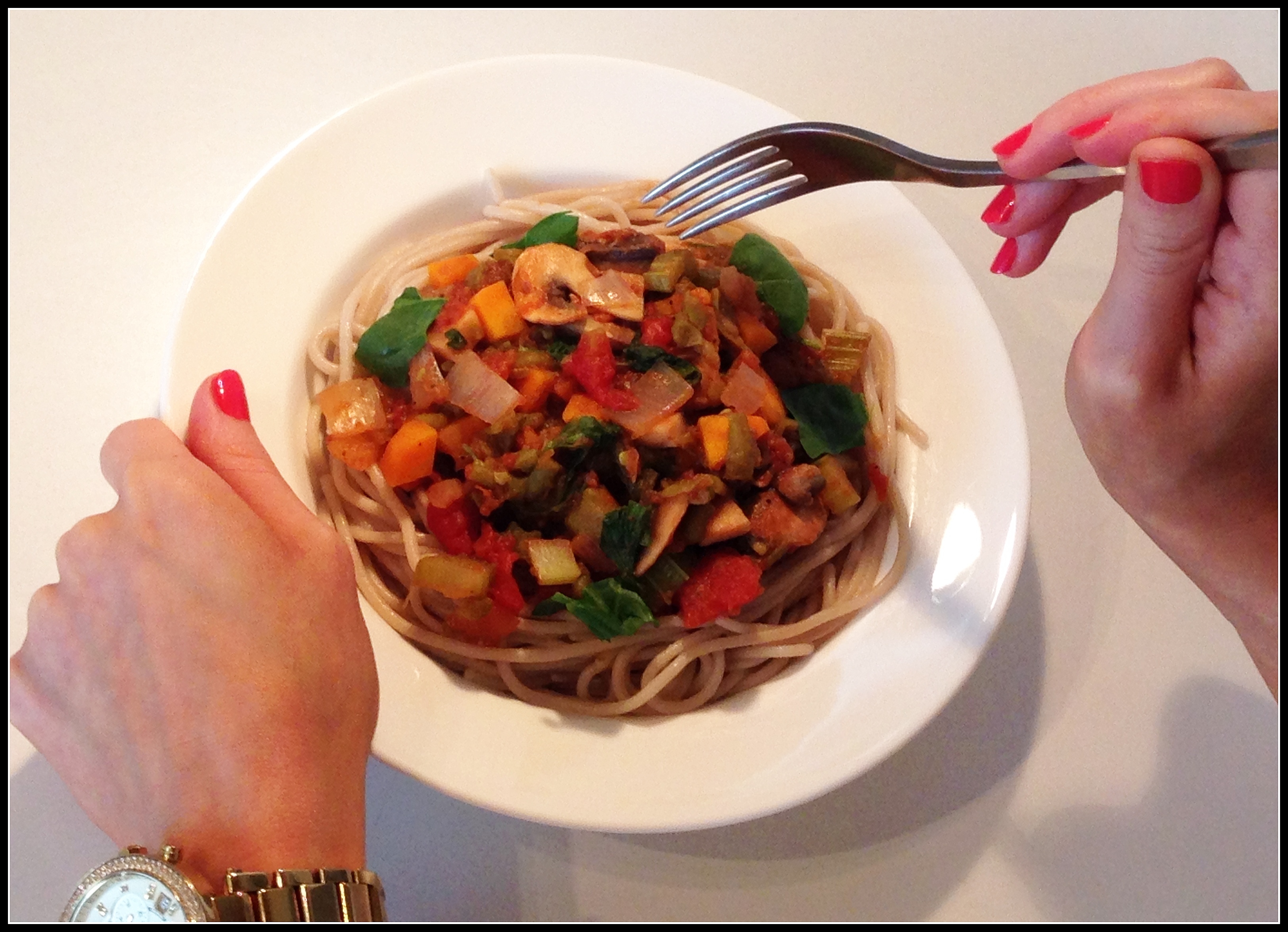 Note:  This is not a sponsored or endorsed post, I was genuinely so impressed with the Rizopia brown rice pasta that I wanted to share the love!
7 Responses to "Living La Dolce Vita Part 2 – Staying Slim Whilst Enjoying Your Pasta: Recipes"
Leave a Response
You must be logged in to post a comment.