No Bake Fibre-Filled Brownie Bars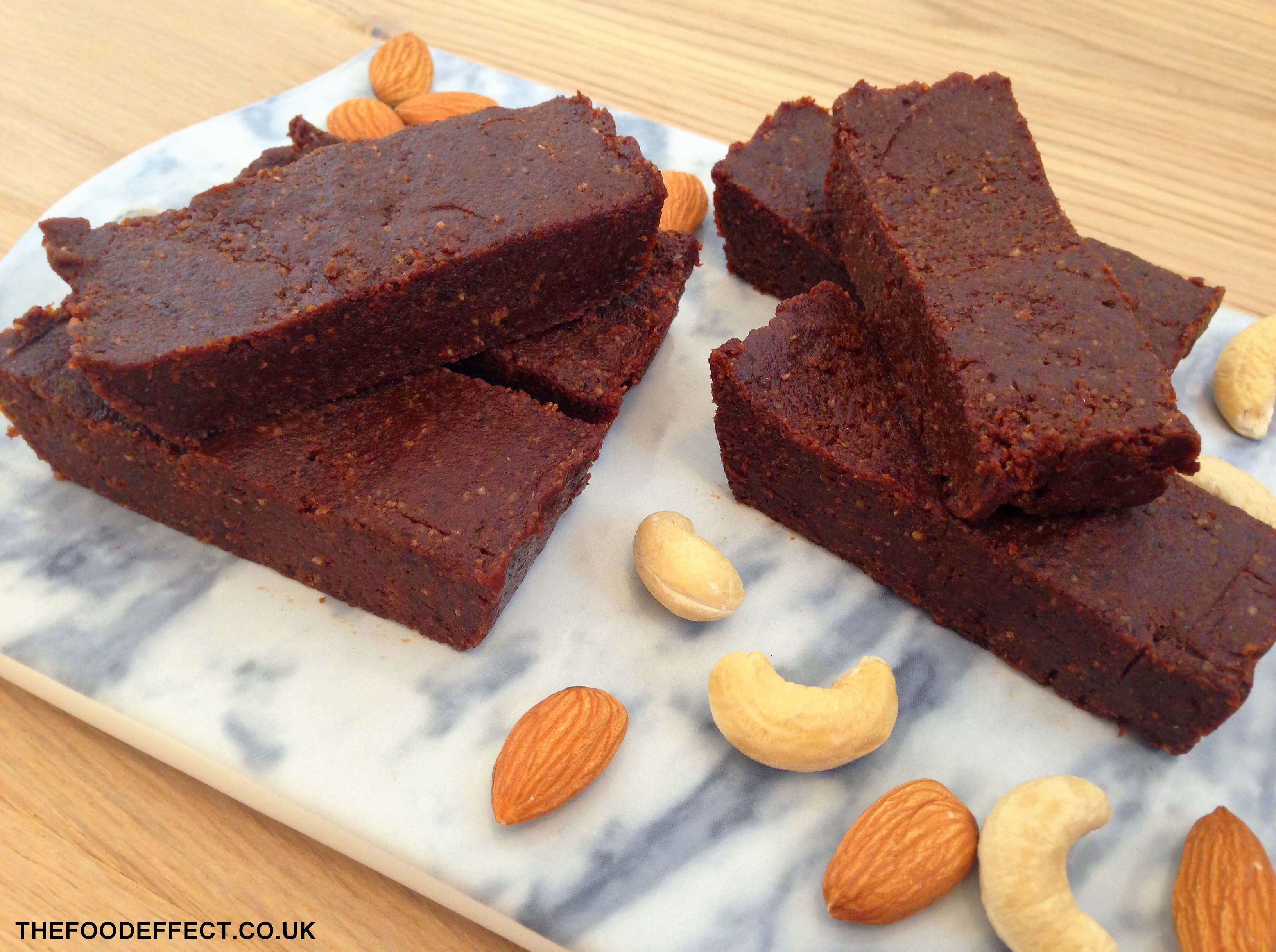 These No Bake Fibre-Filled Brownie Bars are the perfect snack when you're craving something sweet but want to stick to your healthy eating habits.  Decadent, filling and delicious, you wouldn't believe that they're also super-healthy, good for you, all-natural and even adored by kids too!  Being free from gluten, grains, dairy, eggs and refined sugar, this really is the perfect healthy snack for both adults and kids alike – as well as anyone looking to cut down (or cut out!) highly processed and sugary snacks.
Healthy and easy to make, this delicious snack is a nourishing, wholesome, guilt-free treat that tastes like a rich, decadent chocolate brownie but nutritionally, is quite the opposite.  Packed full of superfoods and rich in amazing nutrients, fibre, protein, heart-healthy mono-unsaturated fats and anti-oxidants, these brownies ooze sweetness from all-natural, unrefined sources that won't cause your blood sugar levels to soar.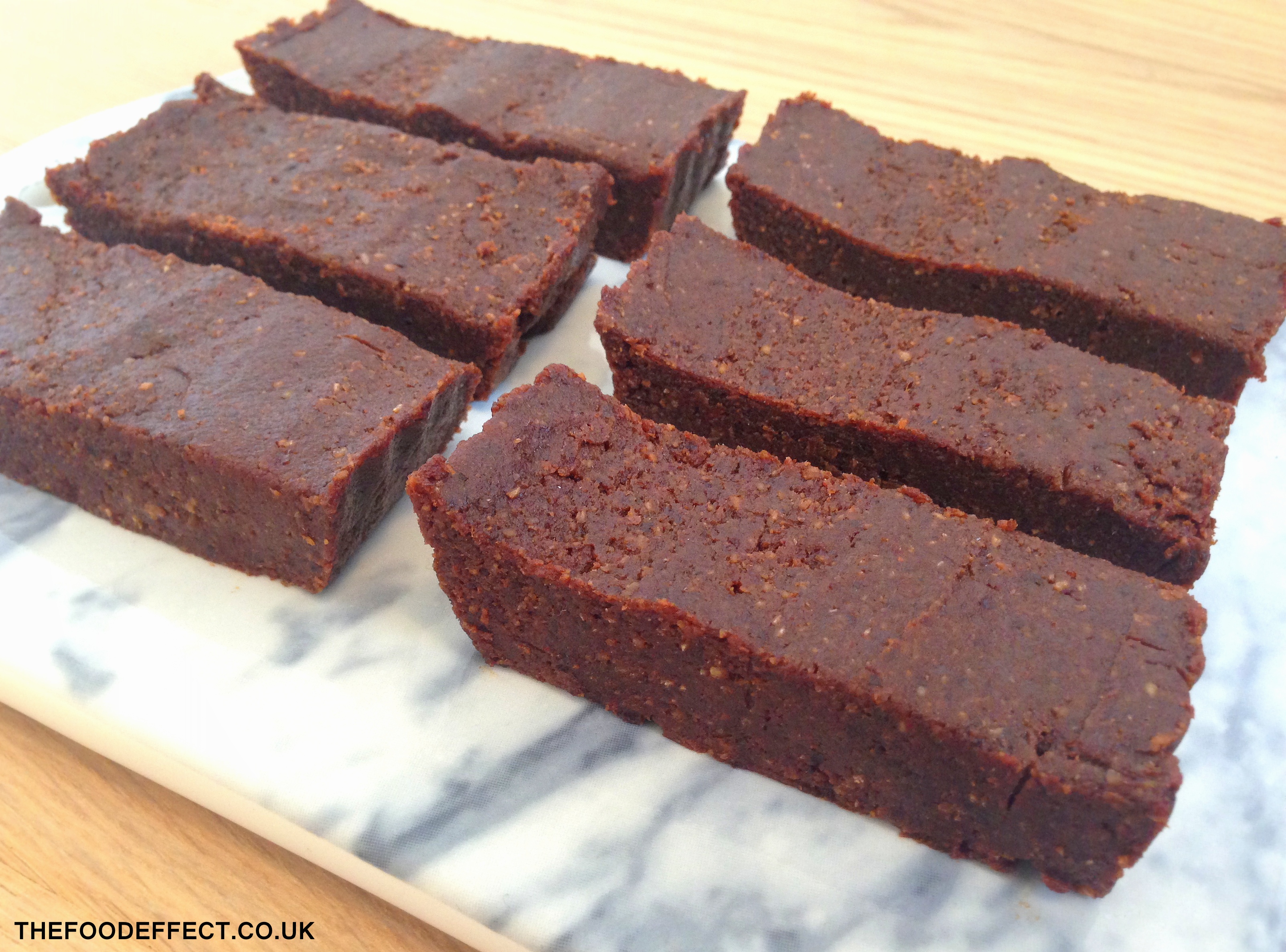 They are, therefore, the perfectly compact and healthy mid-afternoon (or anytime!) snack that will satisfy your sweet-tooth whilst leaving you feeling full and satisfied – without the infamous mid-afternoon crash or surging sugar cravings that normally follow a sugar-filled chocolate bar, biscuit or brownie!  They also make an ideal pre or post-workout snack and can be stored in the fridge or freezer – ready to grab on-the-go whenever you need some healthy fuel.  Just one of these (if you can limit yourself!) will keep you full and satisfied, without the sugar-filled empty calories that do the opposite!  I love to keep a batch in a Ziplock-bag in my freezer so I can grab a bar (or two!) whenever I'm rushing out in the afternoon or in need of a late-night sweet treat.
The use of prunes as the dried fruit "base" in place of additional dates (or honey, maple syrup or sugar) means these brownies have a lower glycaemic index (GI) than other raw brownie recipes, and significantly lower than your typical refined sugar and flour laden brownie (with no compromise on taste!).  They are definitely the perfect "weight-loss" friendly substitution for any unhealthy indulgence and the addition of nuts (a good source of fibre, protein and healthy fats) decreases the potential insulin spike from the natural sugars even further – keeping hunger pangs and sugar cravings at bay!
Apart from being "guilt-free", these little brownie bars are also loaded with good nutrition, fibre, antioxidants and a ton of health benefits.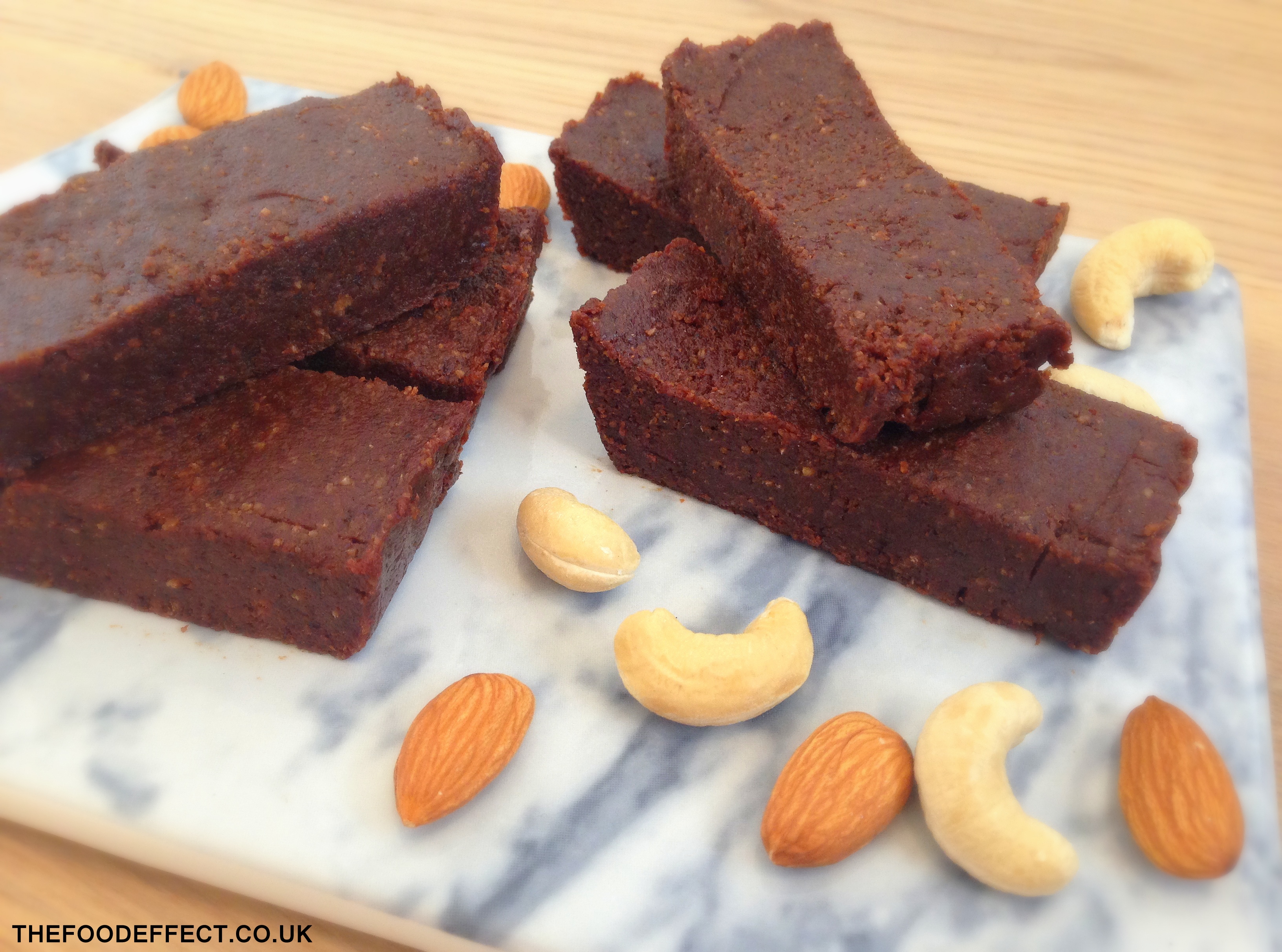 Anyone who knows me or follows The Food Effect will know I'm a HUGE nut lover and advocate them everywhere I can.  They have too many nutritional benefits to be listed here so feel free to read all about their overflowing goodness in my "Nuts About Nuts" post HERE!
Prunes are packed with potassium, which helps lower blood pressure and is essential for efficient muscle and heart function, and hunger-busting, satiating, blood-sugar stabilising fibre (with over 7g per 100g) – all while containing 0g of fat!  They are also high in antioxidants, calcium, magnesium, iron and Vitamin A – as well as boron (a trace mineral essential for bone metabolism & a key factor in preventing osteoposrosis!)  All in all, prunes are a waist-line and gut-friendly superfood, that are rather delicious too!
Dates are a rich source of potassium, fibre, protein and the immunity-boosting minerals zinc, magnesium and selenium.
Cocoa has also been shown to have tremendous health benefits.  It's full of anti-oxidants, which help the body defend against aging, tissue damage, inflammation and diseases such as cancer and heart disease, while other studies have linked chocolate consumption to lower blood pressure, reduced risk of strokes, lower (bad) LDL cholesterol and increased (good) HDL cholesterol.  New research has also shown that regular consumption of chocolate was consistently associated with a reduced body mass index (BMI), compared with occasional consumption!
Coconut (in all its forms) has an endless array of health properties that have been shown to benefit the heart, brain and digestive system due to its unique healthy fat content, antibacterial effects and balance of dietary fibre, protein, antioxidants, vitamins and minerals.  The rich source of healthy fats, [medium-chain triglycerides (MCTs)], found in the coconut flesh and oil, have been shown to help lower the risk of heart disease by increasing healthy (HDL) cholesterol without raising unhealthy (LDL) cholesterol.  These wondrous MCT's also help with weight management by reducing appetite, boosting metabolism and increasing the activity of fat-burning cells.
So what are you waiting for?  Whip up a batch of these delicious Brownie Bars to keep your body full, trim and healthy and – just as importantly – happily satisfied and nourished! 🙂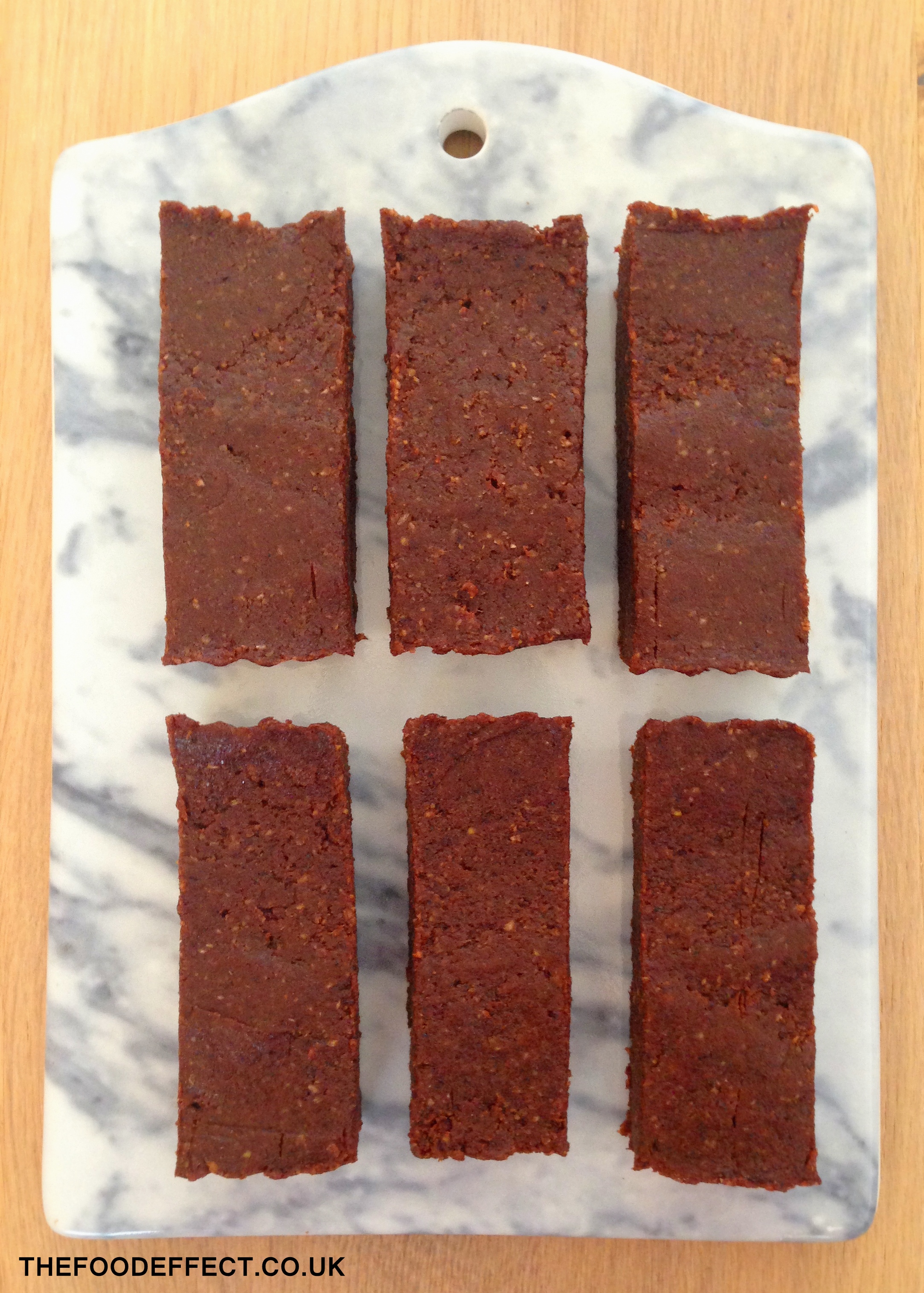 Recipe
Makes ~ 8 bars
Ingredients
3/4 cup raw almonds/ cashews/ peanuts (or can use a mixture)
1/4 cup (unsweetened) desiccated coconut
1 cup pitted Medjool dates
1/2 cup prunes
2 Tbsp. cocoa powder
¼ tsp. salt
2-3 Tbsp. agave syrup
Directions
In a food processor/ blender, add the nuts and pulse until finely ground.  Add the rest of the ingredients into the processor, and blend until well combined and a "dough"-like mixture has formed.  Line a small loaf tin with baking paper.  Press the mixture firmly down.  Place in the fridge for several hours before removing from the tin and cutting into squares or bars.  Store in the fridge or freezer.  Enjoy! 🙂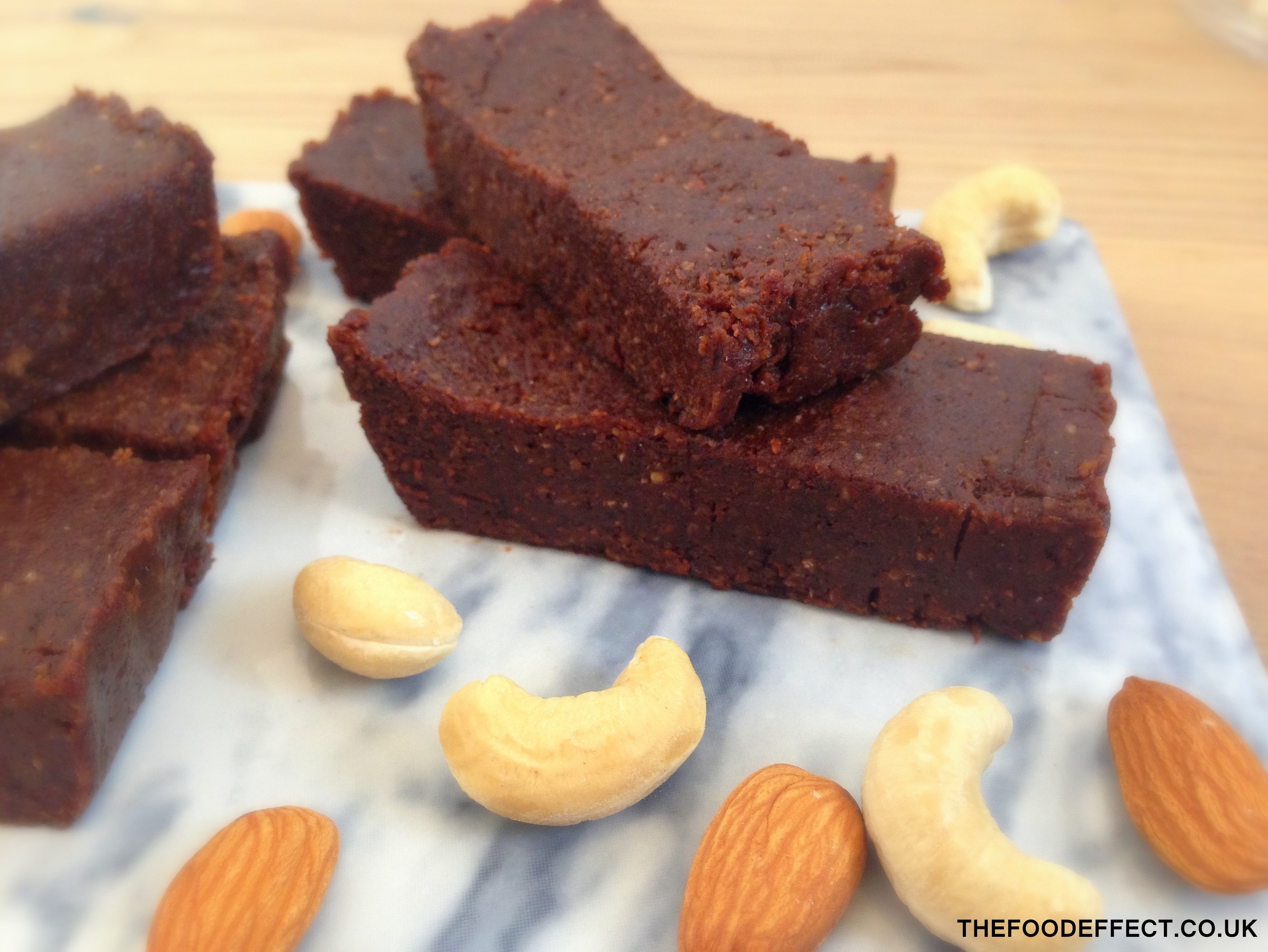 Leave a Response
You must be logged in to post a comment.