PROTEIN PACKED CHICKPEA EDAMAME POWER SALAD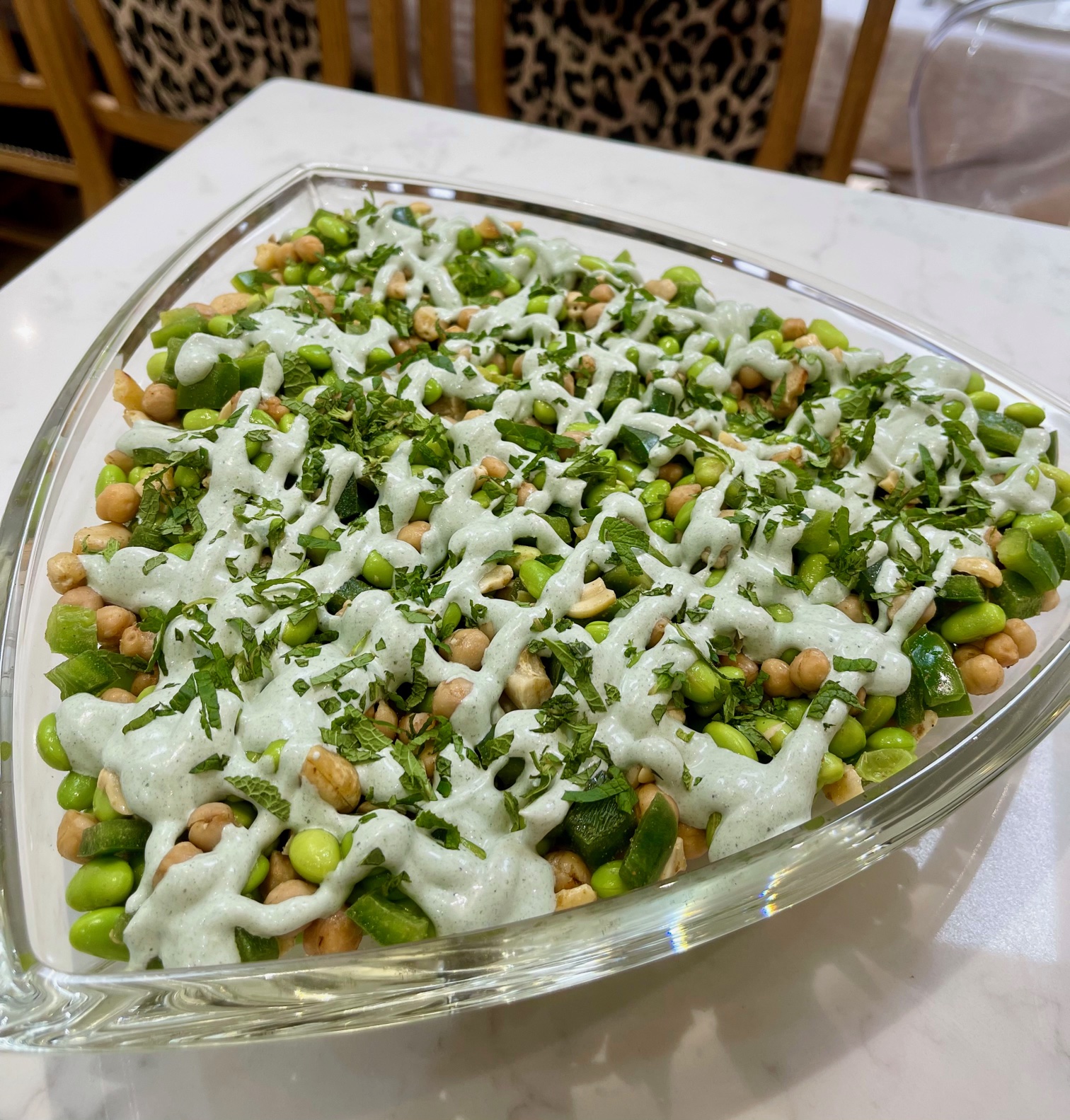 This protein packed powerhouse of a salad, is just as delicious as it is good for you!
It's packed with a wealth of amazing nutrition, and what's more it's totally vegan, gluten-free, dairy-free and sugar free – catering to all nutritional needs!
Chickpeas and edamame beans are both amazing sources of plant-based protein and fibre.
Cashew nuts provide additional protein and fibre, along with all the heart-healthy fats that nuts are renowned for.
Anyone who knows me or has been following me for a while, will know that I'm a totally NUT LOVER and advocate (I recommend them to all my clients, and in both of The Food Effect Diet books), and cashews are my all time favourite nut.
The green tahini dressing that accompanies this salad is an amazing source of protein, bone-building calcium and more of those wondrous healthy fats that are not only good for your heart, but help keep you fuller for longer, avoid sugar cravings and give glowing skin, hair and nails!
In case that all isn't enough to convince you… this salad keeps well in the fridge for several days (if you don't polish it off before then!) Give it a try, I assure you it won't disappoint!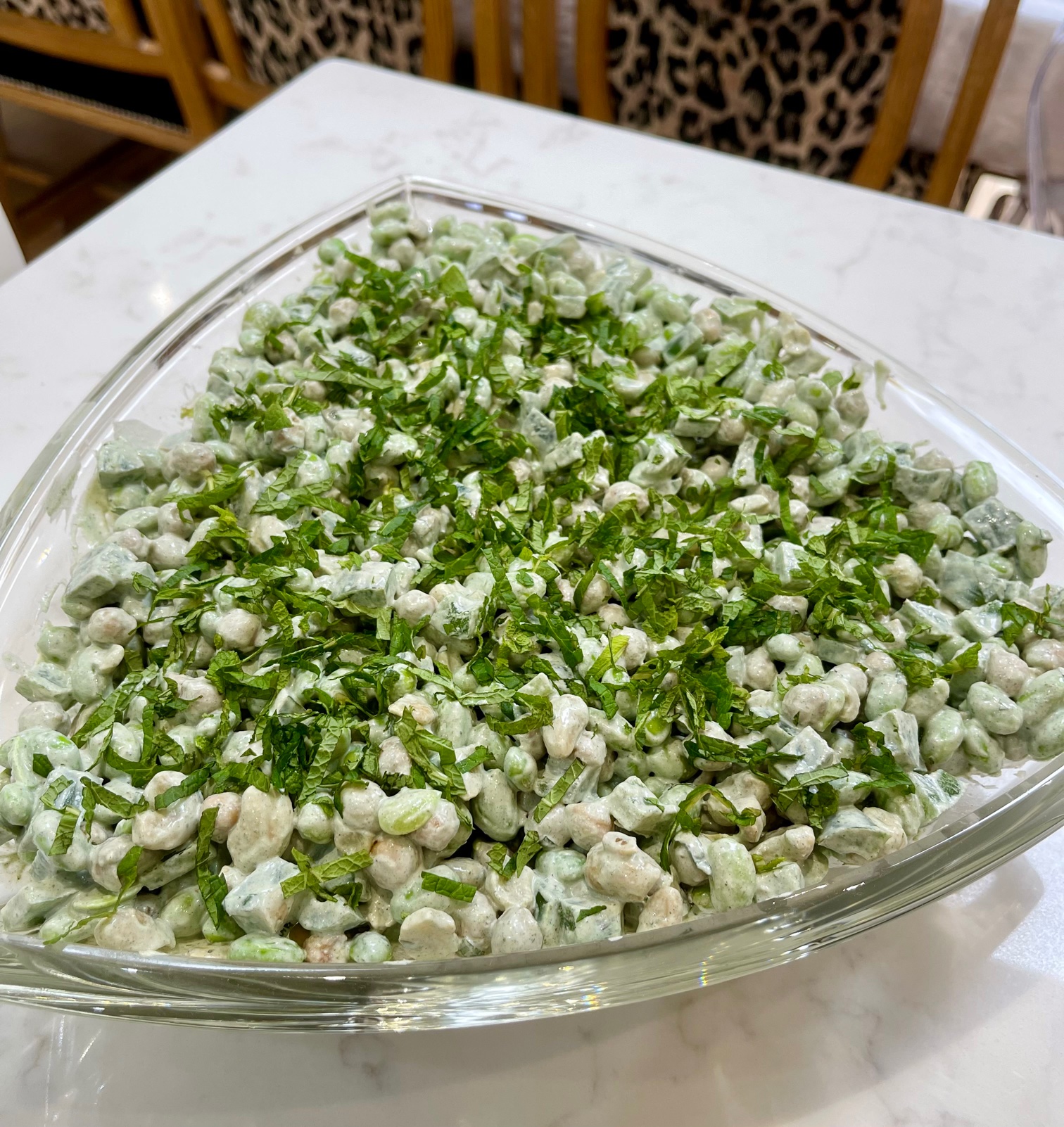 Recipe
Serves 6-8 (as a side dish)
For the salad:
2x 400g tins chickpeas (400g drained weight, or 2 cups cooked chickpeas)
1 Tbsp. olive oil
1/2 tsp. ground ginger
1/2 tsp. ground cumin
1/2 tsp. chilli powder
1/2 tsp. fine sea salt
1 cup (140g) cashew nuts, chopped
3x green peppers, chopped
2 cups cooked and shelled edamame beans
Salt & black pepper
Finely chopped fresh mint and parsley, to garnish
For the green tahini dressing:
1/2 cup tahini paste
1/4 cup lemon juice
1/4 – 1/2 cup water (start with 1/4 cup, add more to thin if needed)
Handful of fresh mint leaves (1/4 cup)
Handful of fresh flat-leaf parsley (1/4 cup)
2 cloves of garlic, peeled
1 tsp. sea salt
To make the dressing:
Place all the ingredients in a blender or food processor and blend until fully combined, creamy and smooth. It will thicken at first, but get "looser" after a few minutes of blending. If too thick, add a little more water until the desired consistency is reached (you want a runny honey type consistency).
To make the salad:
Heat a frying pan over high heat and toast the chickpeas for a few minutes until golden and browned. Remove from the heat and drizzle with olive oil. Sprinkle with ginger, cumin, chilli powder and salt. Stir until well coated and then add in the cashew nuts. Return to the heat and cook for a few minutes until the cashews are lightly browned.  In a large bowl, combine the chickpea cashew mixture with the edamame beans and green pepper. Season with salt and pepper. Add the dressing and toss to coat well. Garnish with the fresh chopped herbs. Serve & enjoy! xx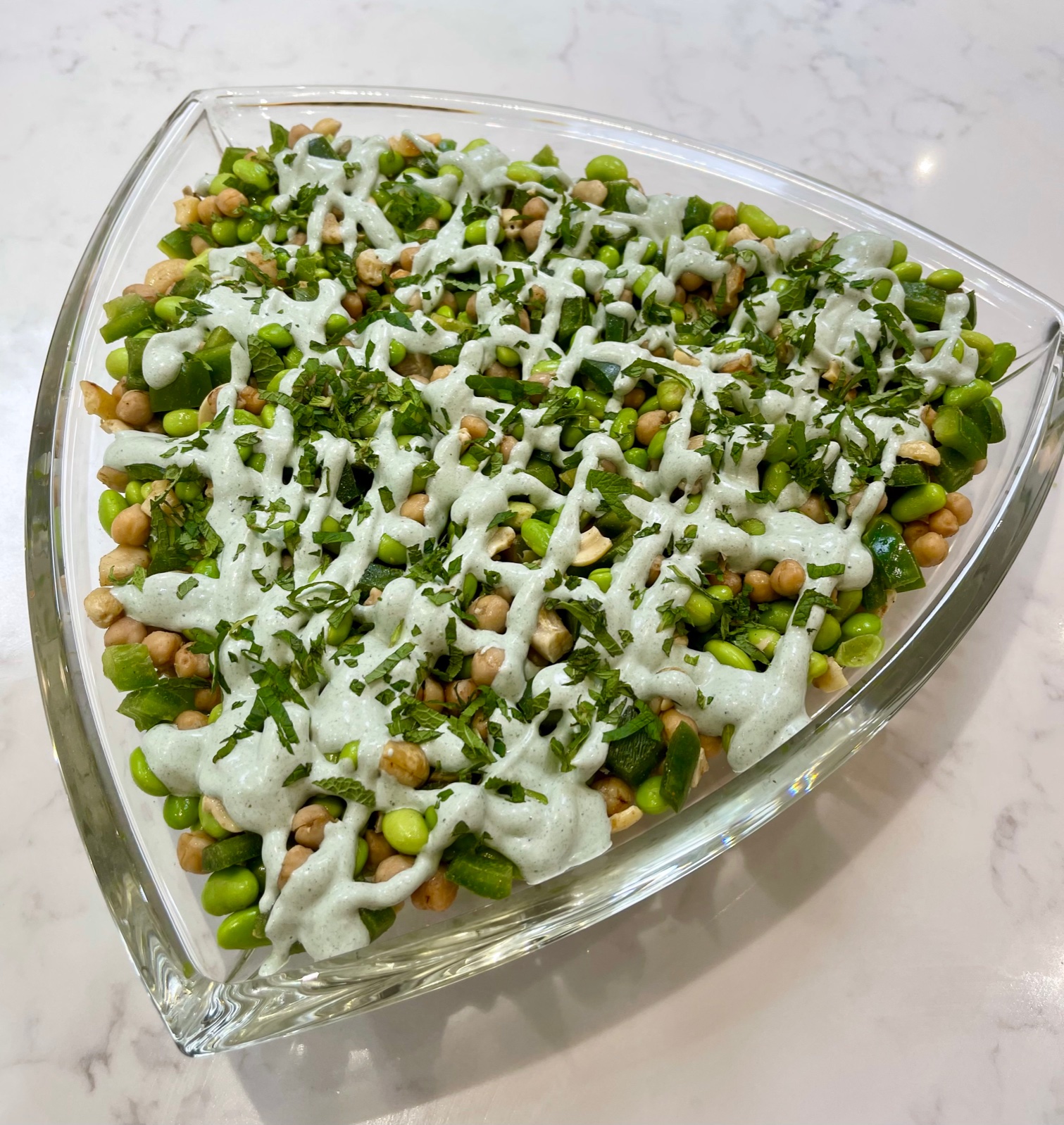 Comments are closed.