Quinoa Salad with Avocado, Mango & Pomegranate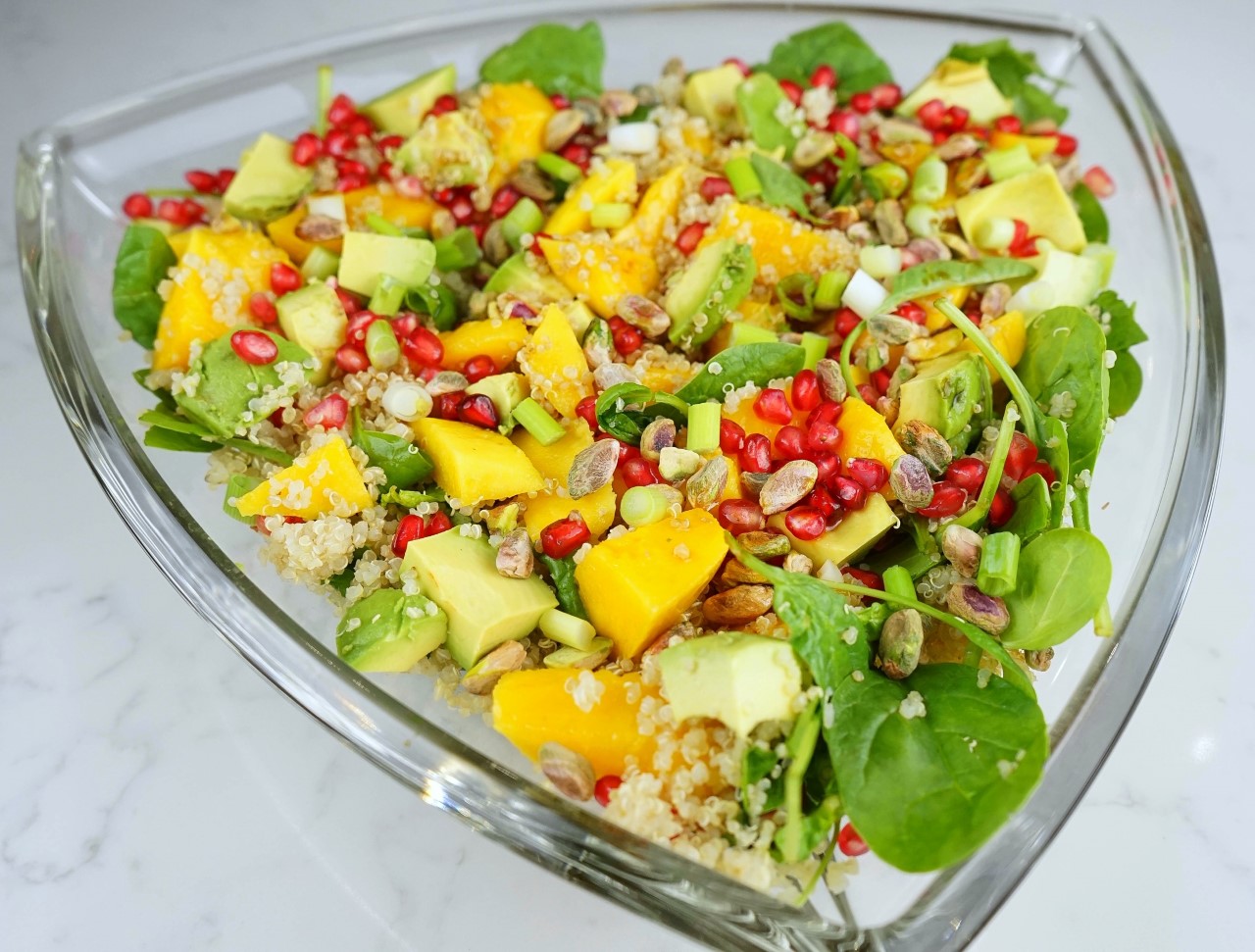 This colour-popping, vitamin-fuelled, anti-oxidant and protein-packed salad is guaranteed to be a big hit on any buffet table.  It would also be ideal to serve at a barbeque or pack along for a picnic – as long as the sunshine decides to stick around!  The combination of ingredients is perfect – wholesome protein packed quinoa, sweet juicy mango, soft creamy avocado, crunchy pistachio nuts and pomegranate seeds – completed by flavoursome spring onions and a delicious zingy dressing.
It's an incredibly versatile recipe that can be served alongside grilled chicken or fish, or veggie burgers for a vegan meal, but is also substantial enough to make a perfectly delicious light lunch or dinner – you could even top it with some feta (or vegan feta), halloumi or goats' cheese for additional protein and flavour!
Quinoa is one of the few grains that is a complete protein, meaning it provides all of the nine essential amino acids our bodies need.  It is, therefore, used as a building block for muscle and tissue and will also help curb appetite and keep you fuller for longer.  As well as being rich in protein, it is also high in fibre (containing twice as much as most other grains), iron (keeping red blood cells healthy), lysine (essential for tissue growth and repair), magnesium (essential for sleep, healthy nerves, muscles and blood vessels), manganese and riboflavin (Vitamin B2).  It is also naturally gluten-free so is perfect for those with Coeliac disease.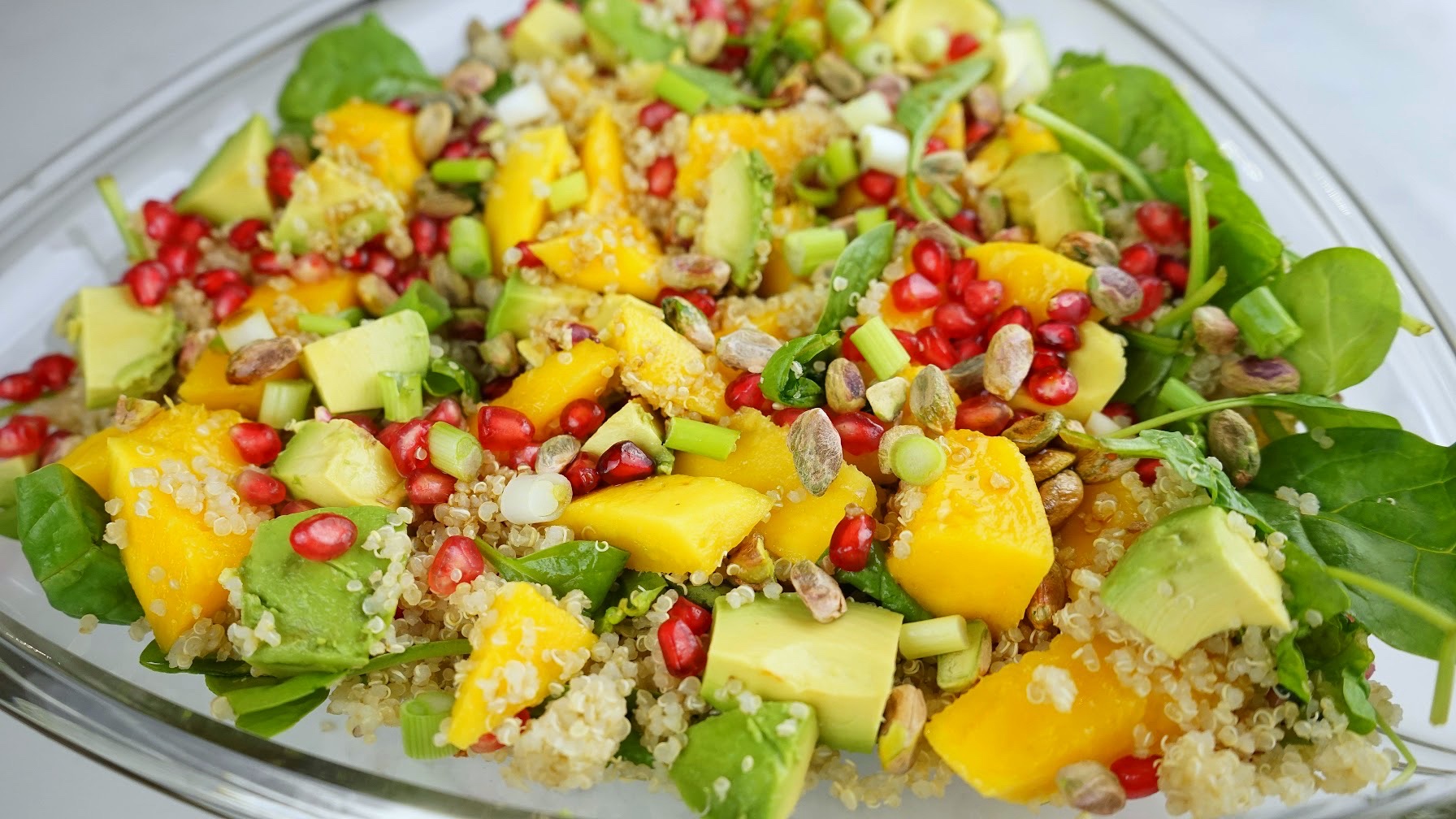 Avocados have so many wide-ranging health benefits I could dedicate a whole blog post to them!  They have been shown to benefit heart health, help improve "bad" LDL cholesterol and reduce the risk of heart disease in people who are overweight and obese.  They are also a rich source of fibre, which helps to control blood sugar levels, as well as potassium, which helps lower blood pressure.  One of the best ways to reduce high blood pressure is to get enough potassium and half an avocado contains more potassium than a medium-sized banana!  And if that weren't reason enough, avocados have also been shown to help people feel fuller for longer and stave off the munchies between lunch and dinner.  A recent study in Nutrition Journal found that overweight adults who ate half an avocado at lunch had a 40% decrease in the desire to eat again over the next three hours.  And for some, the feeling of fullness lasted a whole five hours!  Being rich in glutathione – a powerful antioxidant, detoxifier and free radical scavenger – avocados also help strengthen your immune system.  Oh, and did I mention they're fantastic for healthy glowing skin, too?
Mangoes are an excellent source of anti-oxidant carotenes (Vitamin A), Vitamin C, B Vitamins, Vitamin E, potassium, magnesium and copper (which helps the body absorb all the iron from the quinoa!).  They are also a great source of fibre, helping to lower cholesterol and prevent against heart disease and constipation!
Pomegranate seeds are jam-packed full of anti-ageing and anti-cancerous anti-oxidants.
As with all nuts, pistachios – which are added to this salad – have too many health benefits to list, but you can read all about them in my Nuts About Nuts post HERE.
The fibre, protein, vitamins, minerals, and energy-fuelling good fats from the quinoa, avocado, mango, nuts, and pomegranate seeds in this salad, means it will provide long-lasting satiety and stable blood sugar levels.  The dressing is also super-healthy as with just 1 Tbsp. of heart-healthy olive oil (and 1 tsp. sesame oil) for the whole dish, it is incredibly low in fat per serving, yet is also filling enough to promote satiety and ensure thorough absorption of all the nutrients and vitamins from the abundance of healthy ingredients – a real win-win!  So what are you waiting for?  Infuse some colour into your diet and taste the rainbow the healthy way! 🙂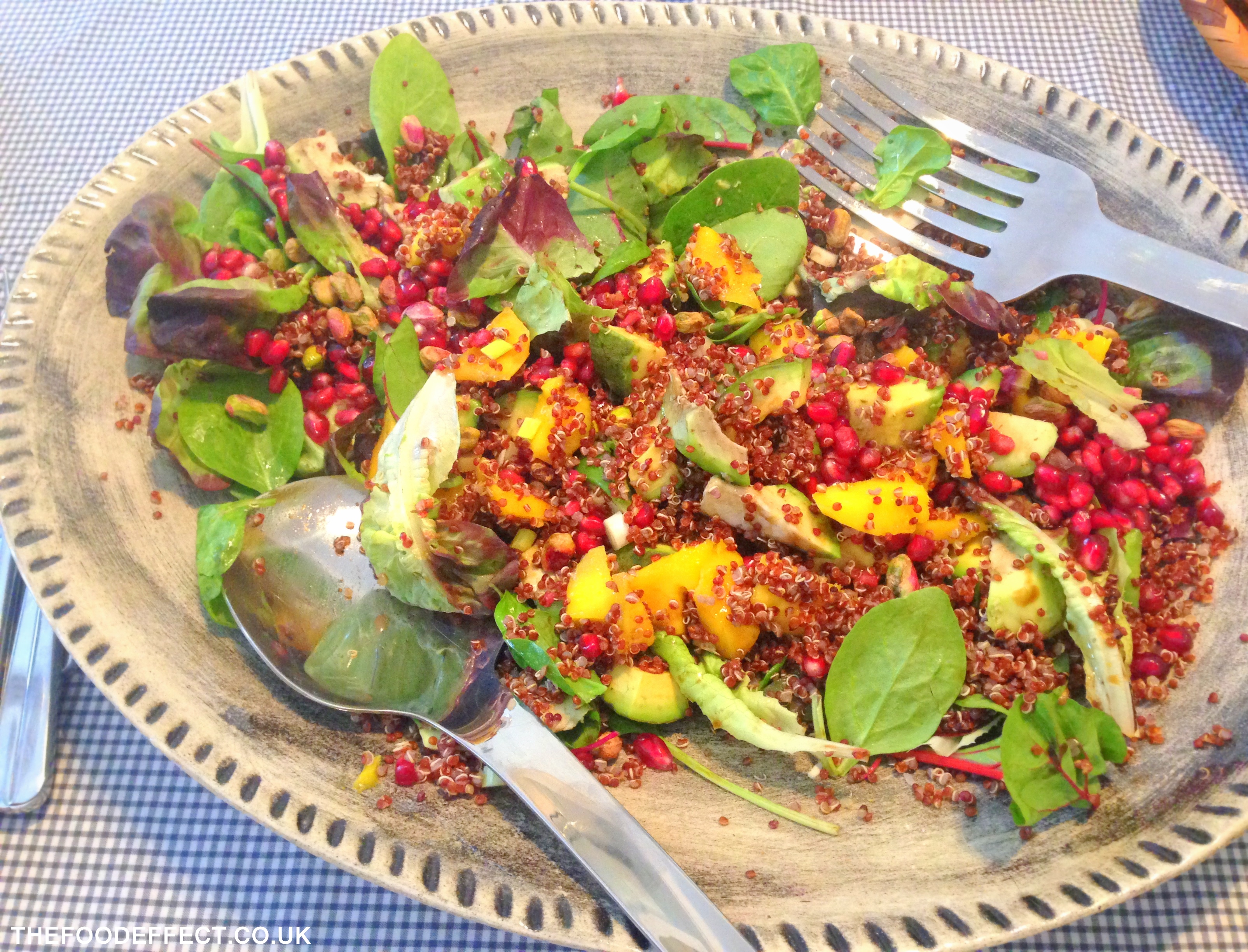 Recipe
Serves 2 as a main course (e.g. lunch), 4 as a side dish
Ingredients
1 cup raw red quinoa (can use regular)
1 ripe avocado, diced
1 small ripe mango, peeled and diced
80g pomegranate seeds
20g shelled pistachio nuts
4 spring onions, thinly sliced
A few handfuls of spinach/ salad leaves (optional)

Dressing:
1 Tbsp. olive oil
2 Tbsp. balsamic vinegar
1 tsp. sesame oil
2 tsp. low sodium soy sauce
Directions:
Cook quinoa according to package instructions.  Allow to cool slightly.  Add all salad ingredients to a large bowl.  Whisk dressing ingredients together.  Add to salad, toss well to coat.  Serve and enjoy! xx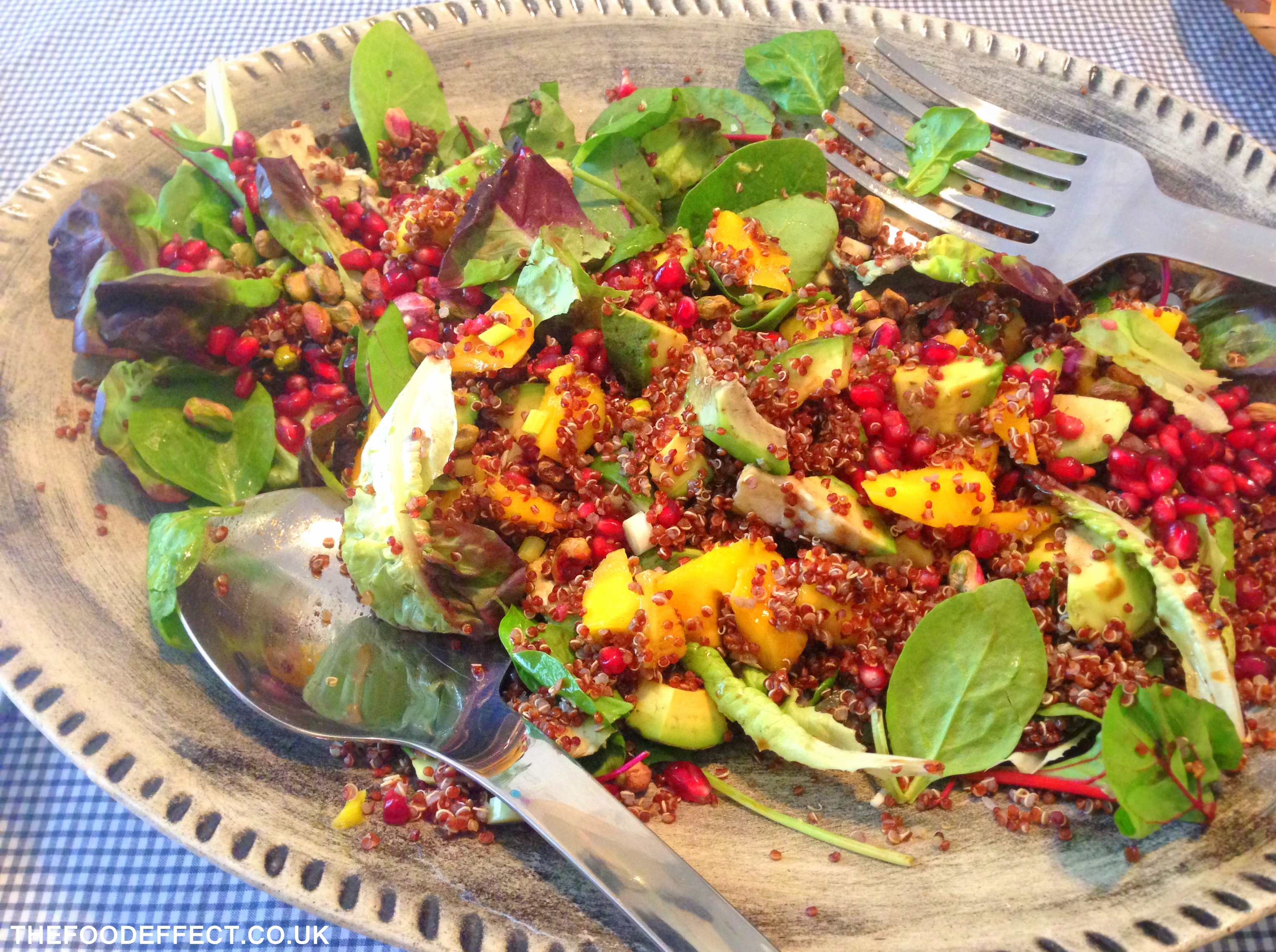 Leave a Response
You must be logged in to post a comment.