Quinoa Tabbouleh Salad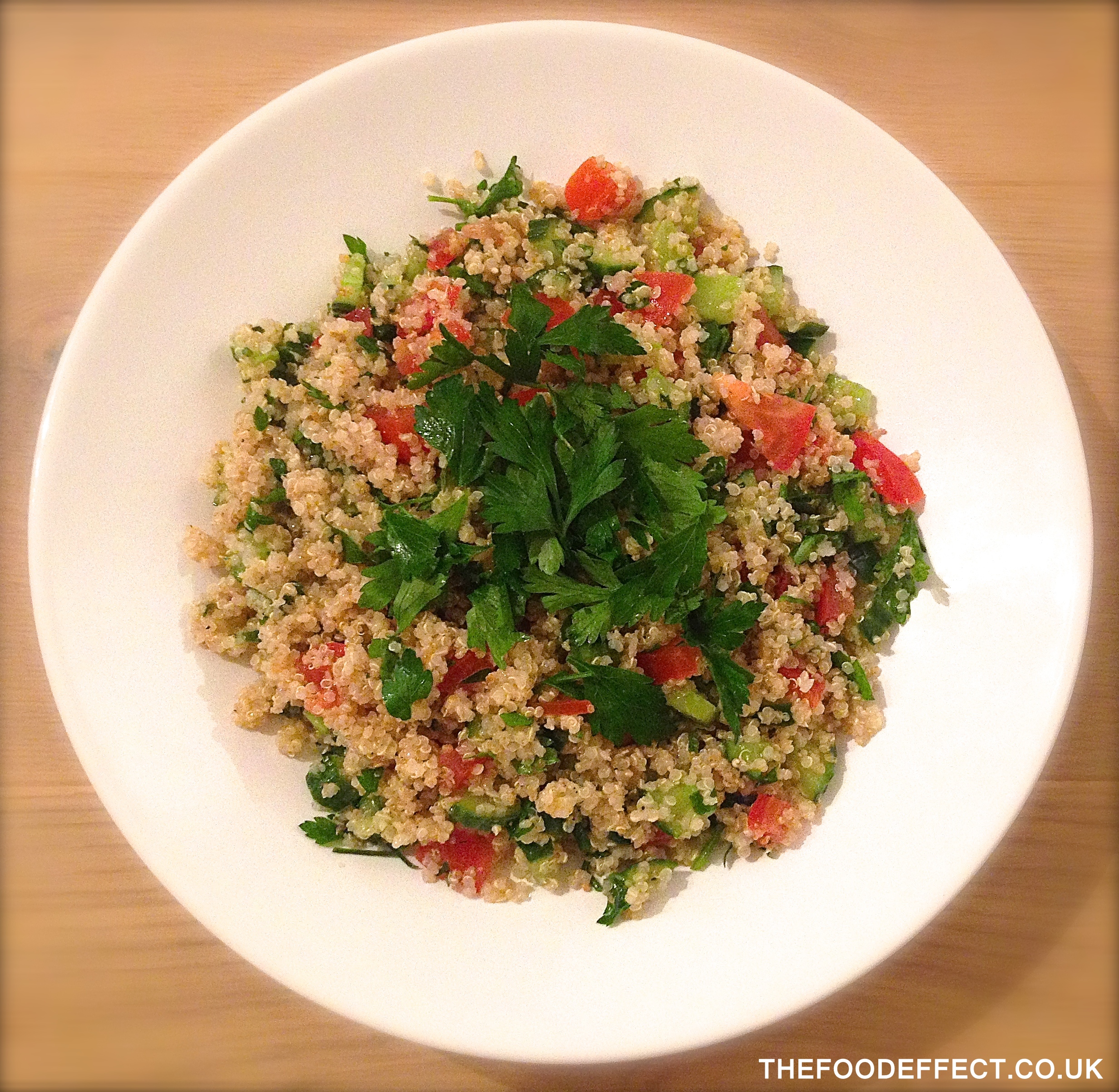 This colourful, nutrient-packed substantial salad – my own high-protein, gluten-free version of a traditional Middle-Eastern dish called Tabbouleh – is guaranteed to go down a treat on any buffet table.  Delicious served cold or at room temperature, it would also be ideal to serve at a barbeque or pack along for a picnic, seeing as the sunshine has decided to make an appearance in London and will hopefully be here to stay!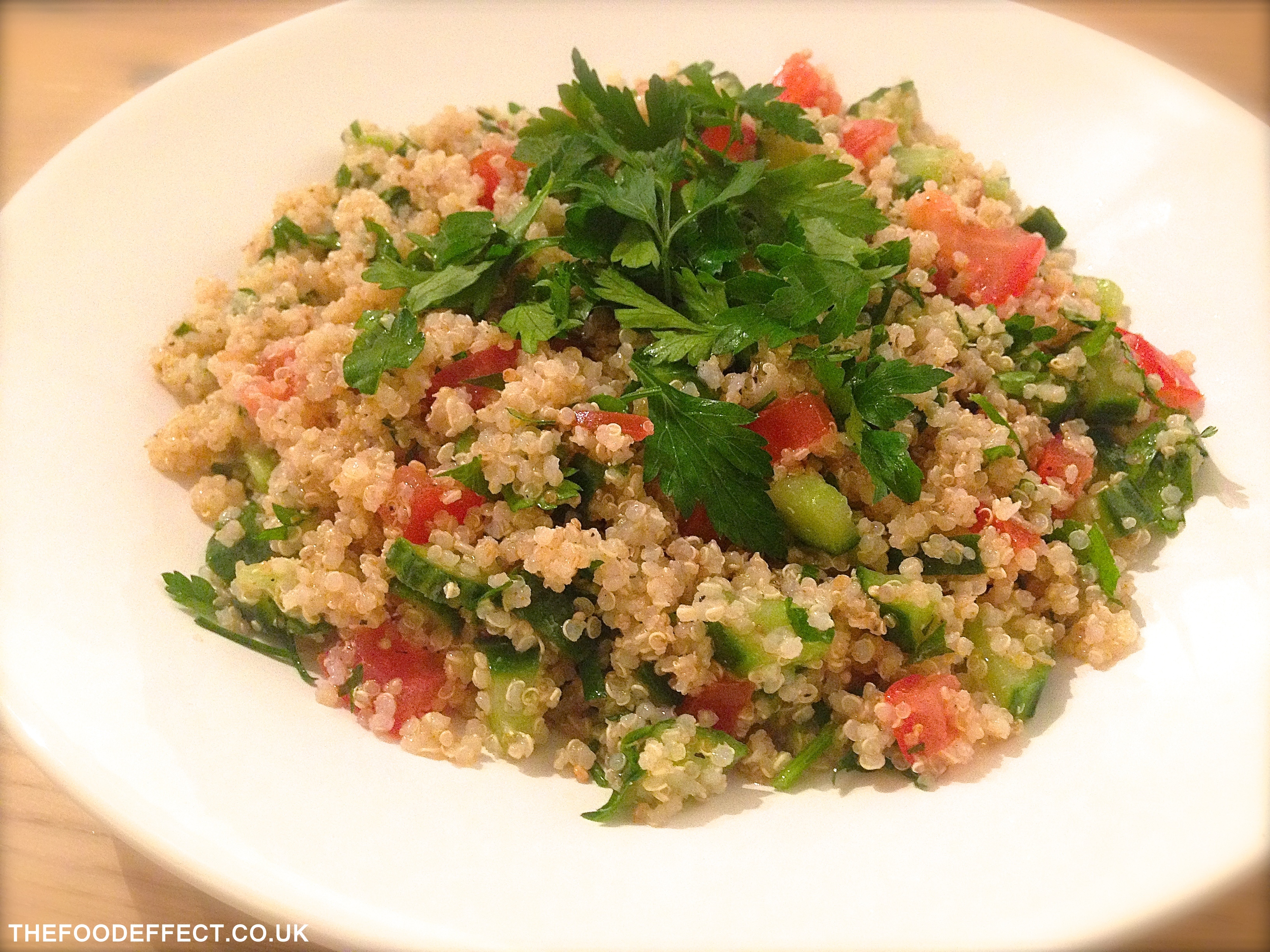 The combination of ingredients – wholesome protein-packed quinoa, fresh tomatoes (high in anti-oxidant lycopene), cucumber (low in calories and high in vitamins and minerals) and red-onion (also packed full of super anti-oxidants), topped off with flavoursome mineral-rich parsley (high in calcium, potassium manganese, magnesium and iron) and a light, heart-healthy, skin-glowing, zingy dressing – is simple, yet perfect!  I've chosen to use quinoa  instead of the standard bulgur wheat or couscous traditionally used in Tabbouleh Salad, to up the protein content of this delicious dish, which also makes it completely gluten-free.
Quinoa is one of the few grains that is a complete protein, meaning it provides all of the essential amino acids our bodies need.
An incredibly versatile recipe that can be served alongside grilled chicken or fish, or you could even crumble or grate feta cheese and add some sliced black olives and avocado for a perfectly substantial vegetarian "main dish".  It's also delicious served with other veggies, such as roasted butternut or sweet potato wedges.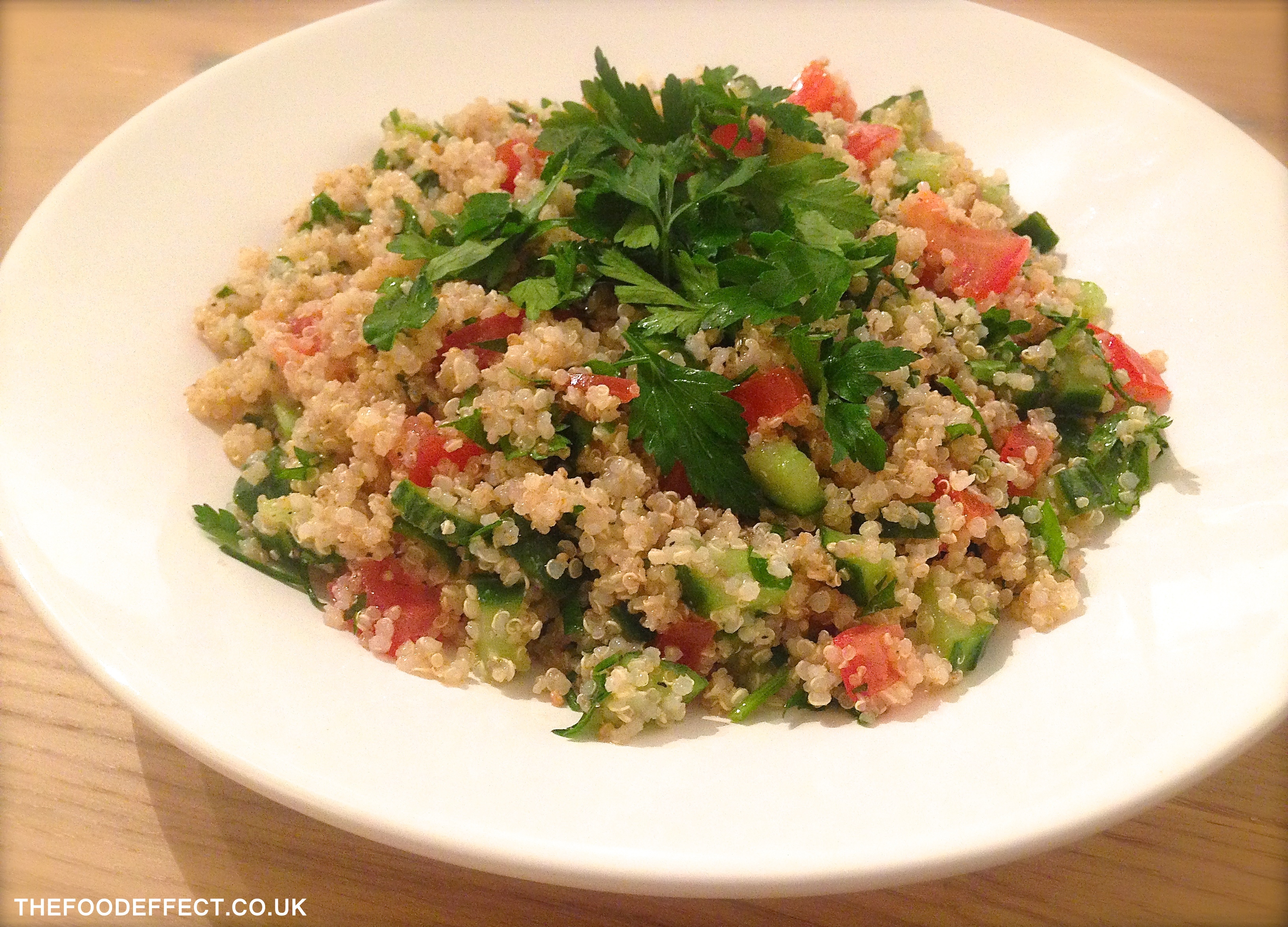 Leftovers also make a great packed lunch – along with some fresh salad greens and any other additions (mentioned above) thrown in.
The combination of fibre, protein, vitamins and minerals and energy-fuelling good fats from the quinoa, cucumber, tomato, red onion, parsley and olive oil in this dish means it will provide long lasting satiety and stable blood sugar levels.  The dressing is also super-healthy – lemon juice is super alkalizing, whilst olive oil possesses numerous health benefits and also ensures thorough absorption of all the nutrients, vitamins and anti-oxidants from the abundance of healthy ingredients – a real win-win!  What more is there to tempt you to throw this together while the sun's still shining (or any time of year)!?  Enjoy! 🙂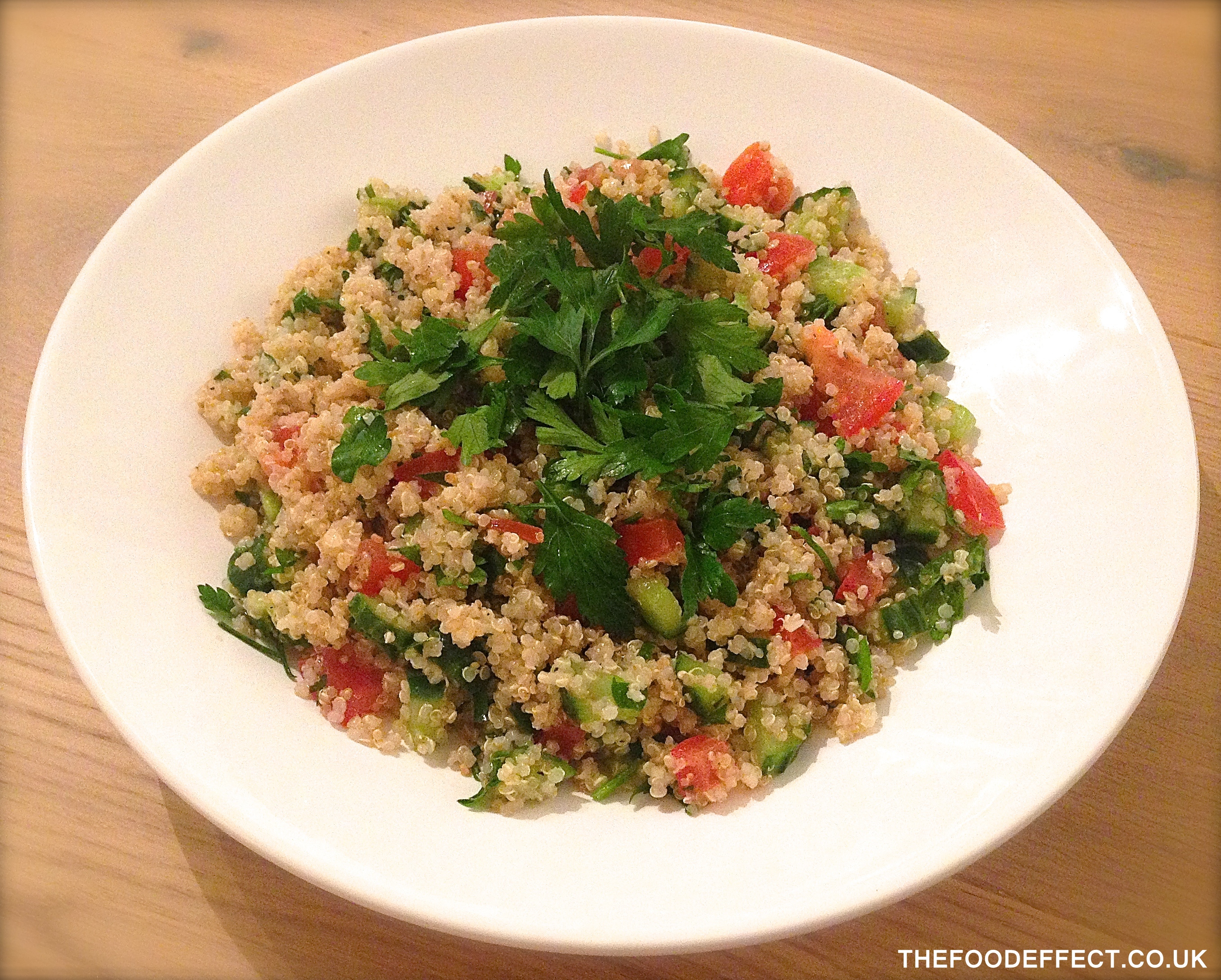 Recipe
Serves 4
Ingredients
1 cup (uncooked) quinoa
2 cups water
½ tsp. salt
2 medium tomatoes, diced
1 small English cucumber, diced
½ small red onion, finely chopped
1 cup fresh flat leaf parsley, finely chopped
Juice of 1 lemon (2 Tbsp. lemon juice)
¼ cup olive oil
Generous salt & pepper to taste
Directions
Bring the water, ½ tsp salt and quinoa to a boil over low heat.  Cover and simmer gently for 15 to 20 minutes until the grains are cooked but still a little firm.  Remove from heat and allow to cool.  Add the chopped tomatoes, cucumber, red onion and parsley.  Dress with the lemon juice and olive oil, and season generously with salt and pepper.  Toss together well.  Chill before serving.  Can be served cold (from the fridge) or at room temperature.  Delicious as a side dish with fish or chicken, or top with feta, olives and avocado for a delicious light lunch or dinner.  Enjoy! 🙂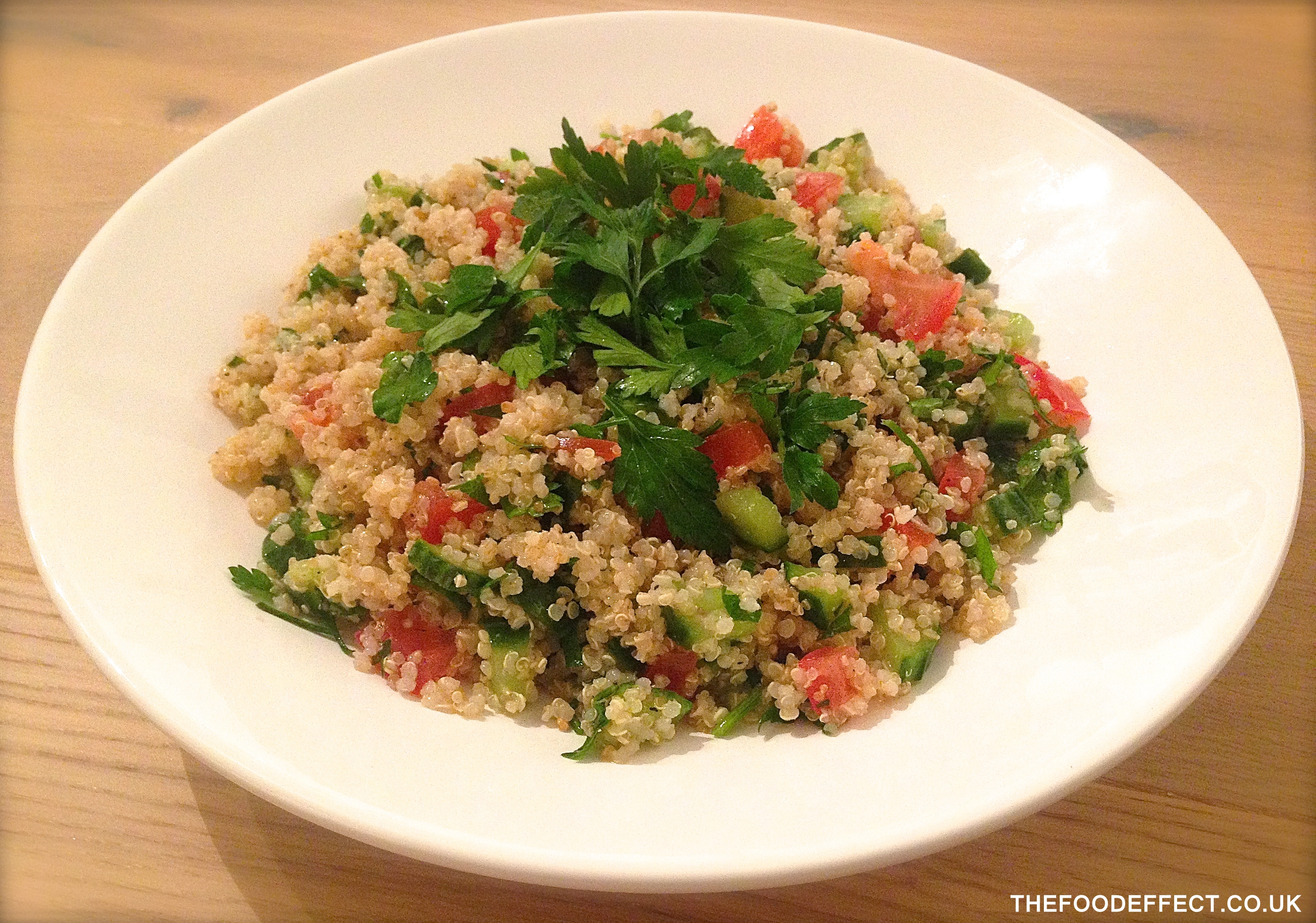 Leave a Response
You must be logged in to post a comment.