Rainbow Brown Rice Salad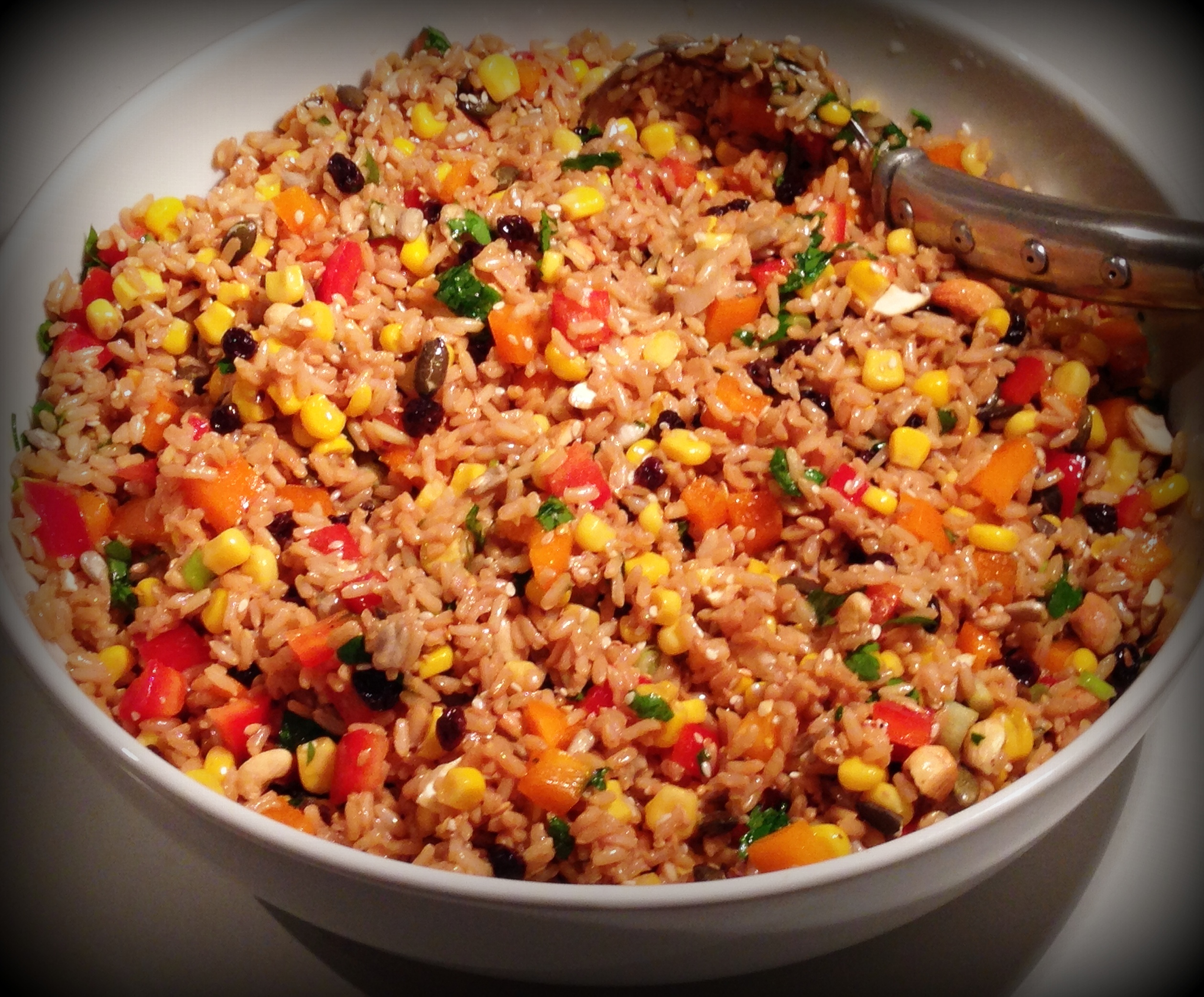 Following on from my World Cup Pea Soup post, (you can read about my dinner party antics HERE), here is another dish I created, that was also a huge hit!
This colour-popping, vitamin-packed substantial salad is guaranteed to go down a treat on any buffet table.  It would also be ideal to serve at a barbeque, or pack along for a picnic – seeing as the sunshine has decided to stick around for the time being!  The combination of ingredients is so perfect – wholesome brown rice, toasted crunchy cashew nuts and seeds, fresh, crisp and colourful peppers and corn and sweet juicy raisins, topped off with flavoursome spring onions, parsley and a delicious zingy dressing.
It's an incredibly versatile recipe that can be served alongside grilled chicken or fish and green salad, but is also substantial enough as a vegetarian "main dish" with fresh green salad, avocado and any other veggies, such as roasted butternut, red onions or sweet potato wedges.
Leftovers also make a great packed lunch – along with some fresh salad greens and any other additions thrown in, if desired.
This dish is low in fat and high in fibre and packed with vitamins, minerals and protein.
My love of brown rice is by no means new (my Living La Dolce Vita post is just one place you will find me raving about the healthy grain), but to recap briefly, it is packed full of fibre, protein and healthy fats and boasts an abundance of vitamins and minerals – unlike refined white rice which has little nutritional value and is quickly turned into simple sugars in your body, leading to blood sugar and insulin spikes, short lived satiety and hunger pangs.  It is also especially rich in B vitamins, such as thiamin (essential for energy production, carbohydrate metabolism and nerve cell function), riboflavin (needed for healthy skin turnover and maintenance) and niacin (required for fat, cholesterol and carbohydrate metabolism and the production of many body compounds, including sex and adrenal hormones).
The fibre, protein and energy-fuelling good fats from the brown rice, nuts, seeds, corn and peppers in this dish means it will provide long lasting satiety and stable blood sugar levels.  The dressing is also super-healthy as with just 2 Tbsp. of heart-healthy sunflower oil for the whole dish, it is incredibly low in fat per serving, yet is also filling enough to promote satiety and ensure thorough absorption of all the nutrients and vitamins from the abundance of healthy ingredients – a real win-win!  The lemon juice is super alkalizing, whilst ginger possesses numerous therapeutic properties including anti-oxidant effects, an ability to inhibit the formation of inflammatory compounds and aiding efficient digestion.  Chili (my all-time favourite!) has been proven to boost metabolism and promote fat-burning, as well as display many other disease-fighting effects.  Enough good reasons, I think you'll agree, to whip this up and enjoy! 🙂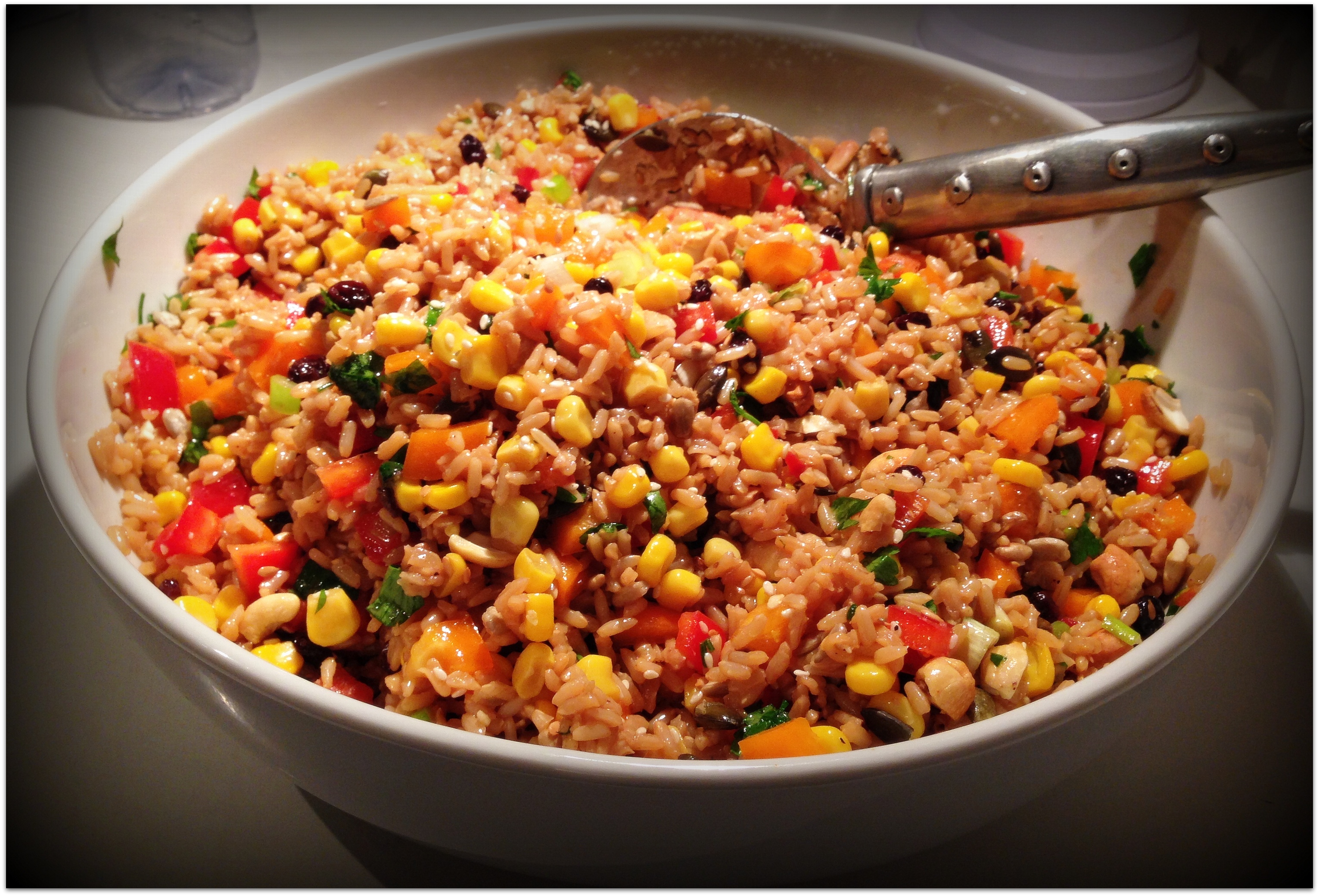 Serves:  6 as a light main dish, 8 as a side dish.
Salad Ingredients
2 cups (uncooked) brown rice
1 tsp. salt
50g cashew nuts, toasted
6 Tbsp. mixed seeds (sunflower, pumpkin, sesame seeds, etc.), toasted
6 spring onions, thinly sliced (tops removed)
1 red pepper, deseeded & diced
1 orange pepper, deseeded & diced
60g currants
3 Tbsp. fresh parsley, chopped
1 (325g) tin of sweetcorn, drained
Dressing Ingredients
2 Tbsp. sunflower oil
6 Tbsp. soya sauce
2 Tbsp. lemon juice
1 large garlic clove, crushed
Generous pinch of sea salt
¼ tsp. black pepper
½ tsp. ginger (dry powder) or 1 Tbsp. fresh ginger peeled & finely chopped
½ tsp. chili powder (optional)
Combine all dressing ingredients in a sealable jar and shake well.
Toast the cashew nuts and mixed seeds in a 180°C oven until golden (keep a good eye on them!) & allow to cool.  (This can be done in advance & stored in an airtight container or zip-lock bag).
Cook the rice in 4 cups of boiling water with 1 tsp. salt added for 35-40 minutes, until water is fully absorbed and rice is soft and cooked.
Add the dressing into the rice whilst the rice is still warm.  Stir through.  Transfer to a serving bowl to cool completely.
Add all the remaining ingredients to the rice at least an hour before serving.  Mix well and serve (either at room temperature or chilled from the refrigerator).  Devour and enjoy! 🙂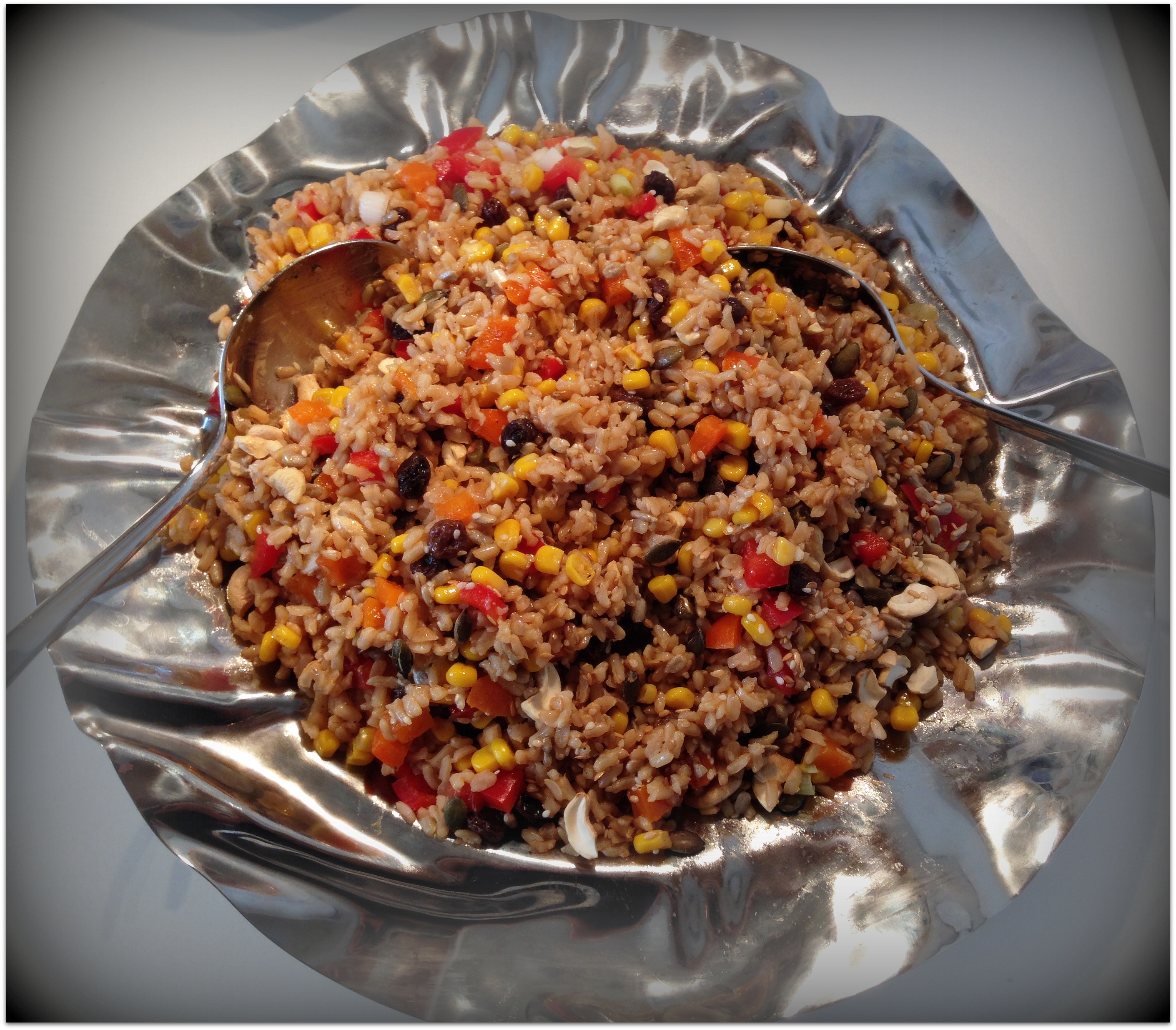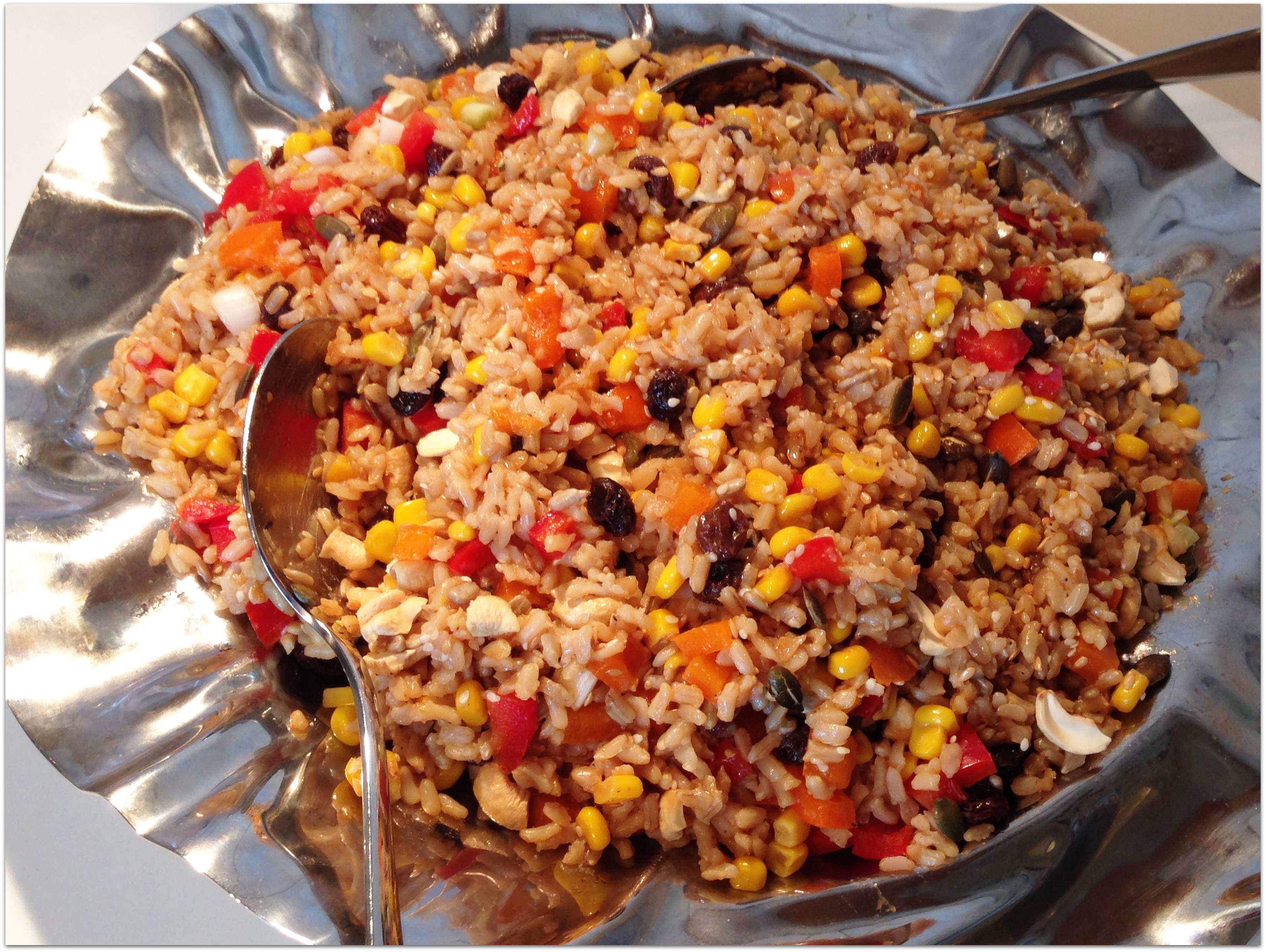 Leave a Response
You must be logged in to post a comment.