Rainbow Chickpea Bean Salad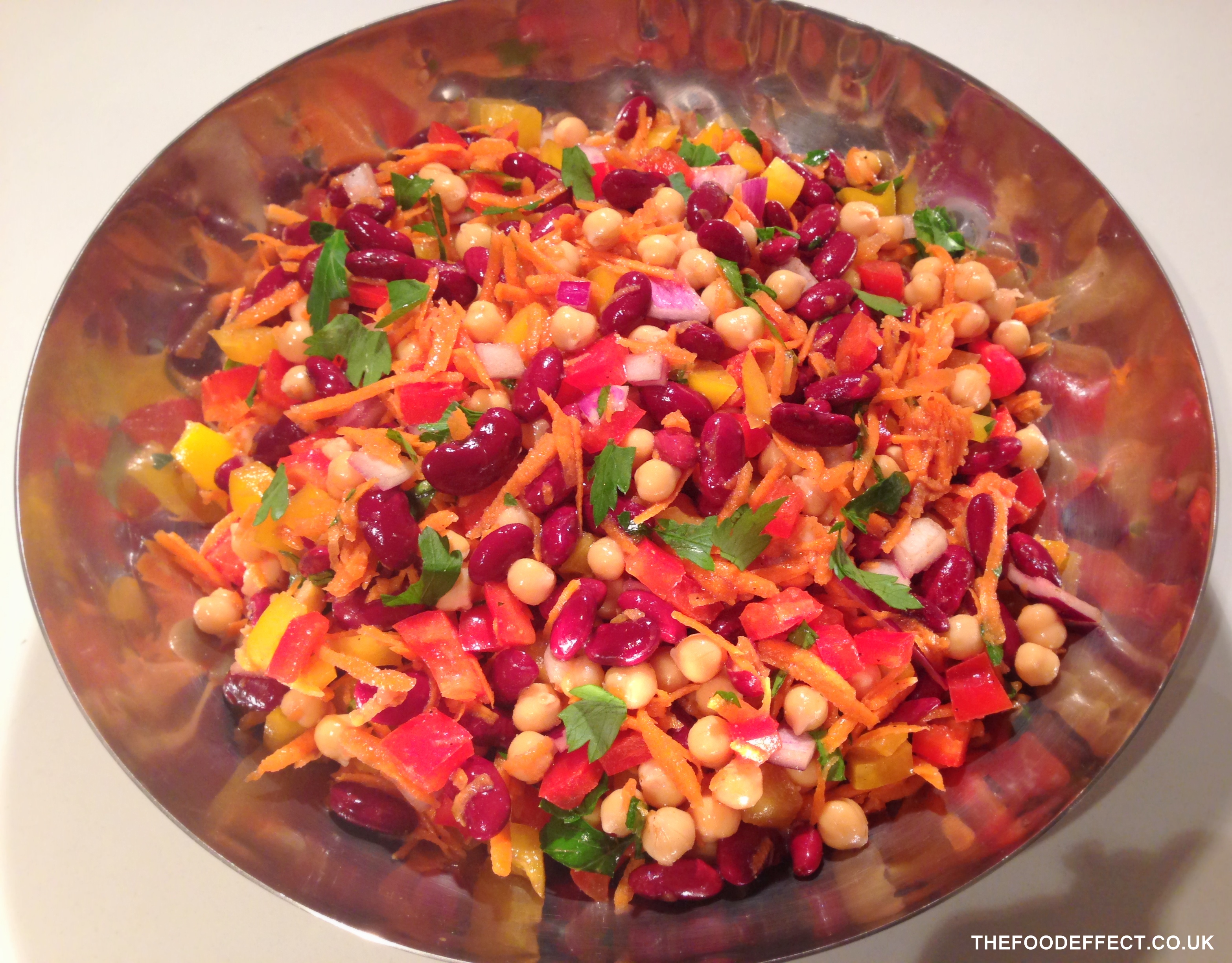 This protein-packed, fibre-filled bean salad is as good for you as it is colourful, eye-catching and delicious.  What's more, with not much to do besides chopping and can opening, it couldn't be easier to prepare!  The substantial size of this salad means it will last well for several days in the fridge, making it a perfect staple to prepare at the beginning of the week to have on hand for quick and easy meals.  It's also great to whip up for a crowd or take along to a barbeque.  Perfect paired with some brown rice, whole-wheat couscous or quinoa, it makes a delicious healthy lunch or an ideal accompaniment to grilled fish or chicken, along with some fresh green salad and chopped tomato for a light, protein-packed dinner.  It's a recipe that's sure to please vegans, veggies and meat eaters alike and is guaranteed to be a hit whichever way it's served.
This versatile, "plant-based" dish is low in fat and high in fibre and packed with vitamins, minerals and nutrients.
Beans are a nutritional bargain, with canned ones being convenient, inexpensive, nutritious and ready-to-use.  They are a fantastic source of fibre, helping to stabilise blood sugar levels and maintain satiety – with just one cup of cooked beans containing half your daily requirement!  The fibre is mainly soluble, which has been shown to help lower blood cholesterol.  Naturally low in fat, beans are rich in B Vitamins (niacin, riboflavin, thiamine and folic acid), calcium (for healthy bones), iron, phosphorus, potassium and zinc, and contain no cholesterol or gluten.
Chickpeas are also a fantastic source of fibre and protein and have a low glycaemic index.  This powerful combination makes them particularly good at helping with weight management.  In an Australian study, adults who ate 100g of chickpeas a day for four weeks ate fewer soma processed snack foods and felt fuller, compared to when they didn't include chickpeas in their daily diet.  One cup of cooked chickpeas provides half of your daily fibre requirement, so it's no wonder this legume provides long-lasting energy, keeps you feeling full, promotes good digestion, curbs appetite and has even been shown to help lower (bad) LDL cholesterol.  Even enjoying just half a cup of chickpeas daily will help keep you satiated and consume fewer calories.
The fibre and protein from the beans, chickpeas and vegetables means this dish will provide long lasting satiety and stable blood sugar and energy levels.  Chili (in the dressing) has been proven to boost metabolism and promote fat-burning, as well as display many other disease-fighting effects.  This, combined with the small amount of heart-healthy olive oil (just 3 Tbsp. for the whole dish), makes this salad very low in fat per serving, yet filling enough to promote satiety and ensure thorough absorption of all the nutrients, vitamins and anti-oxidants from the abundance of colourful, healthy ingredients, such as carrots, peppers and red onions – a real win-win!  Enough good reasons I think you'll agree, to whip up this salad any time, and enjoy! 🙂
Recipe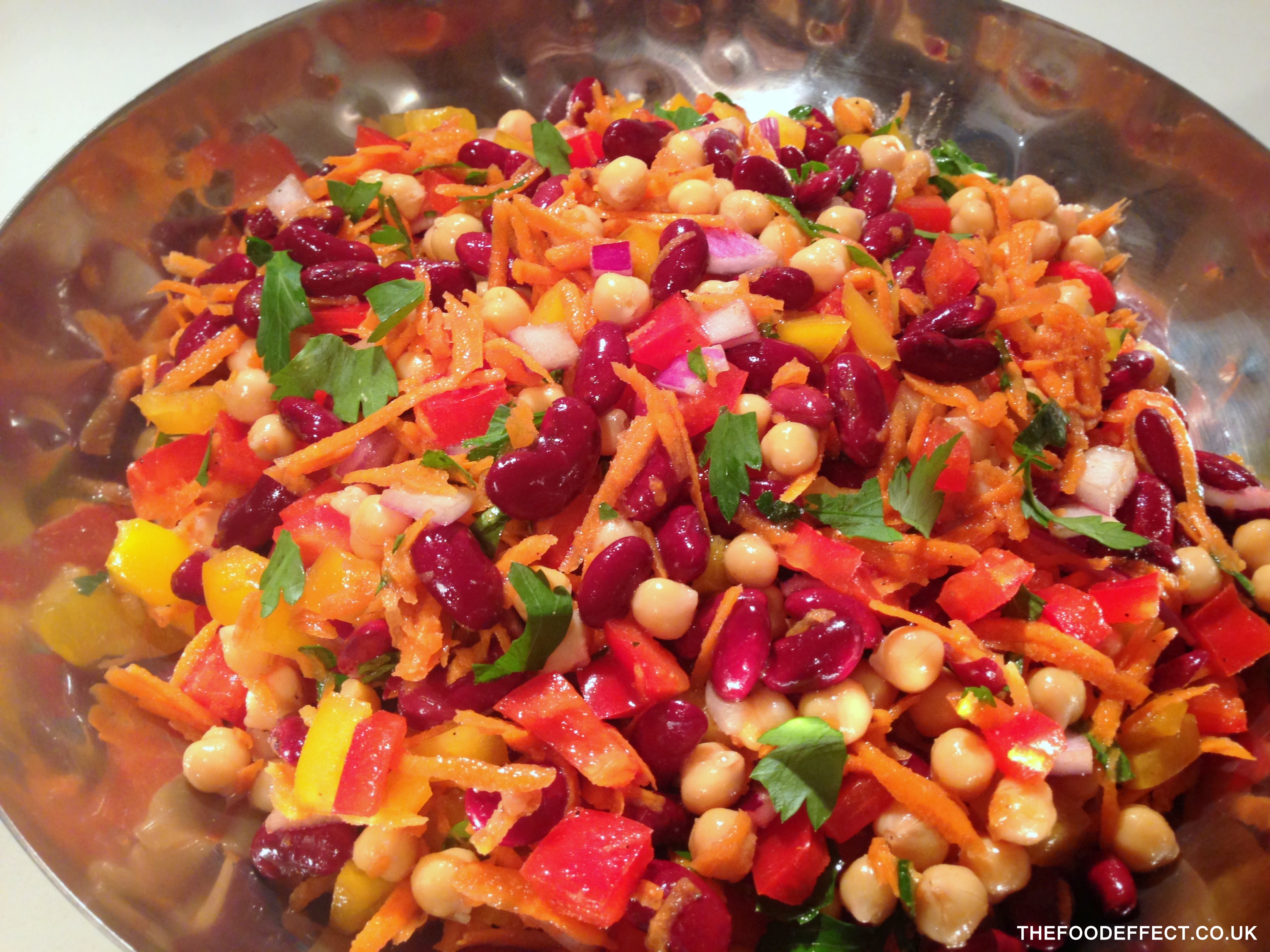 1 (400g) tin red kidney beans
1 (400g) tin chickpeas
2 cloves of garlic, crushed
1 red pepper, chopped
1 yellow/ orange pepper, chopped
2 carrots, grated
½ red onion, chopped
¼ cup fresh parsley, finely chopped
3 Tbsp. extra-virgin olive oil
3 Tbsp. balsamic vinegar
½ tsp. each: salt, chili powder, ground cumin
Freshly ground black pepper, to taste
Directions
In a small bowl or jar, combine olive oil, balsamic vinegar, salt, chili powder, cumin and black pepper.  Mix/ shake well.  Combine all salad ingredients in a large bowl, add dressing and mix well. Season with additional salt and pepper, to taste.  Cover and refrigerate until ready to serve!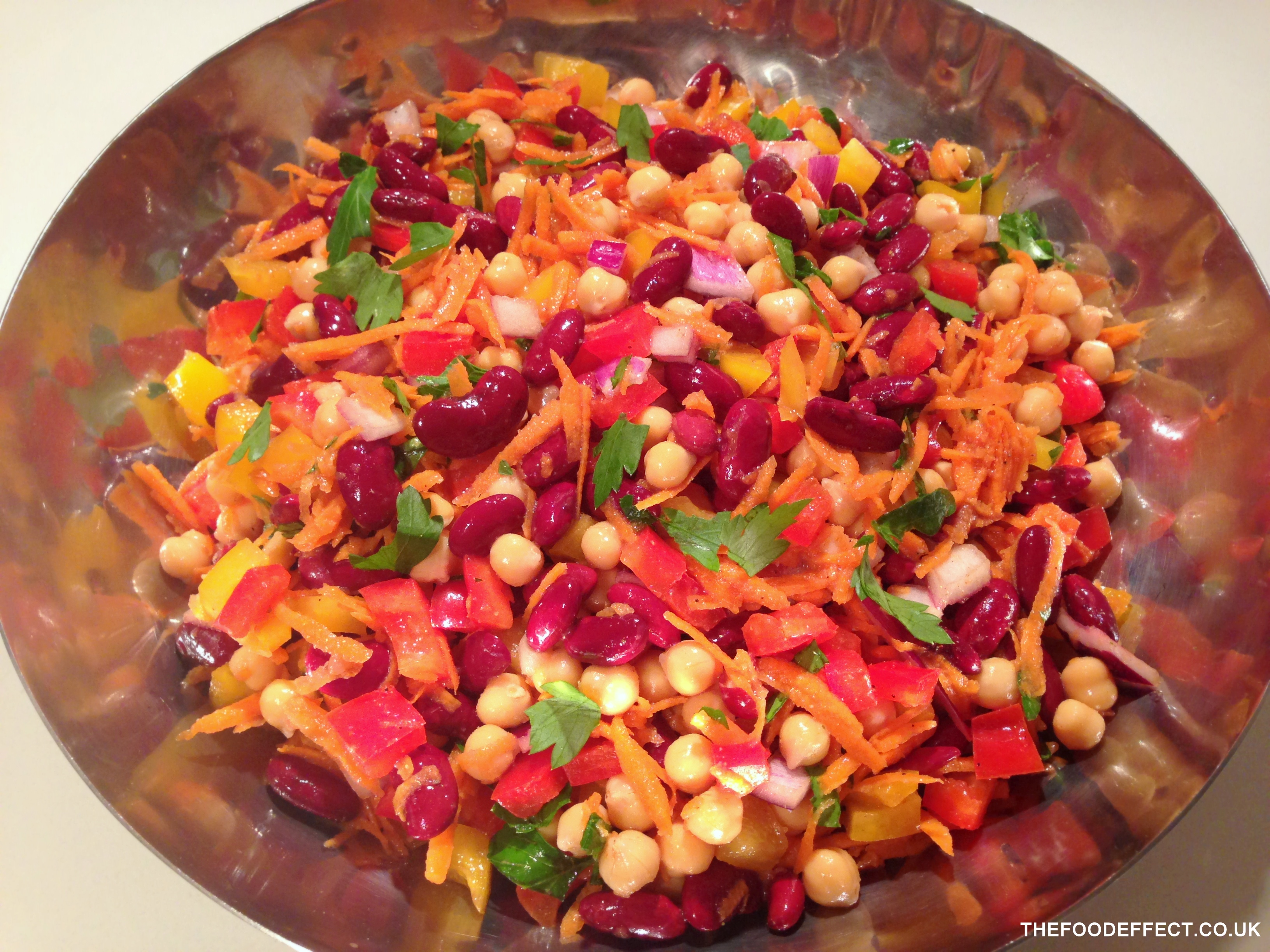 Leave a Response
You must be logged in to post a comment.