Raw Chocolate Avocado Coconut Bars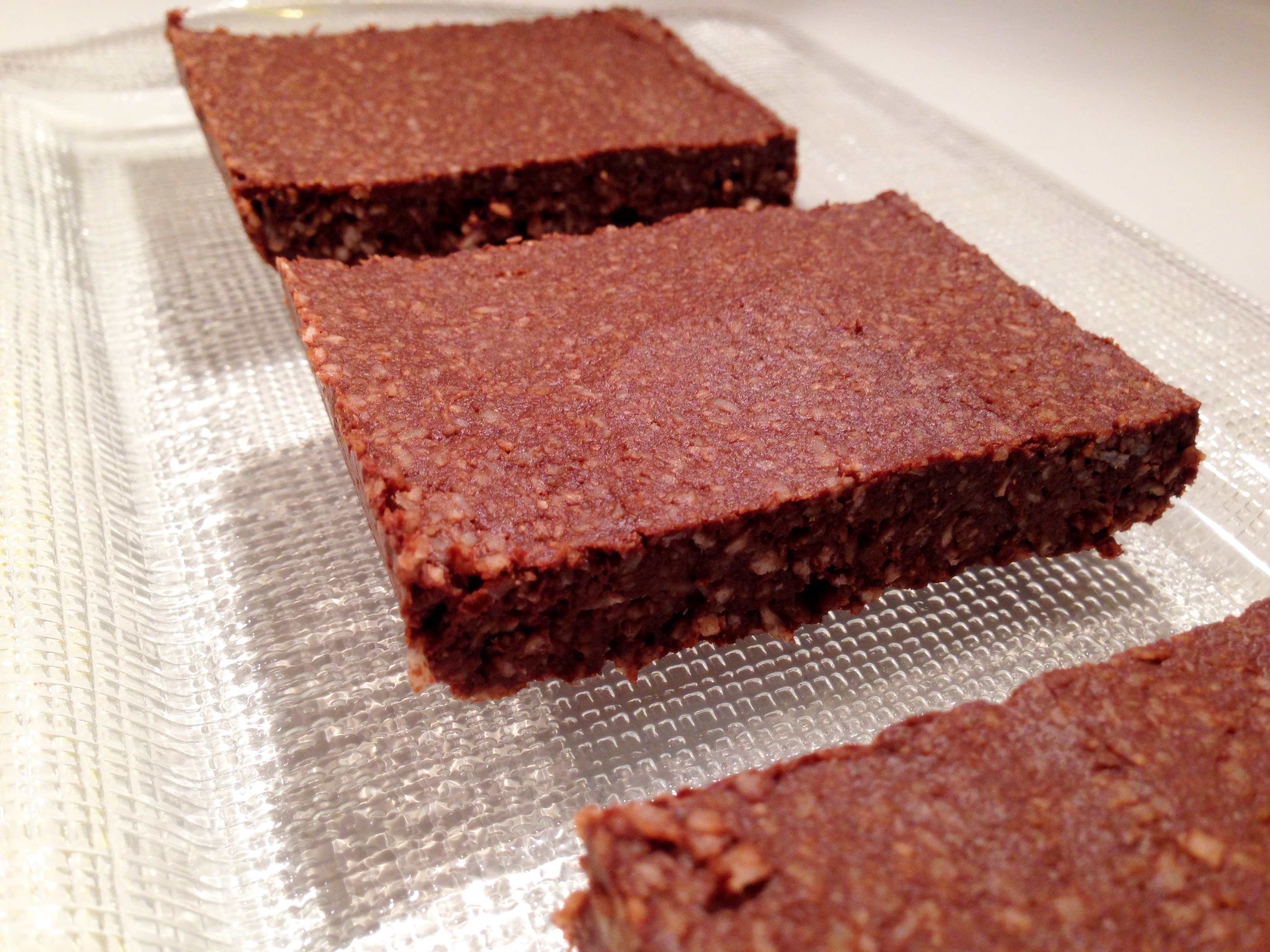 Following on from the popularity of my last post (Guilt-Free Chocolate Protein Pudding), here's another rich, decadent and delicious snack, that tastes wonderfully indulgent but is completely guilt-free and good for you too!  It is yet another recipe that can help you stick to all your virtuous New Year plans, and stay on the healthy eating track from January and beyond!  These bars are gluten-free, dairy-free, nut-free, egg-free, refined-sugar free and vegan, so dietary wise, I can't think of anyone who they wouldn't be suitable for!  Even better, being packed full of superfoods and rich in amazing nutrients, fibre, heart-healthy mono-unsaturated fats and anti-oxidants, with sweetness coming from all-natural, low GI, much loved agave syrup that won't cause your blood sugar levels soaring, they really couldn't be healthier, easier to make or more delicious!
These Raw Chocolate Avocado Coconut Bars make the ideal mid-afternoon or post-workout snack.  They also make a great breakfast, paired with some low-GI fruit – especially if "no time in the morning" is your excuse for buying a croissant, pastry or even a highly processed, sugar-filled granola bar (the kind many mistakenly think are "healthy").  They can also be stored in the freezer – ready to grab on-the-go whenever you need some healthy fuel.  Just one of these will keep you full and satisfied without the sugar-filled empty calories that do just the opposite!
This delicious snack is a nourishing, wholesome, guilt-free treat that tastes like a rich, decadent chocolate bar but nutritionally, is quite the opposite…
Avocados are a food with so many wide-ranging health benefits I could dedicate a whole blog post to the topic!  They have been shown to benefit heart health, help improve "bad" LDL cholesterol and reduce the risk of heart disease in people who are overweight and obese.  They are also a rich source of fibre, which helps to control blood sugar levels, as well as potassium, which helps lower blood pressure.  One of the best ways to reduce high blood pressure is to get enough potassium and half an avocado contains more potassium than a medium-sized banana!  And if that weren't reason enough, avocados have also been shown to help people feel fuller for longer and stave off the munchies between lunch and dinner.  A recent study in Nutrition Journal found that overweight adults who ate half an avocado at lunch had a 40% decrease in the desire to eat again over the next three hours.  And for some, the feeling of fullness lasted a whole five hours!  Avocados also help strengthen your immune system, being rich in glutathione – a powerful antioxidant, detoxifier and free radical scavenger.  Oh, and did I mention they're fantastic for healthy glowing skin too?!
Coconut in all its forms (think coconut flesh, coconut water, coconut oil and coconut milk) has an endless array of health properties that have been shown to benefit the heart, brain and digestive system due to its unique healthy fat content, antibacterial effects and balance of dietary fibre, protein, antioxidants, vitamins and minerals.  The rich source of healthy fats [medium-chain triglycerides (MCTs)] found in the coconut flesh and oil, have been shown to help lower the risk of heart disease by increasing healthy (HDL) cholesterol without raising unhealthy (LDL) cholesterol.  These wondrous MCT's also help with weight management by reducing appetite, boosting metabolism and increasing the activity of fat-burning cells.
Cocoa has also been shown to have tremendous health benefits.  It's full of anti-oxidants, which help the body defend against aging, tissue damage, inflammation and diseases such as cancer and heart disease.  Research has linked chocolate consumption to lower blood pressure, reduced risk of strokes, lower (bad) LDL cholesterol and increased (good) HDL cholesterol, whilst other recent studies have also shown that regular consumption of chocolate was consistently associated with a reduced body mass index (BMI), compared with occasional consumption!
So what are you waiting for?  Whip up a batch of these delicious bars to stay full, trim and healthy for 2015 and beyond! 🙂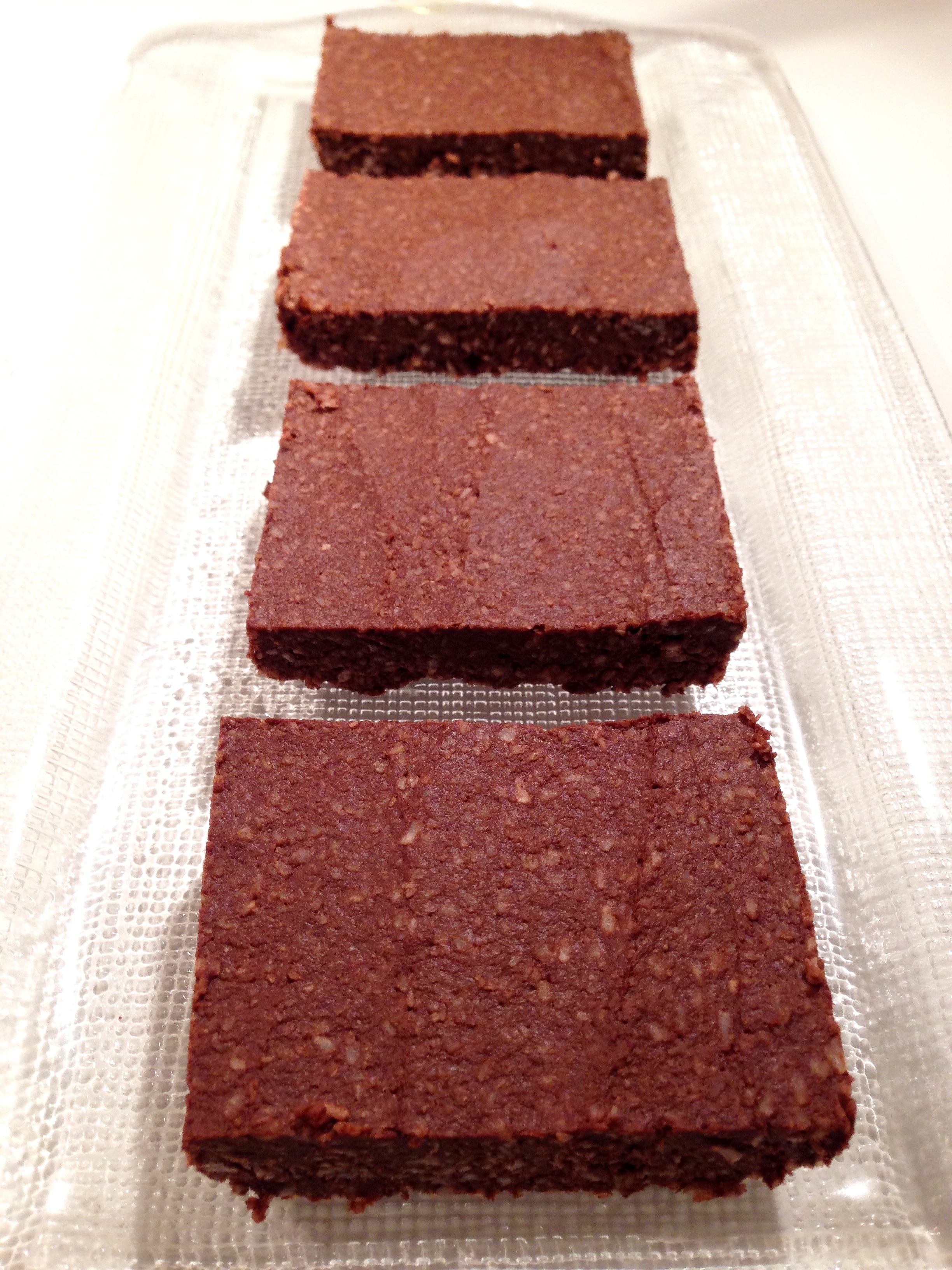 Recipe
Makes 8 bars
Ingredients
1 large (or 2 small) avocadoes
2 cups dessicated coconut (unsweetened)
3 Tbsp. (unsweetened) cocoa powder
4 Tbsp. agave syrup
1-2 Tbsp. Stevia
1/2 tsp. vanilla
Generous pinch of salt
Directions
In a food processer (Magimix) or blender, blend avocado until smooth and creamy.  Add cocoa powder, blend again until fully incorporated.  Add all other ingredients, blend well.  Press the mixture into a large (silicone) loaf tin or small rectangular baking dish lined with silver-foil.  Place in the freezer for 1 hour to set.  Remove and cut into 8 bars.  Enjoy right-away or store in the freezer for later use!  When ready to serve remove from freezer 10-15 minutes before eating, or transfer to the fridge to soften until ready to eat! 🙂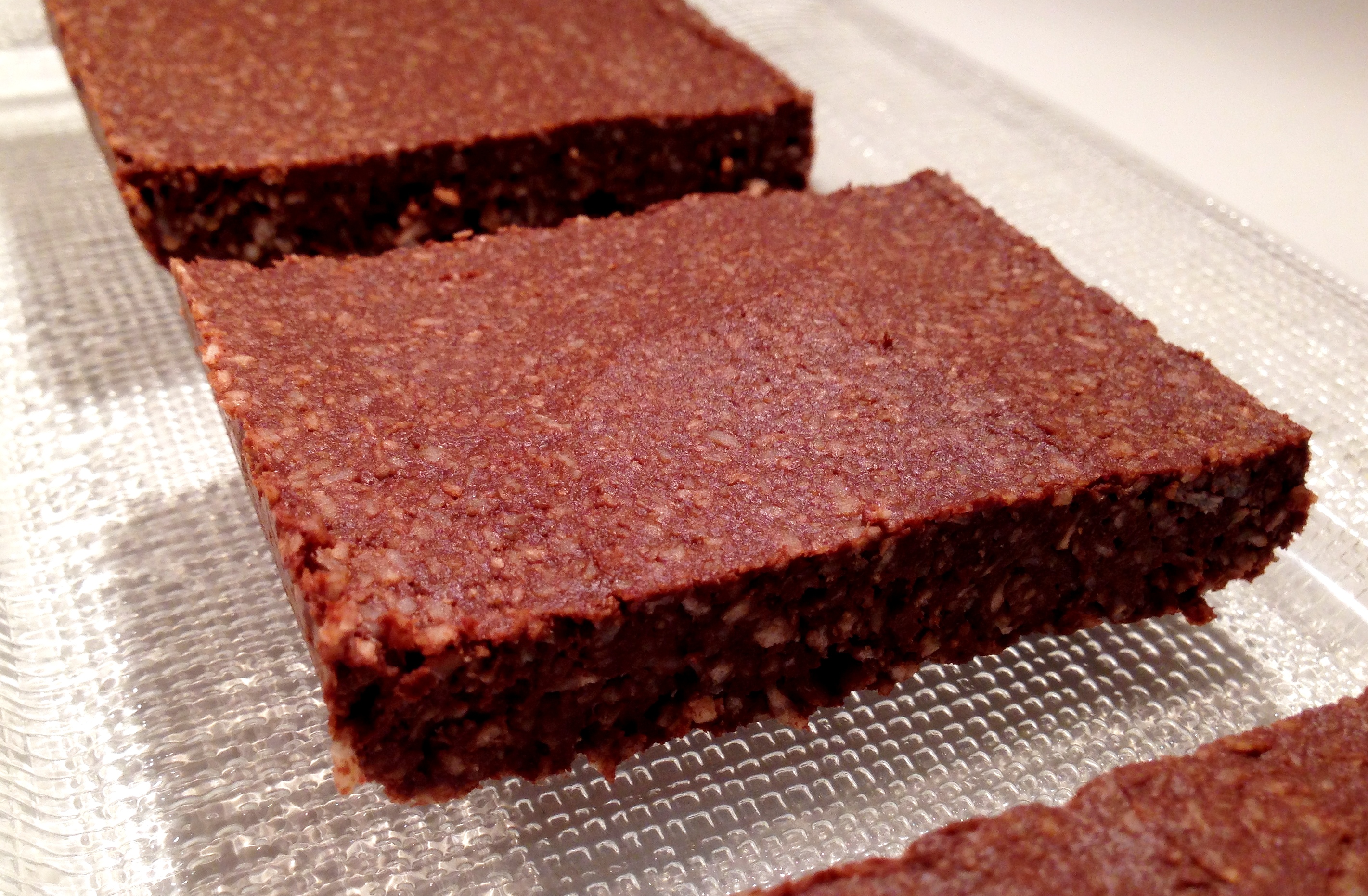 2 Responses to "Raw Chocolate Avocado Coconut Bars"
Any chance of a nibble for desert this evening?
Love
Dad
These look so easy , healthy and delicious …..must try
Leave a Response
You must be logged in to post a comment.