Roasted Butternut Squash & Apple Soup with Spiced Pumpkin Seeds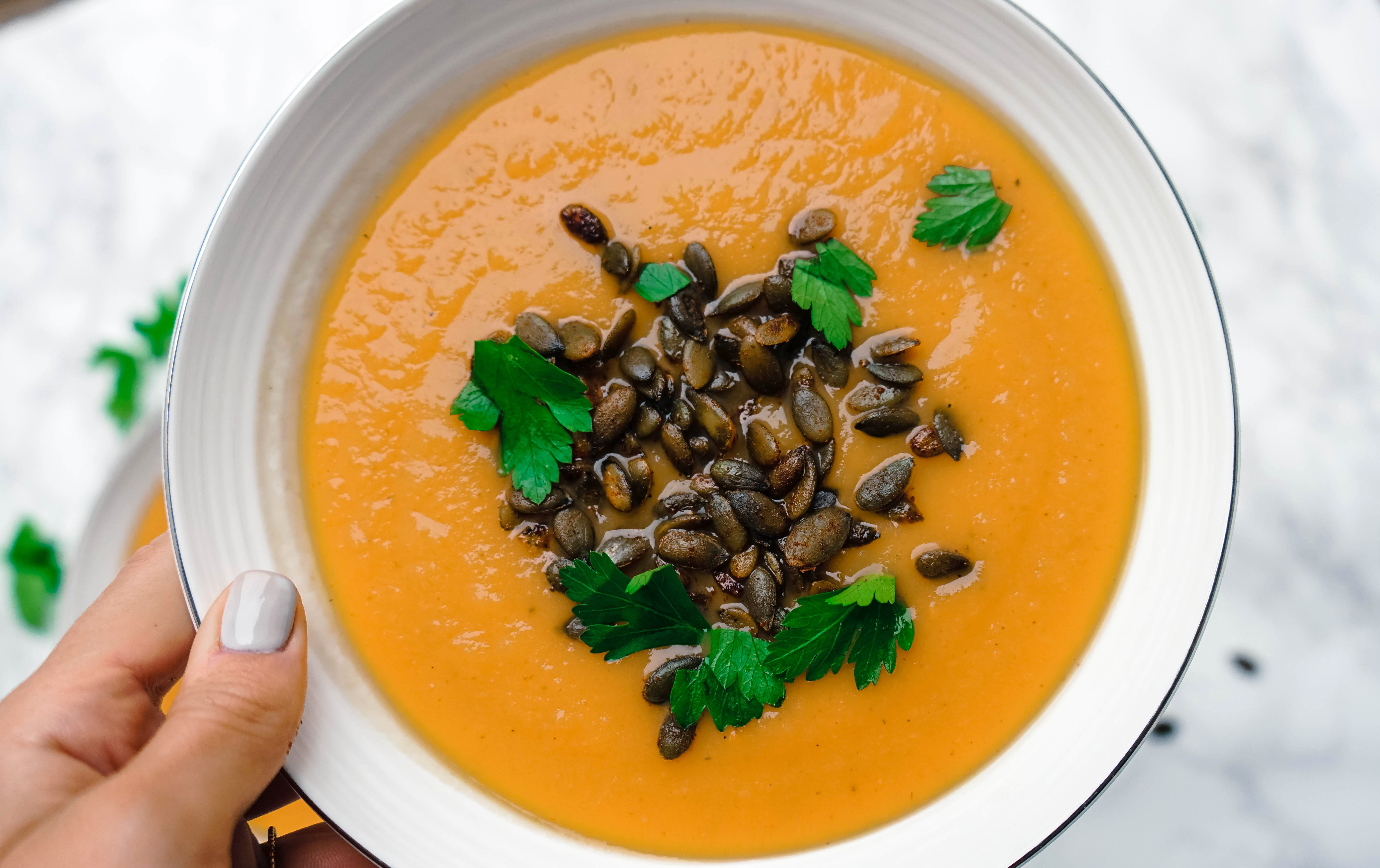 Low in fat, creamy and deliciously satisfying, this soup is packed full of fibre, beta-carotene and protein packed pumpkin seeds, making it a nutritious, anti-inflammatory, immunity-boosting and waist-line friendly dish.  Think of it as your "green juice for the winter"- a great and tasty way to pack a ton of nutrients, vitamins and minerals into one healthy dish.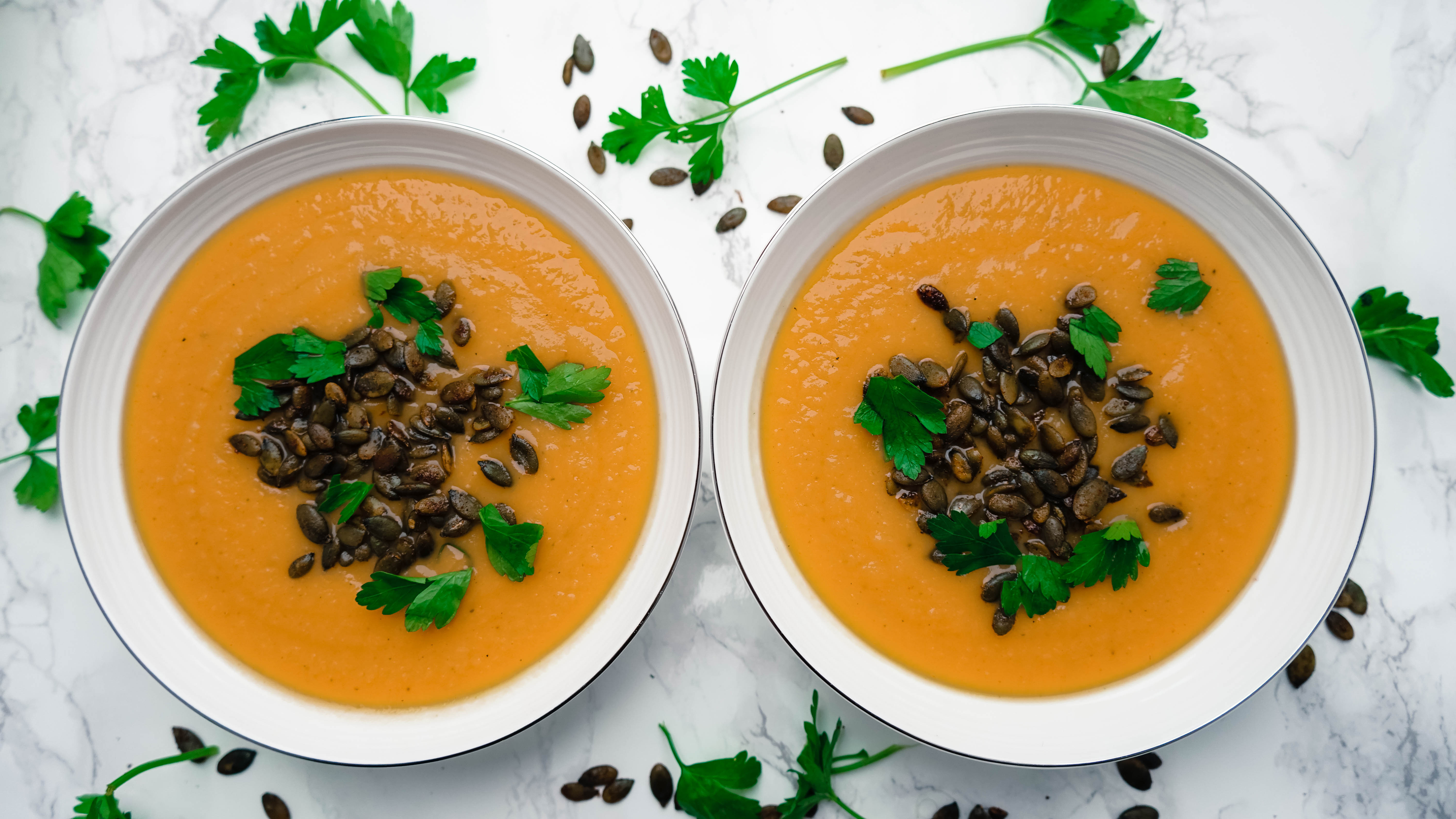 You can pair it with crackers or crudités for a snack, or, for a fuller meal, with wholesome wholegrain or sourdough bread, along with some hummus and carrot sticks.  It can also be made in bulk to last throughout the week, or frozen in smaller portions to have on standby whenever you need.
Apart from its delicious taste, this soup also has nutritional benefits to match: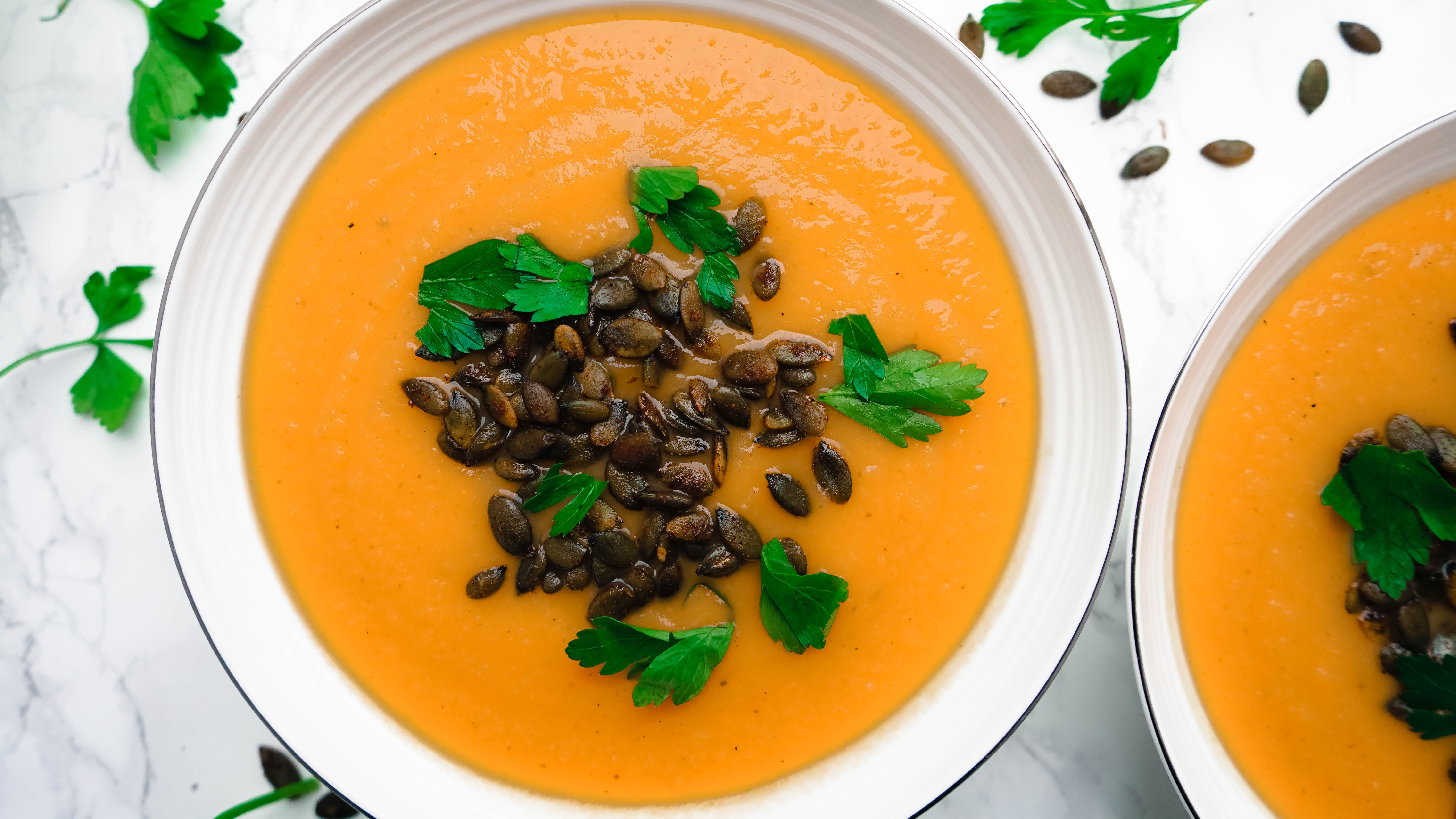 Butternut squash is an excellent source of carotenes, which have also been shown to exert a protective effect against many cancers.  In addition to cancer and heart disease protection, diets rich in carotenes offer protection against developing type-2 diabetes as well.  Butternut squash is also a rich source of Vitamins C, B1 and B6, niacin, folic acid, pantothenic acid, potassium and fibre!
Apples have an endless array of health benefits, which you can read all about in my An Apple a Day post HERE.
Pumpkin seeds pack in a hefty dose of protein, fibre, vitamins, minerals, and heart-healthy skin-glowing mono-unsaturated fats.  The cinnamon used to spice them up, has been shown to help lower blood sugar levels and combat cravings.  Chilli powder has also been shown to help beat cravings and supercharge your metabolism.
So in case its creamy, guilt-free deliciousness wasn't enough to convince you, there are more than enough good reasons to whip up a batch of this soup on a cold winter's night! 🙂  Enjoy! xx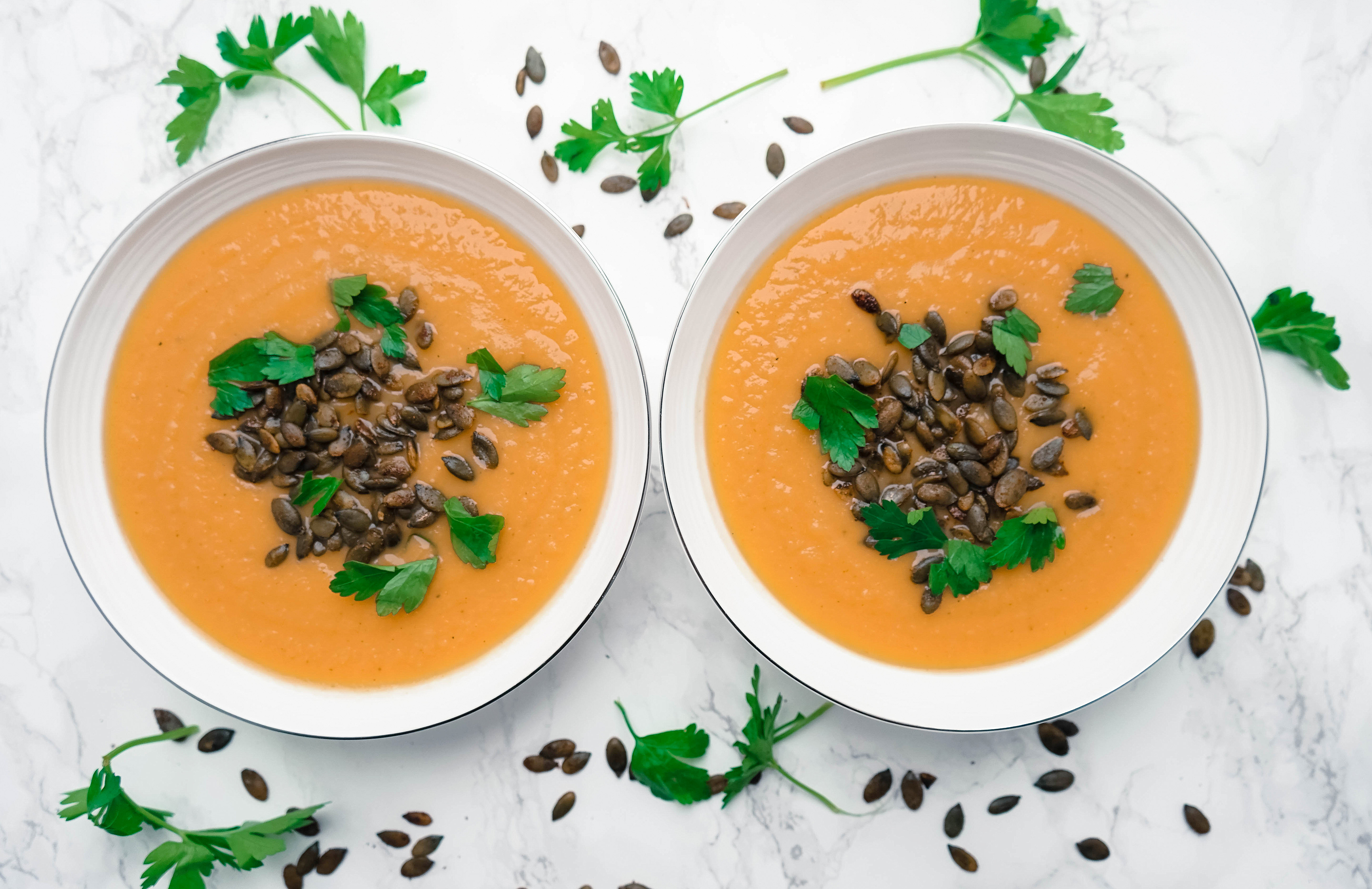 Recipe
Serves 8
2 Tbsp. olive oil
1 large white onion, diced
2 green apples, peeled and chopped
½ tsp. ground cinnamon
½ tsp. ground ginger
¼ tsp. chilli powder
1 tsp. coconut sugar
1 ½ tsp. fine sea salt
2 kg butternut squash, peeled, de-seeded and cut into cubes
8 cups chicken/ vegetable stock (use stock powder according to package directions)
Spiced Pumpkin Seeds
1 cup pumpkin seeds
1 Tbsp. extra virgin olive oil
½ tsp. ground cinnamon
½ tsp. chilli powder
Generous pinch of salt and black pepper
Directions
Heat oil in a large pot over medium heat.  Add the chopped onion, apple, cinnamon, ginger, chilli powder, coconut sugar and salt.  Cook, whilst stirring occasionally, for around 5 minutes.  Add the butternut squash to the pot, and stir to coat for another 5 minutes.  Add the stock, bring to a boil, lower the heat and simmer, with the pot covered, for around 40-50 minutes, until the squash is soft.  Allow the soup to cool and blend in a blender or with a hand-held immersion blender until completely smooth.
To make the spiced pumpkin seeds – combine the oil, cinnamon, chilli powder, salt and pepper together in a small bowl.  Add the pumpkin seeds and stir to coat.  Heat a pan over medium heat.  Add the pumpkin seeds, and allow to toast in the pan, whilst stirring to ensure they don't burn, for around 3-5 minutes.  Remove from heat and allow to cool fully.
Serve the soup heated, with a generous sprinkling of Spiced Pumpkin Seeds on top. Enjoy!! 🙂 xx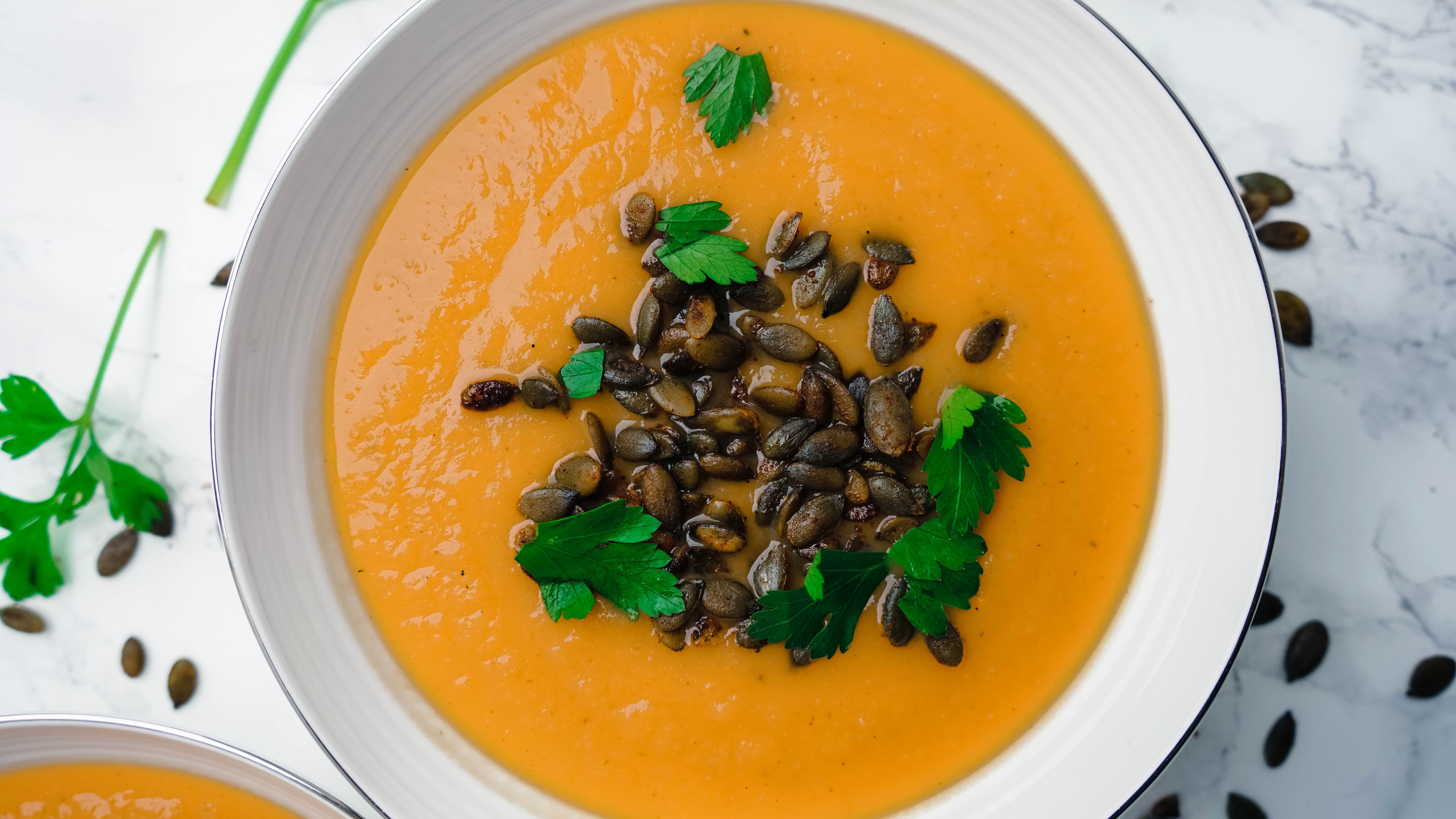 Leave a Response
You must be logged in to post a comment.