Salmon and Sweet Potato Sliders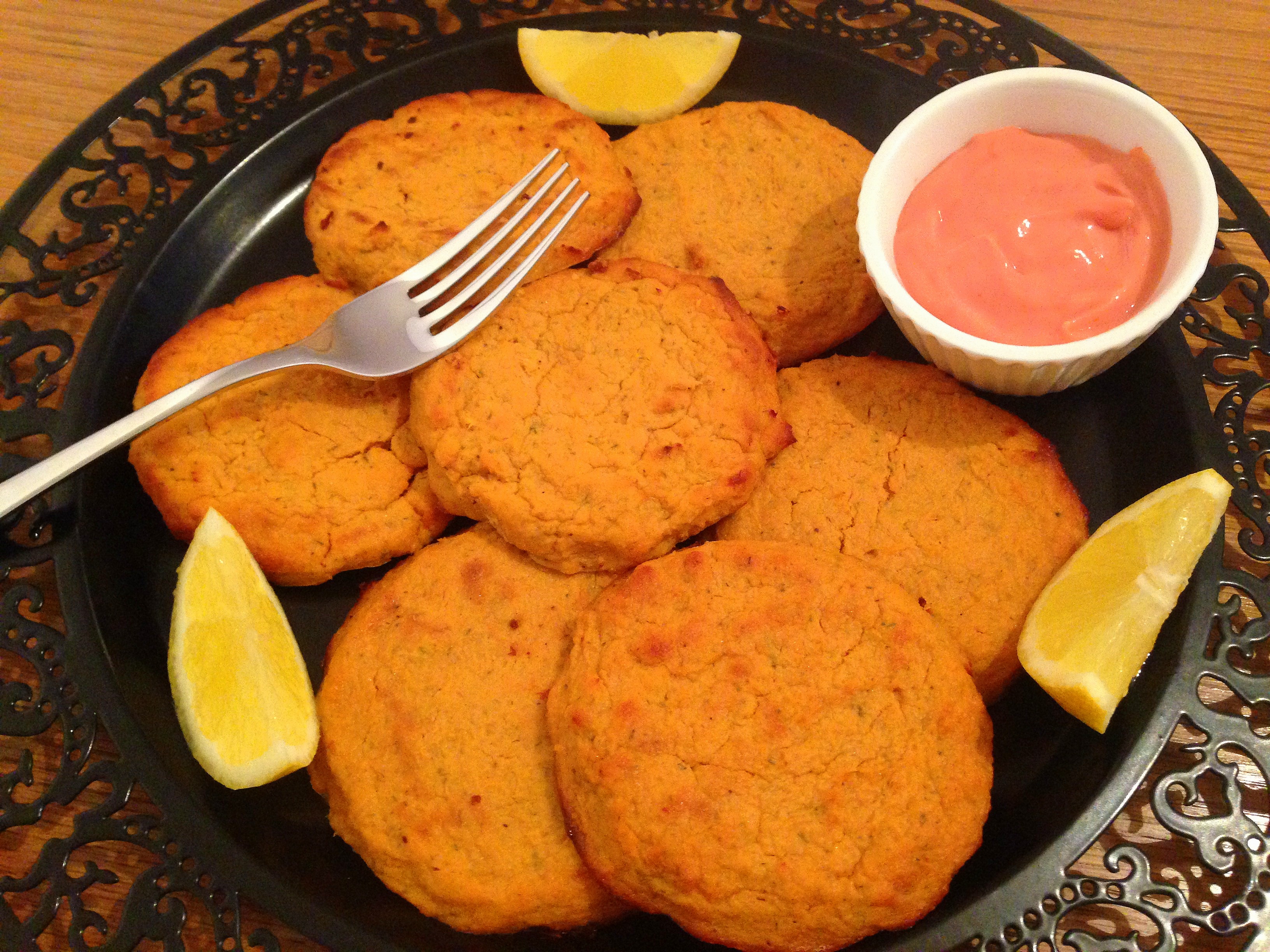 A lighter twist on a classic favourite, these scrumptious salmon "sliders" are a fun mix of fish cake and salmon 'burger' – given a healthy "Food Effect friendly" makeover, by simply baking instead of frying, and using pure unadulterated (mashed) sweet potato for extra bulk (and nutrients!), instead of breadcrumbs, flour or anything else that's just not as natural, "clean" or wholesome!
You can whip up a batch of the outstandingly delicious Roasted Red Pepper Sauce (recipe below) to drizzle over the top or serve alongside, or simply enjoy them with a dollop of ketchup (which, despite the common misconception, is actually incredibly healthy and packed FULL of the super anti-oxidant lycopene (being a far richer source than plain tomatoes)!  It's certainly not a condiment I make my clients cut out… just stick to the reduced sugar variety!) 🙂
What I love most about these salmon sliders is that they both freeze, and re-heat well and are equally delicious eaten cold from the fridge as they are straight out of the oven!  You can whip up a batch to eat right away, keep leftovers in the fridge, re-heat them the next day and enjoy cold over the next few days, or, freeze them and enjoy at a later date!  I also love how versatile they are, as you can serve them as an appetizer (with the red pepper sauce), have them on top of, or alongside a big green salad, or enjoy in a sandwich (whole-grain of course!) with some spinach leaves, tomato and either the roasted red pepper sauce or ketchup!  Leftover sliders (if you somehow manage not to polish them all off!) are great for a packed lunch with salad or in a sandwich.  Try them in a whole-wheat pitta filled with salad greens, sliced tomato and cucumber and a drizzle of ketchup or the roasted red pepper sauce.
Nutritionally, these sliders also couldn't be better for you…
Salmon is, perhaps, the ultimate nutritional superstar of fish.  An excellent source of protein, potassium, selenium, Vitamin B12, iron, niacin and phosphorus, it is one of the most beneficial health-wise because of its exceptionally high content of omega-3 fatty acids.  It's been shown to help protect against heart disease, Alzheimer's disease and many forms of cancer.  In addition to helping keep your heart ticking along nicely, the omega-3 fatty acids in salmon also help improve your ratio of lean muscle to fat and give you gorgeous glowing skin! 🙂
Sweet potatoes are an excellent source of antioxidants and Vitamin A.  Apart from being extremely tasty, this superfood is also packed full of fibre, potassium, folate, Vitamin C, iron, copper and, perhaps most importantly, the anti-oxidant beta-carotene, which also helps protect against cardiovascular disease and cancer.  High carotene intake has also been linked to a 20% decrease in post-menopausal breast cancer and up to a 50% decrease in incidence of cancers of the bladder, cervix, prostate, colon, larynx, lung and oesophagus!  Additionally, not only do sweet potatoes pack in a good amount of iron, they also contain copper, a mineral that helps your body absorb iron, so these pair perfectly with the salmon – not only taste wise, but nutritionally too! 🙂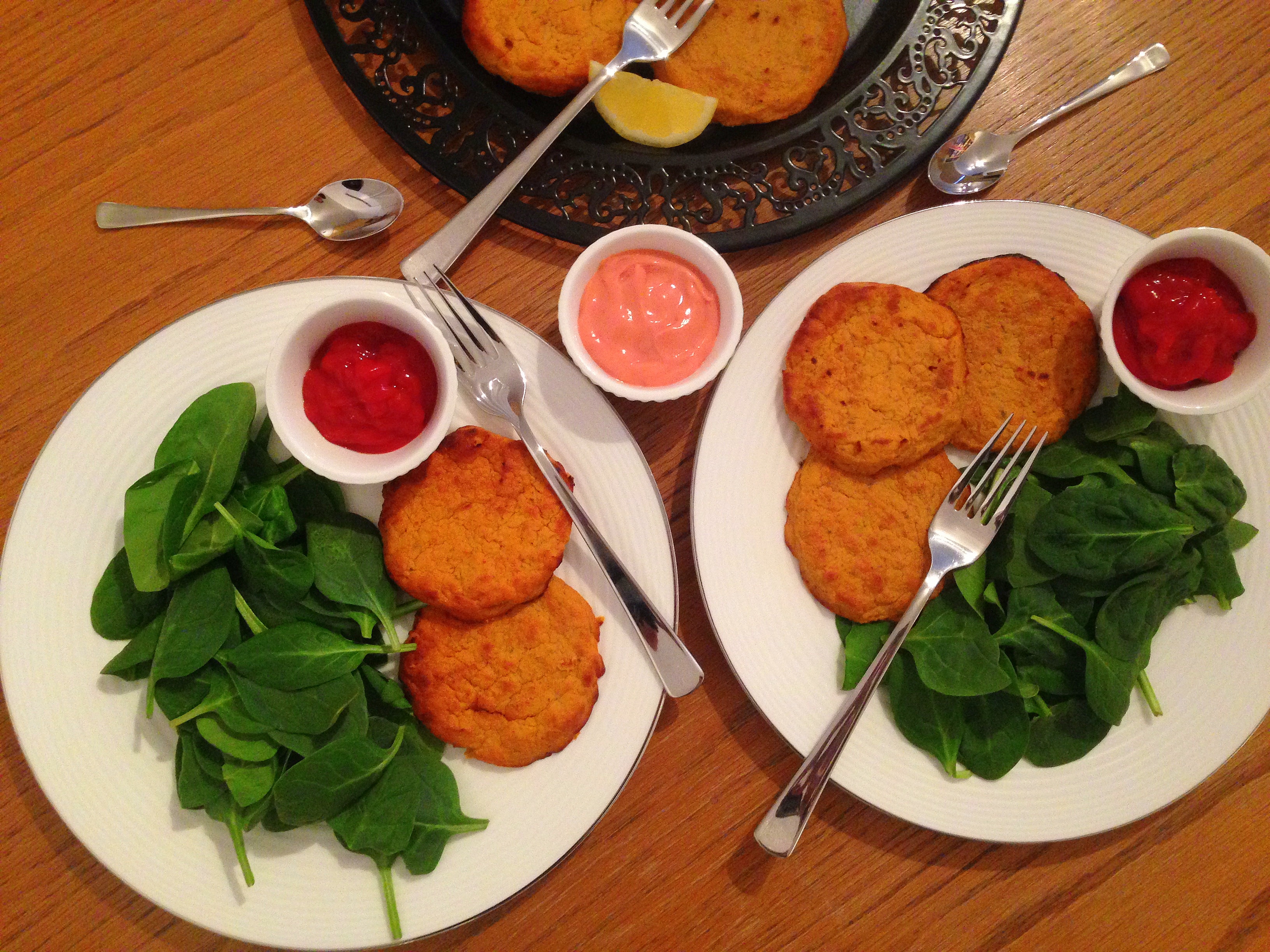 Recipe
Makes 10-12 sliders; serves 4-5 as a light lunch or supper
420g tinned red salmon (I used one large 418g tin), drained & skin removed
500g sweet potato (raw weight – whole, unpeeled)
1 egg
2 Tbsp. coconut flour
1 Tbsp. lemon juice
½ tsp salt
¼ tsp. black pepper
1 tsp. dried dill
Lemon wedges, roasted red pepper sauce (recipe below), and/ or ketchup – to serve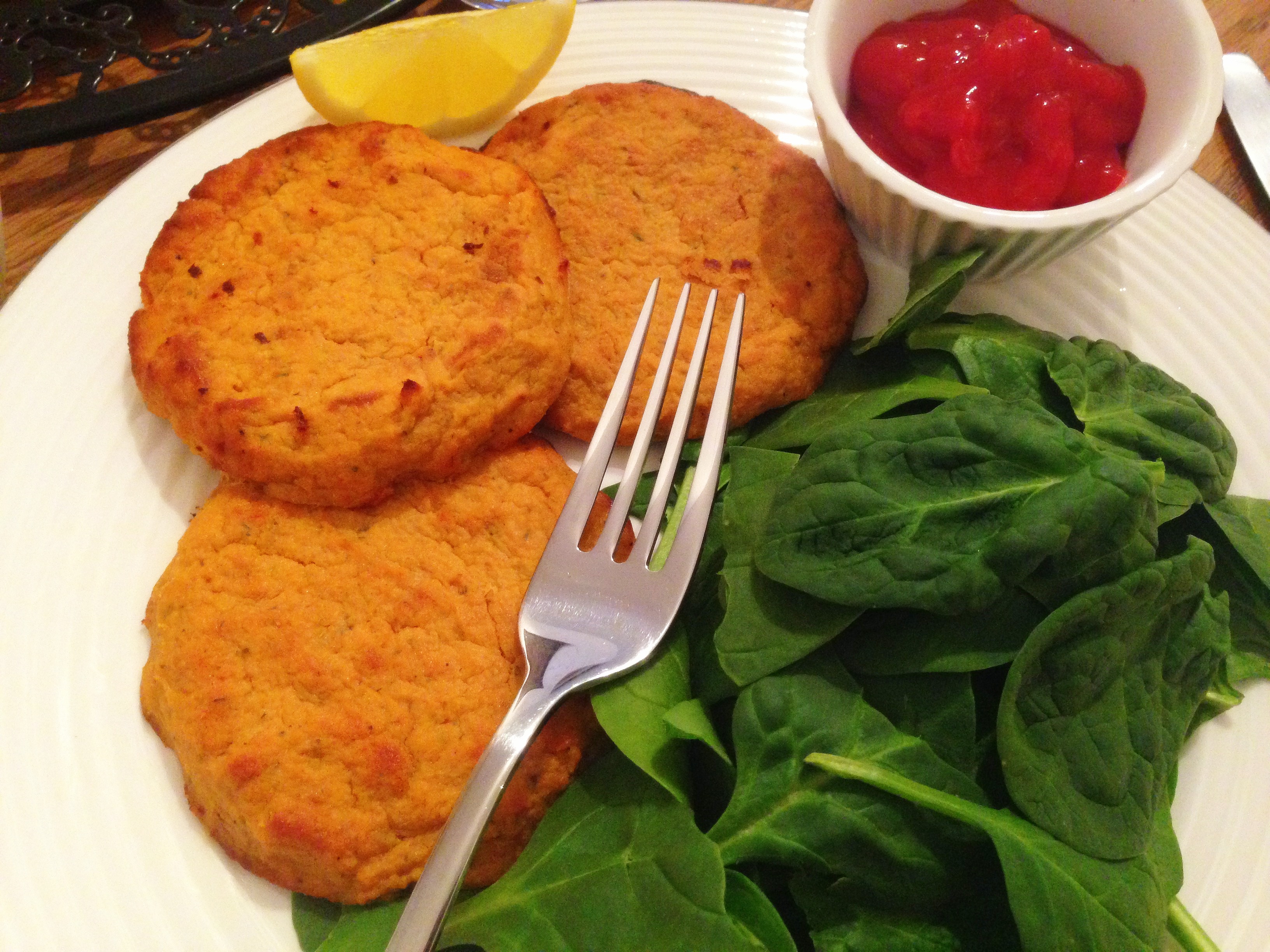 Peel the sweet potatoes and cut them into small chunks.  Place in a pot filled with water and bring to the boil.  Simmer for about 15-20 minutes, until the potatoes are soft and tender when pierced with a sharp knife.  Drain and allow to cool.
Place the cooked sweet potato, salmon (along with the bones – they're packed full of calcium!), egg, coconut flour, lemon juice, salt, pepper and dill into your blender or food processor and pulse until well combined and smooth.  Refrigerate the mixture for 30 minutes (or longer).
Preheat your oven to 180ºC.  Line 2 baking trays with baking paper.
Shape the mixture into 10-12 round "sliders" on your prepared baking trays.  Bake in the pre-heated oven for 20-25 minutes.  Serve warm or at room temperature, with lemon wedges and roasted red pepper sauce or ketchup!  Enjoy!! 🙂
Roasted Red Pepper Sauce
½ cup jarred roasted red peppers, drained (or roast your own, ~2 red peppers)
½ cup light mayonnaise
1 clove garlic, peeled
1 tablespoon lemon juice
½ tsp. salt
¼ tsp. black pepper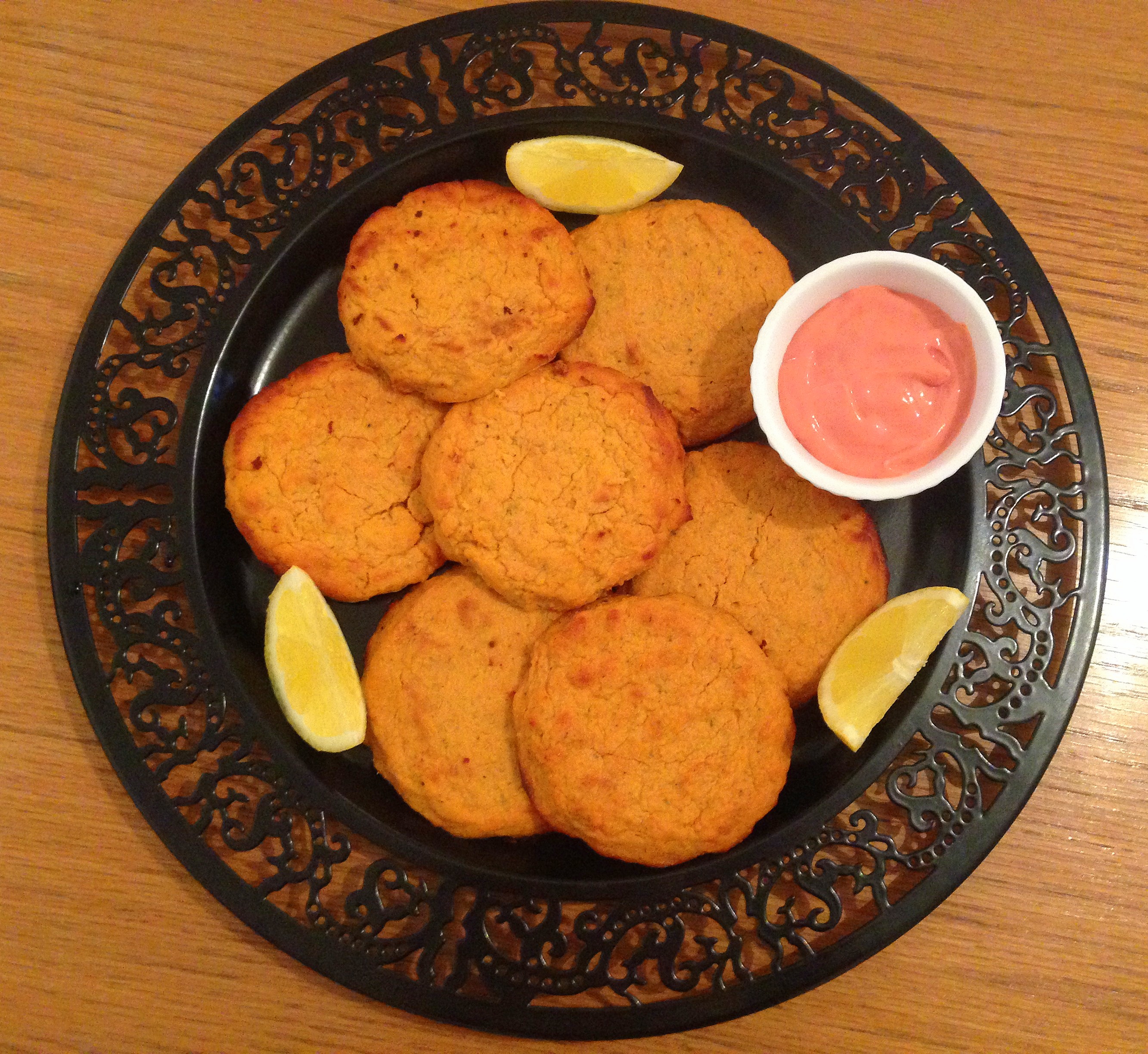 Combine all ingredients in food processor and blend until completely smooth.  Store in the fridge.
Serve with Salmon and Sweet Potato Sliders, or with any fish, chicken or vegetarian dish (e.g. falafel balls, salads, etc.)  This sauce keeps well for several days in the fridge, and is also delicious with freshly cut vegetable sticks.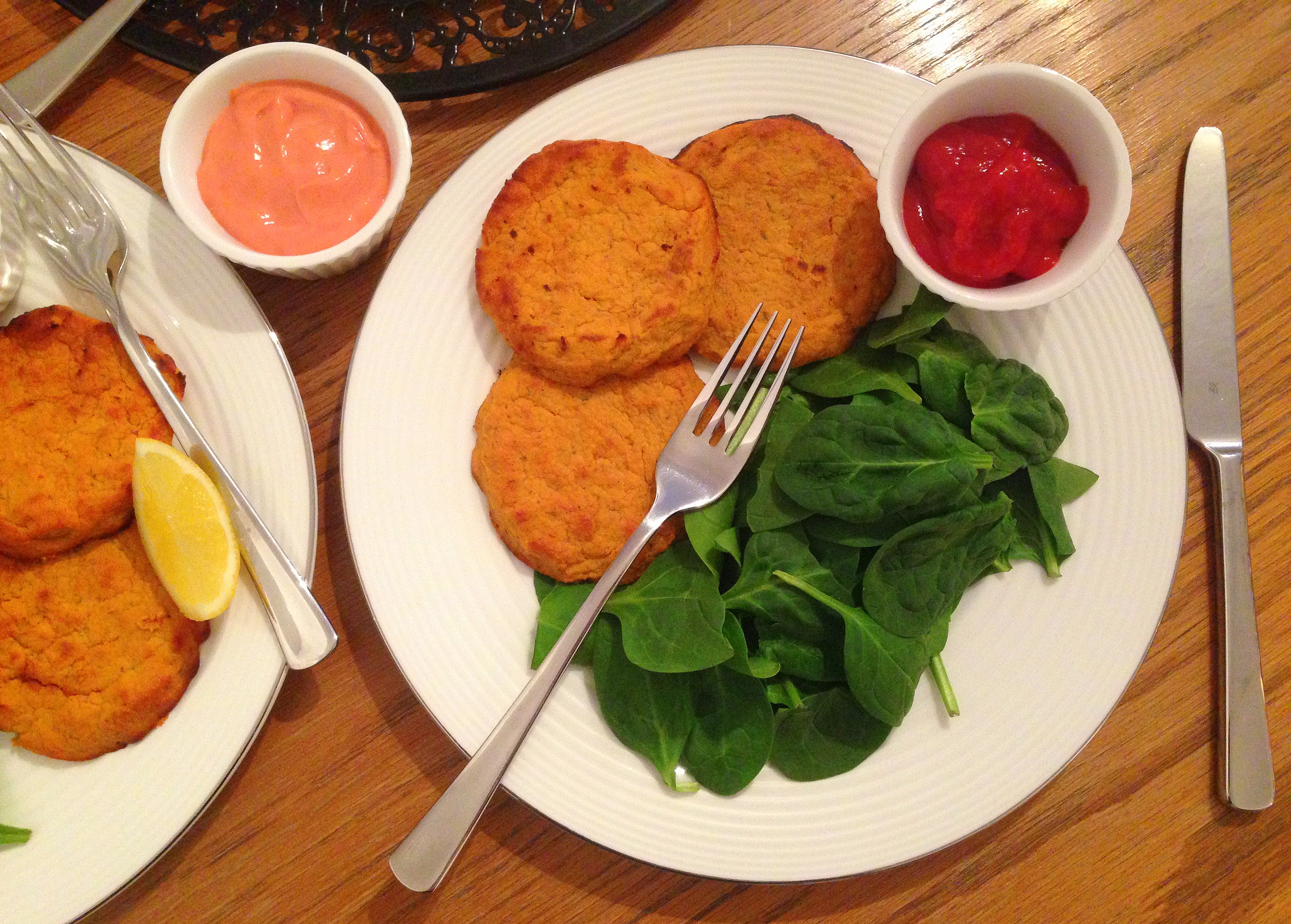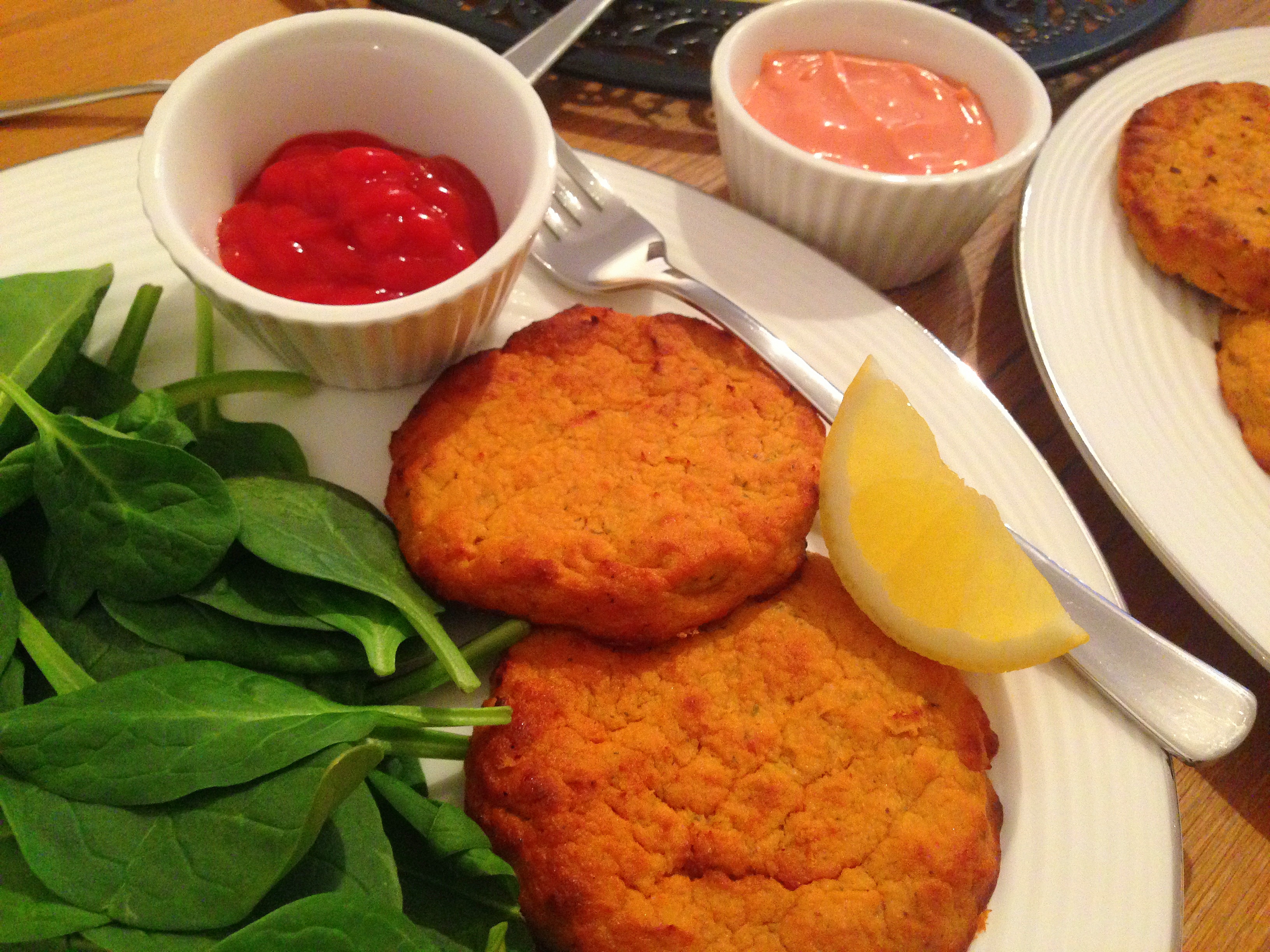 Comments are closed.