Saucy Salmon & Veggie Bake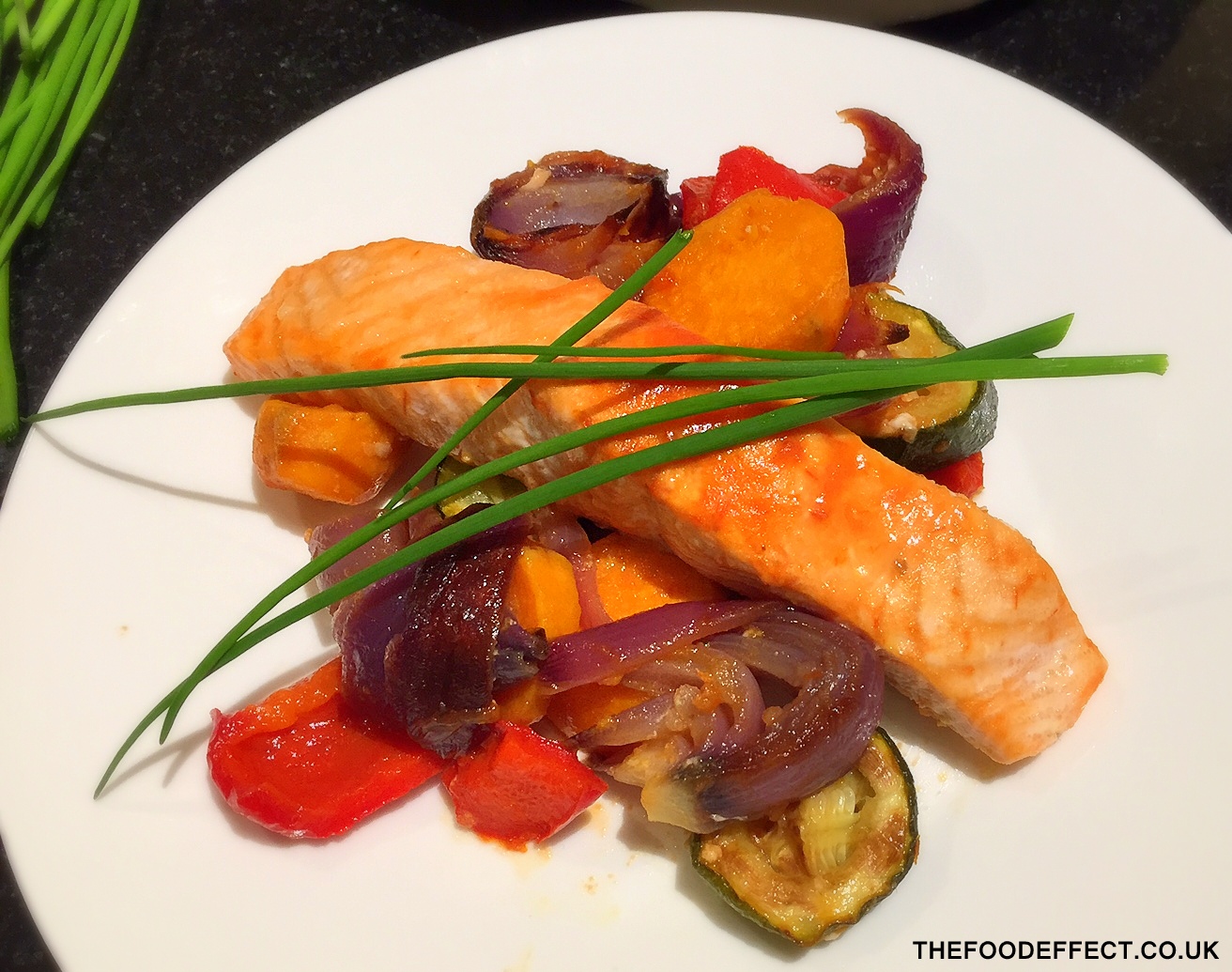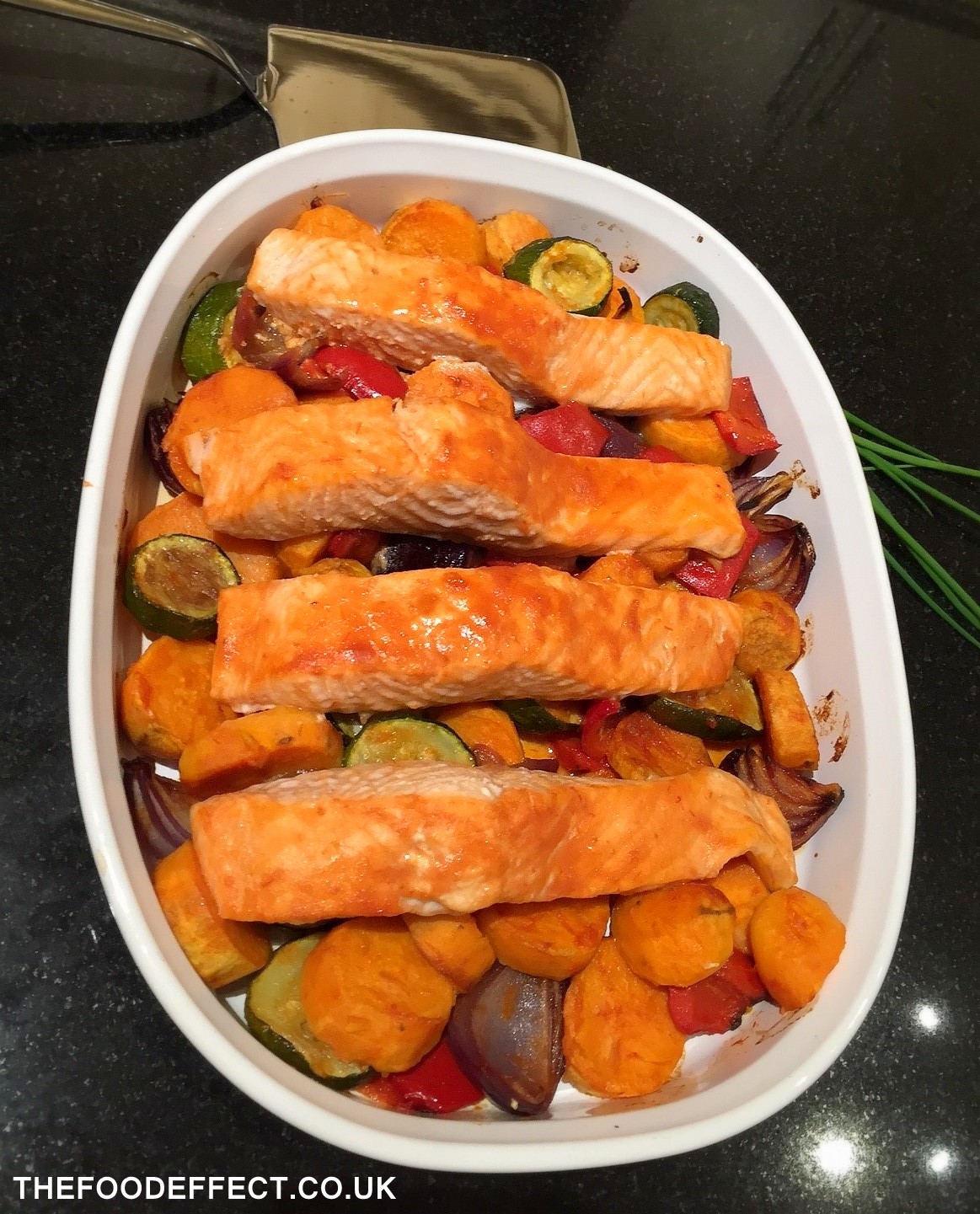 This Saucy Salmon and Veggie Bake recipe which I've created makes a perfectly healthy protein-packed "one-pan" meal, and is both easy and versatile to whip up – either for a filling fancy lunch or a delicious week-night dinner.  It includes your protein and healthy fats from the salmon, unrefined carbs in the form of sweet potato, and, of course, plenty of anti-oxidant packed veg and all-natural tomato sauce!  Believe it or not, eating healthy need not be dull and flavourless – it should be colourful, vibrant and delicious, just as this recipe proves!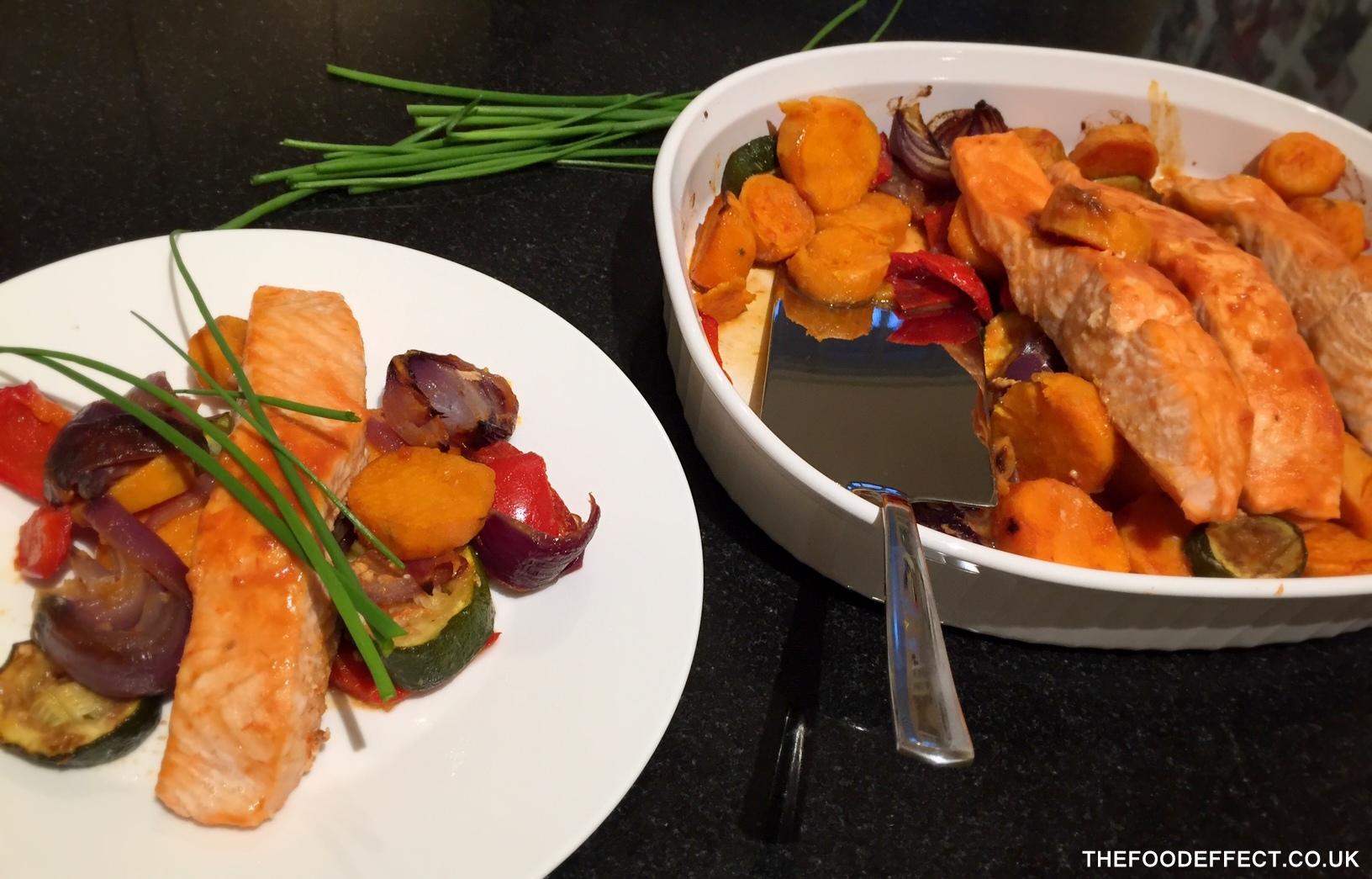 Nutritionally, this dish couldn't be better for you.  Boasting an array of vitamins, minerals, fibre and anti-oxidants from all the veggies (zucchini, sweet potatoes, red onions and red peppers all pack in a ton!), as well as the tomato sauce (rich in the super anti-oxidant lycopene), protein and heart-healthy, skin-glowing fats from the salmon, this dish is packed full of nutritional goodness and is waist-line friendly too (of course!).
Salmon is, perhaps, the ultimate nutritional superstar of fish.  It's an excellent source of protein, potassium, selenium, Vitamin B12, iron, niacin and phosphorus, and is one of the most beneficial health-wise because of its exceptionally high content of omega-3 fatty acids.  It's been shown to help protect against heart disease, Alzheimer's disease and many forms of cancer and in addition to helping keep your heart ticking along nicely, the omega-3 fatty acids in salmon also help improve your ratio of lean muscle to fat and give you gorgeous glowing skin!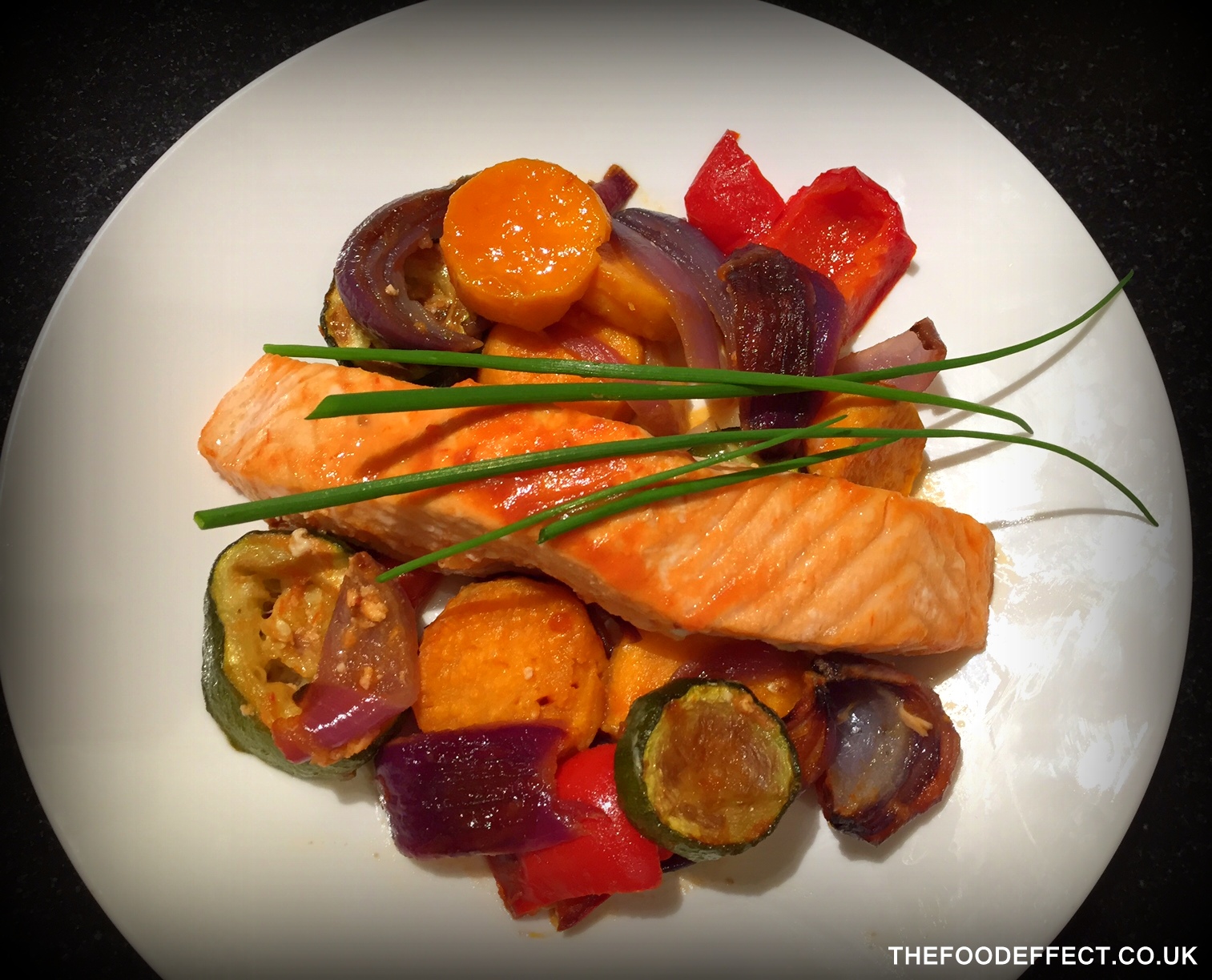 Sweet potatoes are an excellent source of antioxidants and Vitamin A.  Apart from being extremely tasty, this superfood is also packed full of fibre, potassium, folate, Vitamin C, iron, copper and, perhaps most importantly, the anti-oxidant beta-carotene, which also helps protect against cardiovascular disease and cancer.  High carotene intake has also been linked to a 20% decrease in post-menopausal breast cancer and up to a 50% decrease in incidence of cancers of the bladder, tadalafil cervix, prostate, colon, larynx, lung and oesophagus!  Additionally, not only do sweet potatoes pack in a good amount of iron, they also contain copper, a mineral that helps your body absorb iron, so these pair perfectly with the salmon – not only taste wise, but nutritionally too!
This Saucy Salmon and Veggie Bake is fabulously light yet extremely filling.  It's also completely adaptable – you can replace the red peppers with green peppers, or throw in any other vegetables you fancy (such as green beans or sliced carrots).  Leftovers also make a great lunch for the next day – even eaten cold!  Whichever way you go will be delicious – I can assure you! 🙂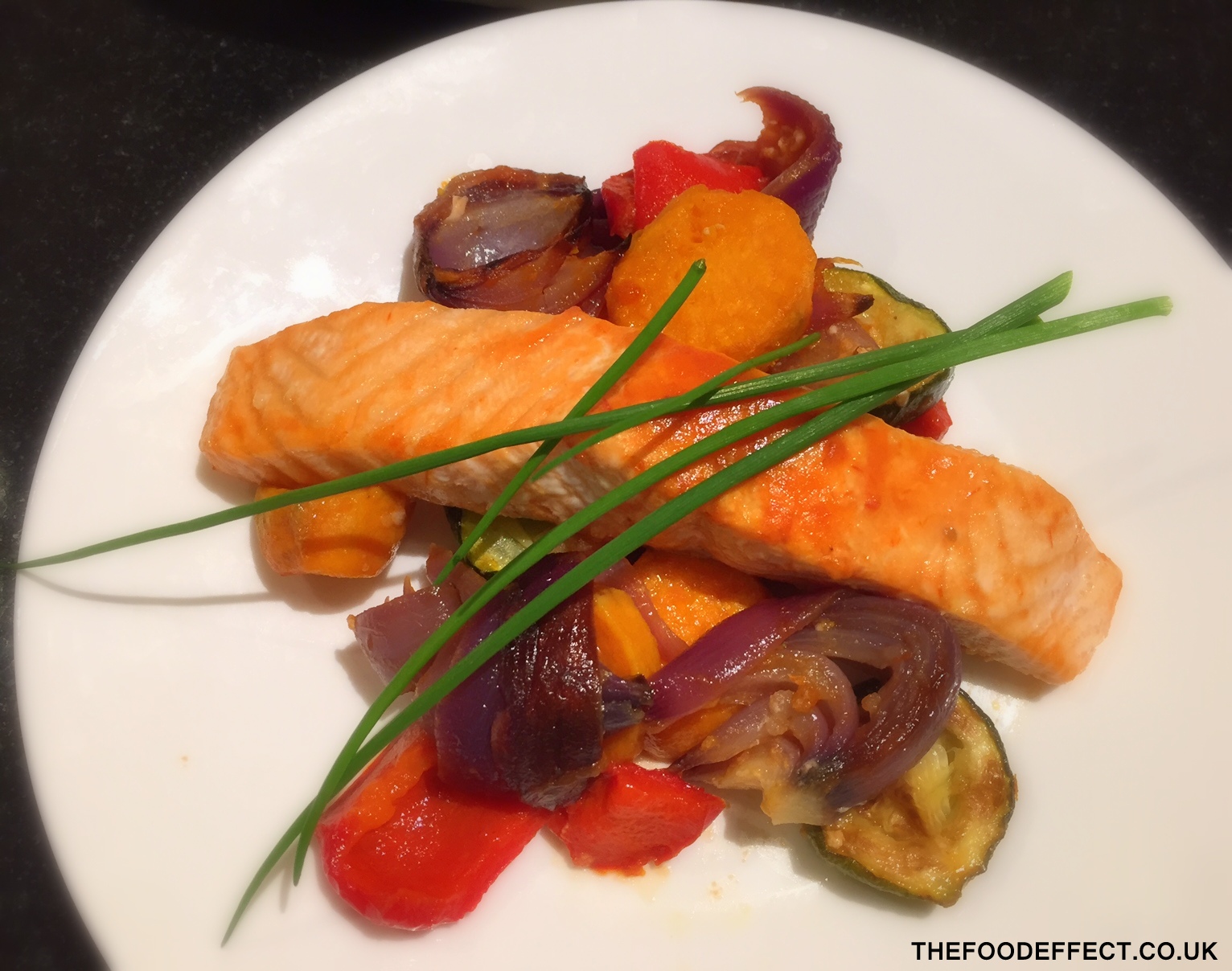 Recipe
Serves 4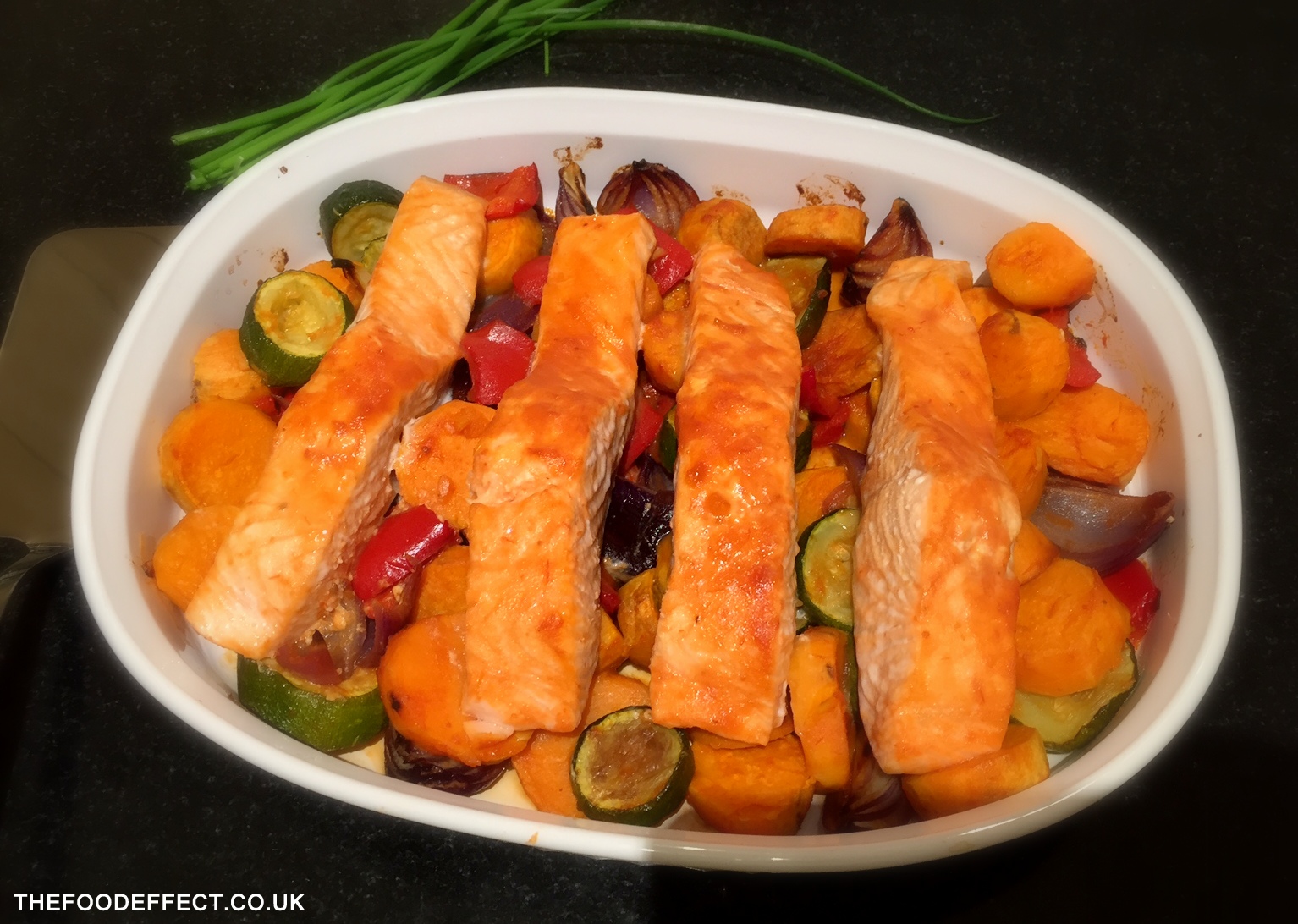 Ingredients:
2 red onions, skinned and cut into wedges
2 red peppers, de-seeded and cut into 2cm squares
2 medium zucchini, cut into 2 cm slices
4 small sweet potatoes, peeled and cut into 1cm slices
4 salmon fillets
1 tablespoon canola/ sunflower oil
Sauce:
5 Tablespoons passata or finely chopped tomatoes (can use canned)
1 Tablespoon soya sauce
1 Tablespoon agave syrup
1 Tablespoon apple cider vinegar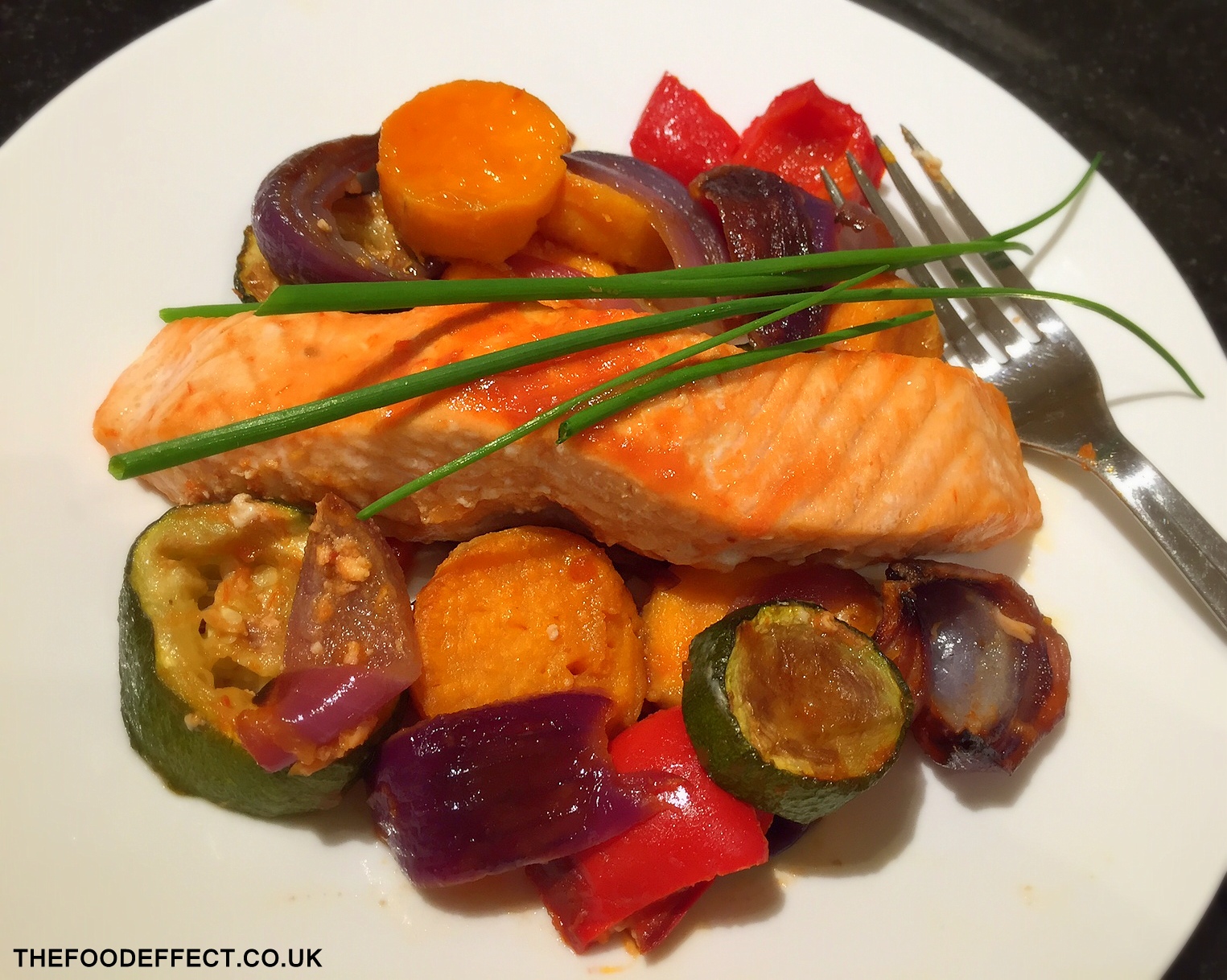 Directions:
Mix sauce ingredients together and season with salt and pepper, according to taste.
Preheat oven to 200°C.  Line a large baking sheet with foil.  Prepare all the vegetables and place in a large bowl with the oil, and toss to coat.  Place the vegetables in a single layer on the baking sheet and roast in the oven for 30 minutes.  Remove from the oven and place the cooked vegetables into a medium sized roasting dish.  Dip each piece of salmon into the prepared sauce to coat. Tip any remaining sauce over the vegetables and mix.  Place the coated salmon fillets on top of the vegetables.  Place the roasting pan into the preheated oven.  Bake for 15- 20 minutes.  Garnish with fresh chives or any other herbs to serve (optional).  Enjoy! 🙂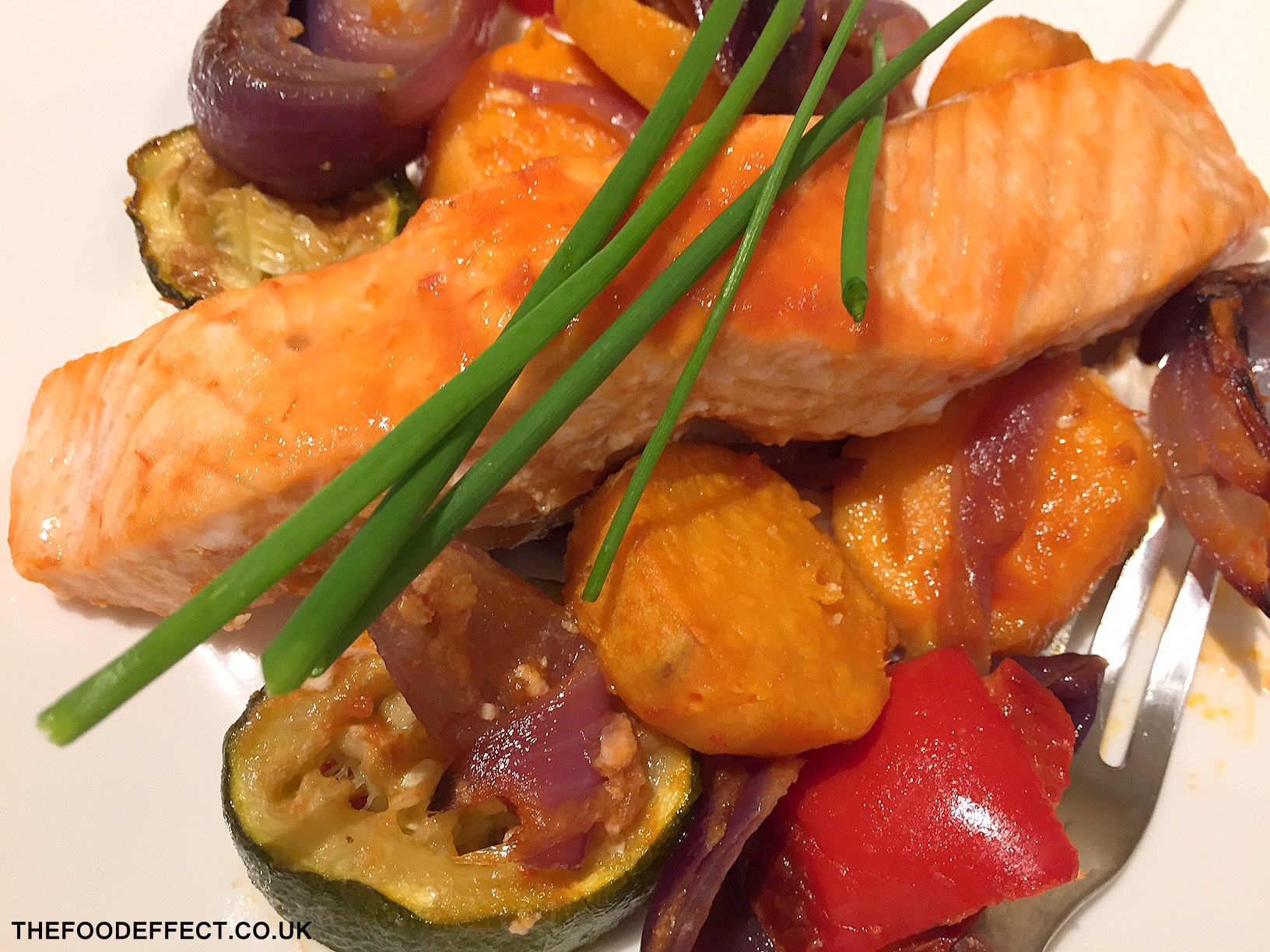 Leave a Response
You must be logged in to post a comment.