Scrumptious Salmon Salad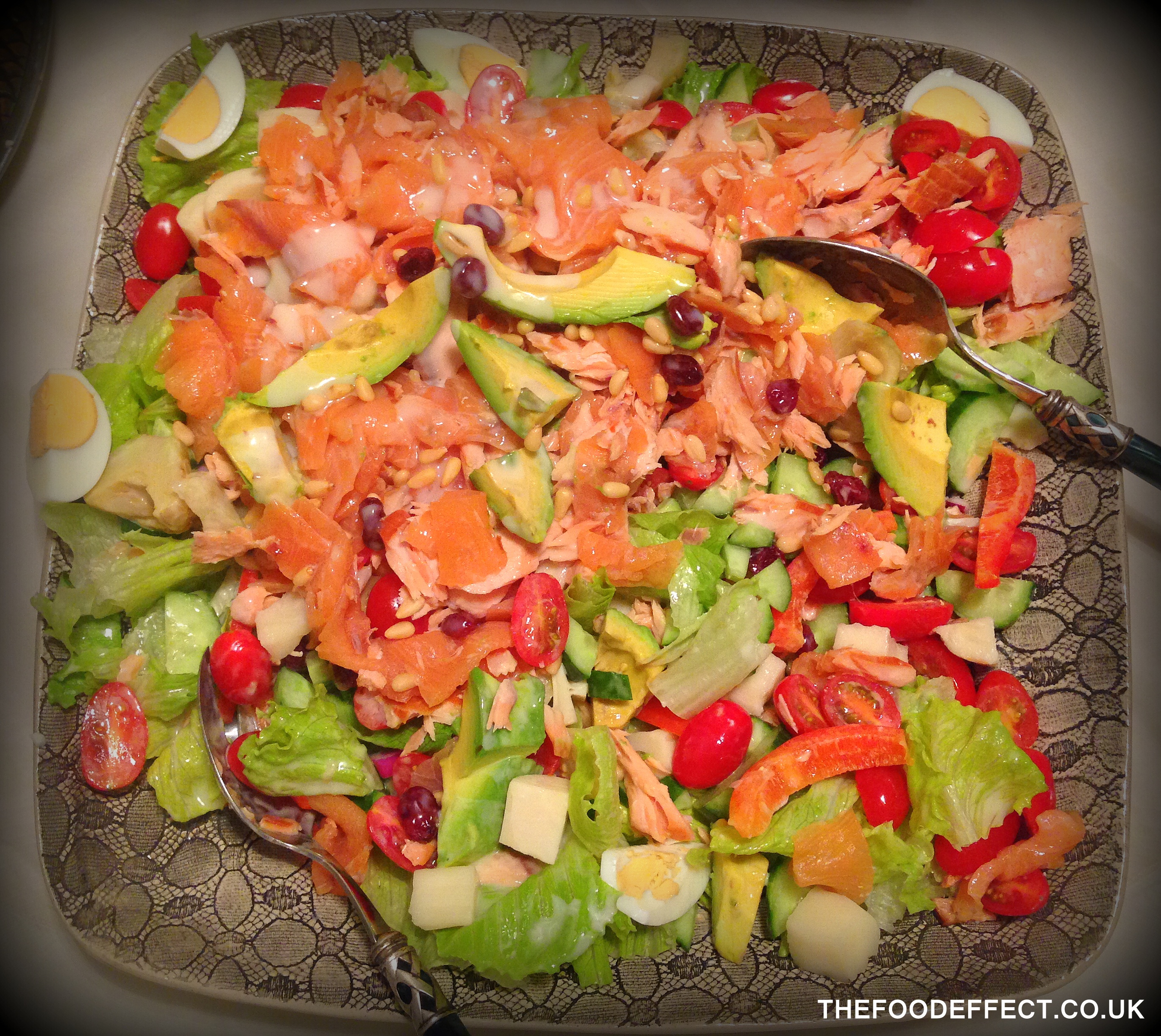 This salad is an absolute winner and gets polished off every time I serve it – despite its mammoth size!  Despite its lengthy list of ingredients, it's actually extremely quick and easy to prepare, and perfect if you have leftover cooked salmon – all that's then required is some chopping and dicing!
Boasting an array of vitamins, minerals, fibre and anti-oxidants from all the raw fresh veggies, as well as the dried cranberries (high in anti-oxidants), protein from all the fish, and heart-healthy, skin-glowing fats from the avocado, salmon and pine nuts, this salad is packed full of nutritional goodness and is waist-line friendly too (of course!).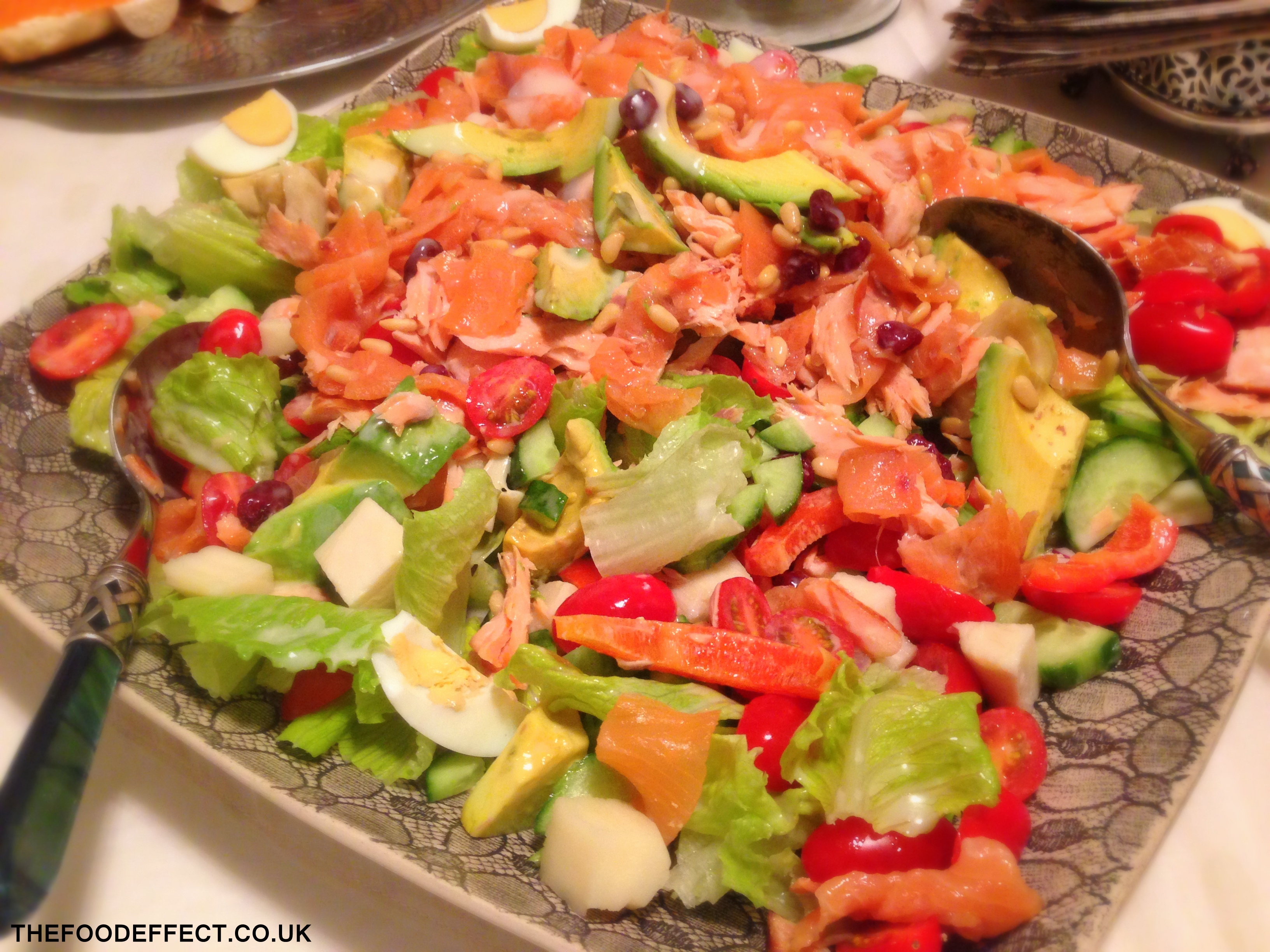 Salmon is, perhaps, the ultimate nutritional superstar of fish.  It's an excellent source of protein, potassium, selenium, Vitamin B12, iron, niacin and phosphorus, and is one of the most beneficial health-wise because of its exceptionally high content of omega-3 fatty acids.  It's been shown to help protect against heart disease, Alzheimer's disease and many forms of cancer and in addition to helping keep your heart ticking along nicely, the omega-3 fatty acids in salmon also help improve your ratio of lean muscle to fat and give you gorgeous glowing skin!
The perfect salad to serve as a starter for a dinner party, or when having friends round for lunch, it goes down equally as well as part of main course.  Serve it with a grain-based dish, such as a brown rice, quinoa salad or some roasted sweet potatoes and a few salads, or some healthy whole-wheat noodles with a simple sauce, such as Asian style "sesame noodles" or a classic tomato pasta sauce.  This scrumptious salmon salad has so much going on, it's guaranteed to be the star of the show – whichever way it's served! 🙂
Recipe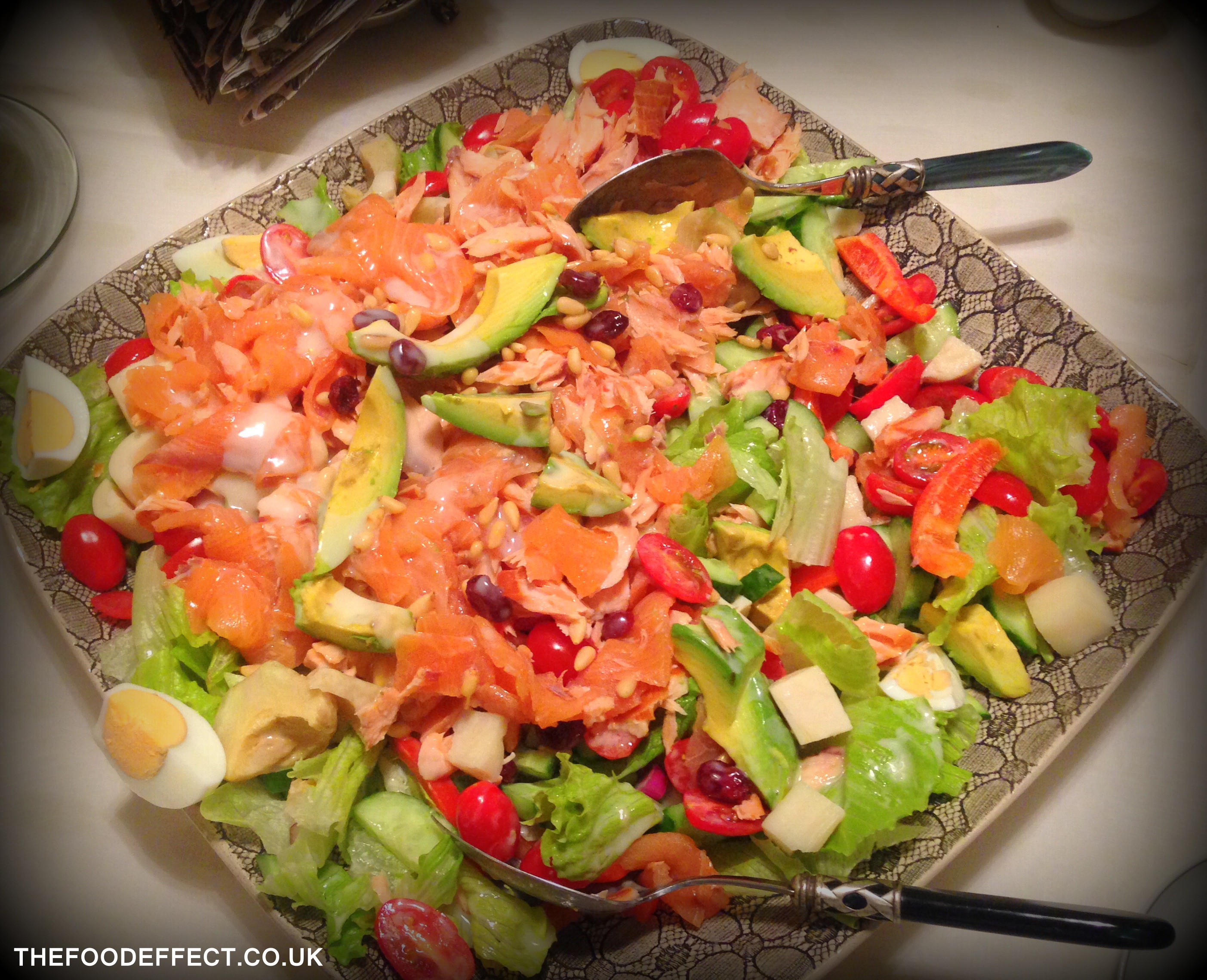 Serves 10-12 people as a starter or side dish.
Ingredients
3 romaine lettuce hearts (or any salad greens), washed and torn in pieces
250g cooked salmon, flaked
500g smoked salmon, cut into strips
1 cup cherry tomatoes, halved
1 cucumber, diced
1 red pepper, sliced
1 yellow pepper, sliced
1 tin hearts of palm, sliced
1 tin artichoke hearts, cut into quarters
2 avocados, diced
Sliced black/ green olives (optional)
Few handfuls (~ ½ cup) dried cranberries
1/4 cup pine nuts
2-3 boiled eggs, cut into quarters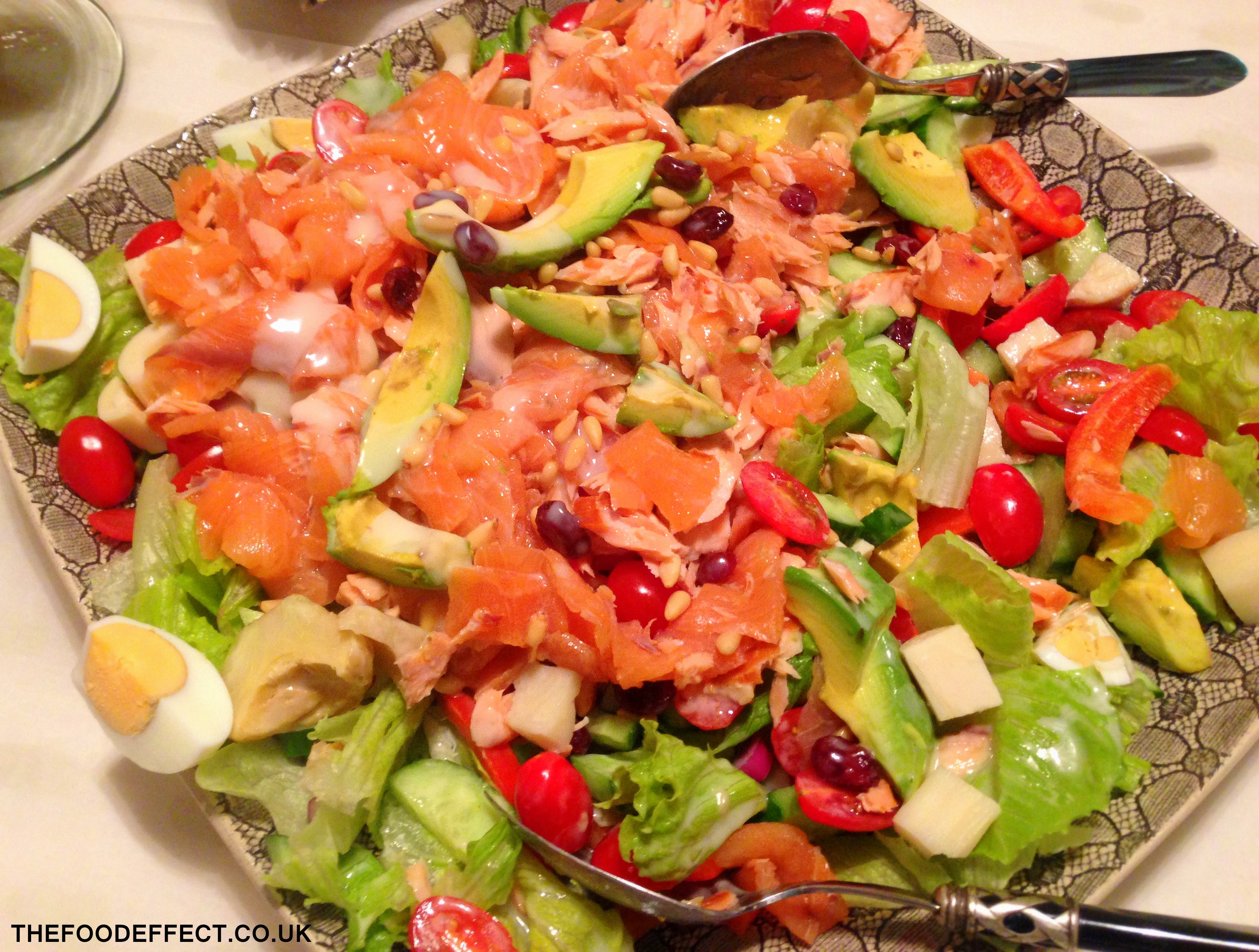 Dressing
1/2 cup light mayonnaise
1/3 cup agave syrup
2 Tbsp. Apple Cider Vinegar
1 Tbsp. Extra virgin olive oil
1 tsp. regular mustard
1/2 tsp. salt
1/8 tsp. garlic powder
Directions
Shake all the dressing ingredients together well in a jar.  Allow to sit and shake again.
Place lettuce/ salad greens at the bottom of a large salad bowl or platter.  Add all the chopped vegetables on top.  Add the diced avocado.  Top with cooked flaked salmon and smoked salmon, and garnish with boiled eggs.  Sprinkle over the dried cranberries and pine nuts.  Pour dressing over right before serving and toss through to coat.  Tuck in and enjoy! 🙂
Leave a Response
You must be logged in to post a comment.