The Food Effect Method Program
Dr Michelle helps people nourish their bodies, so that they can lose weight for life, look and feel their best, without calorie counting, hunger or restrictive dieting.
The Food Effect Method Program 
Lose weight without losing your mind! 
For anyone who wants to optimise their weight and health.
The Food Effect Method will give you the tools to lose weight for life, look and feel your best – without calorie counting, hunger, or restrictive dieting. 
It's designed to teach you how to nourish your body, achieve your ideal weight, and glow from the inside out, in just 90 days.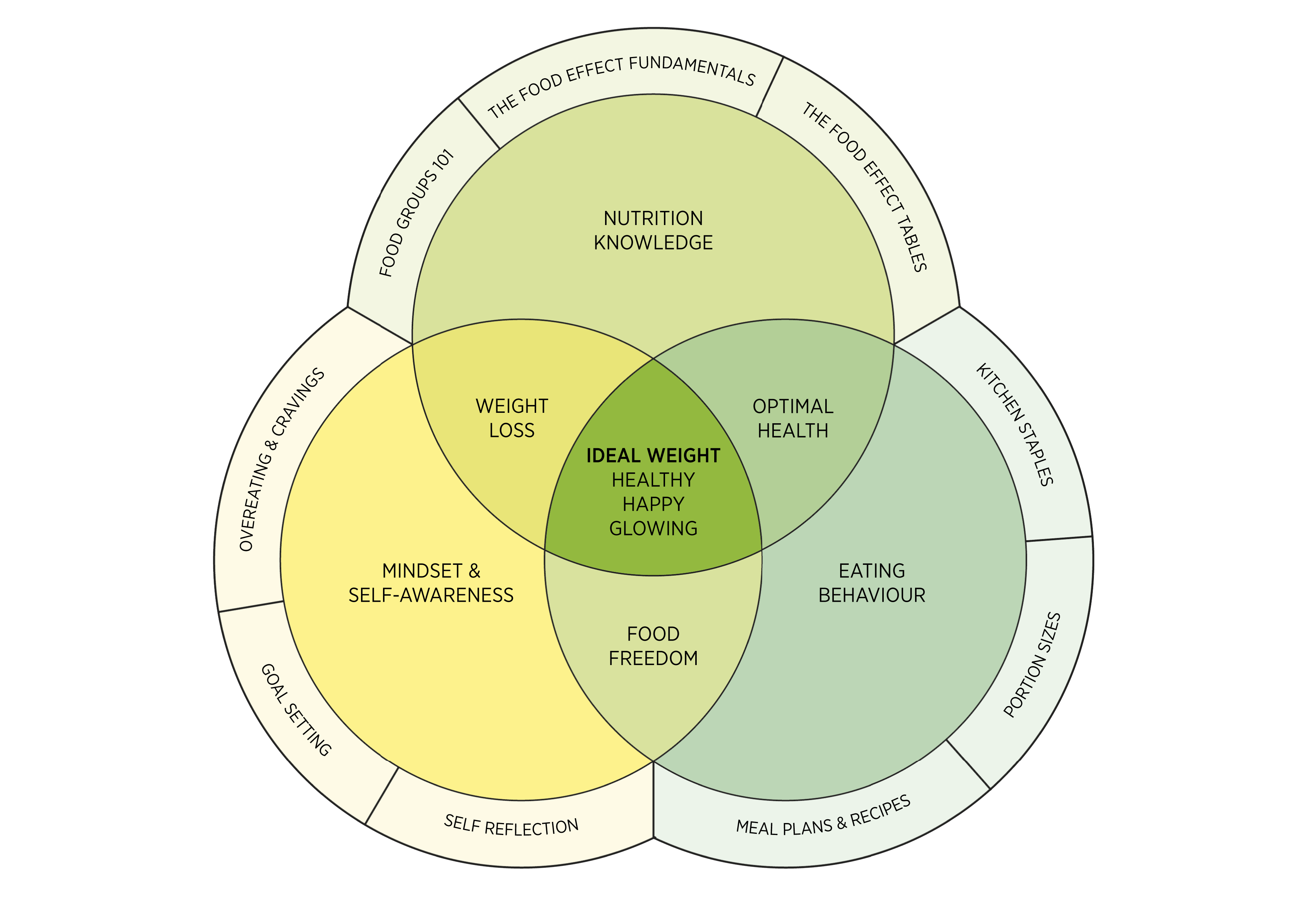 It will include:
Detailed health questionnaires and a food diary for you to complete in advance of your initial appointment, followed by:
An initial one-hour Deep-Dive Consultation (online) with Dr. Michelle, including:

– A detailed review and analysis of your completed health questionnaires – including review of any recent blood test results and/ or medical investigations (if relevant).
– Full medical and lifestyle history
– Discussion around all factors contributing to current weight, health and overall well-being (exercise, sleep, stress management, etc.)
– Discussion around weight, height and various other measurements used for all relevant indices and calculations after the appointment – and a full explanation of the science behind The Food Effect Method.
– A detailed discussion of your 3-day food diary, your current dietary intake (a typical day's eating), your eating habits, schedule, lifestyle, preferences, and aversions – so that all advice can be tailored accordingly.
– Discussion around personal struggles and how your lifestyle and schedule impacts your eating habits, so that advice can be given on overcoming any potential obstacles.
– Personalised Goal Setting – detailed discussion and guidance (as well as self-directed work to follow-on from this).
You will also receive:
The Food Effect Method Starter Pack to get you going right away, including:

– The Food Effect "Effect of Foods" Tables – clearly structured, comprehensive tables to guide you on what to EAT, what to BE CAREFUL of, and what to STAY AWAY from when eating – to free you from calorie counting, macro tracking and fad diets for life!
– The Food Effect Fundamentals – all Dr. Michelle's top tips for healthy eating and weight loss that lasts a lifetime!
– The Food Effect "Rules" (don't let the name fool you, these will free you from struggling to lose weight for life!)
– The Food Effect Kitchen Staples and Recommended Products List
Together with a full explanation during the appointment (and resources for after), on what they mean, how to use them, and how they will change the way you eat for life.
Following your appointment:
Dr. Michelle will spend several hours reviewing all the findings from your forms and the consultation, and you will receive:
– Report of clinical findings – all your measurements, calorie requirements and basal metabolic rate calculations detailed and explained (but NO calorie counting involved!)
– Dietary recommendations – designed according to your basal metabolic rate (BMR) and activity levels to ensure you achieve your goals
– A huge array of Menu Options for breakfast, lunch, supper and snacks  – delicious, healthy, satisfying and all super simple! (Vegan and non-vegan options available).
– The Food Effect Method Meal Planner – with guidance on how to best plan your meals and snacks for each week.
– Plenty of variety to keep things interesting!
– Recipes – 100's of delicious, easy, Food Effect friendly recipes.
– Supplement advice and recommendations.

– Goal setting workbook – to ensure you achieve your desired outcome.
– Confronting Your Fears workbook – guided work by Dr. Michelle to let go of limiting beliefs and patterns that are keeping you stuck in all areas of life.
– The Food Effect Affirmations pack – written by Dr. Michelle for enhanced results and long-lasting change.
– Access to The Food Effect Private Watsapp group (optional) – providing an engaging community of like-minded women all on a journey to look and feel their best selves. Connect with Dr. Michelle and others for additional support and accountability, as well answers to any questions you might have, feedback on your progress, and daily inspiration by others sharing their wins (and struggles!)
– High level accountability, guidance and support from Dr. Michelle all along the way.
– Fortnightly Progress Calls (half-hour consultation)
– Advice to ensure your healthy habits and changes last a lifetime.
Dr Michelle is also on hand throughout the program via Watsapp or email, to answer any questions and provide ongoing support on your journey.
If you'd like to contact Dr Michelle please get in touch via the CONTACT PAGE or email: michelle@thefoodeffect.co.uk if you have any questions, or would like to book in!
You can also BOOK A FREE DISCOVERY CALL with Dr Michelle to find out more about The Food Effect Method Program here: https://thefoodeffect.youcanbook.me