Skin Glowing Butternut Squash, Avocado & Feta Salad with Creamy Dreamy Tahini Dressing
This is possibly my all time favourite salad (and I've made many in my time!)  It's packed with all my favourite ingredients that are not only totally delicious, but are also full of all the right nutrition to give you healthy glowing skin – so you glow from the inside out!
It's also so perfect as we head into the colder months, when you don't necessarily feel like eating cold lettuce, cucumber, tomato type salads for a meal but still want something healthy.
This salad is hearty and comforting, but still totally waist-line friendly!
It's also loaded with so many nutrients that have incredible health benefits…
The creamy dreamy tahini dressing is literally heaven!
I could just eat it out the jar with a spoon (& I won't deny that I do that!) I highly recommend making it (and doubling it!) even if you don't make the salad just yet. I always have a jar of it in my fridge. You can use it on all salads, roasted veggies, falafel balls, Buddha Bowls, and lots more! It's totally delicious!!
Tahini is one of my all time favourite foods and ingredients to use in cooking. It's made from pure sesame seeds and packed with protein, calcium and healthy fats. It's actually a richer source of calcium than milk or dairy, so a great one to incorporate into your diet if you're dairy-free or vegan.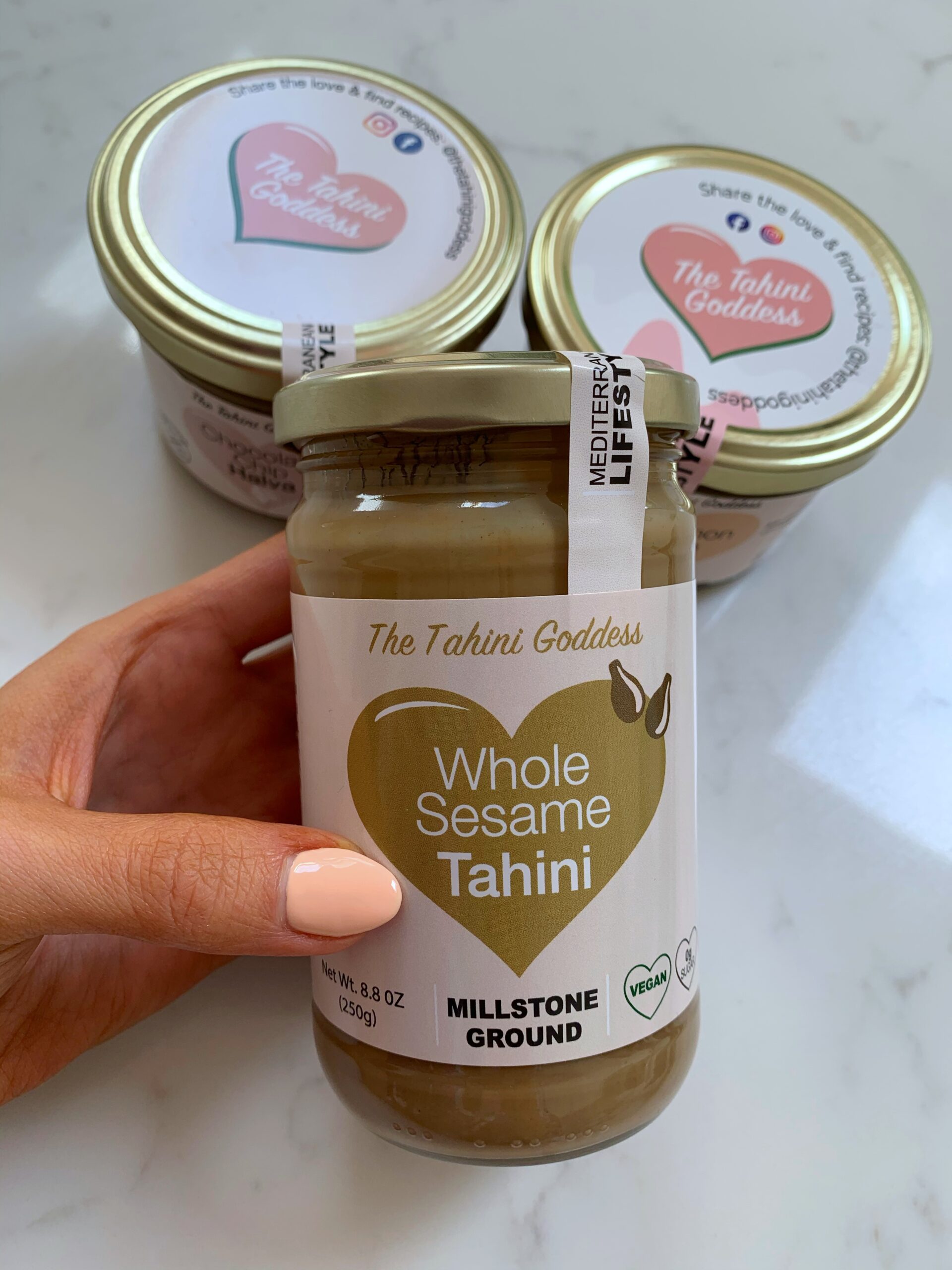 Butternut squash – is packed full of Vitamin A in the form of beta-carotene, Vitamin C, B vitamins, potassium and fibre. A nutrient combination that is amazing for glowing skin, gut health, immunity and so much more! Carotenes, have also been shown to have a protective effect against many cancers.
Note: Vitamin A is a fat soluble vitamin, meaning you need some fats with it for it to be absorbed. So this recipe is perfect as the healthy fats from the tahini dressing (as well as the avocado, feta and olive oil) maximise absorption of all the wonderful nutrients in the ingredients, and really help keep you full and satisfied too!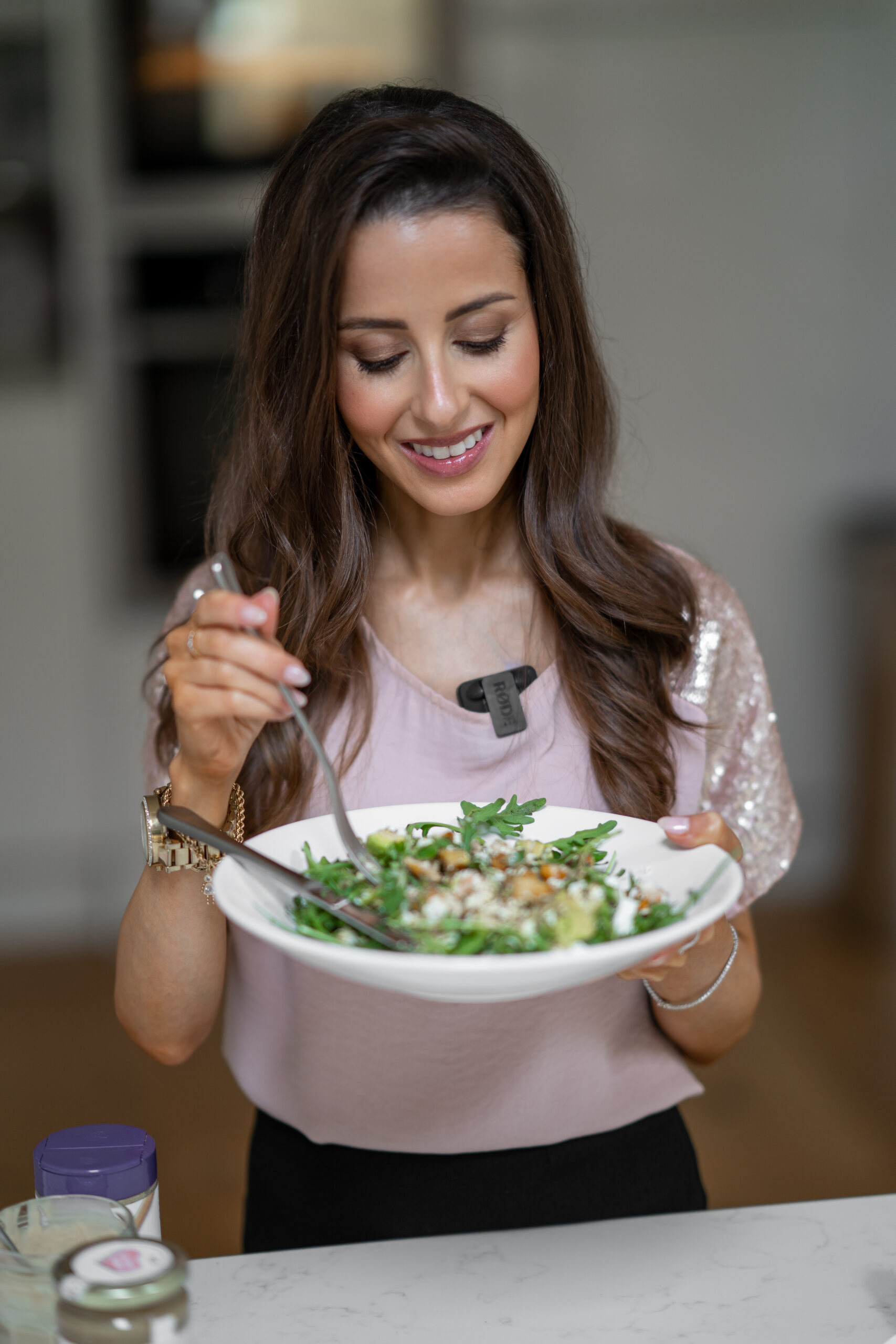 Avocado – rich in healthy monounsaturated fats amazing for glowing skin, and also for heart health. Avocados are also rich in potassium which helps to lower blood pressure.
Feta cheese – high in protein and calcium, both important for healthy bones, skin, hair and nails. If you're dairy-free or vegan you can use vegan feta instead.
Because this salad packs in so many nutrients and the perfect combination of protein, fibre and healthy fats, this salad makes a great meal on its own – whether for lunch, or supper, or it's great to serve when entertaining alongside grilled salmon for example, or even paired with veggie burgers or falafel, or as part of a buffet style spread with other salads – all so delicious!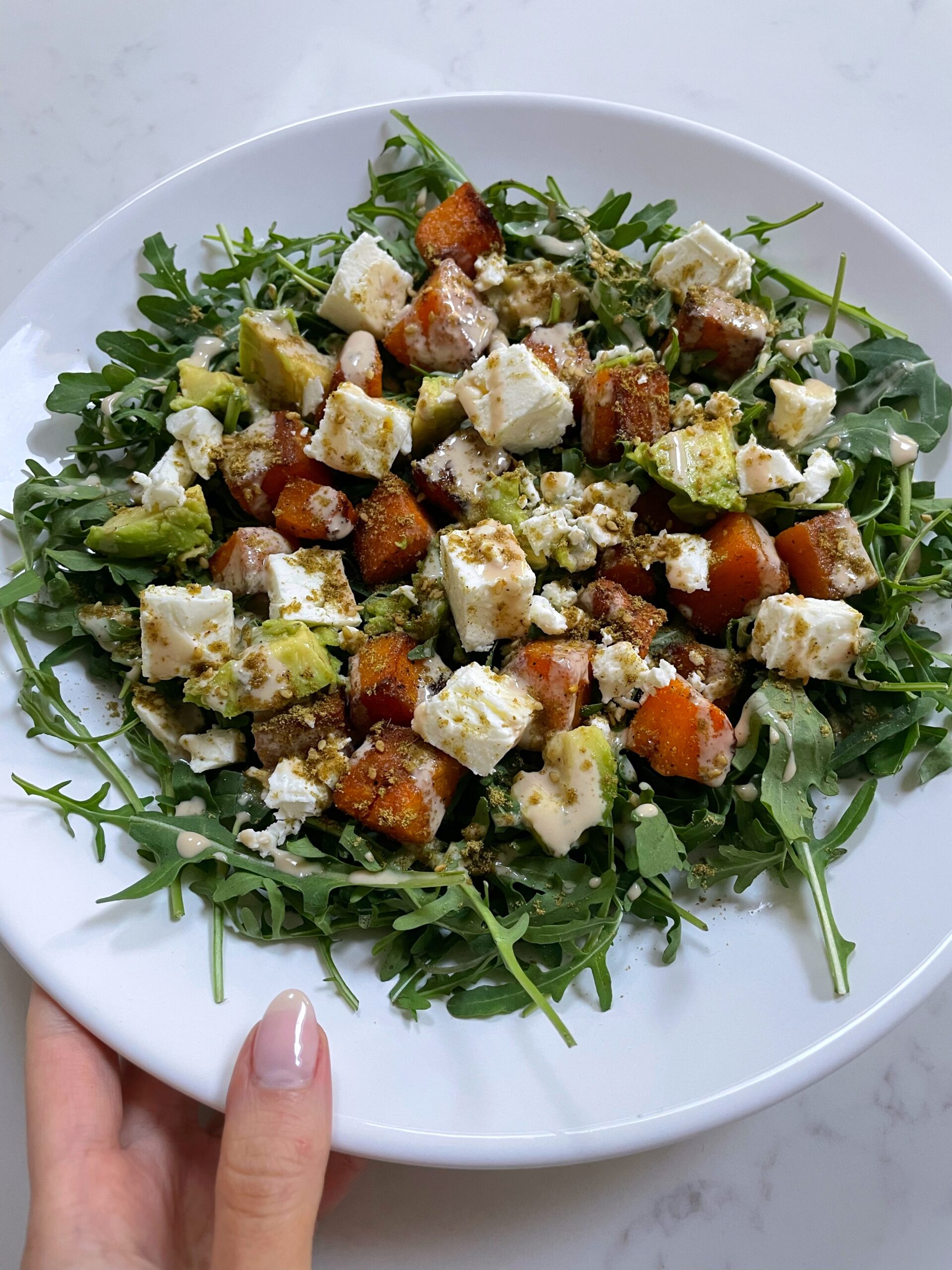 Recipe
Serves 4 as a main (6 as a side dish)
1 medium size butternut squash (around 1kg in weight whole), peeled and chopped into bite-size chunks, or 800g ready peeled and diced butternut squash
2 Tbsp. olive oil
Salt and black pepper
1 tsp. garlic powder
2 avocados
160g feta cheese
200g fresh rocket (arugula) and/ or baby spinach leaves
Za'atar seasoning – to serve
Optional extras: chopped walnuts, toasted pine nuts, roasted pumpkin seeds, black olives, pomegranate seeds
For the dressing:
1/3 cup tahini (I love this one)
2 Tbsp. lemon juice (juice of 1 small lemon)
2 Tbsp agave syrup
½ tsp. salt
4 Tbsp. water (more to thin, if still too thick)
Method:
Preheat the oven to 200ºC / 400ºF fan oven. Place the diced butternut squash onto a baking tray lined with baking paper. Drizzle with olive oil and season generously with salt and black pepper, and the garlic powder. Toss well to coat. Bake for around 30-40 minutes until soft and golden on the edges. Allow to cool.
Peel and chop the avocados into small cubes. Dice the feta into cubes.
Mix together the dressing ingredients in a jar or medium size bowl, stir vigorously (it will thicken and "come together") until it's creamy and smooth (the consistency of runny honey).
To Assemble:
Pile the rocket / spinach leaves onto 4 plates (or one large serving bowl) top with the avocado, feta and roasted butternut squash. Drizzle with the dressing. Season generously with Za'atar. Top with any of the optional extras. Toss to coat. Serve and enjoy!
How to store:
If you want to make this ahead of time, you can assemble everything except the dressing, so it doesn't go soggy – make the salad ahead of time and store the dressing in a jar. I also recommend making extra dressing as it's so delicious on EVERYTHING and stores well in the refrigerator up to 7 days.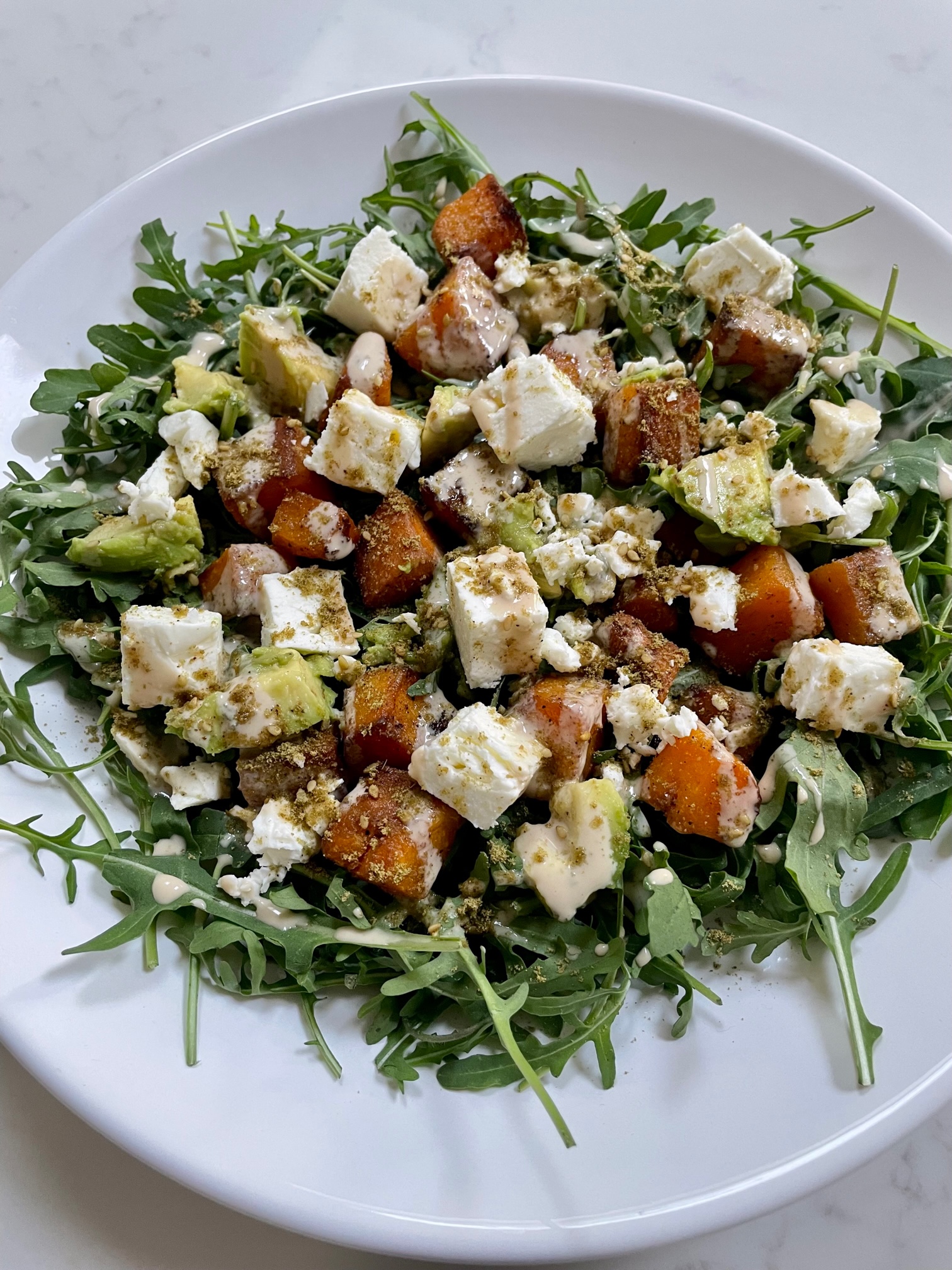 Comments are closed.