THE FOOD EFFECT SWEET & SPICY NUTS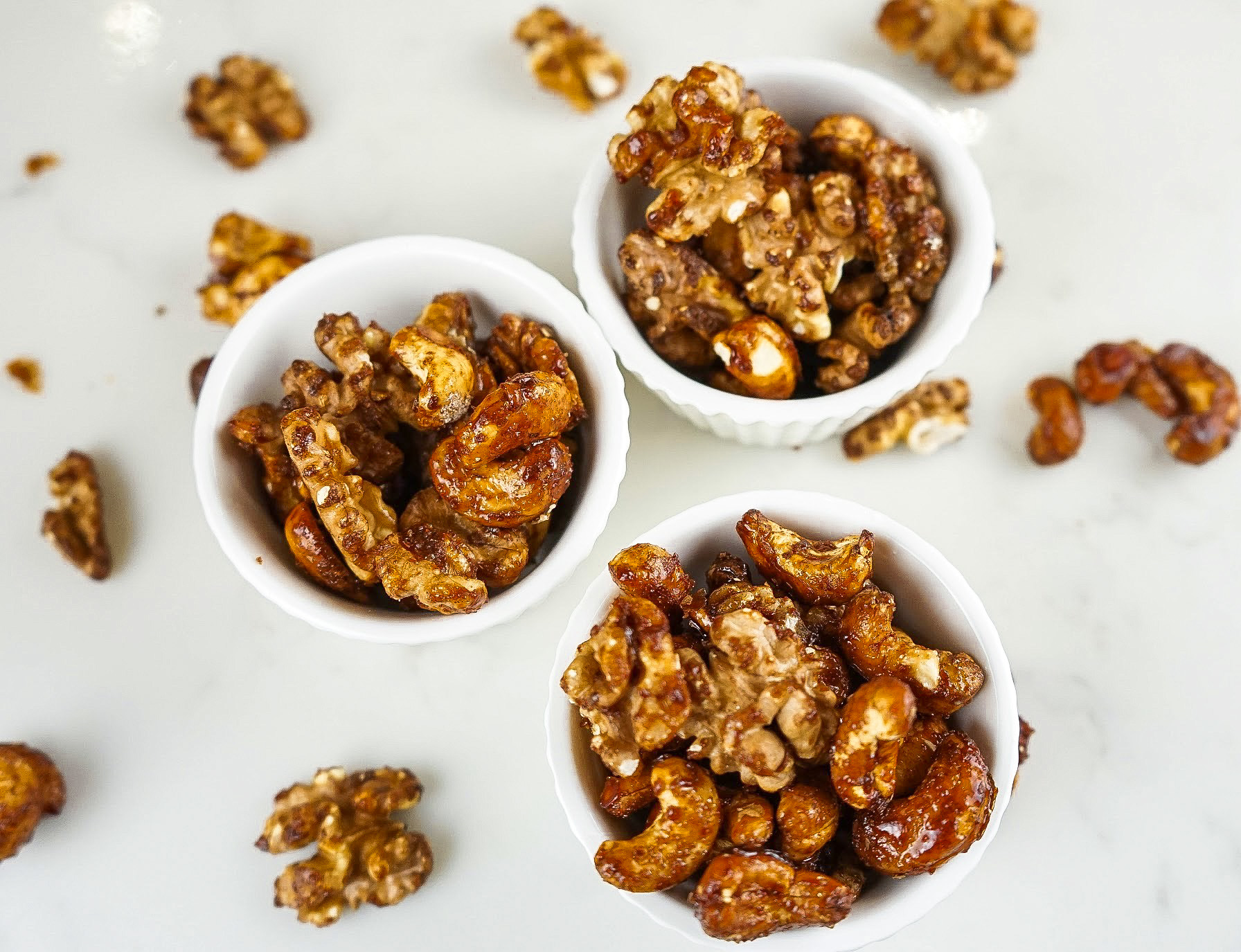 There's something very festive about these Sweet & Spicy Nuts, making them just perfect for the holiday season (and all year round, in fact!).  Whilst admittedly they are somewhat addictive (aren't all nuts?!), the subtle combination of sweetness and spice makes them satisfyingly filling at the same time.  And better yet, they are super easy to make!
Perfect for a special occasion, pre-dinner nibbles, a gorgeous home-made gift (pop in a jar & tie a ribbon round!), or just to have on hand to snack on, they're sure to please both the health-conscious and those with a sweeter tooth amongst you, who may all be tested at this time of year with the unhealthy abundance of sweets, chocolates and other naughty nibbles that seem to be everywhere!  These delicious nuts will definitely help keep your healthy habits on-track over the "challenging" festive season; and being gluten-free, dairy free, and vegan makes them even more of a great choice for guests and/ or gifts alike!
Packed with protein, healthy fats, super nutrients (skin glowing Vitamin E) and spices, these nuts make the perfect snack to keep you going throughout the day.  They're also full of good fibre to promote satiety and stable blood sugar levels, and won't leave you hungry and lethargic shortly after (as many highly processed sweet or salty snacks do!).  They also make an ideal post-workout snack, with just a handful or two giving your cells and muscles the perfect dose of protein and healthy fats they need to recover and regenerate.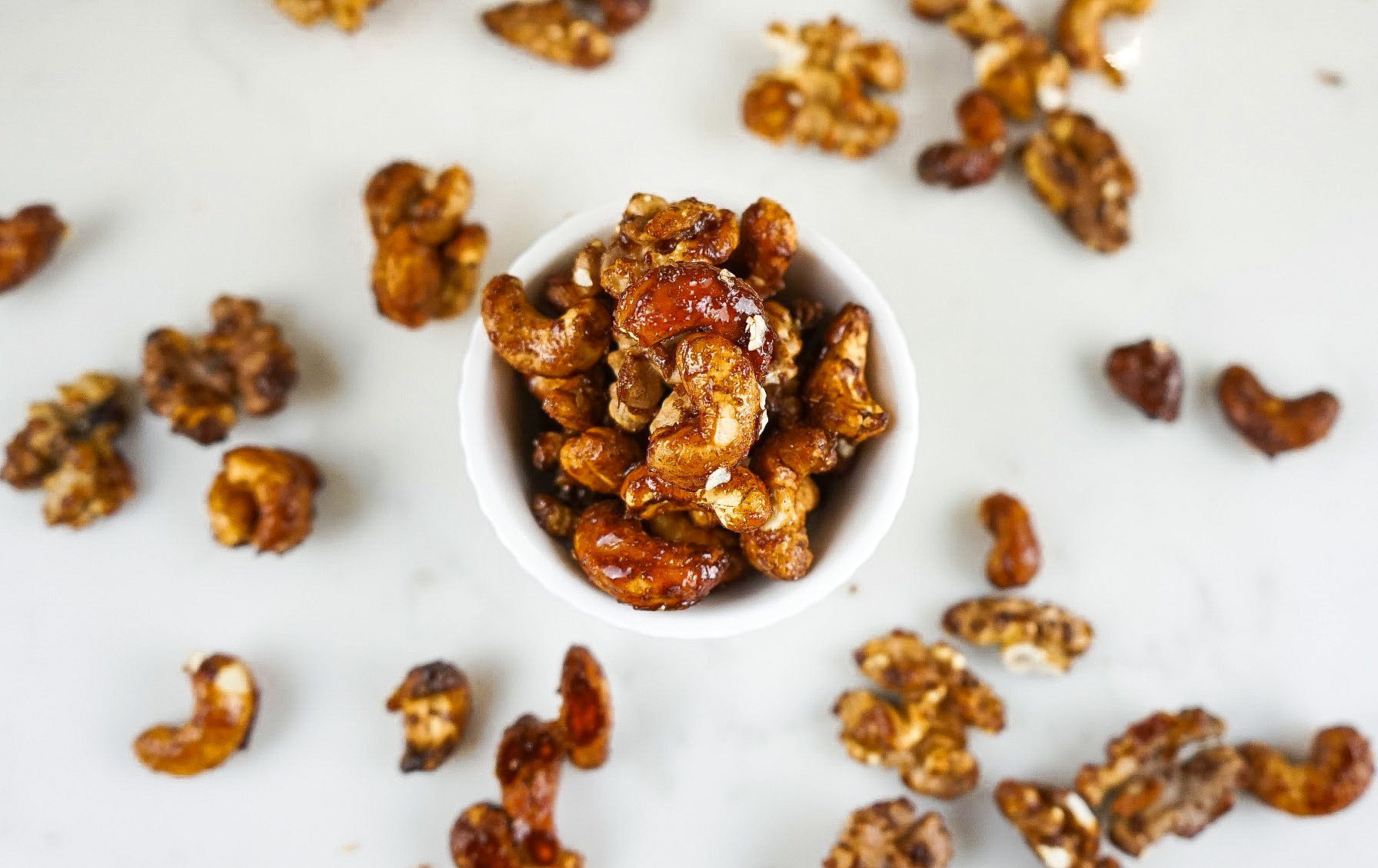 Almonds and cashews – like all nuts – are super healthy, and eating them can actually help you stay slim! (You can read about this in more detail in my Nuts about Nuts post HERE). Adding a little agave syrup to this recipe, which requires absolutely no added oil (!), adds low GI sweetness with minimal excess calories, and all the added spices each bring their own health benefits too …
Cinnamon (my all-time favourite!) has been shown to help promote stable blood sugar levels, as well as reduce the risk of diabetes. One recent investigation of people with type-2 diabetes showed a significant reduction in fasting blood glucose, triglycerides, LDL (bad) http://premier-pharmacy.com/product-category/womans-health/ cholesterol and total ultram cholesterol, in those who consumed cinnamon daily for 45 days, compared to no clear changes in those who did not consume cinnamon!
Chili (my other all-time favourite!) has been proven to boost metabolism and promote fat-burning, as well as display many other disease-fighting effects.
Cumin has been noted to benefit the digestive system, and research in animals indicates that cumin may stimulate secretion of pancreatic enzymes, important factors in proper digestion and nutrient assimilation.  Another animal study also showed cumin to protect against the development of stomach and liver tumours.
For those with a less spicy palette, these nuts are easily adaptable, tasting just as delicious with the omission of cayenne pepper/ chili powder.  Even without the spice, the combination of flavours serves to liven up any plain nuts – a perfect way to get kids to eat nuts (think fibre, protein, healthy fats, vitamins, minerals and nutrients galore!), who might otherwise not find the "natural" appeal of plain raw almonds and cashews too enticing! 🙂 And if you don't like almonds or cashews, you can use any other nuts you fancy, such as walnuts, pecans or macadamias.
These Sweet and Spicy Nuts store well in an airtight container for several days (up to a week).  I highly recommend keeping a small Tupperware of these in your handbag, car, or desk drawer, to have on hand when those mid-afternoon hunger pangs or sugar-dips strike.  You'll go nuts for these nuts… trust me! 🙂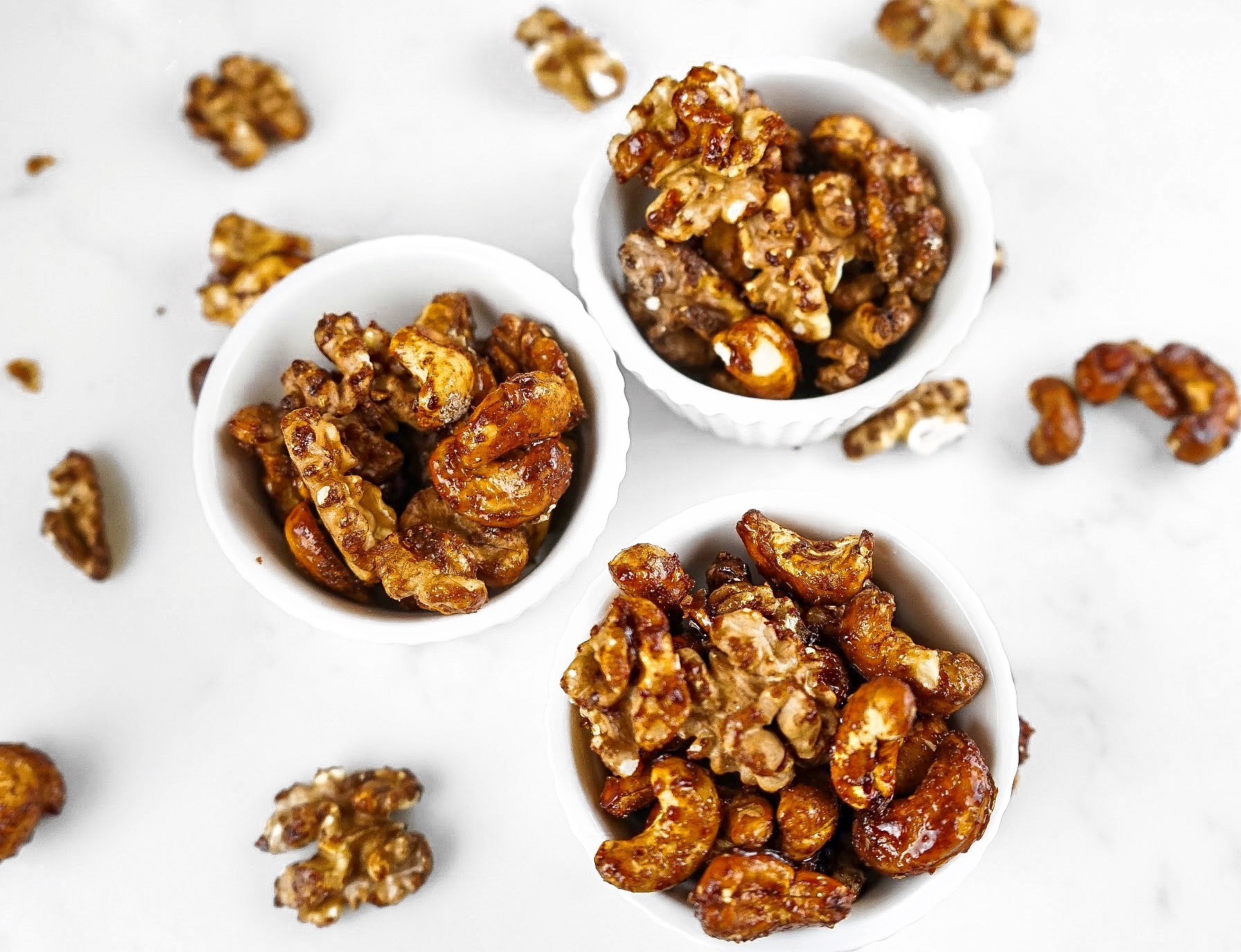 Recipe
Makes 8 servings
2 cups raw cashews or almonds or walnuts (or any combination of these)
1/4 tsp. cayenne pepper
4 Tbsp. agave syrup
1 tsp. cinnamon
¼ tsp. ground cumin
1 tsp. fine sea salt
Pre-heat oven to 180°C.  Line a baking tray with baking/ parchment paper.
In a medium-size mixing bowl, stir together all ingredients apart from the nuts.  Mix together well.  Then add 2 cups nuts of choice, and stir well to coat evenly.
Spread nuts in a single layer onto prepared baking sheet.  Bake for 15 minutes (making sure they don't burn!) until browned.  Nuts will be very sticky when they come out the oven, but will "crisp up" once they've cooled!  Allow to cool completely.  Break apart any clusters.
Store in an airtight jar/ container. Enjoy!  x
Leave a Response
You must be logged in to post a comment.