THE FOOD EFFECT GRANOLA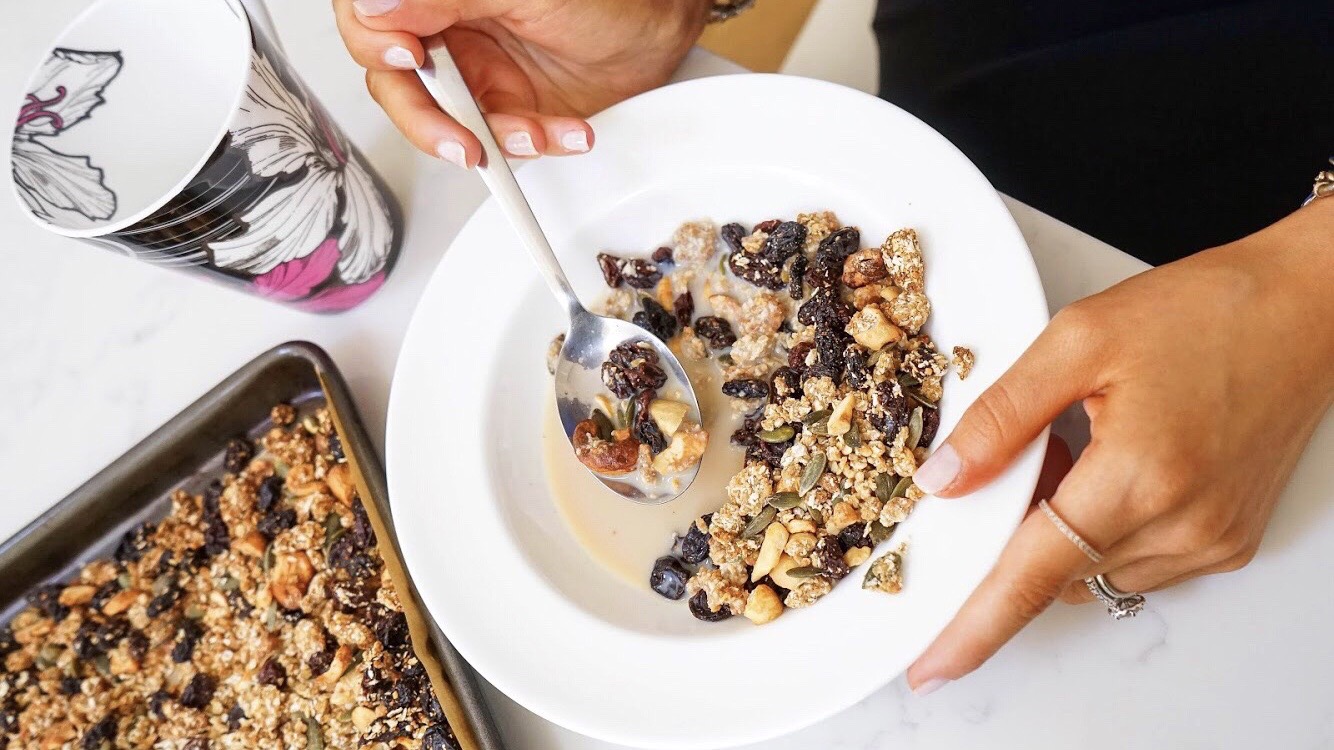 I absolutely adore virtually any variety of granola there is! But I don't love the fact that many are packed with excess unhealthy oils and added sugar (often refined!)
My homemade granola is chock-full of healthy whole-food ingredients that are rich in protein, fibre, antioxidants and a ton of good-for-you nutrients, and no refined sugar.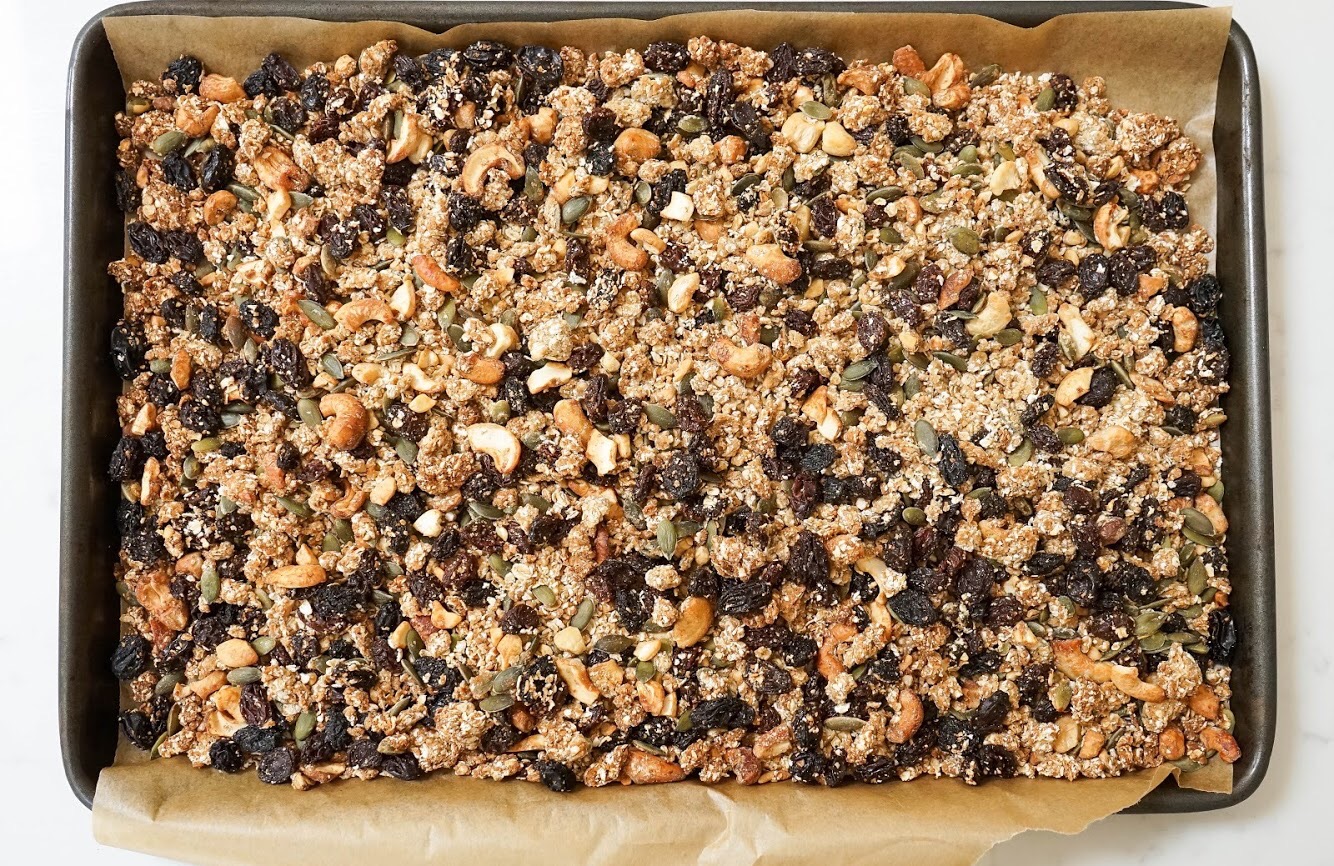 Oats contain endless nutrients (fibre, protein, B vitamins) and a specific type of fibre (beta-glucan) that has been shown to help lower harmful LDL-cholesterol, as well as prevent spikes in blood sugar levels.
Nuts:  I've sung the praises of nuts countless times (see my post: Nuts for Nuts) and cashews, in particular, are my all-time favourite.  They are a good source of zinc, magnesium and potassium, and are packed full of the antioxidant Vitamin E, which supports the brain, heart and respiratory systems and helps keep skin healthy and glowing!  They are also especially rich in cholesterol-lowering mono-unsaturated fatty acids.
Pumpkin seeds are a great source of protein – a 28g serving packs in 8g of protein, and also a great amount of fibre, vitamins, minerals, heart-healthy fats and antioxidants.
I love raisins (which are a great source of iron), but I've also made this recipe with chopped dates, which is totally delicious (and just as healthy) too! So use whichever you fancy.
This is such a versatile recipes that can be enjoyed in so many ways…
Serve it over greek yoghurt with some fresh berries and a drizzle of agave syrup (my fave!)
Eat it like cereal, with milk or non-dairy milk (I love it with almond or cashew milk).
Add it to a smoothie bowl or shake. I sprinkle it onto my protein shakes!
It's delicious on grilled fruit (apples, peaches, nectarines) with yoghurt or coconut yoghurt and honey.
Enjoy as is for a snack any time of day (just make sure you portion it out, as it's highly addictive!) You've been warned 😉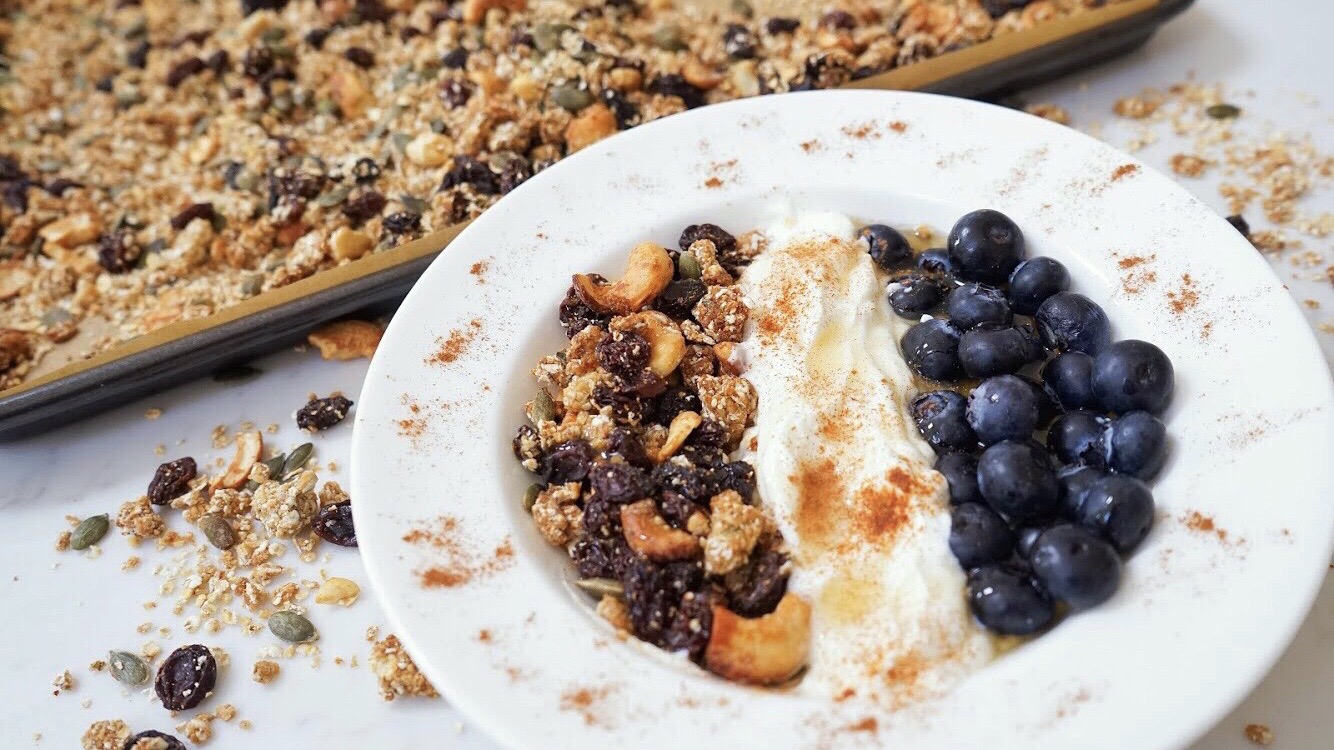 Recipe
250g jumbo rolled oats (not quick cook oats)
100g raw cashew nuts / walnuts / pecan nuts (or a combination), roughly chopped
50g pumpkin seeds
150g raisins or chopped dates
2 Tbsp. coconut oil, melted
½ cup (125ml) agave or maple syrup
1 Tbsp. vanilla extract
2 tsp. ground cinnamon
½ tsp. fine sea salt
Greek yoghurt, coconut yoghurt or milk of choice (skimmed/ almond/ soya milk) to serve
Preheat oven to 170°C (338°F). Line a baking tray with parchment paper. Mix the melted coconut oil, agave or maple syrup and vanilla extract together in a bowl until well combined. Set aside. In a separate bowl combine the oats, nuts, pumpkin seeds, salt, and cinnamon. Mix together well.
Add the liquid mixture to the dry mixture and mix together until well coated. Spread the mixture evenly out onto the lined baking tray and place it in the oven. Bake for 20 minutes until golden, stirring every 10 minutes.  Add the raisins or dates, stir well and bake for another 5-10 minutes.
Allow the granola to cool completely until cold and crunchy. Enjoy however you fancy!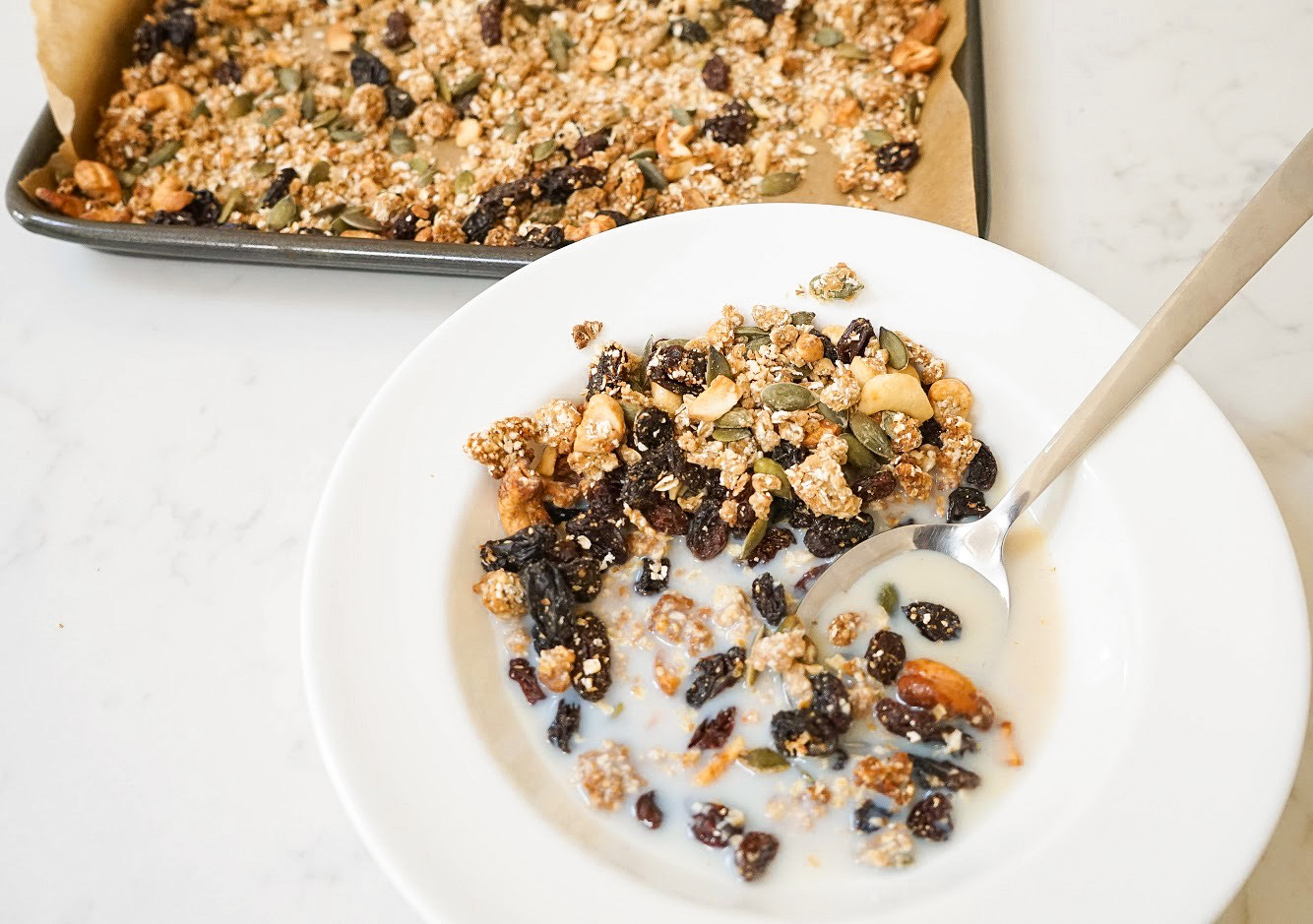 Leave a Response
You must be logged in to post a comment.