The Food Effect Skinny Chicken Salad Deluxe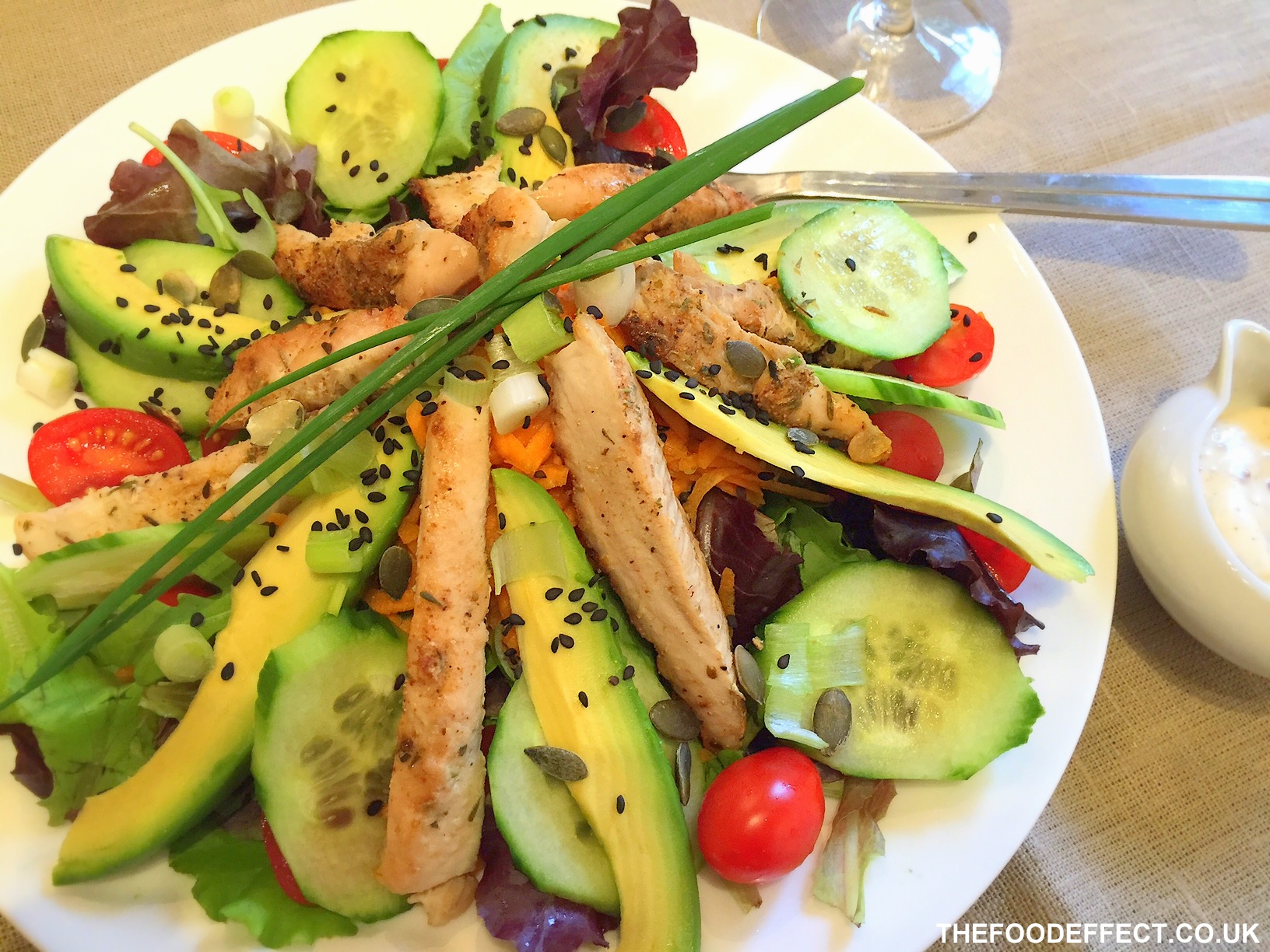 This satisfying salad makes an ideal healthy lunch or light dinner for those either trying to lose weight or stay slim and healthy – without wanting to compromise on enjoying delicious meals!
This protein-packed, fibre-filled salad is as good for you as it is colourful, and delicious.  What's more, with not much to do besides cooking a chicken breast and chopping some veg, it couldn't be easier to prepare!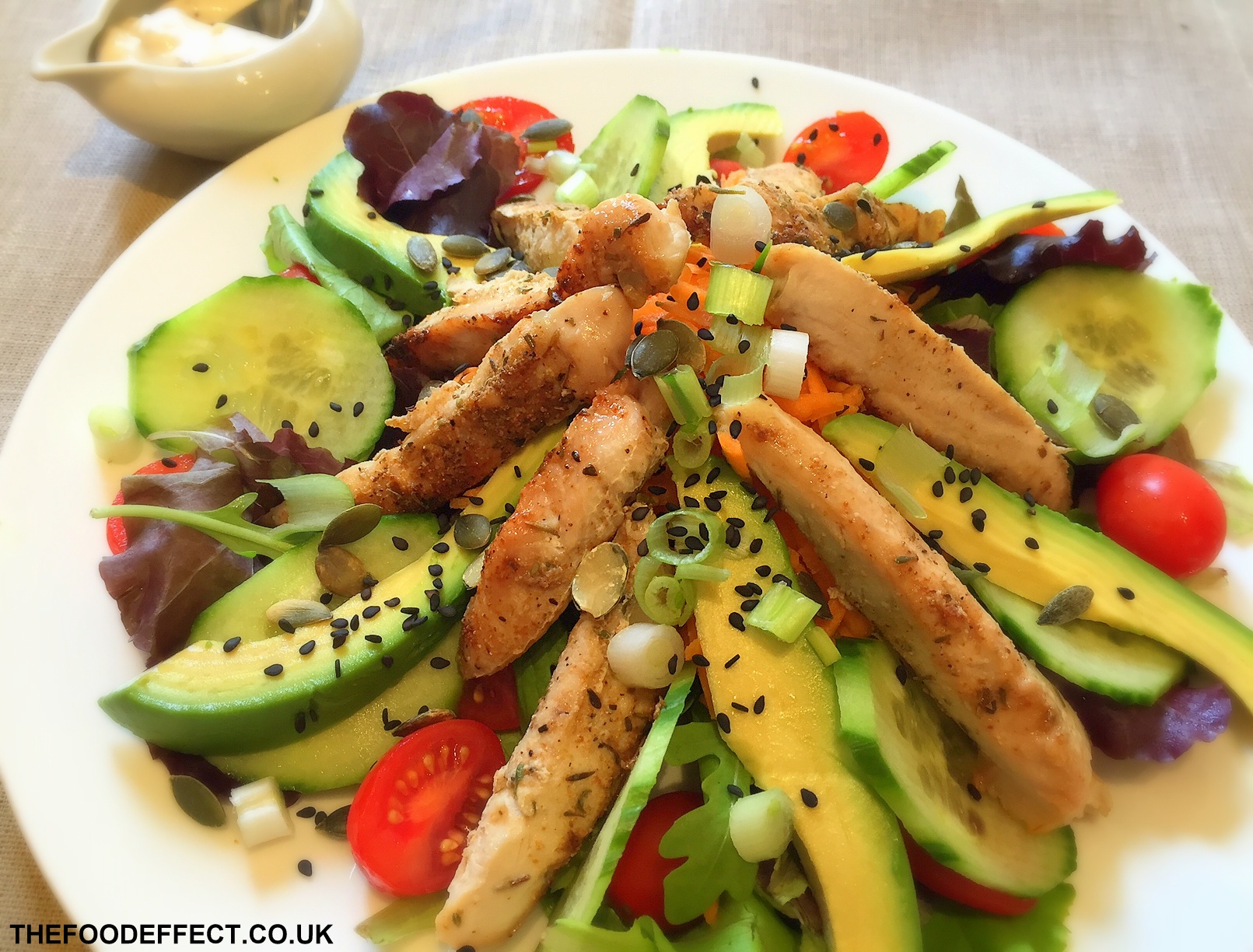 It's also the perfect salad to prep the night before, pop in the fridge, and take to work for a delicious, healthy lunch (just remember to keep the dressing separate until you eat it)!
This hearty, wholesome, salad is also packed with vitamins, minerals and nutrients:
Chicken – especially lean chicken breast – is a fantastic source of satiating protein that is extremely low in fat and incredibly versatile. It is also a very good source of niacin (important for energy production, fat, cholesterol & carbohydrate metabolism, and the production of sex & adrenal hormones), selenium (which helps prevent free-radical damage, thereby reducing the risk of cancers, cardiovascular disease, inflammatory diseases & premature ageing), vitamin B6 (critical in maintaining a healthy nervous system, red blood cells, hormonal balance & proper immune function) and phosphorus (essential in an abundance of bodily functions including energy metabolism, DNA synthesis & calcium absorption).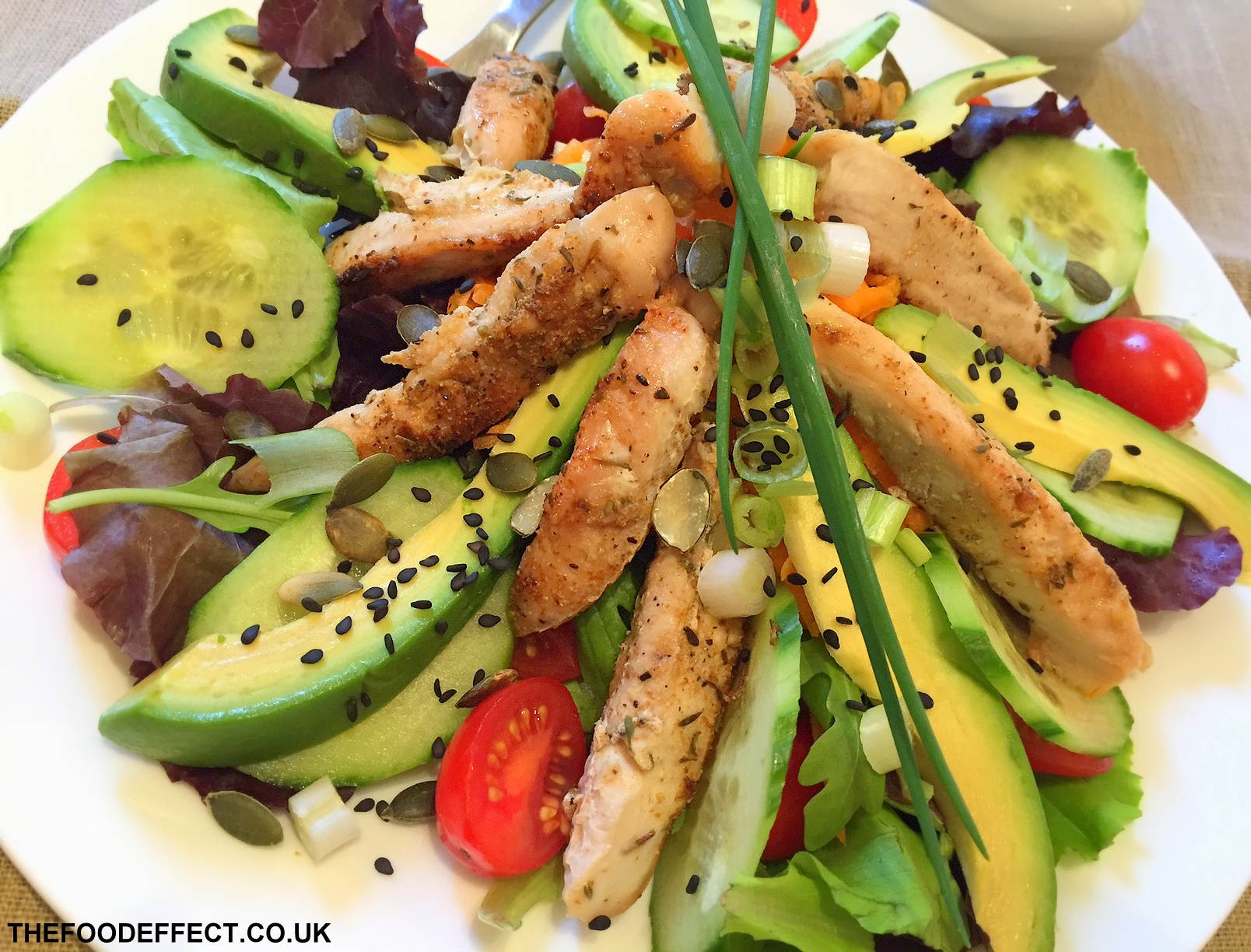 Avocados have so many wide-ranging health benefits I could dedicate a whole blog post to them!  They have been shown to benefit heart health, help improve "bad" LDL cholesterol and reduce the risk of heart disease in people who are overweight and obese.  They are also a rich source of fibre, which helps to control blood sugar levels, as well as potassium, which helps lower blood pressure.  One of the best ways to reduce high blood pressure is to get enough potassium and half an avocado contains more potassium than a medium-sized banana!  And if that weren't reason enough, avocados http://premier-pharmacy.com have also been shown to help people feel fuller for longer and stave off the munchies between lunch and dinner.  A recent study in Nutrition Journal found that overweight adults who ate half an avocado at lunch had a 40% decrease in the desire to eat again over the next three hours.  And for some, the feeling of fullness lasted a whole five hours!  Being rich in glutathione – a powerful antioxidant, detoxifier and free radical scavenger – avocados also help strengthen your immune system.  Oh, and did I mention they're fantastic for healthy glowing skin, too?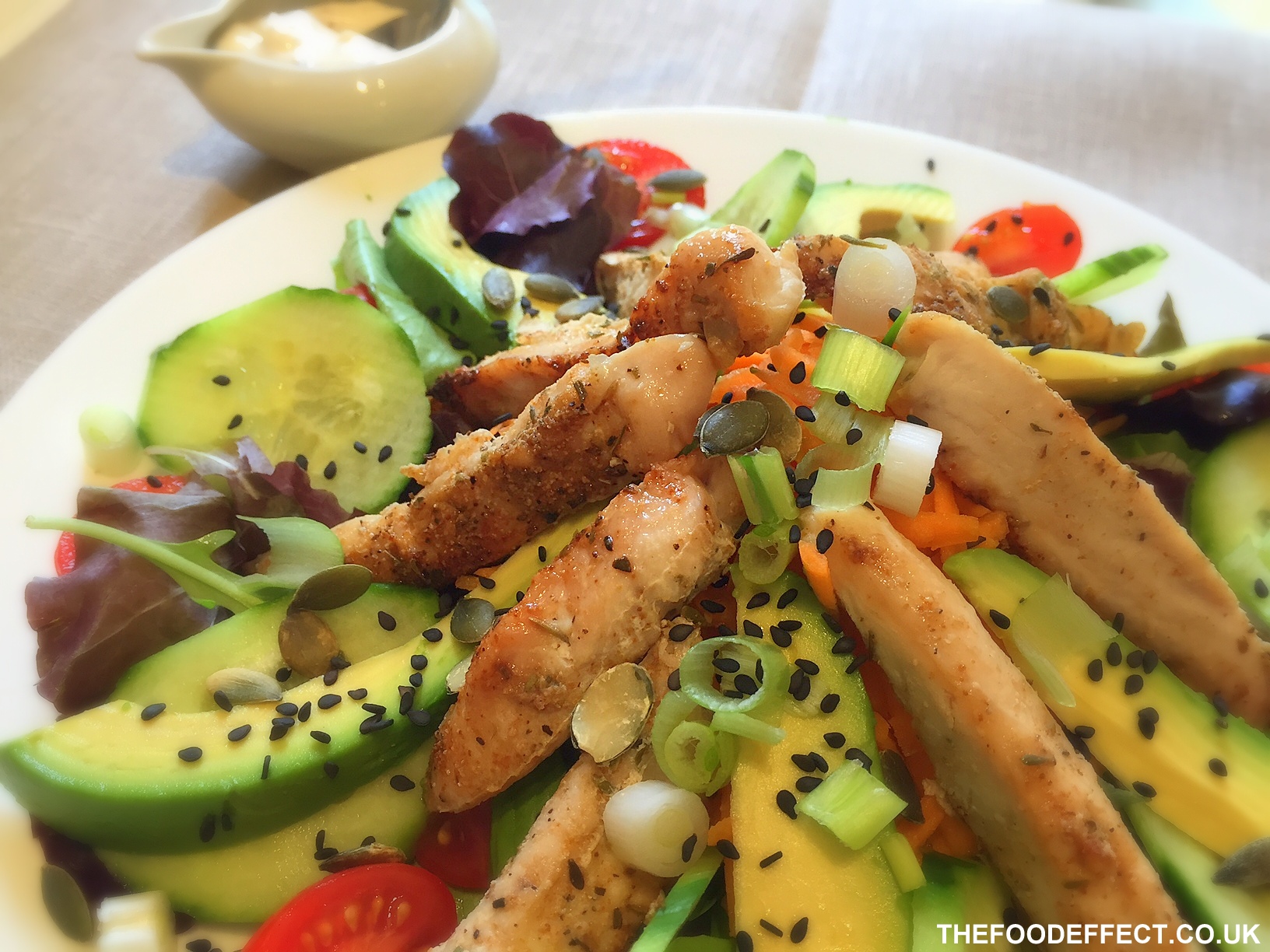 This recipe is perfect for summer and beyond, while the sun is still shining (NO complaints there!), when many (including myself) don't fancy slaving away over the stove-top or turning on the oven to cook a hot roast!  Super light yet extremely filling, this chicken dish is also completely adaptable – feel free to switch up the ingredients to suit your personal preferences (red peppers, green beans or red onion – any combination will be delicious!).  Whichever way you go, I assure you it will not disappoint! 🙂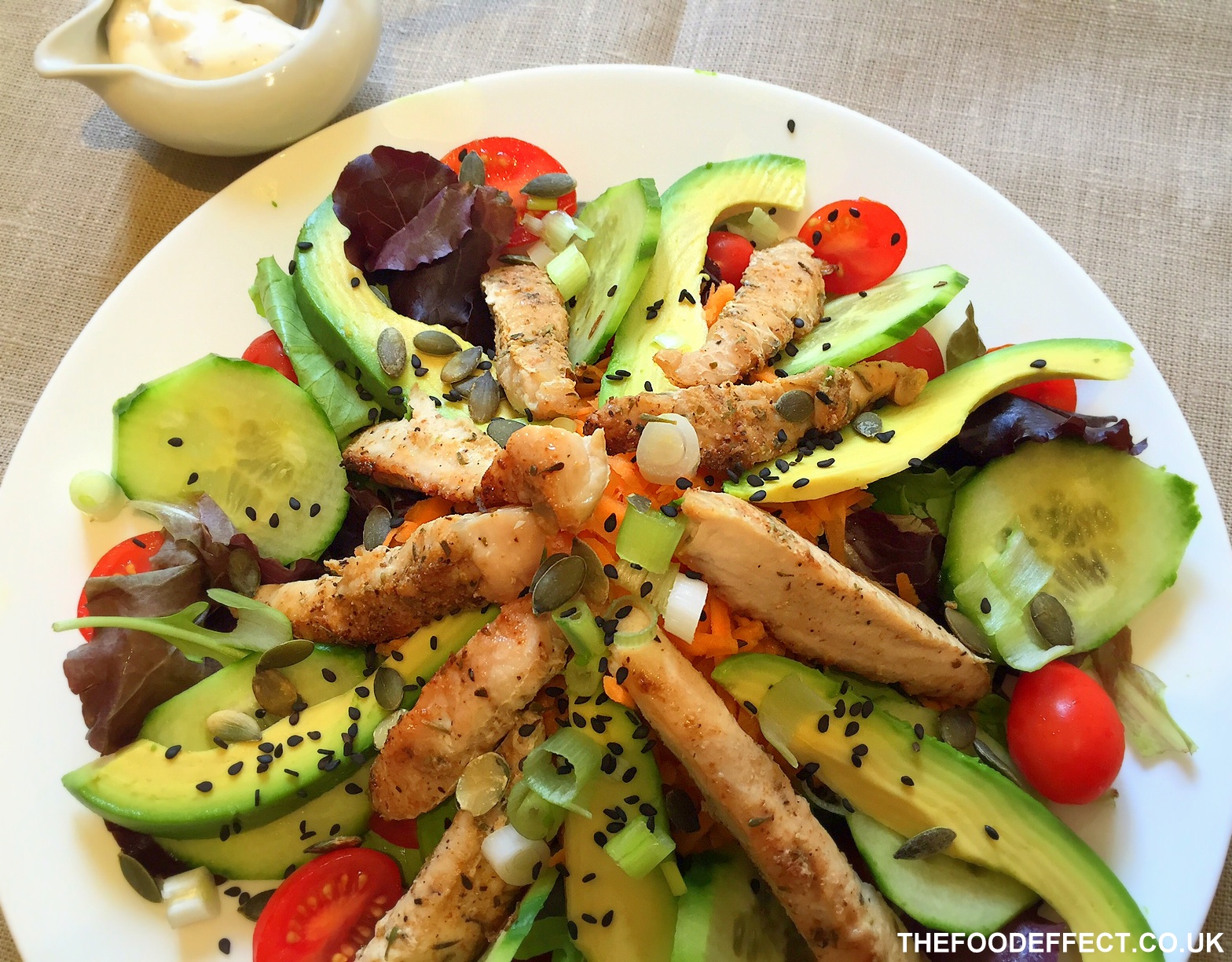 Recipe
Serves 1
Ingredients
150g skinless boneless chicken breast
2 handfuls mixed salad greens (spinach, lettuce, etc.)
½ cucumber, sliced
½ ripe avocado
10 cherry tomatoes
½ cup grated carrot
1 spring onion, sliced
Handful of mixed seeds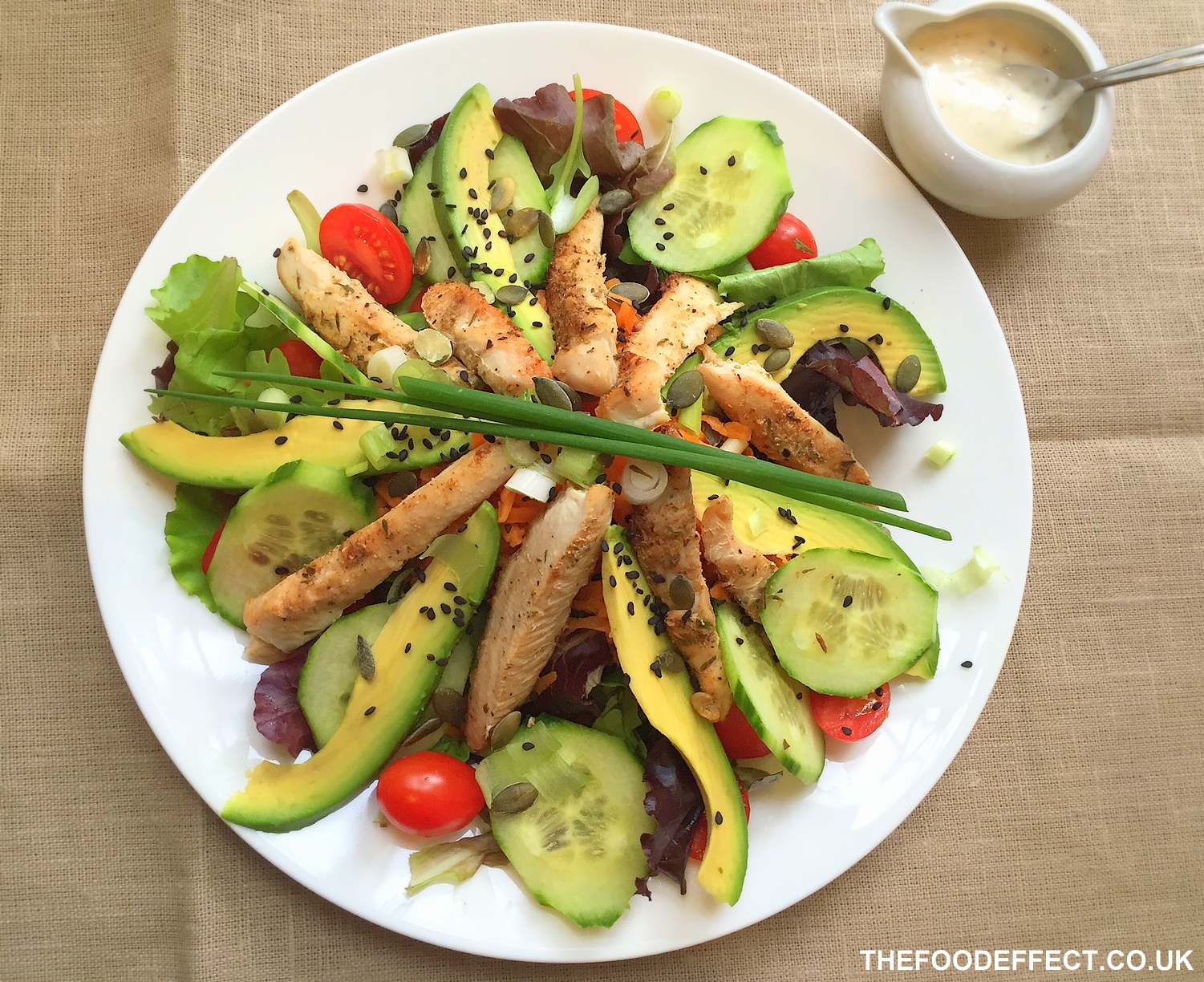 Dressing
3 Tbsp. Light Mayonnaise
1 tsp. agave syrup
½ tsp. whole-grain mustard
(Water to thin – as needed)
Directions
Dust chicken breast with Cajun spice, salt and pepper and grill until cooked through.  Once cooked, cut into strips.  Arrange salad green in a bowl, place grated carrots on top and arrange cherry tomatoes, spring onions, and cucumber slices around. Slice avocado into thin slices and place on top along with chicken strips.  Top with a handful of mixed seeds sprinkled over.
Dressing
Mix all ingredients together thoroughly in a bowl. Serve in a bowl alongside the salad or drizzled over the top when ready to eat. Enjoy! 🙂
Leave a Response
You must be logged in to post a comment.