The Food Effect Spinach Hummus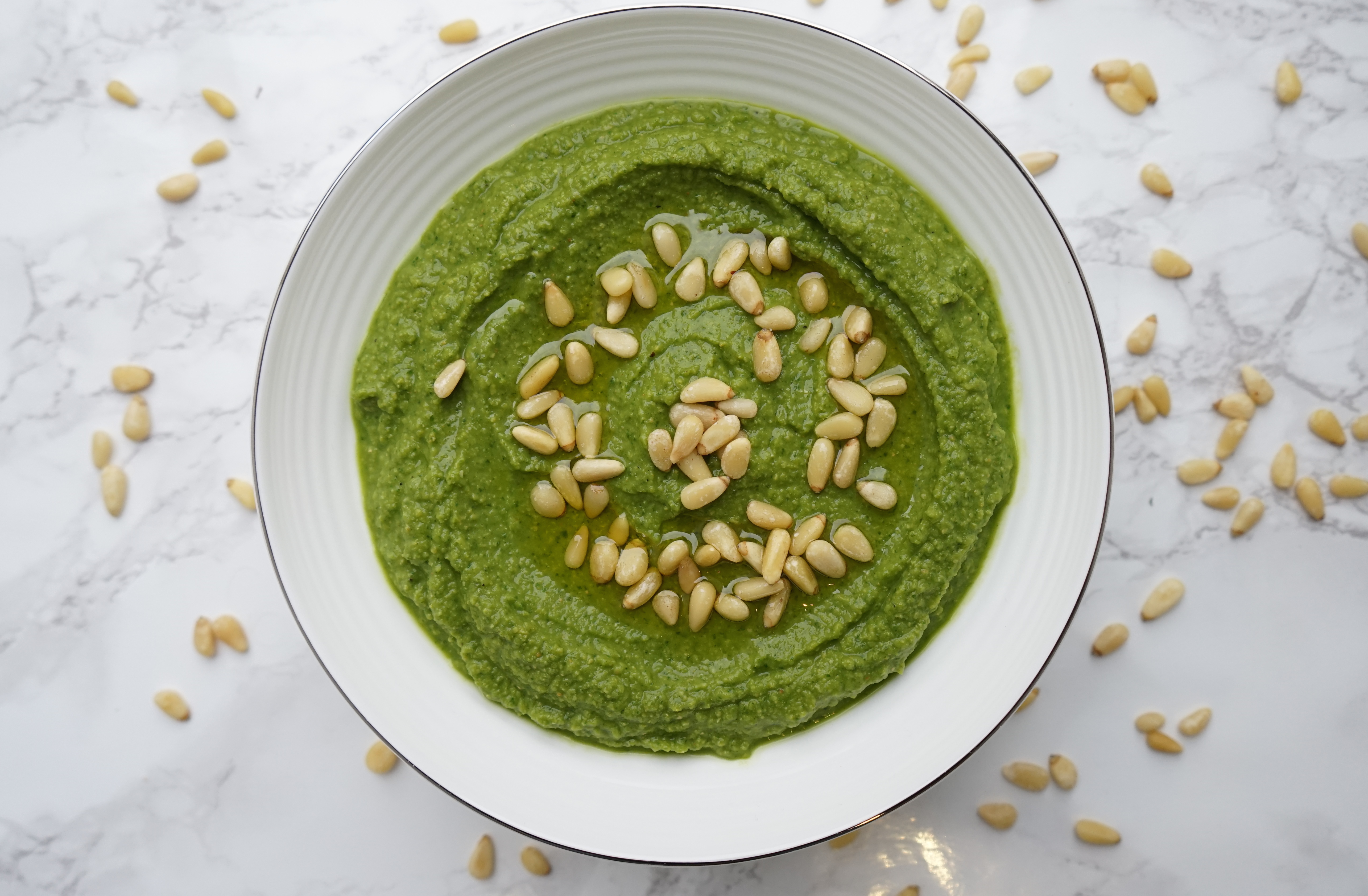 If you've followed me or The Food Effect for a while now, you'll know that I'm a HUGE hummus lover, and advocate it to all my clients as a great snacking choice, as well as in my BOOK!!  My "Best Ever Healthy Homemade Hummus" is still a classic all-time favourite, but this recipe makes a fun change both in colour and taste!
This Spinach Hummus keeps well in the fridge for several days, and is incredibly versatile and useful to have on hand – whether for pre-dinner nibbles when guests are coming round, a mid-afternoon snack paired with crudités or crackers, or as a delicious lunch spread onto whole-grain toast, or in a pitta or wrap, filled with anything else you fancy!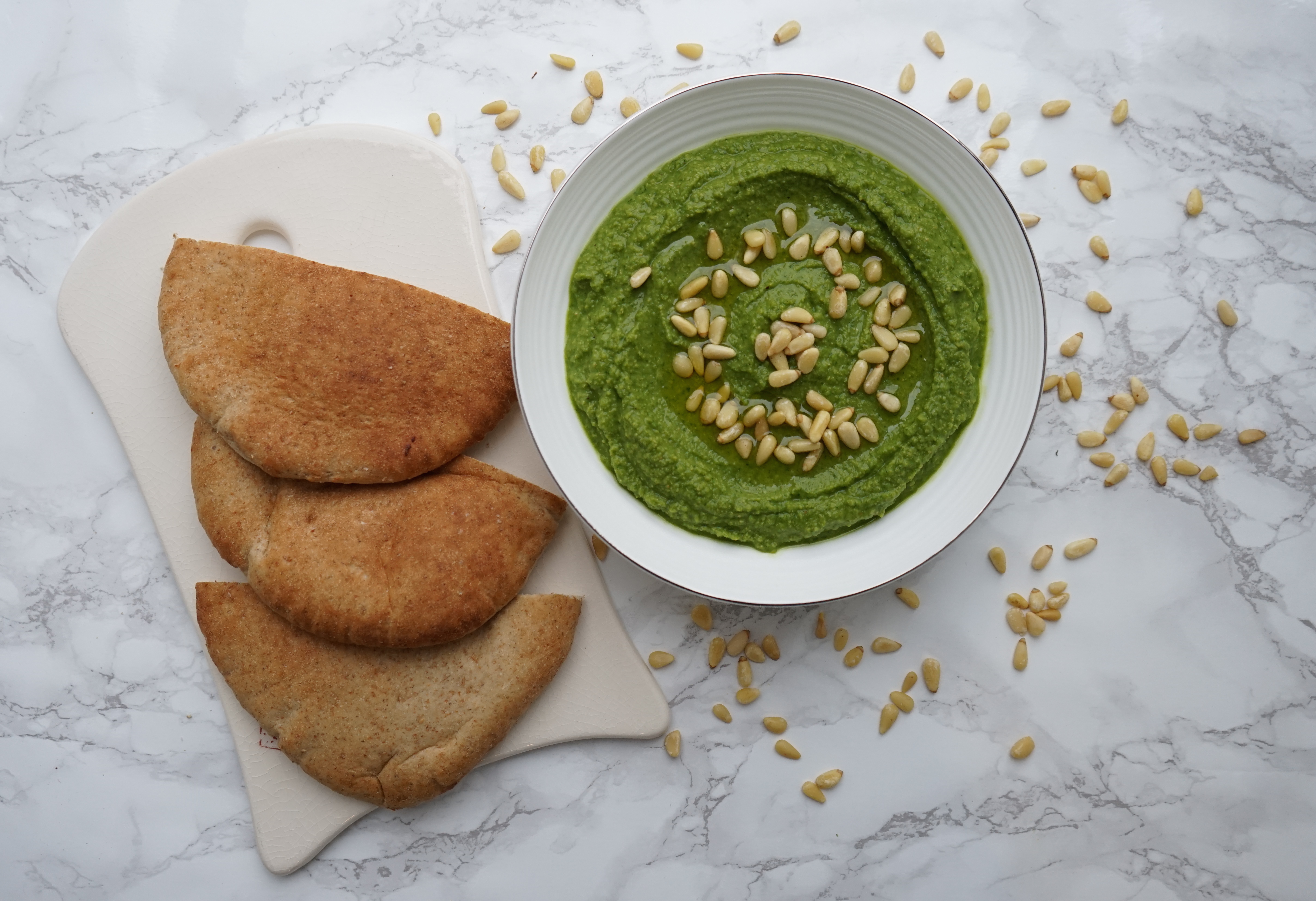 In terms of nutrition and health benefits, chickpeas (the main ingredient) are a fantastic source of fibre and protein, and have a low glycaemic index.  This powerful combination makes them particularly good at helping with weight management.
As mentioned in my Curried Chickpea Salad recipe post, a recent Australian study showed that adults who ate 100g of chickpeas a day for four weeks, ate fewer processed snack foods, and felt fuller than when they didn't include chickpeas in their daily diet.  One cup of cooked chickpeas provides 50% of your daily fibre requirement, so it's no wonder this legume provides long-lasting energy, keeps you feeling full, promotes viagra good digestion, curbs appetite and has even been shown to help lower undesirable LDL cholesterol.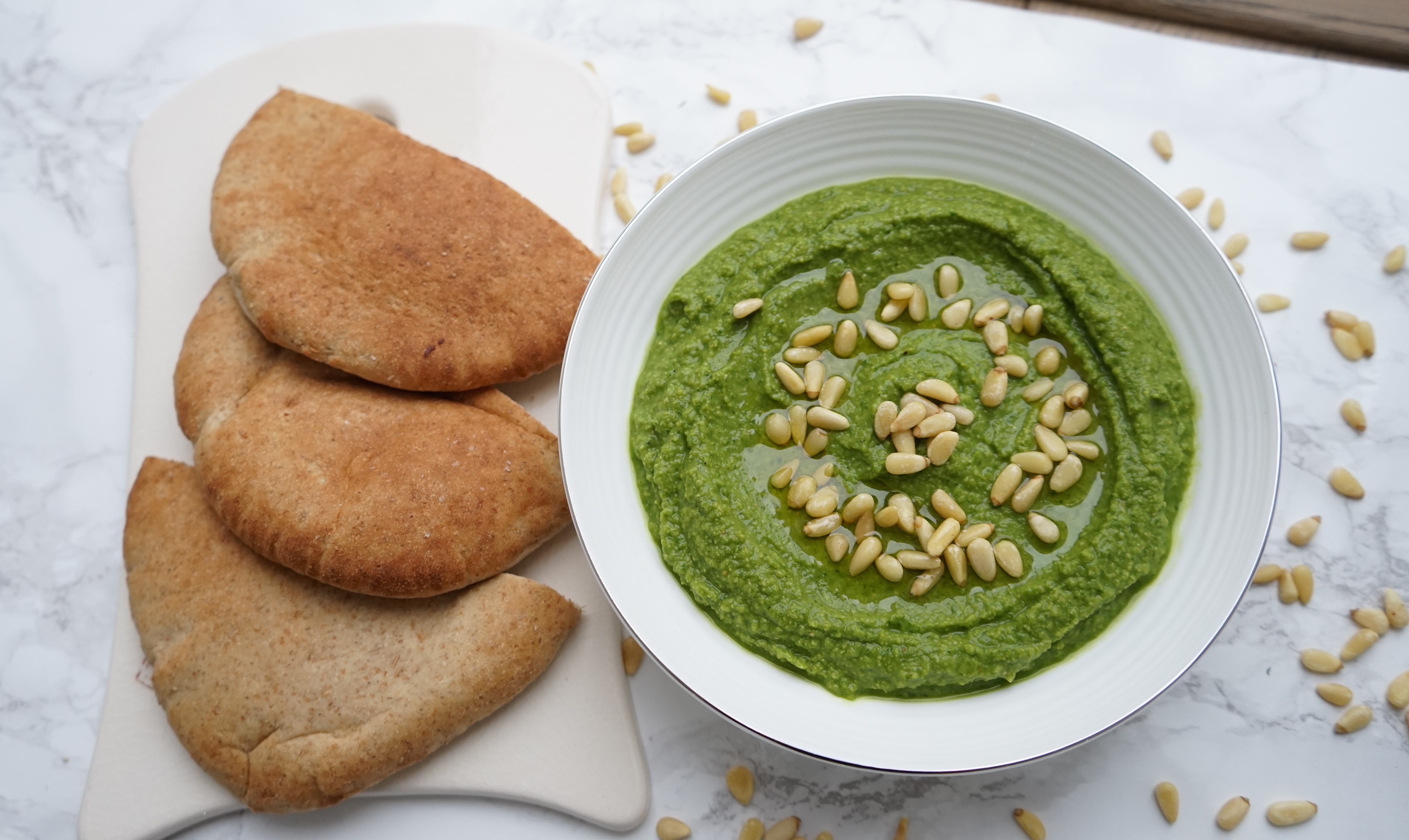 The "super-leaf" spinach is packed-full of antioxidants and nutritional goodness. It's a good source of protein (a surprisingly high 3g per 100g!), calcium, magnesium, folate, dietary fibre, B Vitamins, vitamin C, Vitamin E, potassium, vitamin A, vitamin K, manganese, iron, zinc, copper and phosphorus, to name but a few!  Magnesium is an essential dietary component as it helps prevent headaches and fatigue – compounding the effects of stress – and with one cup of spinach providing 40% of your daily intake, this recipe is sure to replenish your magnesium stores!
In the pictures, I've garnished it with a drizzle of extra-virgin olive oil and sprinkling of pine nuts. Add some warm pitta bread and crackers alongside… et voila, what more could you want for a delicious healthy snack?!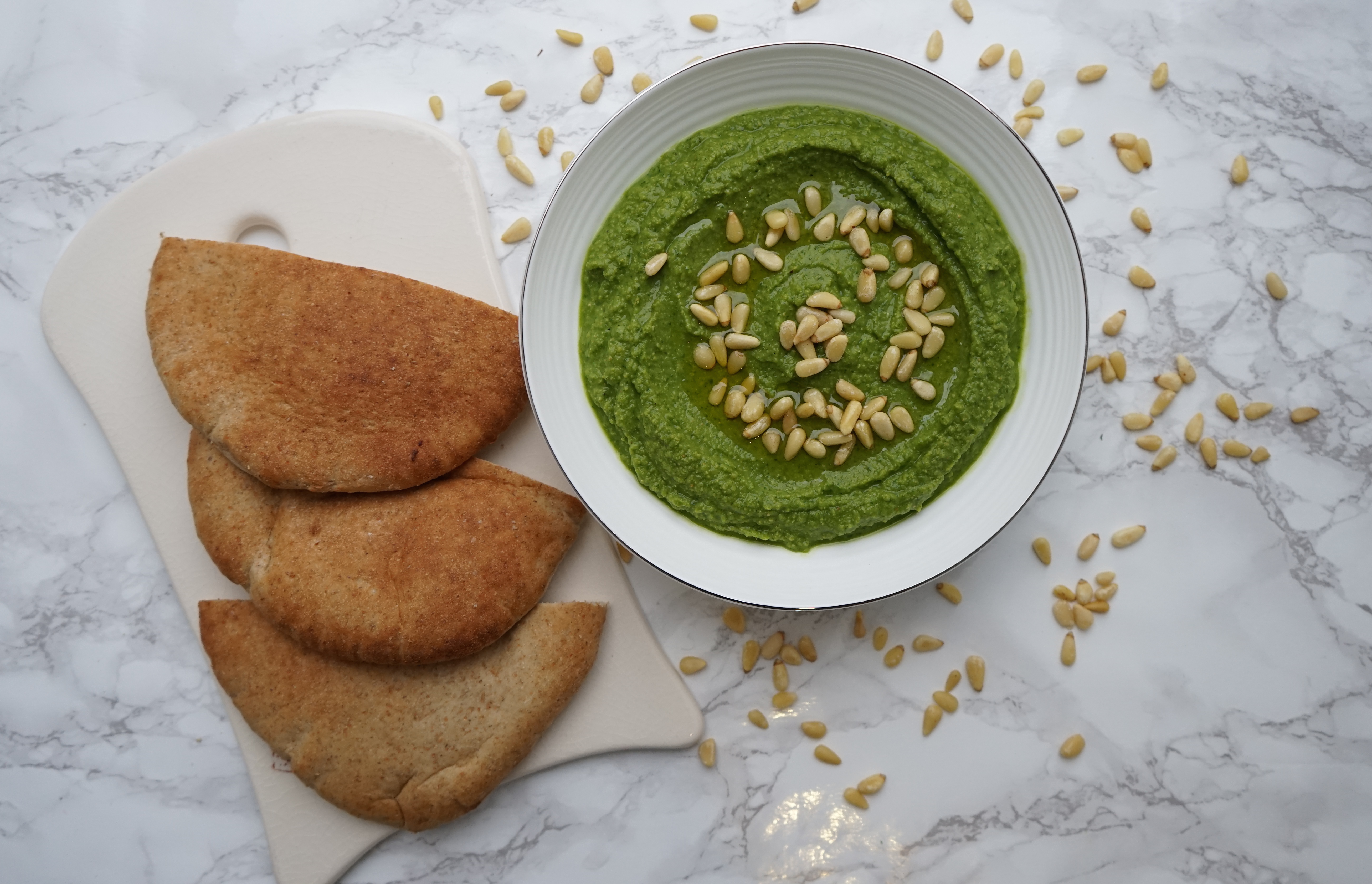 Recipe
100g fresh spinach leaves
1 (400g) tin of chickpeas, drained
2 cloves of garlic, peeled
2 Tbsp. lemon juice
1-2 Tbsp. olive oil
¼ cup water
½ tsp cumin
1 tsp fine sea salt
¼ tsp black pepper
Blend everything together in a food processor or powerful blender until well combined. (Add the extra Tablespoon of olive oil if mixture becomes too thick.)  Spoon into a dish, refrigerate, and serve with crackers, crudités or whole-wheat pita bread.  Can be stored in an airtight container in the refrigerator for several days.  Enjoy! xx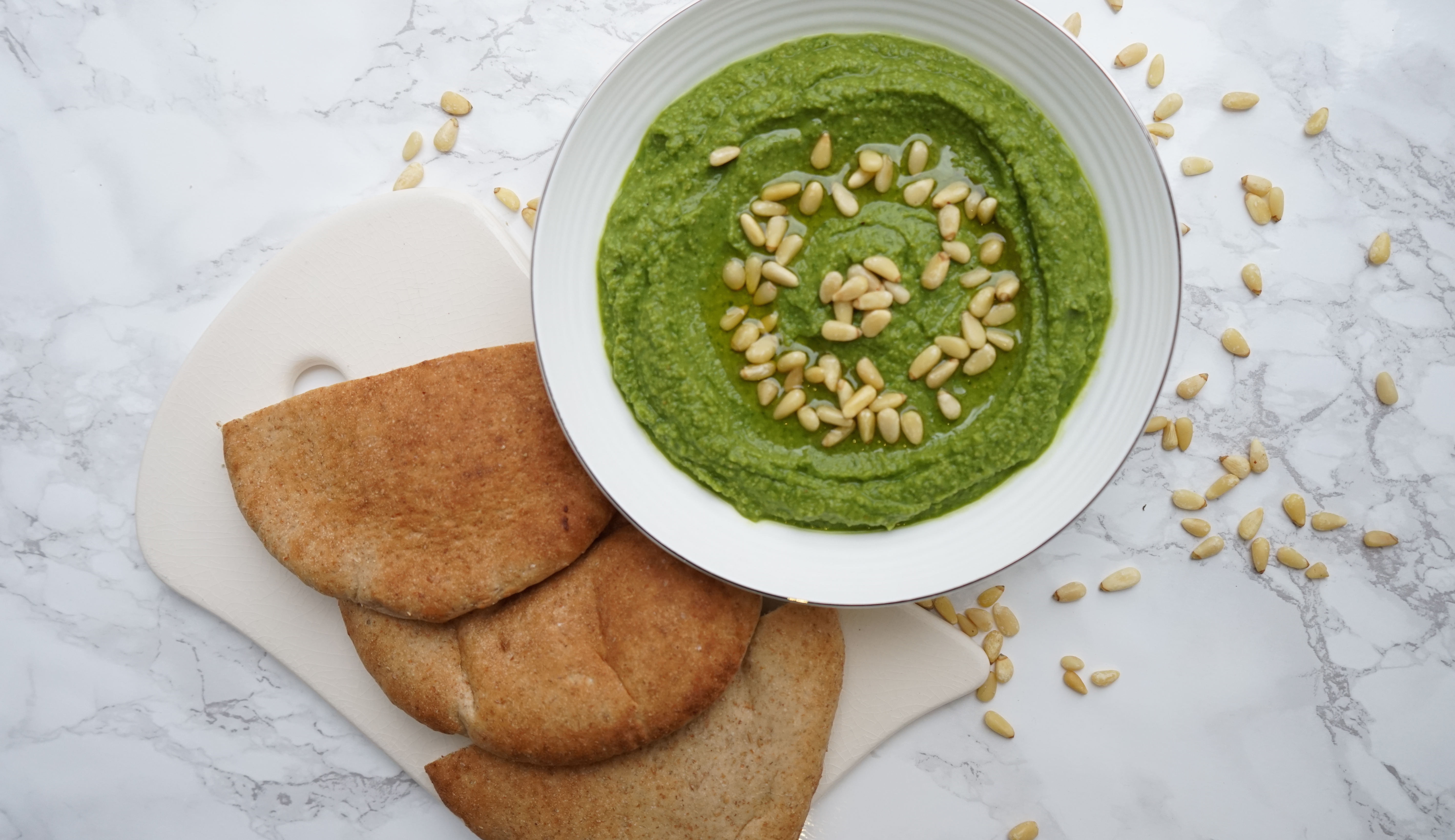 Leave a Response
You must be logged in to post a comment.