Tropical Mango Energy Balls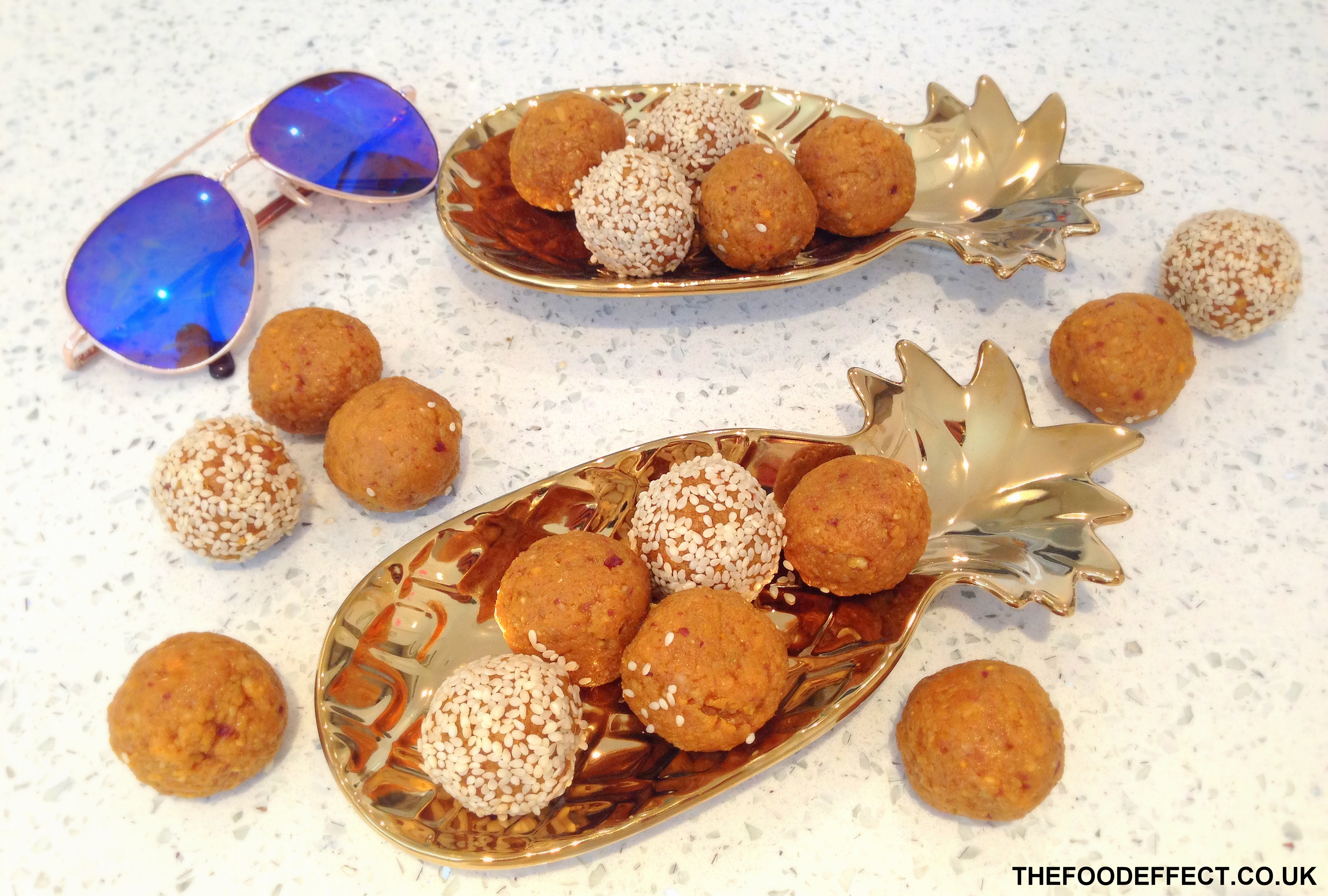 Looking for the perfect snack to have on hand to satisfy those mid-afternoon munchies or late-night sweet cravings?  These all-healthy Tropical Mango Energy Balls are just the thing!  Naturally sweet, decadent, filling and delicious, you wouldn't believe that they're also super-healthy and all-natural, too!  They'll also make you feel like it's summer all year long, which – in our country – is no mean feat!
Free from gluten, dairy, eggs and refined sugar, this really is the perfect healthy snack for both adults and kids alike!
So let's get down to the heart of the recipe; the overflowing nutrients these "Energy Balls" promise to deliver: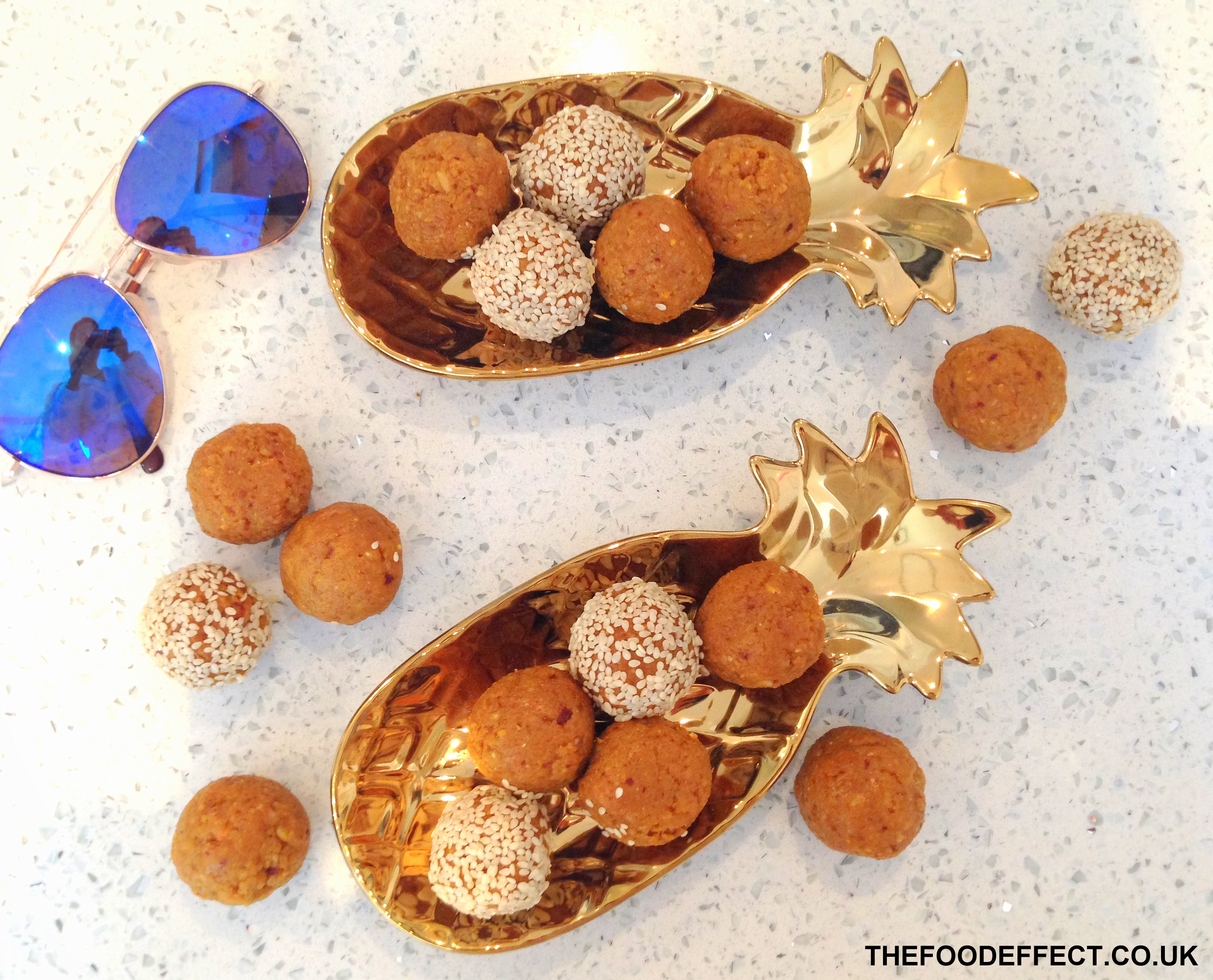 Anyone who knows me or follows The Food Effect will know I'm a huge nut lover and advocate them everywhere I can (you can read all the nutritional benefit of nuts in my "Nuts About Nuts" post HERE.)  Whilst all nuts are packed with goodness and make the ideal snack, cashews, in particular, are packed with magnesium, which helps promote healthy muscles and nerves and is especially important for good sleep and reduced stress.  Cashews are also packed with protein, healthy mono and poly-unsaturated fats, satiating fibre, potassium, and antioxidants, such as Vitamin E.  Together, this contributes to healthy and strong skin, hair, nails and muscles, a healthy heart, lower blood pressure and cholesterol levels, increased satiety and sustained energy.  And if, like some of my clients, you're troubled by the popular misconception that eating nuts will cause you to pile on the pounds, you can rest assured that the healthy unsaturated fats – consumed in moderation – will not cause any trouble for your waistline.  In fact, several studies have even shown nut eaters to be slimmer than those who tend to avoid them in fear of gaining weight!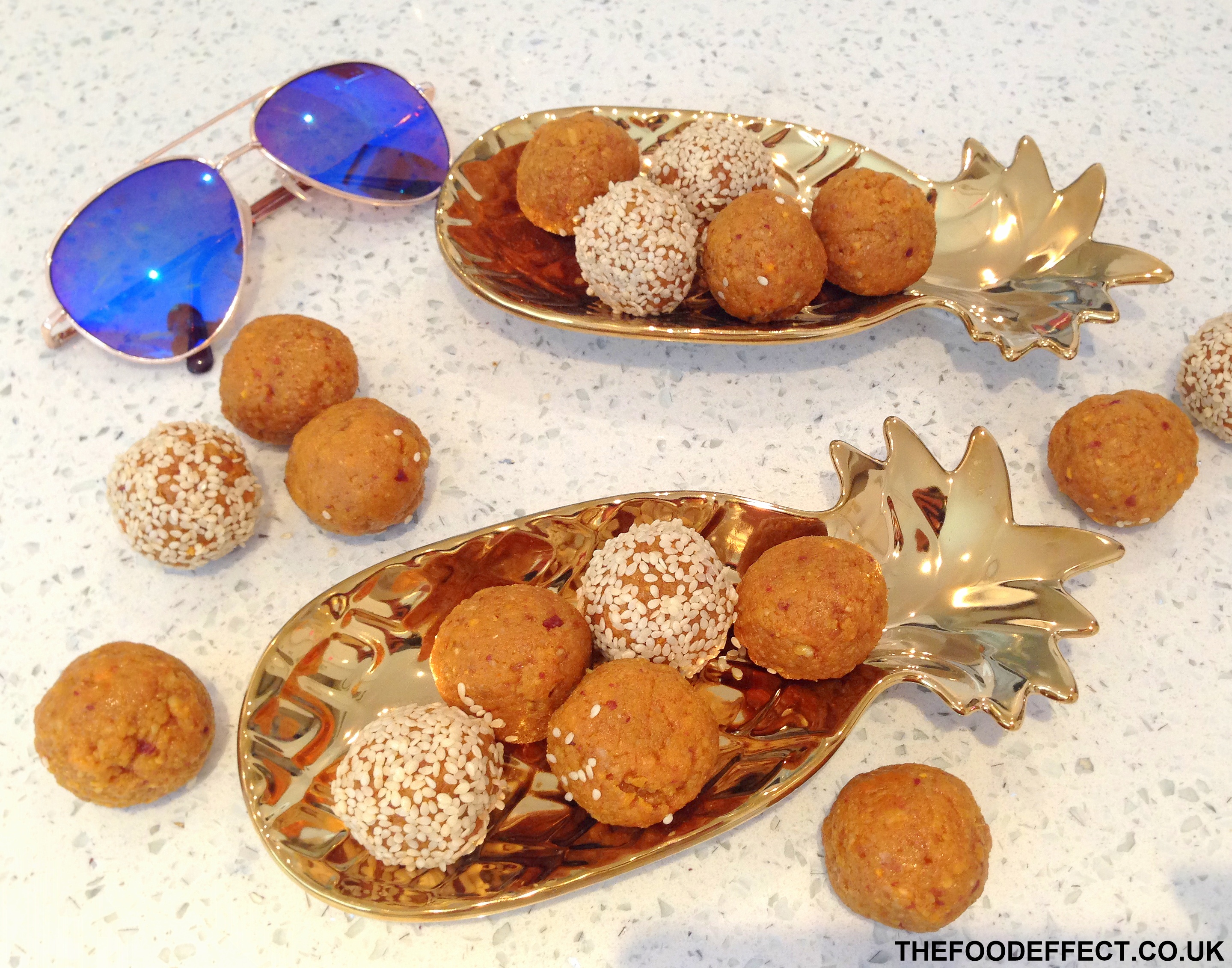 Part of the sumac family, Mangoes are cousins to pistachios and cashew nuts (I only found that out when doing my research AFTER creating this recipe, but I obviously made a good pairing!).  Interestingly, mangoes are one of the leading fruit crops of the world, with more mangoes consumed on a regular basis than apples!  In terms of health, mangoes are an excellent source of carotenes (Vitamin A), Vitamin C and copper.  One cup of fresh mango provides 184% of the recommended daily value of Vitamin A!  They are also a very good source of B vitamins – Vitamin B6, riboflavin, niacin and folic acid; potassium, magnesium and Vitamin E.  Mangoes are also an excellent source of both soluble and insoluble fibre, which helps lower cholesterol and promotes healthy digestion.  One study in which white blood cells from mice were exposed to cancer-causing substances, and then to mango extract, showed that mango had the ability to stop normal cells from turning into cancer cells.
Turmeric, added into this recipe, has an endless array of powerful medicinal properties due to its high amounts of nutrients, antioxidants, anti-inflammatory compounds and phytonutrients that have been studied in depth – especially for cancer prevention.  It's been linked with improving Inflammatory Bowel Disease (IBD), Crohn's disease, immune health, rheumatoid arthritis, cystic fibrosis, cancer prevention (colon, pancreatic and prostate cancer, as well as childhood leukaemia), improved liver function, cholesterol and diabetes, cardiovascular benefits and protection, wound healing and prevention of Alzheimer's disease.  And that's just giving you a quick summary!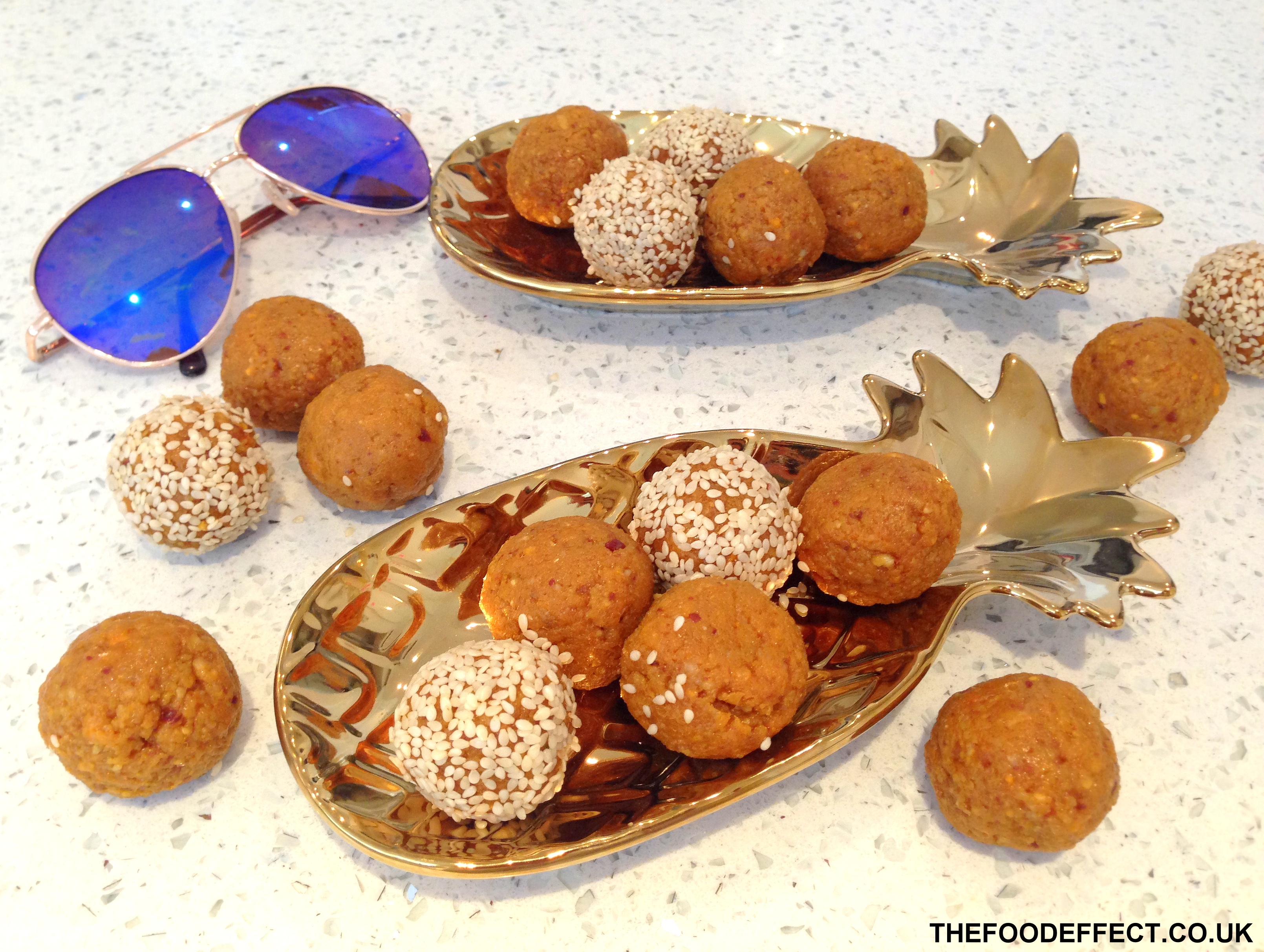 Dates are also a rich source of potassium and a good source of fibre, protein and the immunity-boosting minerals zinc, magnesium and selenium.
So if you're looking for a solution to keep you healthy and satisfy your sweet tooth whilst staying on the straight and narrow, whip up a batch of these Tropical Mango Energy Balls.  I can assure, you won't regret it and will feel like it's summer all year long! 🙂
Recipe
Makes ~18 balls
Ingredients
1 cup raw cashew nuts
2/3 cup pitted dates
2/3 cup dried mango (soaked in a mug of hot water for ~10-15 minutes, then drained.)
½ tsp. vanilla essence;  Pinch of ground turmeric;  ¼ tsp salt
Desiccated coconut (recommended!) (or sesame seeds), for rolling – optional
Directions
Put all ingredients into food processor, blend for a few minutes until a thick "dough" is formed.  Keep scraping down the sides of processor to get all the dry ingredients incorporated.  Transfer dough mixture to a bowl.  Scoop into 1 heaping Tablespoon size portions and roll into smooth balls using your hands.  Roll in desiccated coconut (or sesame seeds) if desired.  Set in the fridge for at least 30 minutes before serving.
Note: These also freeze well – I love keeping a batch in stock so that healthy snacks are always at hand! 🙂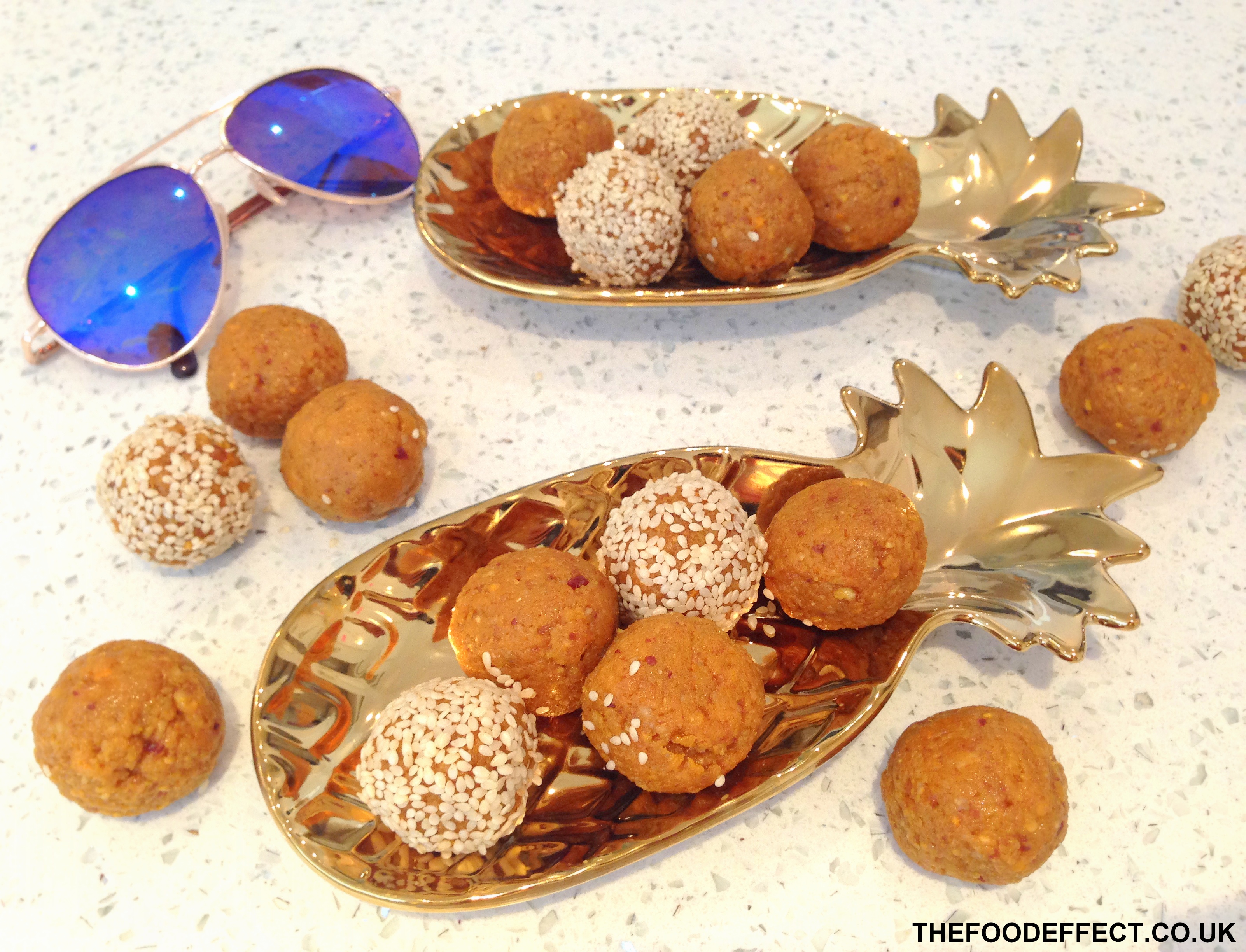 Leave a Response
You must be logged in to post a comment.