TUSCAN STYLE TUNA BEAN SALAD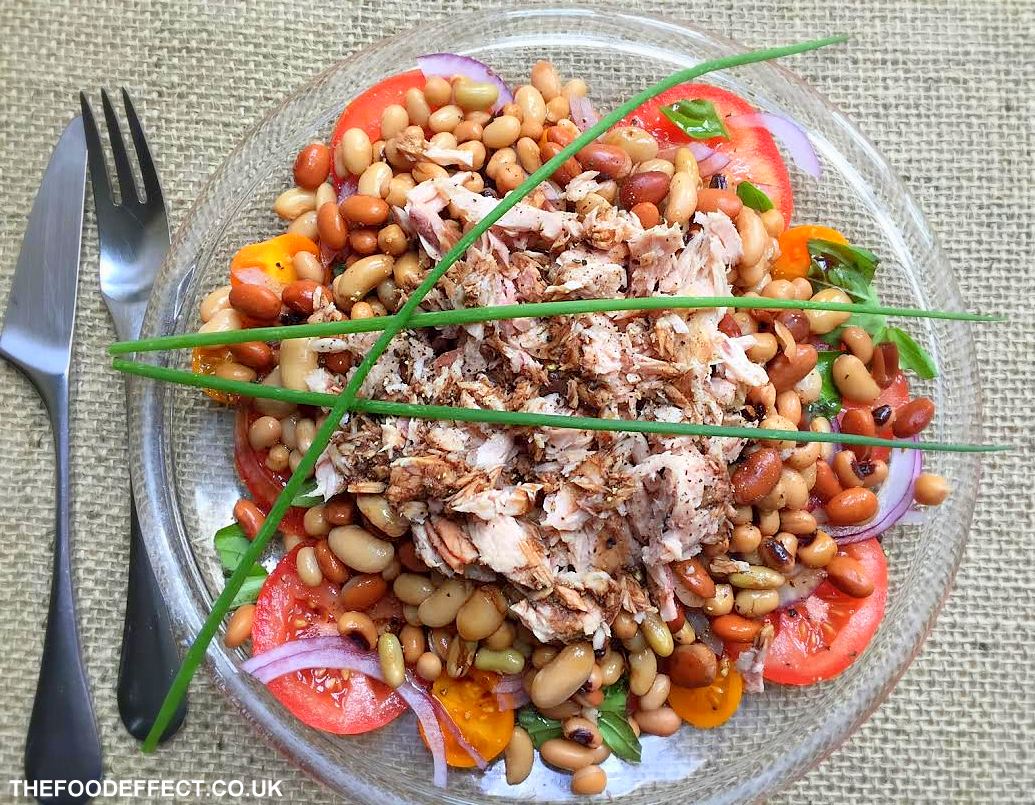 Following on from the popularity of The Food Effect Skinny Chicken Salad Deluxe, here's another great salad to make on summer days when you don't want to be stuck in the kitchen for hours slaving over a hot stove, or putting things in and out of a hot oven.
If you've just returned from your summer holiday, getting back into cooking can be a real struggle, so this is the perfect recipe to "ease you back in".  With not much to do besides slicing tomatoes and opening cans, this meal couldn't be easier to prepare – it takes just a few minutes to toss the ingredients together.  This dish is also completely adaptable – feel free to switch up the ingredients to suit your personal preference, for example adding green beans or omitting tomatoes – because any combination will be delicious!
It is my version of a popular dish in Italy, and the combination of lean protein in the tuna, high-fibre plus more protein in the beans and anti-oxidant-rich tomatoes make it an ideal Food Effect friendly meal.
This satisfying salad makes an ideal healthy lunch or light dinner (some crusty sourdough bread alongside is delicious!)
It's also the perfect salad to prep the night before, pop in the fridge and take to work for a delicious, healthy lunch!
A filling, wholesome, salad, it is also packed with vitamins, minerals and nutrients: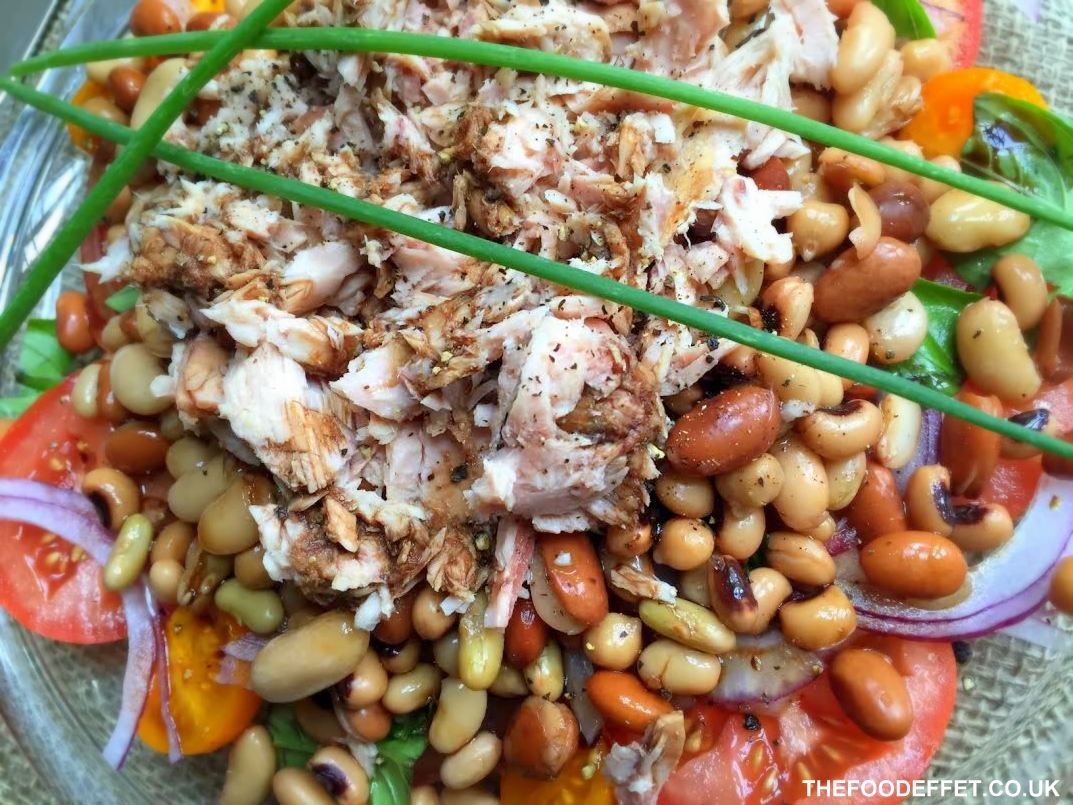 Tuna is a fantastic source of satiating protein that is extremely low in fat and calories. It is also a very good source of potassium (important for heart health, & lowering blood pressure), selenium (which helps prevent free-radical damage, thereby reducing the risk of cancers, cardiovascular disease, inflammatory diseases & premature ageing) and vitamin B12 (critical in DNA synthesis and maintaining a healthy nervous system).  Tuna (along with other fish) has been shown to be beneficial for protecting against heart disease, Alzheimer's and many forms of cancer.
Beans are a nutritional bargain, with canned ones being convenient, inexpensive, nutritious and ready-to-use.  They are a fantastic source of fibre, helping to stabilise blood sugar levels and maintain satiety – with just one cup of cooked beans containing half your daily requirement!  The fibre is also mainly soluble, which has been shown to help lower blood cholesterol.  Naturally low in fat, beans are rich in B Vitamins (niacin, riboflavin, thiamine and folic acid), calcium (for healthy bones), iron, phosphorus, potassium and zinc, and contain no cholesterol or gluten.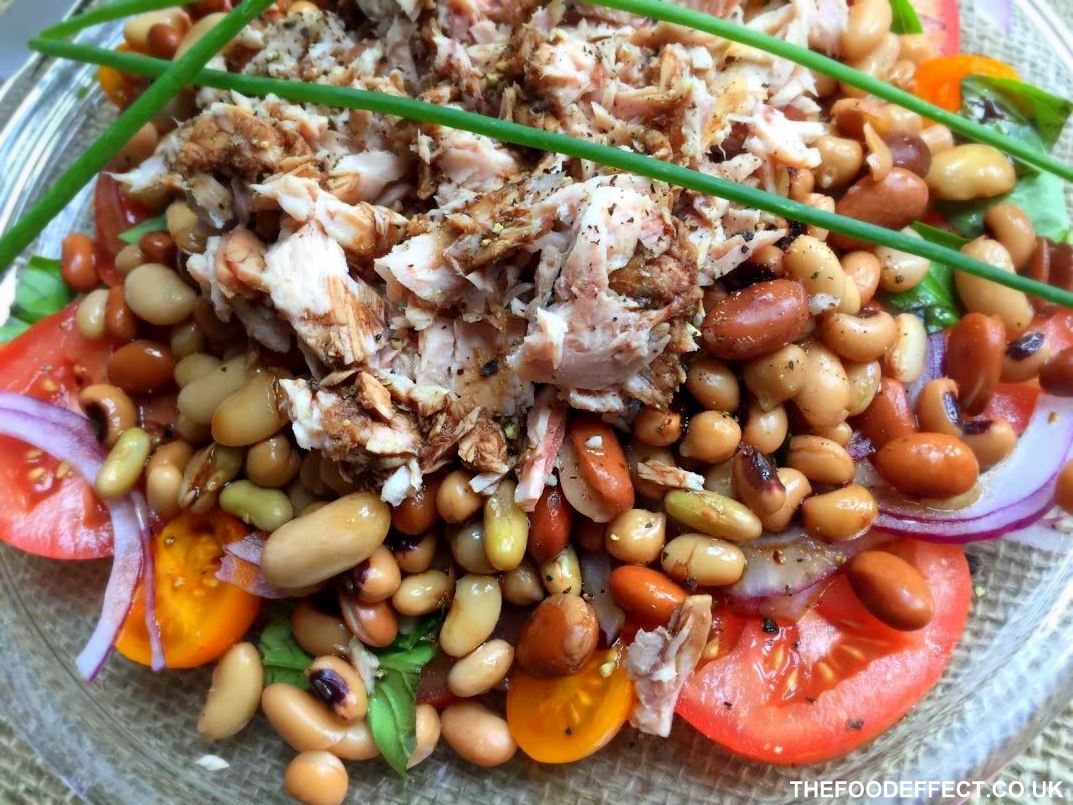 The fibre and protein from the tuna and beans means this meal will provide long-lasting satiety and stable blood sugar and energy levels.  This, combined with the small amount of heart-healthy olive oil (just 2 Tbsp. for the whole dish), makes this salad low in fat, yet filling enough to promote satiety and ensure thorough absorption of all the nutrients, vitamins and anti-oxidants from the tomatoes and fresh herbs – a real win-win!  So whether you've been away or not, you can infuse a slice of Italy into your diet!  Buon Appetito! 🙂
Recipe
Serves 4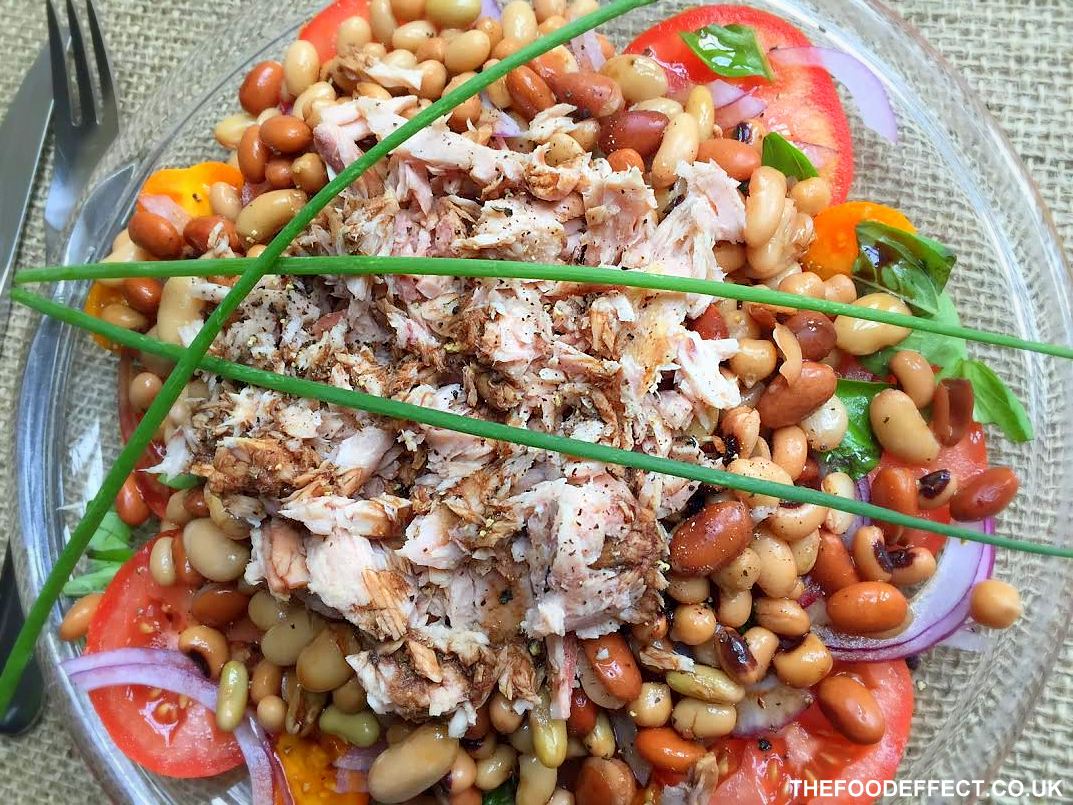 Ingredients
2 large or 4 small vine tomatoes, sliced into rings
Sea salt and black pepper
1 bunch spring onions, chopped
1 small handful fresh basil leaves, roughly torn
1 (400g) tin cannellini beans, drained and rinsed
2 x 150-170g tins of tuna in oil (NOT brine or water!!) *
2 Tbsp. balsamic vinegar
2 Tbsp. extra virgin olive oil
Fresh chopped flat-leaf parsley
Directions
Place the tins of tuna in a large bowl and break up with a fork.  Layer the ingredients in the order listed (beginning with the tomatoes, and ending with the parsley to garnish) on a large serving platter.  Mix the vinegar and oil together and drizzle over.  Season generously with sea salt and black pepper.  Allow to stand for at least 30 minutes before serving.  Toss through, serve and enjoy! 🙂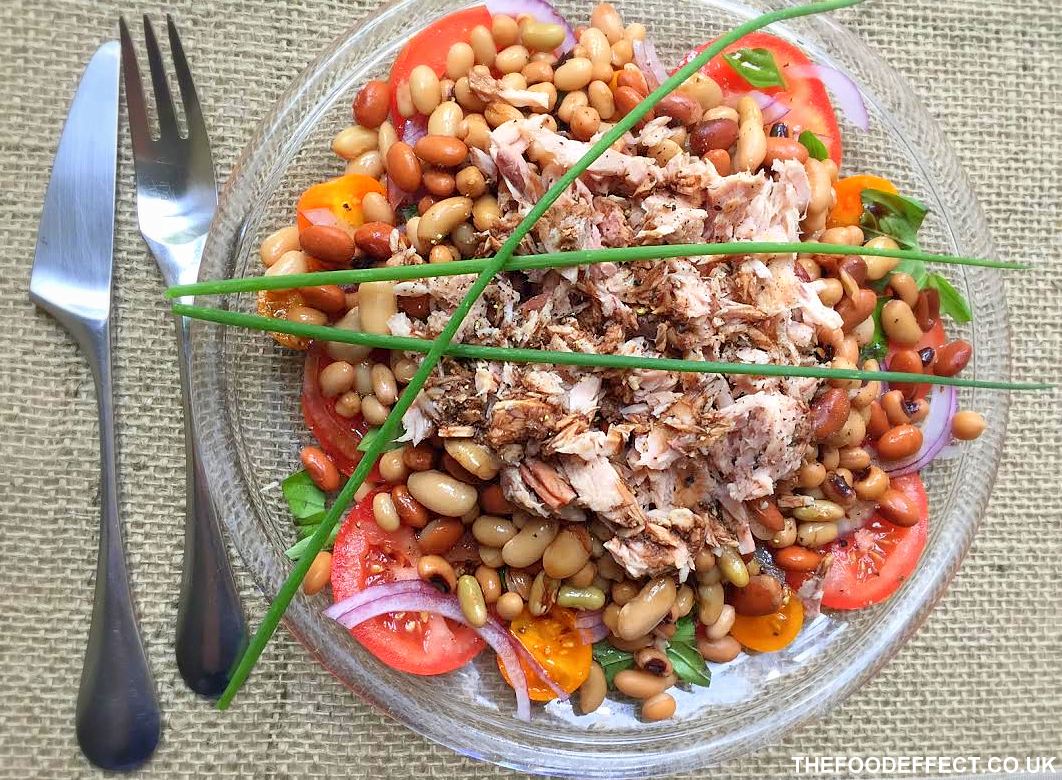 *Whilst I normally advocate tuna in water/ brine for those looking to lose weight on The Food Effect, that's factoring in the addition of some mayonnaise (I won't have my clients (or anyone!) eating dry tuna!) – this recipe doesn't include any mayonnaise and using tuna in oil is essential for this recipe!  Additionally, the sunflower or olive oil in tinned tuna is heart healthy and full of the super omega-3's and doesn't add any unhealthy calories… so DON'T try substitute this one for dry tuna!
Leave a Response
You must be logged in to post a comment.