WINNING COMBO SALAD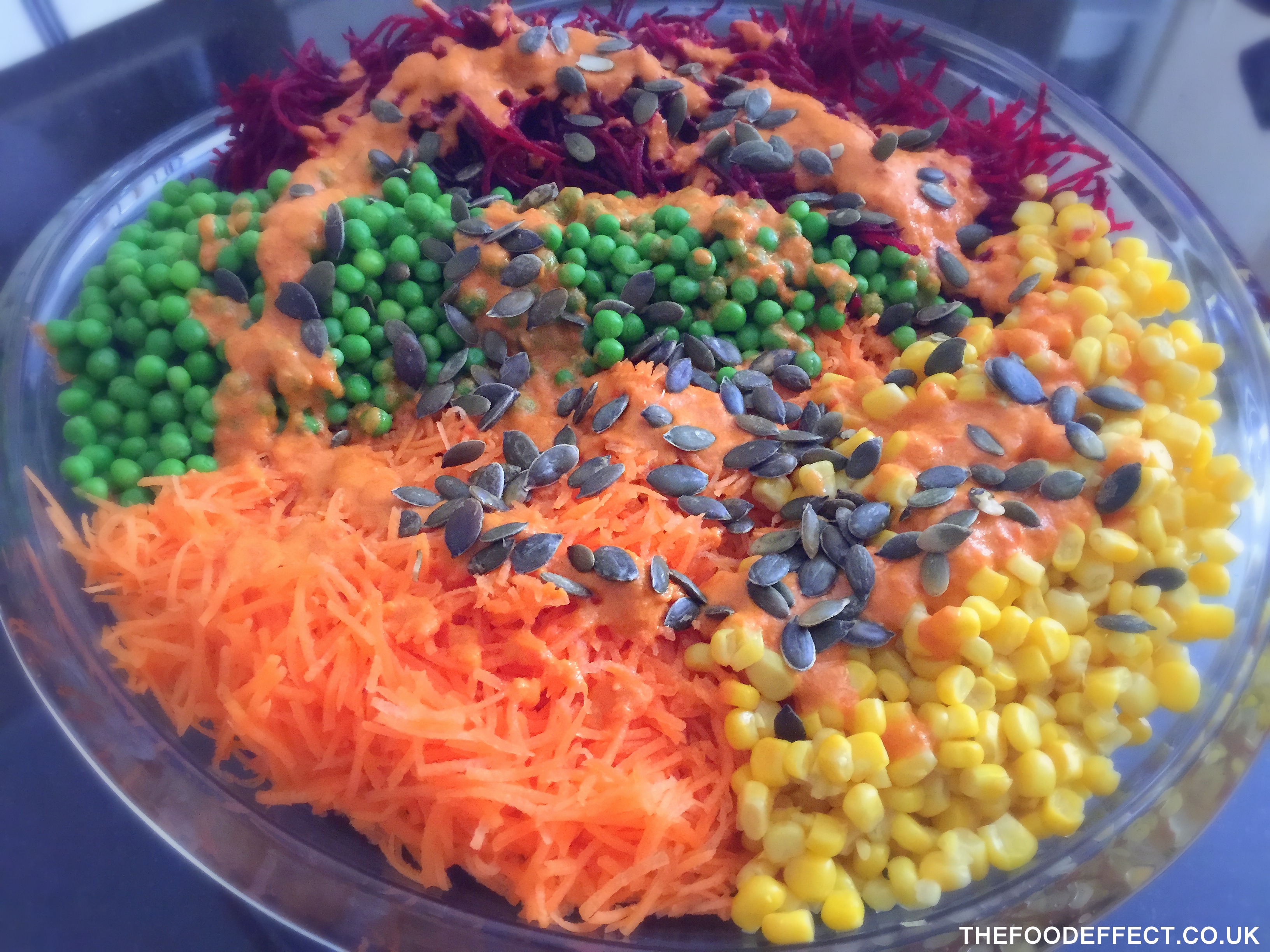 This vibrant, nutrient-packed "Winning Combo Salad" is as good for you as it is colourful, eye-catching and delicious.  What's more, with not much to do besides for some grating, it couldn't be easier to prepare!
The substantial size of this salad means it will last well for several days in the fridge, making it a perfect staple to prepare at the beginning of the week to have on hand for quick and easy meals.  It's also great to whip up for a crowd or take along to a barbeque. Perfect paired with some brown rice, whole-wheat couscous or quinoa, it makes a delicious healthy lunch or an ideal accompaniment to grilled fish, chicken or veggie burgers, for a light, protein-packed dinner.  It's a recipe that's sure to please vegans, veggies and meat eaters alike and is guaranteed to be a hit whichever way it's served.
This delicious, versatile, "plant-based" dish is low in fat, high in fibre and protein, and packed with vitamins, minerals and nutrients.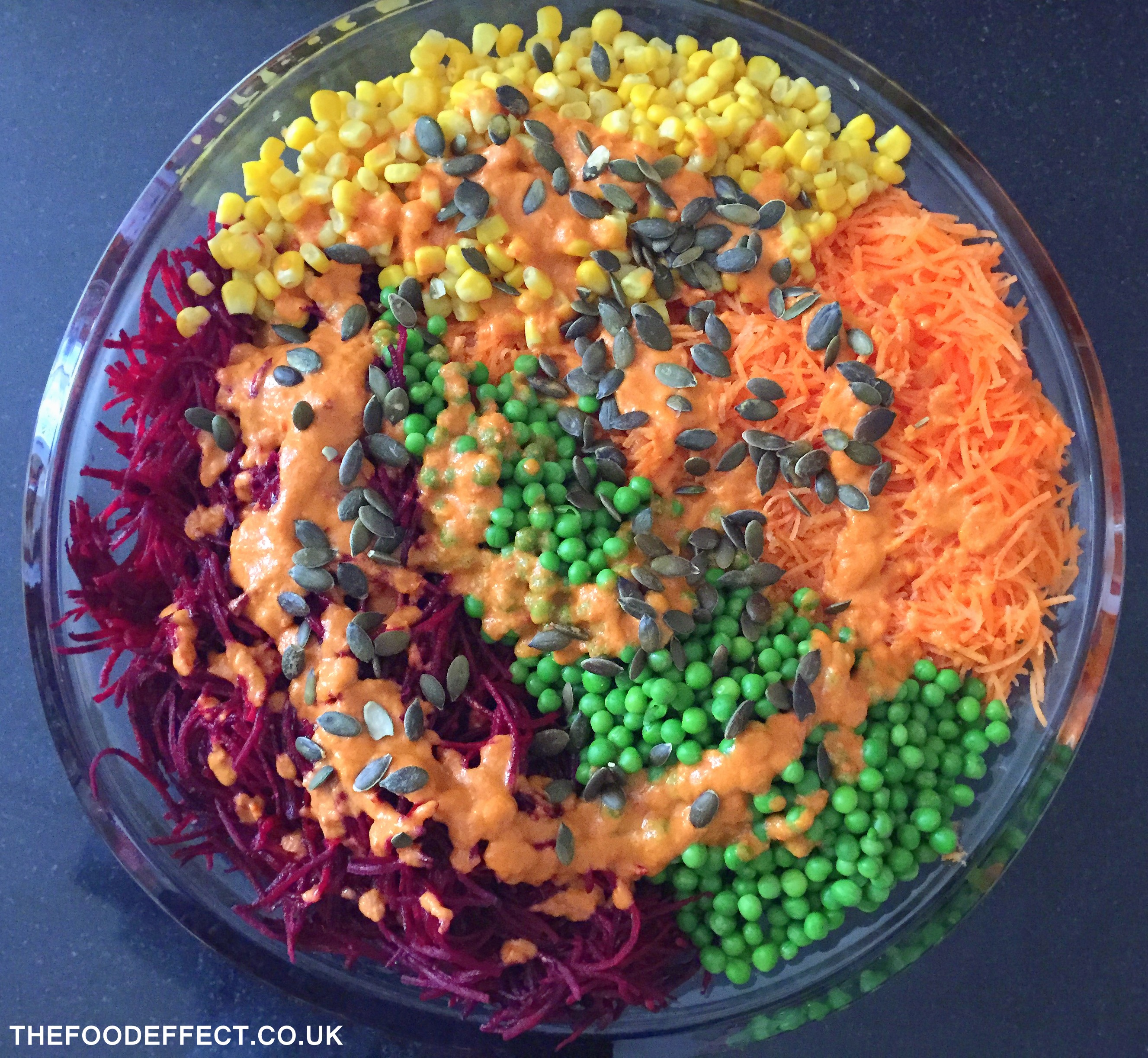 Peas are a good source of protein, B vitamins, and a variety of minerals including phosphorus, manganese, magnesium, potassium and iron.  They are also an excellent source of dietary fibre, Vitamin C, Vitamin K and carotenes, which are important anti-oxidants.
Carrots provide one of the highest sources of pro-vitamin A carotenes, with just two carrots providing roughly four times the RDA!  They are also a fantastic source of Vitamin K, biotin, fibre, Vitamins C and B6, potassium, thiamine and antioxidant compounds (carotenes), helping to protect against cardiovascular disease and cancer.  Interestingly, one study that examined the diets of 1300 elderly people in Massachusetts found that those who had at least one serving of carrots per day had a 60% reduction in their risk of heart attacks, compared to those who ate less than one serving of this carotenoid-rich veggie a day.  High carotene intake has also been linked to a 20% decrease in post-menopausal breast cancer and up to a 50% decrease in incidence of cancers of the bladder, cervix, prostate, colon, larynx, lung and oesophagus! And of course, as is most famously known, carrots also promote good vision – especially at night!
Beetroot is a health and fitness superfood; British athlete and winner of four Paralympic gold medals, David Weir, has admitted that beetroot juice is his (legal!) secret ingredient to gulp down during marathon times, and rugby player Ben Foden and marathon runner Helen Davies are also proud fans, too!  Rich in potassium, antioxidants and folic acid, beetroot has been scientifically proven to lower http://premier-pharmacy.com/product-category/birth-control/ blood pressure; a study in 2009 found that drinking beetroot juice before exercise improved stamina and similar benefits were found for runners in a more recent US study, too.  Beetroot's winning ways come down to its high nitrate content which, converted to nitric oxide in the body, has the wondrous effect of widening blood vessels, thereby increasing blood flow, and also reducing the oxygen needed by muscles, enabling them to work more efficiently.  But the health benefits of beetroot go beyond the track and field; rich in anti-cancer anti-oxidants, beetroot's blood pressure lowering effects also decrease the risk of stroke and heart disease!
Corn is high in the carotenoid lutein (which protects against heart disease and macular degeneration of the eyes) and is also an excellent source of complex carbohydrate, fibre and healthy essential fatty acids.  It is also a good source of Vitamins C and E, Vitamins B1 (thiamin), B5 (pantothenic acid), folic acid, magnesium and phosphorus.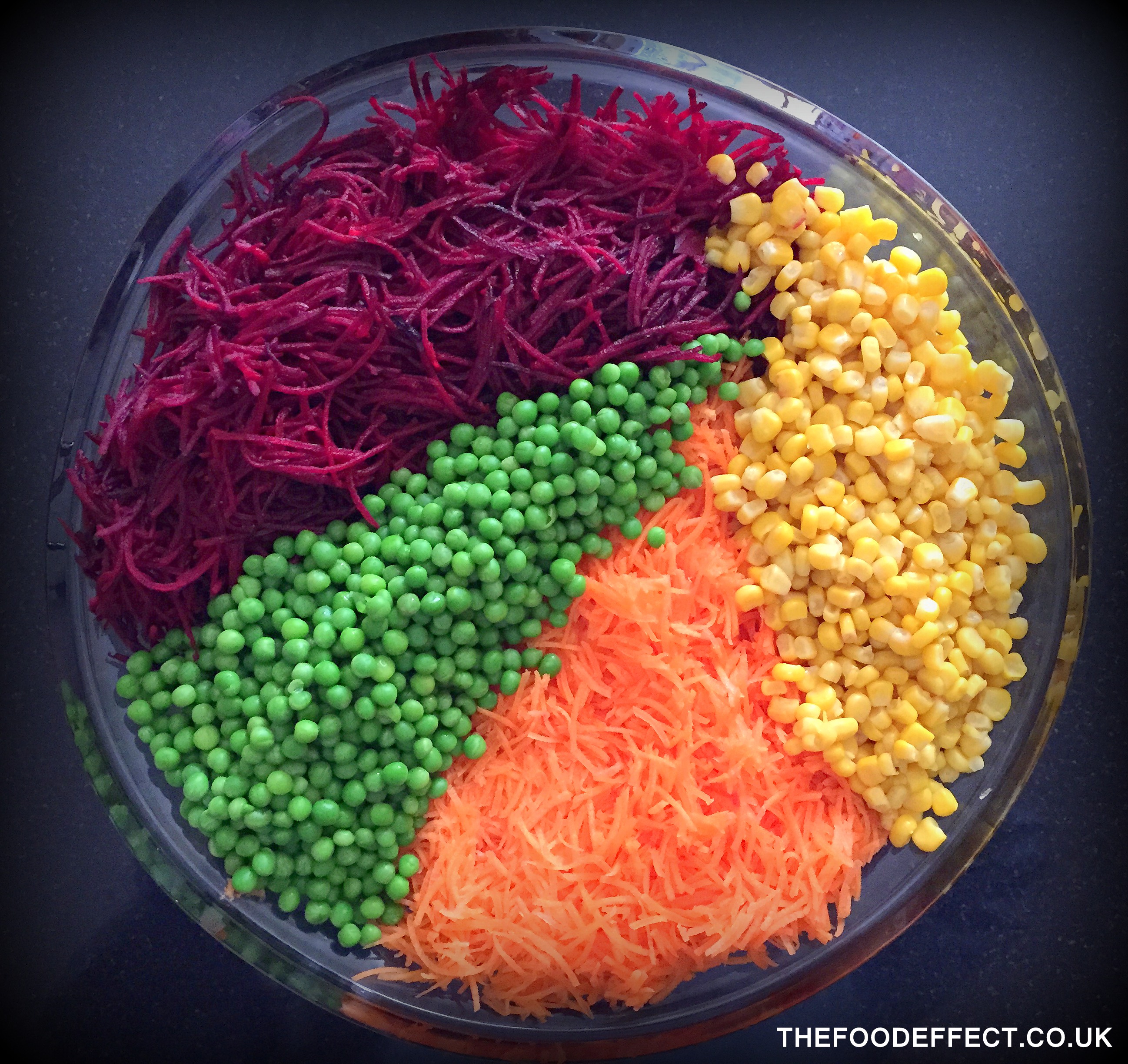 Apart from its main ingredients, even the dressing of this salad has nutritional benefits to match:
Tomatoes are a low-calorie food packed with nutrition.  They are an excellent source of Vitamin C, carotenes (especially lycopene), biotin, Vitamins K and B6, niacin, folic acid and dietary fibre. Lycopene has been shown to be extremely protective against lung, breast, colon, skin and prostate cancers.  It has also been proven to lower the risk of heart disease, cataracts and macular degeneration.  Lycopene helps prevent all these diseases (and others!) by neutralising harmful oxygen-free radicals before they can do damage to cellular structures in the body.
The addition of a small amount of heart-healthy olive oil (just 1 Tbsp. per serving) makes this salad very low in fat per serving, yet filling enough to promote satiety and ensure thorough absorption of the wonderous lycopene, as well as all the other nutrients, vitamins and anti-oxidants from the abundance of colourful, healthy ingredients – a real win-win!  So go on – infuse some colour into your day and taste the rainbow the healthy way! 🙂
Recipe
Serves 4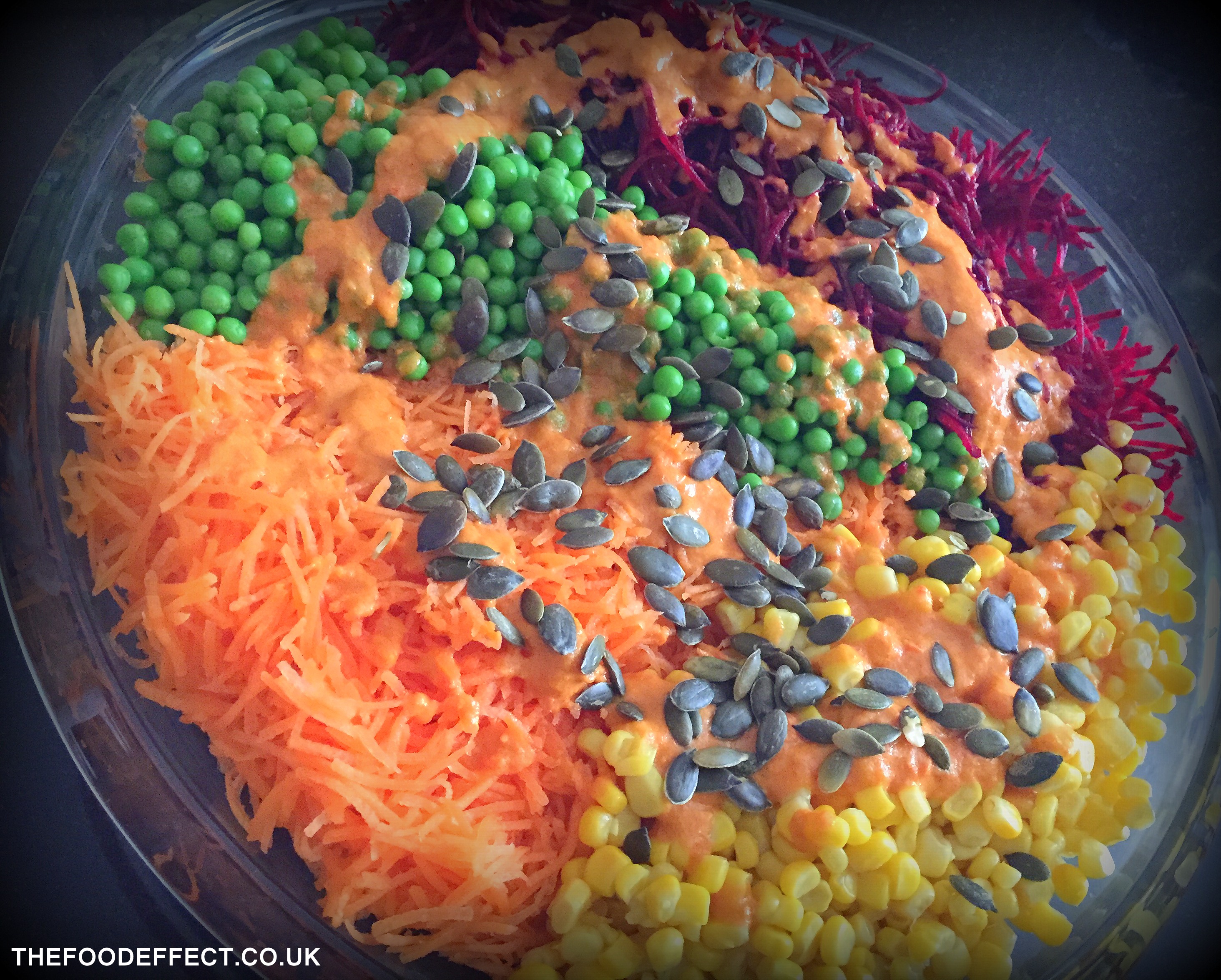 Ingredients:
2 cups each of the following:
Grated raw beetroot
Grated carrots (~ 2 large carrots)
Corn (1 large tin, drained)
Frozen peas, thawed
Dressing:
2 large ripe tomatoes
2 Tbsp. agave syrup or honey
4 Tbsp. extra virgin olive oil
1 Tbsp. soya sauce (or Tamari for wheat-free)
Salt & pepper to taste
Directions:
Combine all salad ingredients in a large bowl.  Blend dressing ingredients together in a food processor or using a hand held blender.  Pour over salad.  Toss through well.  Season with salt and pepper to taste.  Cover and refrigerate until ready to serve! Enjoy xx
Note: If pressed for time, you can use a bottle of Thousand Island dressing over the salad instead! 😉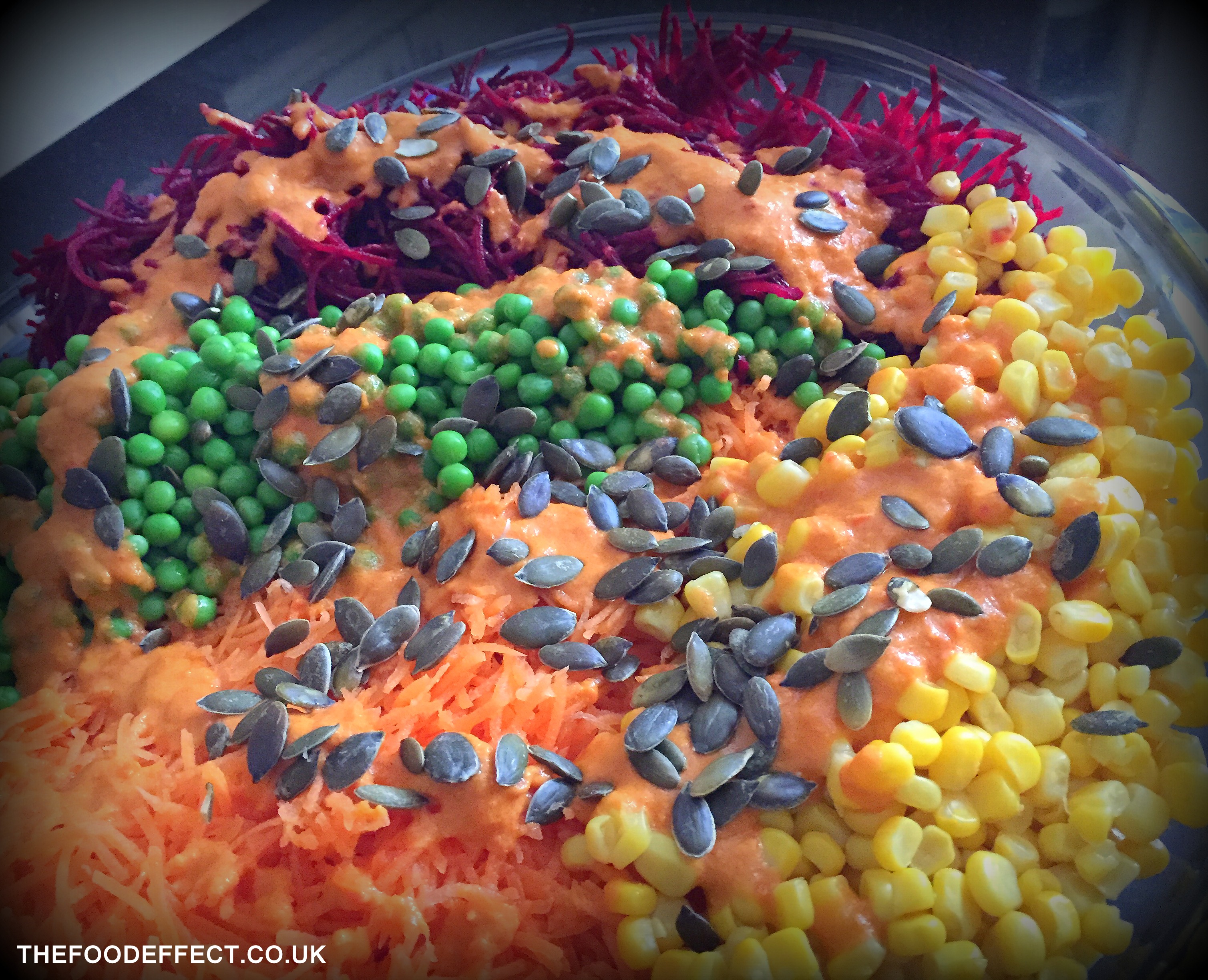 Leave a Response
You must be logged in to post a comment.