QUINOA & WILD RICE SALAD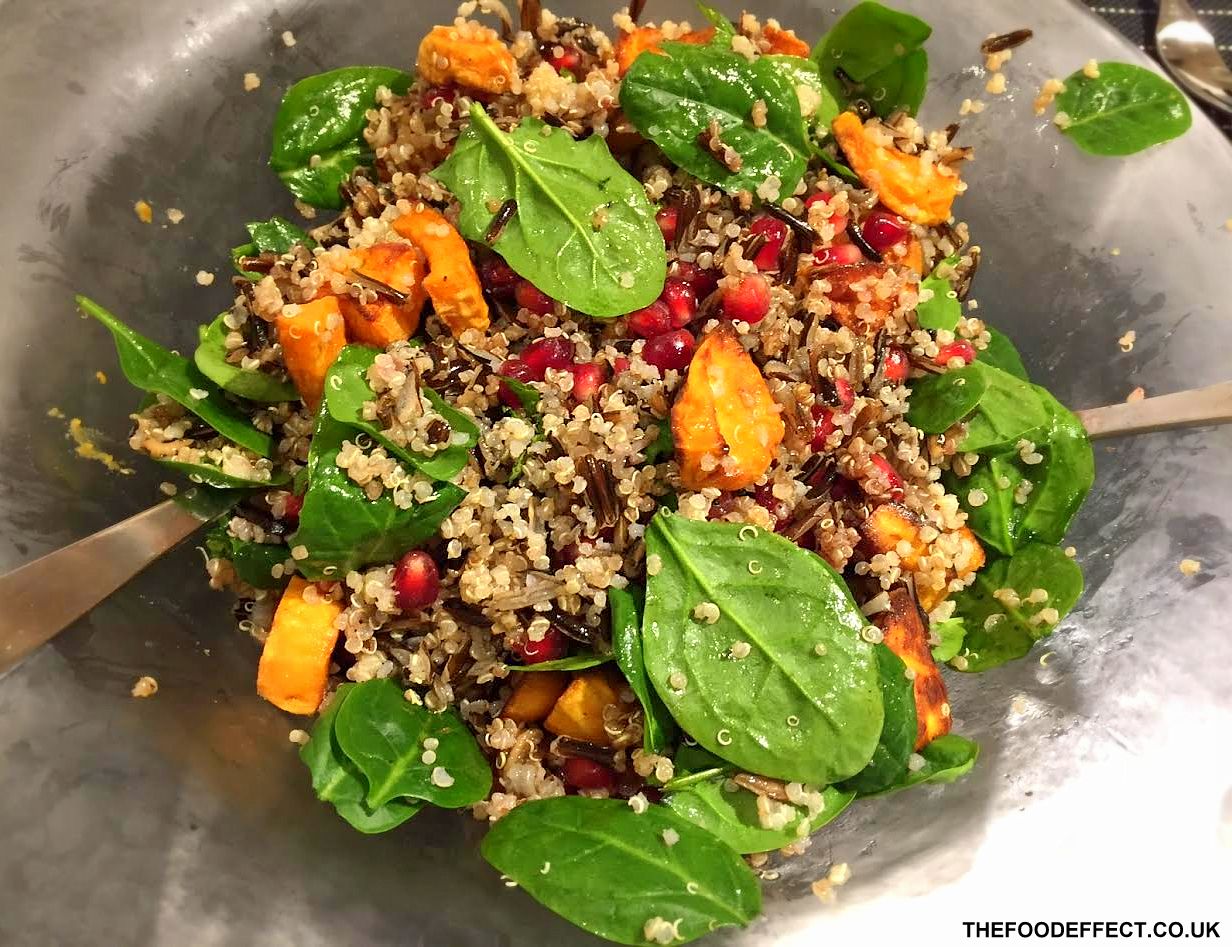 This colour-popping, vitamin-fuelled, anti-oxidant and protein-packed salad is guaranteed to be a big hit on any buffet table.  With its hearty wholesome ingredients, it's also the perfect salad for winter – when you might not feel like a big bowl of plain chopped veg!  It would also be ideal to serve at a barbeque or pack along for a picnic, when the sunshine decides to make an appearance!  The combination of ingredients is perfect – wholesome quinoa and wild rice, soft roasted sweet potato, pomegranate seeds, feta cheese and pistachio nuts if you fancy – completed by flavoursome spring onions and a simple yet delicious dressing.
It's an incredibly versatile recipe that can be served alongside grilled chicken or fish but is also substantial enough to make a perfectly delicious light lunch or dinner – especially when topped with the protein-packed feta cheese and heart-healthy pistachio nuts!
Quinoa is one of the few grains that is a complete protein, meaning it provides all of the nine essential amino acids our bodies need.  It is, therefore, used as a building block for muscle and tissue and will also help curb appetite and keep you fuller for longer.  Wild rice is another grain that is also rich in protein and fibre (containing twice as much as most other grains, including brown rice).  Both quinoa and wild rice are good sources of iron (keeping red blood cells healthy), lysine (essential for tissue growth and repair), magnesium (vital for sleep, healthy nerves, muscles and blood vessels), manganese and riboflavin (Vitamin B2).  They are both also naturally gluten-free, so perfect for those with Coeliac disease.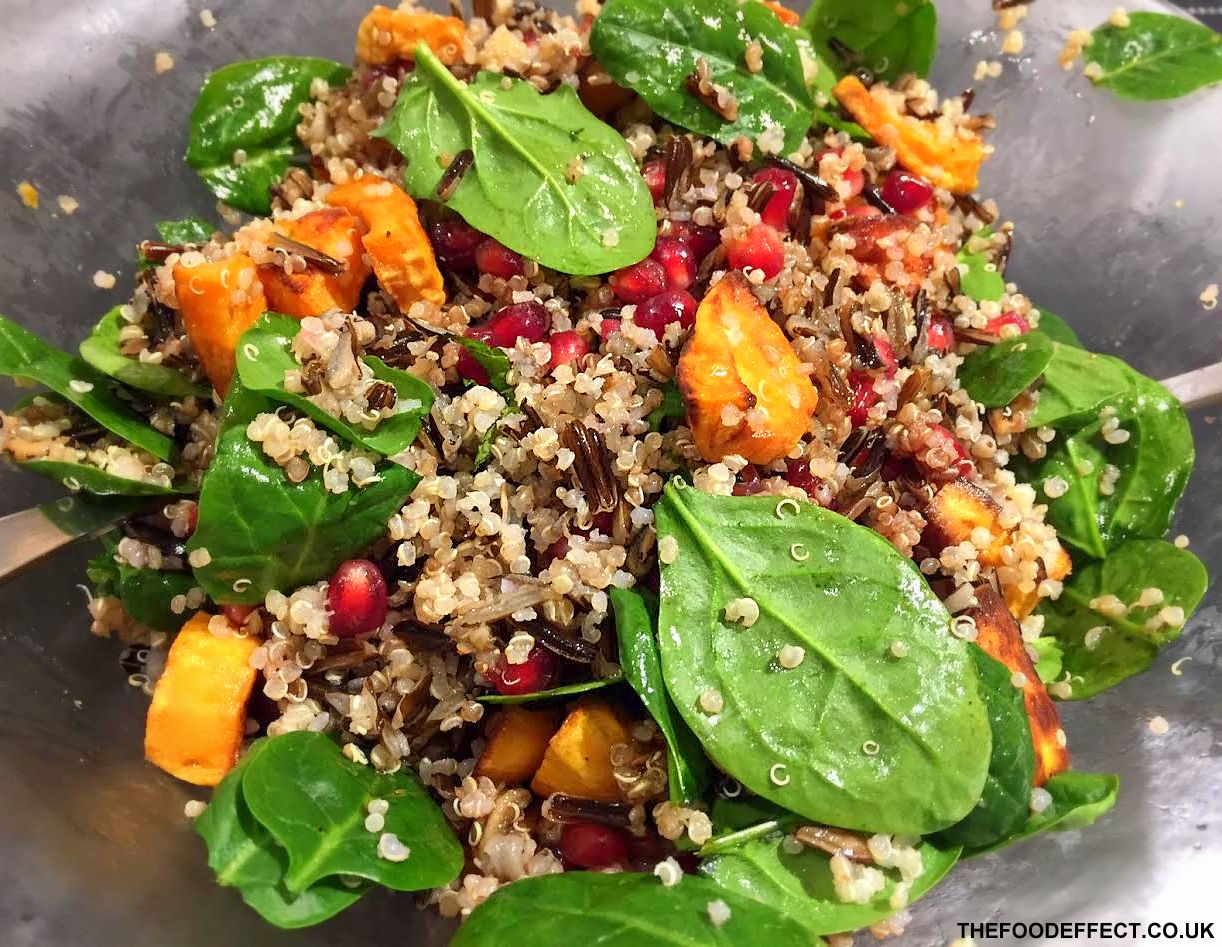 Apart from being tantalisingly tasty, sweet http://premier-pharmacy.com/product-category/cancer/ potatoes are an excellent source of antioxidants and Vitamin A.  This superfood is also packed full of fibre, potassium, folate, Vitamin C, iron, copper and, perhaps most importantly, the anti-oxidant beta-carotene, which also helps protect against cardiovascular disease and cancer – having been linked to a 20% decrease in post-menopausal breast cancer and up to a 50% decrease in incidence of cancers of the bladder, cervix, prostate, colon, larynx, lung and oesophagus.  Additionally, not only do sweet alprazolam potatoes pack in a good amount of iron, they also contain copper – a mineral that helps your body absorb iron!
Pomegranate seeds are jam-packed full of anti-ageing and anti-cancerous anti-oxidants.
The fibre, protein, vitamins and minerals from the quinoa, wild rice, sweet potato and pomegranate seeds in this salad, means it will provide long-lasting satiety and stable blood sugar levels.  The dressing is also super-healthy – ensuring thorough absorption of all the nutrients and vitamins from the abundance of healthy ingredients and the heart-healthy olive oil promoting satiety – a real win-win!  So what are you waiting for?  Infuse some colour into both your diet and winter with this salad that makes eating healthy a breeze (even in the freezing cold)! 🙂
Recipe
Serves 2 as a main course (e.g. lunch), 4 as a side dish
Ingredients
½ cup wild rice uncooked
¾ cup quinoa uncooked
1 sweet potato peeled and cubed into 2 cm chunks
1 handful rocket leaves
½ cup pomegranate seeds
4 spring onions chopped
A handful of few mint leaves, washed and chopped
½ cup feta cheese, cut into small cubes (optional);  Pistachio nuts to garnish (optional)
Dressing:
¼ cup olive oil
2 Tbsp. red wine vinegar
½ teaspoon salt
Grinding of black pepper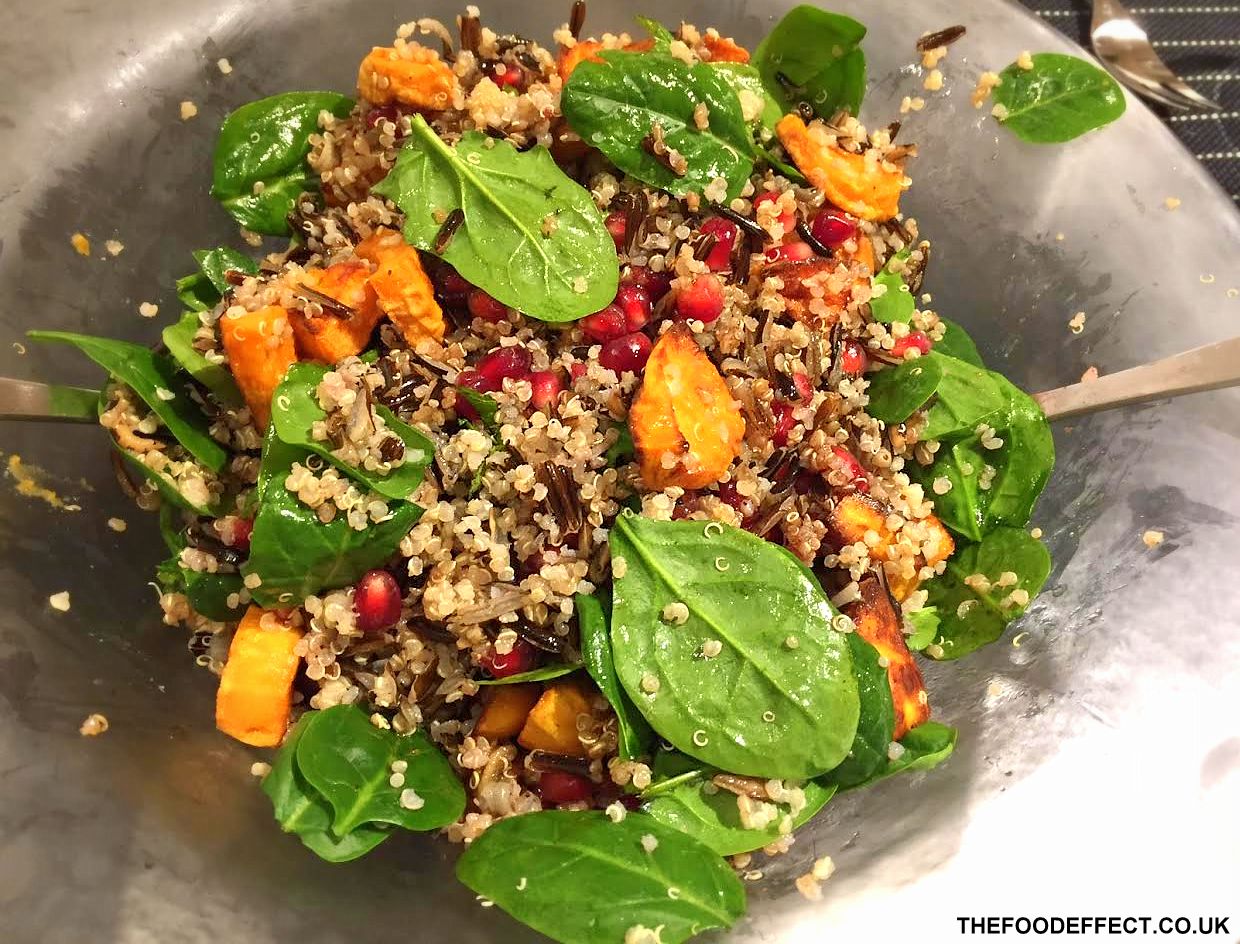 Directions
Coat the cubed sweet potato with a drizzle of olive oil and a sprinkling of salt.  Place on a baking tray in a preheated 200°C oven and roast for 30-45 minutes until soft and slightly browned.  Allow to cool.  Rinse quinoa well and put in a pot with 1 and ½ cups water.  Bring to the boil, turn to low and cook for about 15 mins or till all liquid has been absorbed.  Allow to cool.
Rinse the rice and place in 1 cup of boiling water, return to the boil and add salt to taste.  Cover and simmer for about 45 minutes until the grains have popped.  Drain and allow to cool.
In a salad bowl, combined the cooled rice, quinoa and sweet potato and add all other salad ingredients.  Whisk the dressing ingredients together and pour over the salad.  Toss well to coat.  Serve and enjoy! 🙂
Leave a Response
You must be logged in to post a comment.