World Cup Pea Soup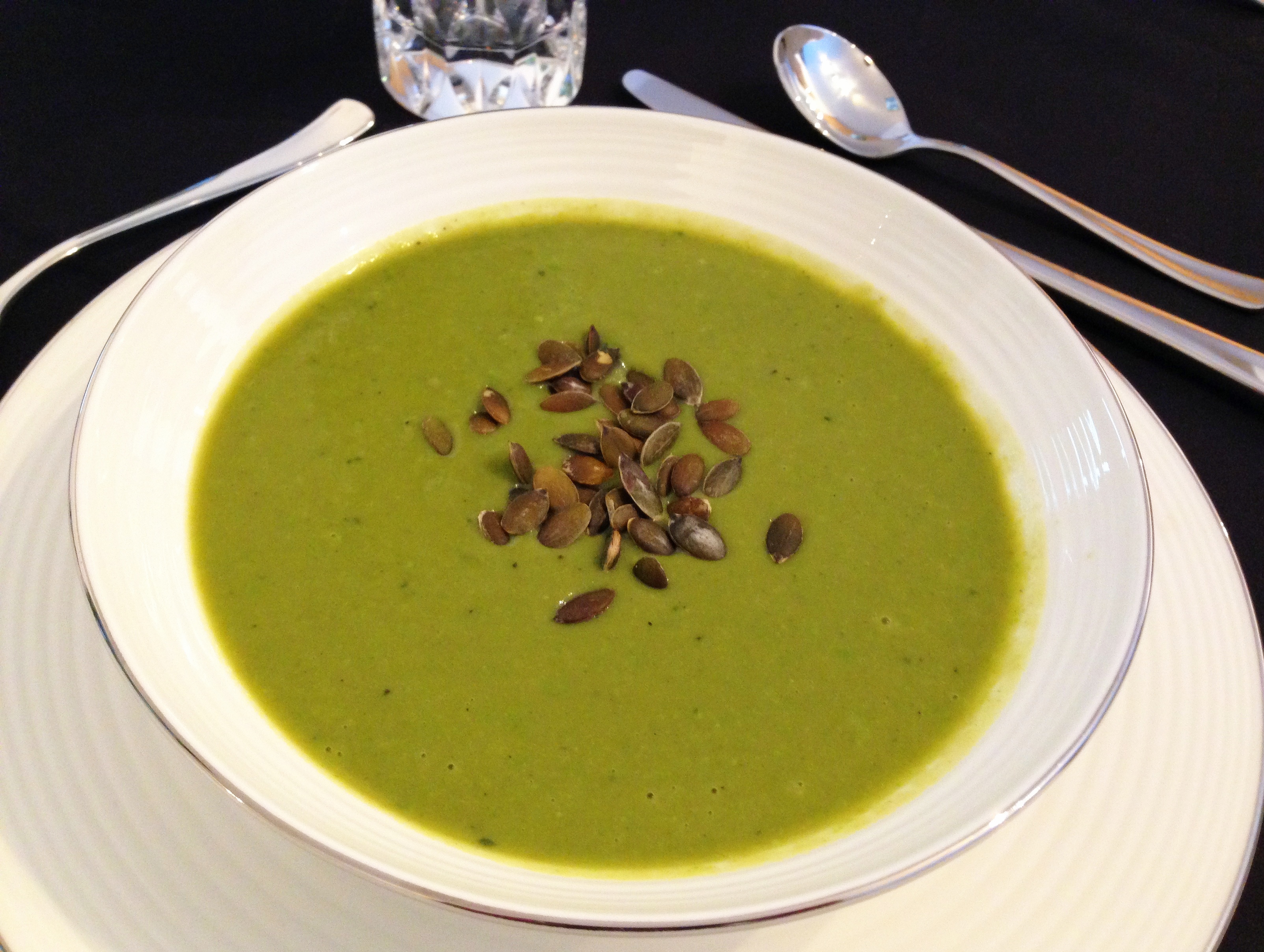 This outstanding soup recipe was born out of a dinner party I hosted last Sunday night – an accidental clash with the football World Cup Final, I must add, but one which was swiftly forgiven by all the fans attending due to the evening's roaring success.
Whilst I absolutely love entertaining, I don't get to do it almost as often as I'd like to, due to the simple fact that there are not enough hours in the day!  The cooking and preparation it involves obviously takes up a significant amount of time, but for me, the most time-consuming part is deciding on the menu in the first place, which comprises of writing endless lists, trawling through a library of recipes – both my own and those from books, magazines, etc. – and, more recently, the mouth-watering images on Pinterest!  I'll be the first to admit, somewhat shamefully, that I can literally spend days – sometimes even weeks – deliberating over the endless choice between already favoured recipes and an ever-increasing collection of new ones I'm desperate to try.
I finally decided on the bulk of the menu for this particular dinner party, which consisted of a large number of impressive main course dishes (if I do say so myself!) and a selection of show-stopping desserts (all Food Effect friendly, of course)!
With this in mind, I didn't really fancy making an array of appetizers or fussing over fancy finger-foods and a selection of starters, so instead I turned my attentions to making a scintillating soup, along with some delicious seeded bread, crackers and nuts.
My go-to crowd pleasers are usually a delicious Butternut Squash Soup and my all-time favourite Lemony Lentil Soup.  Whilst both of these are outstanding, judging by the recent sunshine which has finally decided to make a rare appearance, I deemed their comforting thickness less-than suitable for a hot summer's eve.  Thus, the fresher, more summery option of Pea Soup was born.
After painstakingly researching around 100 pea soup recipes online, as well as scanning my own recipe books filled with previous dishes I've created, I finally came up with a brand spanking new creation – or, at least the theory of it, written down on paper!  It included: peas, fresh mint, onion and Romaine lettuce. (See health benefits below)
To say it was a success is an understatement – it was genuinely one of the best soups I've ever tasted and the guests expressed similar sentiments. Thick and creamy yet light and refreshing, one of the male guests – a self-confessed football fanatic – even said it was worth http://premier-pharmacy.com/product-category/sleeping-aids/ missing the World Cup Final for! 🙂
Apart from its delicious taste, this Pea Soup also has nutritional benefits to match:
Peas are a good source of protein, B vitamins, and a variety of minerals including phosphorus, manganese, magnesium, potassium and iron.  They are also an excellent source of dietary fibre, Vitamin C, Vitamin K and carotenes – which are important anti-oxidants.
Onions are an excellent source of Vitamins C, K, B1 and B6, and also a good source of biotin, chromium, dietary fibre and folic acid.  Like garlic, clinical studies have shown onions and onion extracts to decrease blood lipid levels, prevent clot formation, and lower blood pressure. Onions have also been shown to have a significant blood-sugar lowering action, comparable to some prescription drugs often given to diabetics.
Mint leaves provide a wide range of health benefits. They have been shown to be an excellent digestant, relieve spasms of the digestive tract and ease the symptoms of irritable bowel syndrome.
All lettuce is a good source of chlorophyll and Vitamin K, however Romaine lettuce in particular, is the most nutrient dense compared to other lettuces, such as Iceberg, Butterhead and Roundhead.  It is an excellent source of Vitamin A, folic acid, and Vitamins C, B1 and B2 and the minerals manganese and chromium.  As another bonus, it also has an extremely low calorie content, with only 15 calories per 100g, and a high water volume, making it a great "weight-friendly" food.
I served this soup with fresh seeded bread and topped it with pumpkin seeds – a perfect fit, in my opinion, but you could also try chopped chives, roasted chopped cashew nuts or any other fresh herbs, and a drizzle of olive oil to top it off! Bon appetite 🙂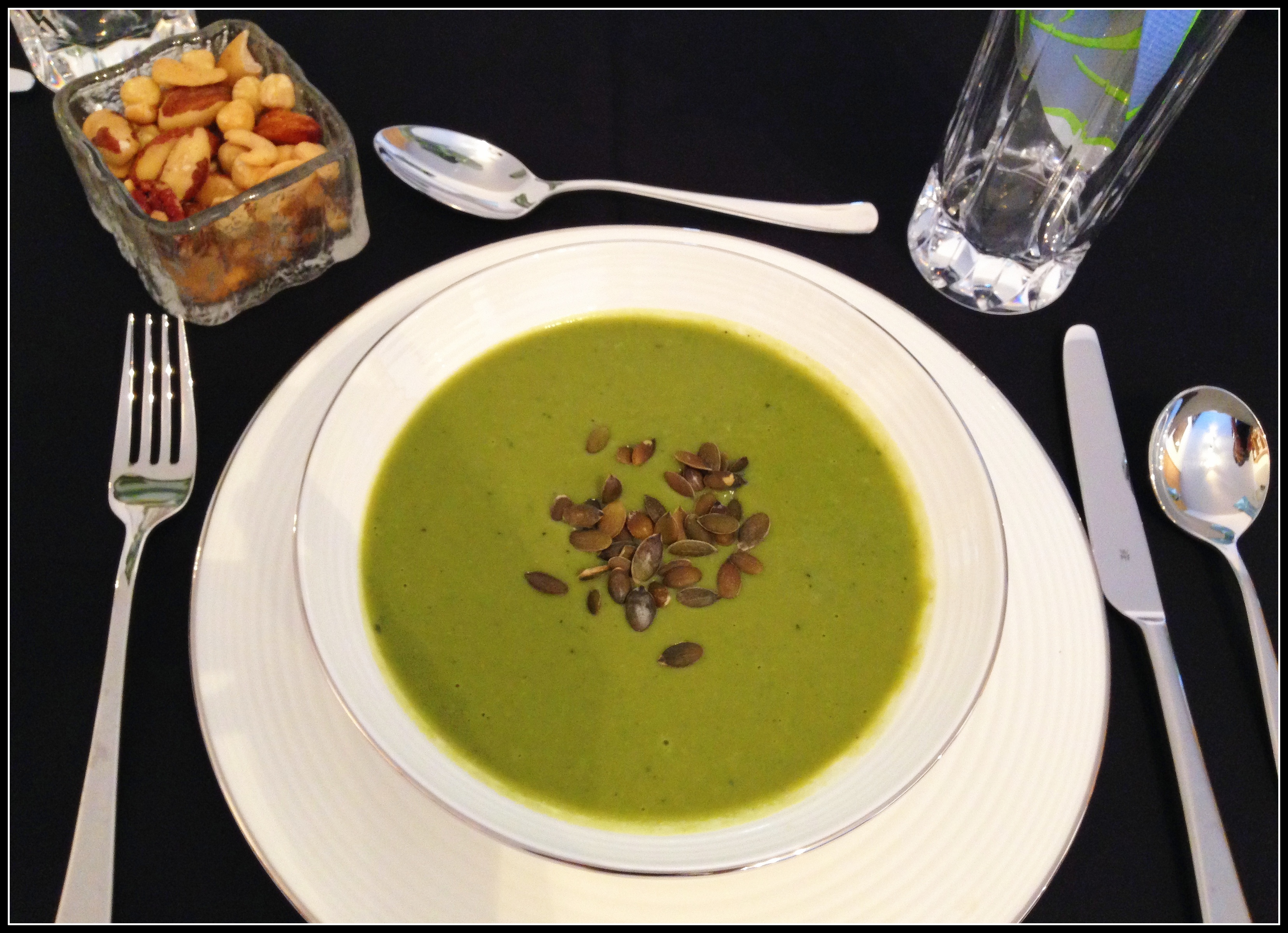 Recipe:
Serves 4-6 (recipe can easily be doubled to serve a larger crowd!)
Ingredients
1 large onion, chopped
800g frozen peas
1 head of Romaine lettuce, torn into shreds
1/3 cup fresh mint leaves
3-4 cups vegetable/ chicken flavoured stock
2 Tbsp. olive oil
2 tsp. fine sea salt
½ tsp. black pepper
Pumpkin seeds/ toasted chopped cashew nuts/ chopped chives/ mint leaves – to garnish
Directions
Heat the oil in a large pot and gently fry the chopped onion until clear and softened.
Add the stock and stir in the mint leaves and peas. Bring to the boil and simmer for 15 minutes.
Add the lettuce, salt and pepper. Simmer for another 10 minutes.
Purée the soup well, using a hand-held immersion blender or in a blender, until smooth and thick. Serve hot garnished with pumpkin seeds/ chopped cashew nuts/ chives and a drizzle of olive oil; and some fresh whole-grain breed alongside.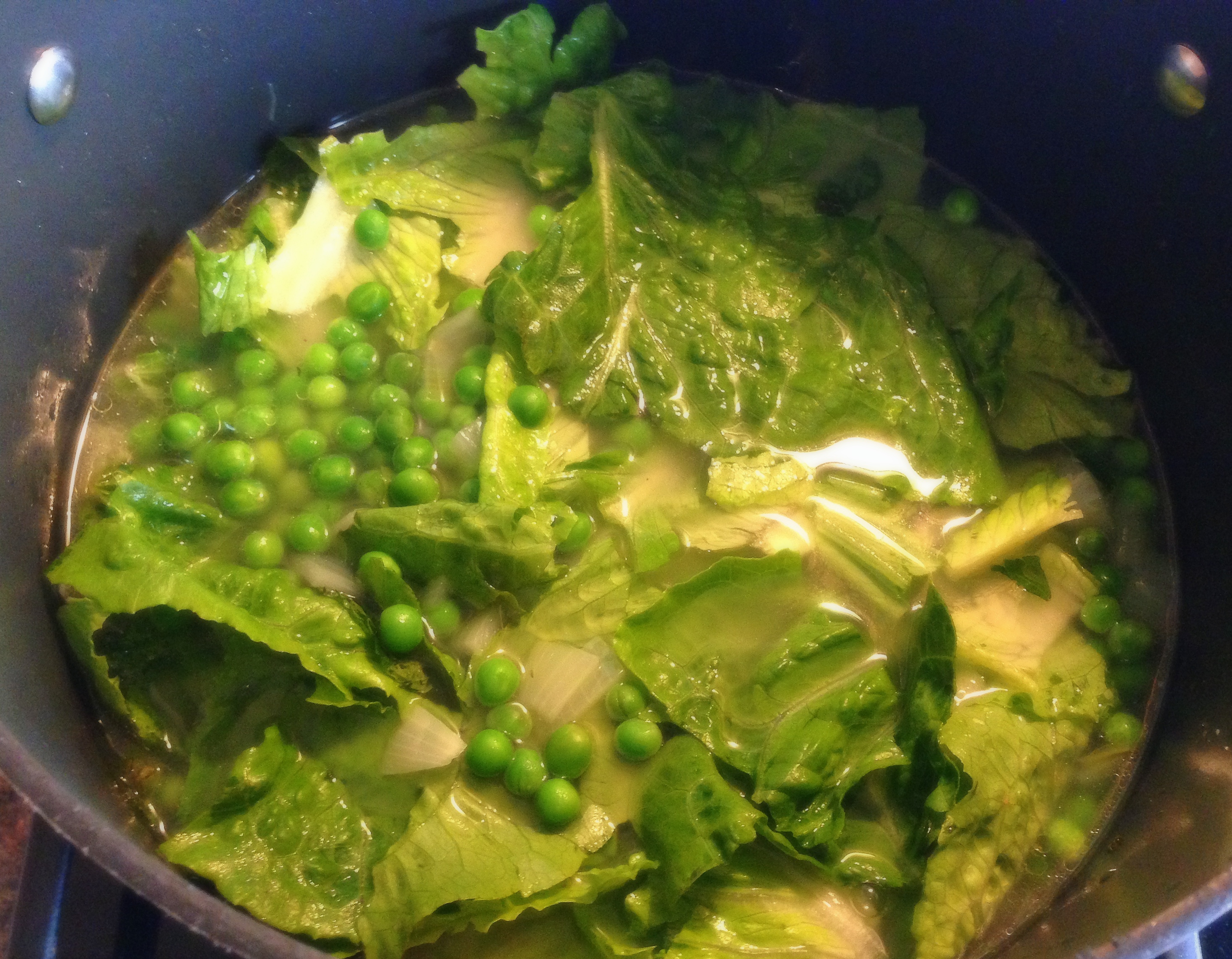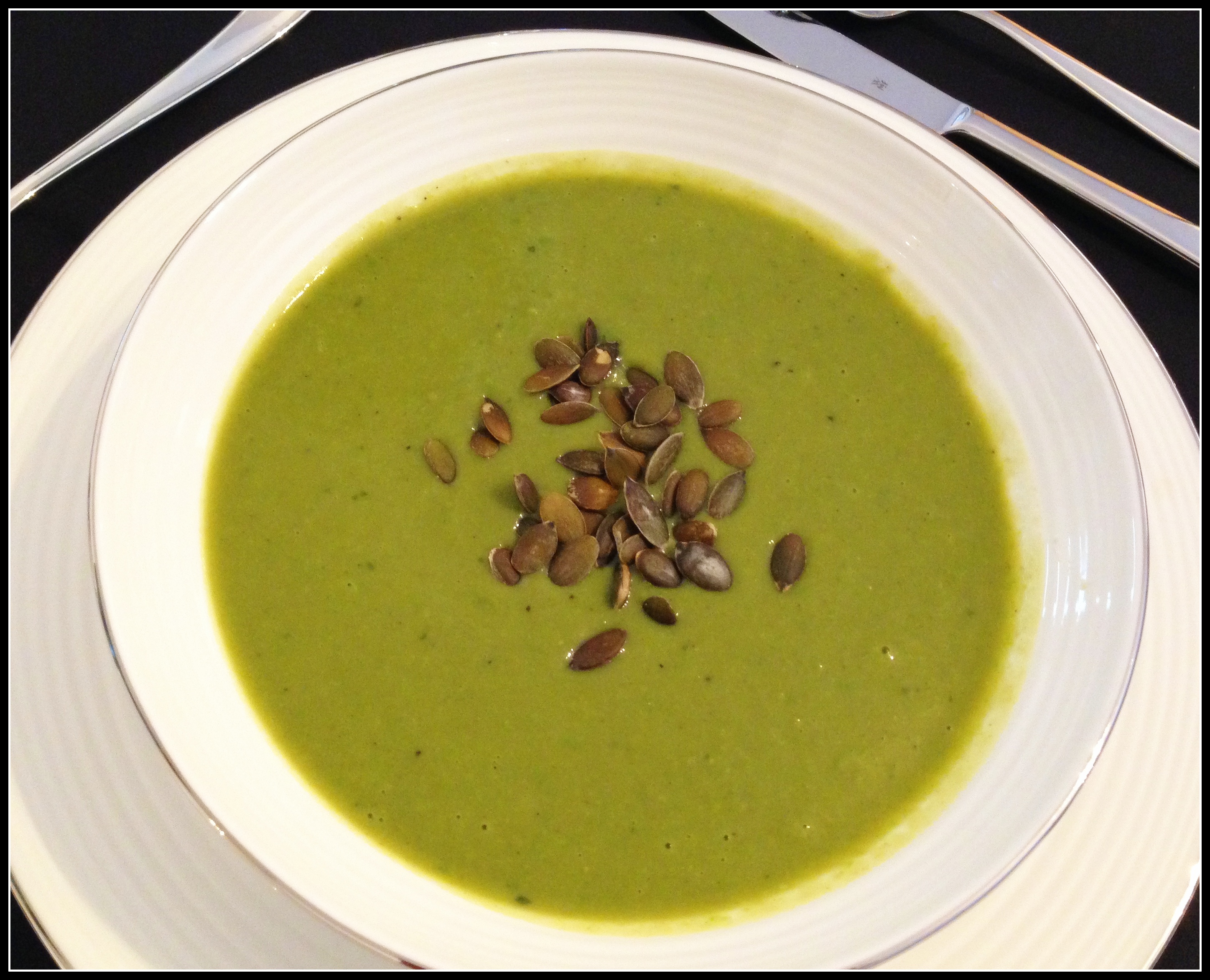 Leave a Response
You must be logged in to post a comment.