Zucchini, Tomato & Couscous Salad with Feta Cheese, Pomegranate, Mint & Chilli, & Lemon Tahini Dressing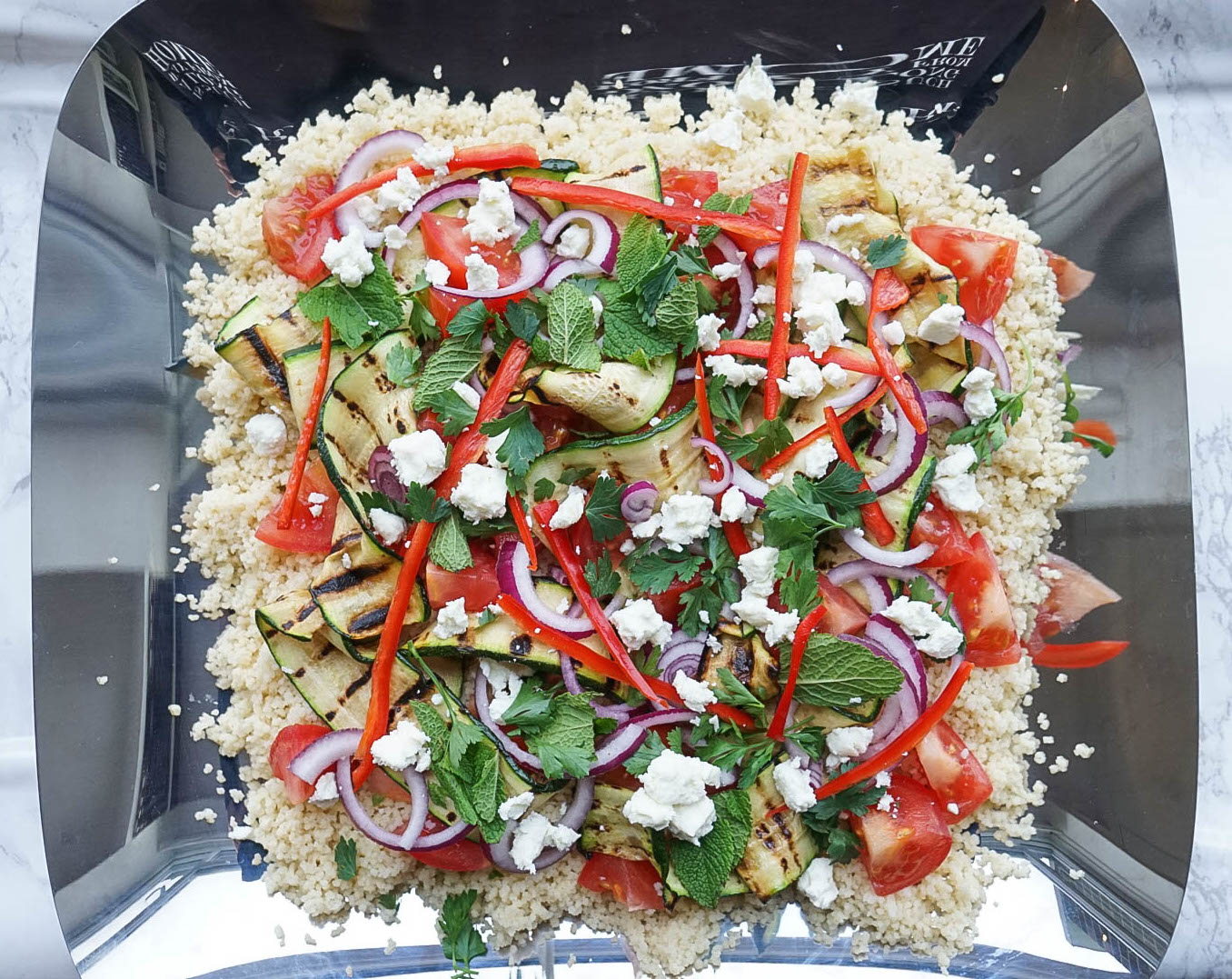 This salad is perfect for summer time!  It's packed full of colour, flavour and a wealth of amazing nutrition (protein, fibre, vitamins & minerals, healthy fats and a ton of anti-oxidants).
Leftovers also keep well in the fridge and make a delicious packed lunch!
If you want a dairy-free or vegan version of this dish, you can replace the feta cheese with a tin of chickpeas, or use vegan feta cheese. Either way, it's sure to please all!  😋  Enjoy! xx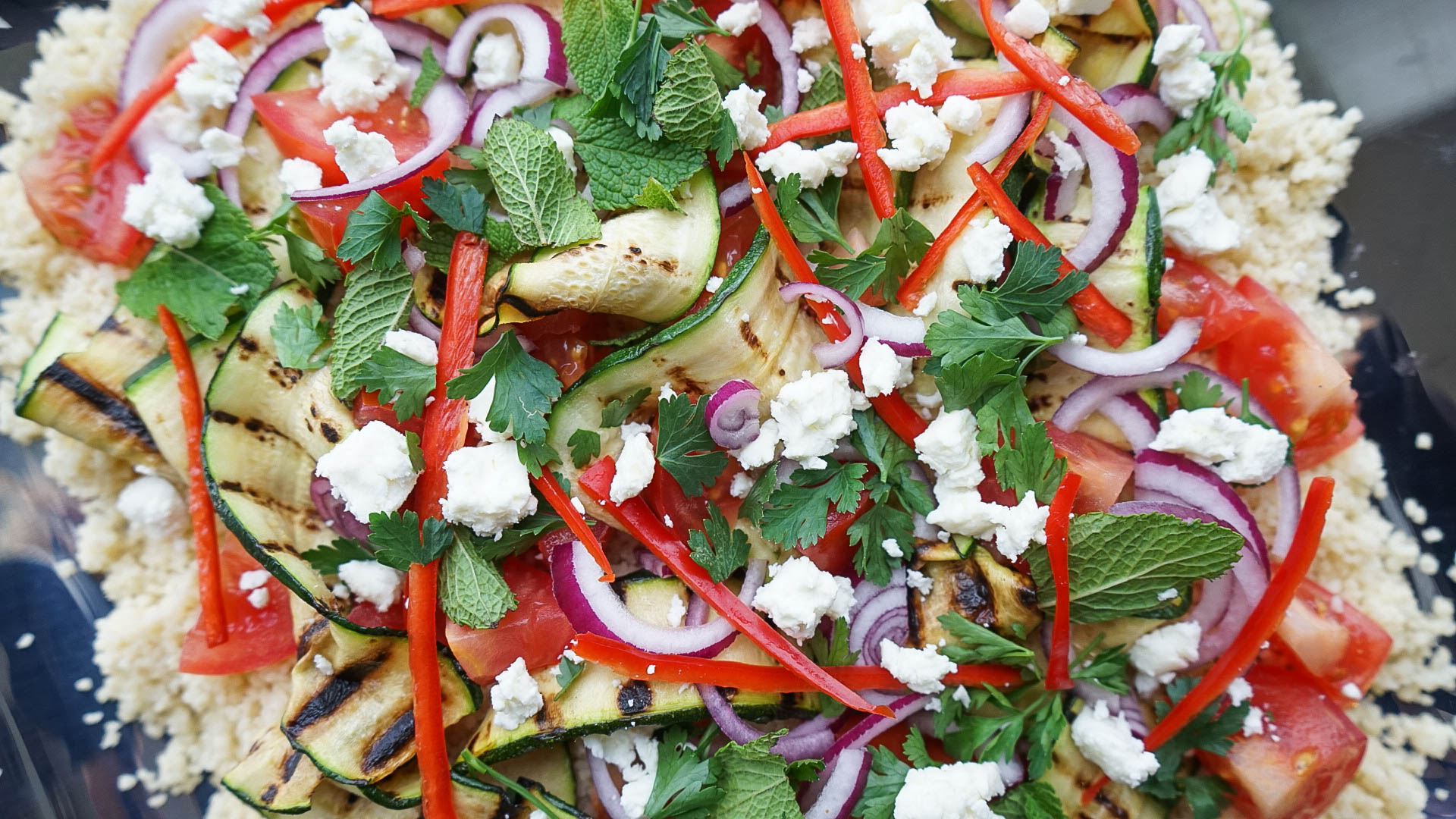 Recipe
Serves 4
3 medium size zucchini
2 Tbsp. olive oil
200g whole-wheat couscous
3 vine tomatoes, chopped into chunks
1 red onion, thinly sliced
200g feta cheese (or vegan feta), crumbled
1/2 cup pomegranate seeds
Fresh mint leaves & fresh parsley, to garnish
1 red chilli, deseeded & thinly sliced
Sea salt
Dressing:
2 Tbsp. lemon juice
2 Tbsp. olive oil
2 Tbsp. tahini
1/8 tsp. garlic powder
Salt & pepper, to taste
Thinly slice the zucchini lengthwise into long thing strips (you can use a vegetable peeler to do this if easier).  Drizzle the sliced zucchini with 2 Tbsp. of the olive oil and toss to coat well.  Heat a large griddle pan over medium-high heat, and cook the slices for 1-2 minutes on each side, until charred.  Set them aside to cool.  Put the couscous in a heatproof bowl and cook according to package instructions with a generous pinch of sea salt added along with the boiling water to cook.  Mix the remaining olive oil, lemon juice, tahini and garlic powder in a small bowl.  Season with salt and pepper to taste.  Fluff the prepared couscous with a fork when ready.  Spoon onto a large serving platter.  Scatter over the grilled zucchini, diced tomatoes, feta cheese, red onion, fresh mint, fresh parsley and chilli.  Garnish with pomegranate seeds.  Drizzle over the dressing.  Serve and enjoy!
P.s. I accidentally left off the pomegranate seeds when I photoed this dish 😭 but I added them after… and it looked even better! 😍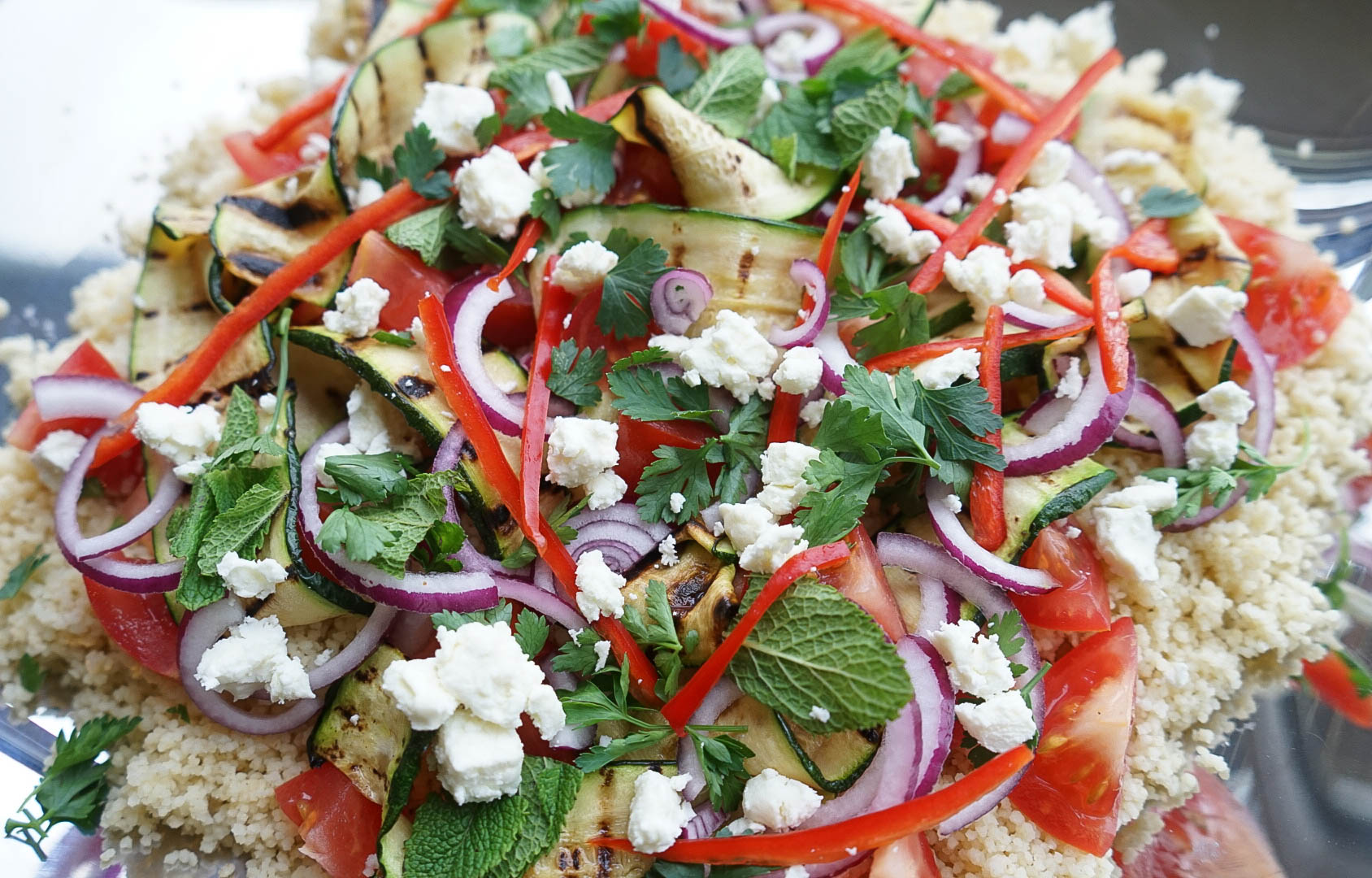 Leave a Response
You must be logged in to post a comment.