CURRIED POPCORN DELUXE
If you're searching for a delicious yet healthy, quick and easy snack to fulfil your evening cravings – then look no further… Curried Popcorn Deluxe is one of my favourite savoury snacks to make right now, especially on those cosy autumnal nights in front of Netflix!
It's vegan, gluten-free, dairy-free and sugar-free – but absolutely packed with flavour – and a ton of nutritional goodness too!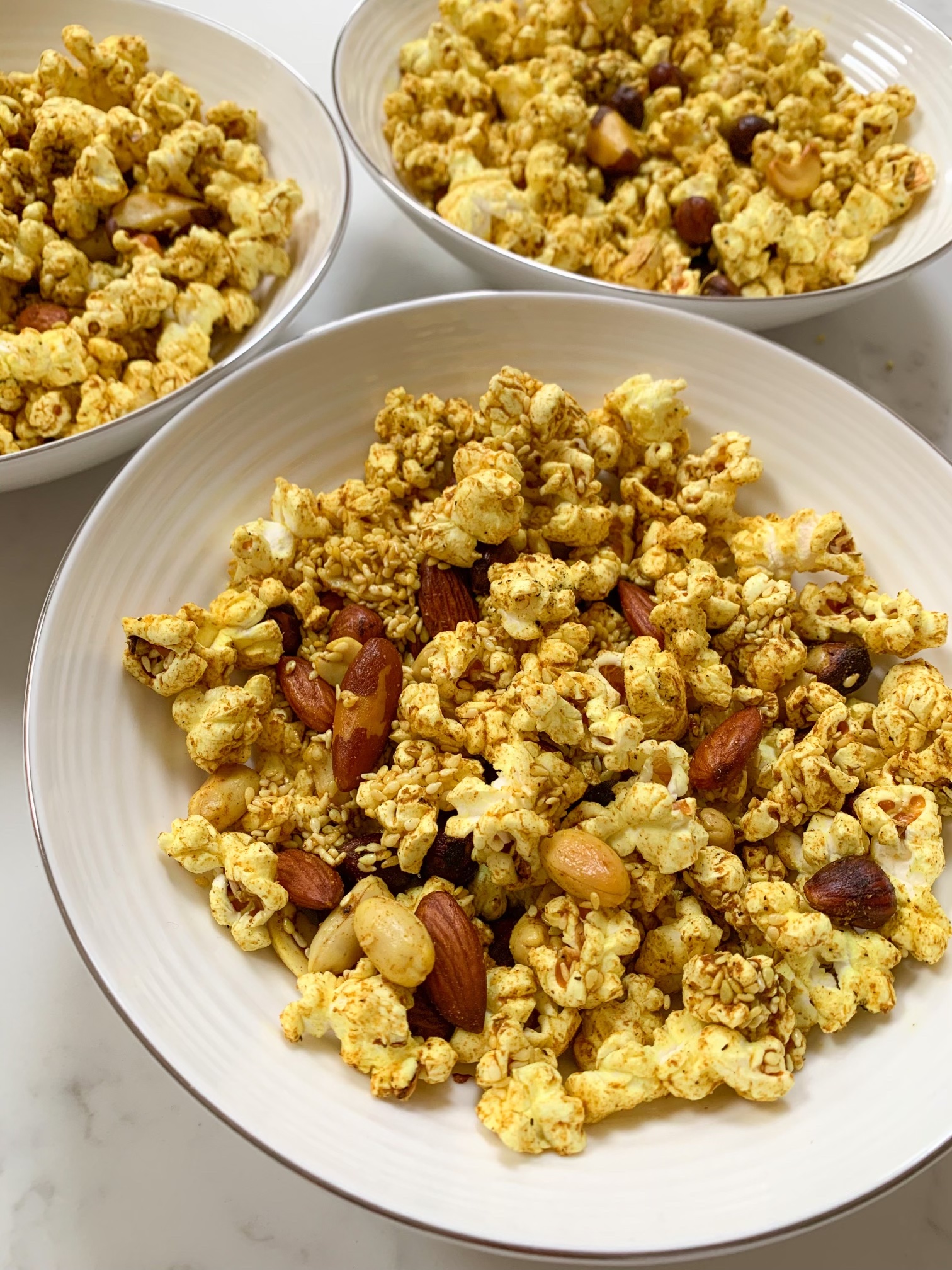 Popcorn really is the perfect healthy, low-calorie, waistline-friendly snack, and in this recipe, I've spiced it up with the addition of curry powder, and a few other spices – including turmeric, which has endless health benefits (you can read more about here.)
Anyone who knows me or has followed me for a while will know that I'm the biggest nut lover. I eat them every day and recommend them to my clients, both for weight loss and their endless health benefits (which you can read about in my Nuts about Nuts post here).
The addition of nuts to this recipe, makes it a high-protein, high-fibre snack, full of healthy (waistline-friendly!) fats, ensuring you stay full & satisfied for longer.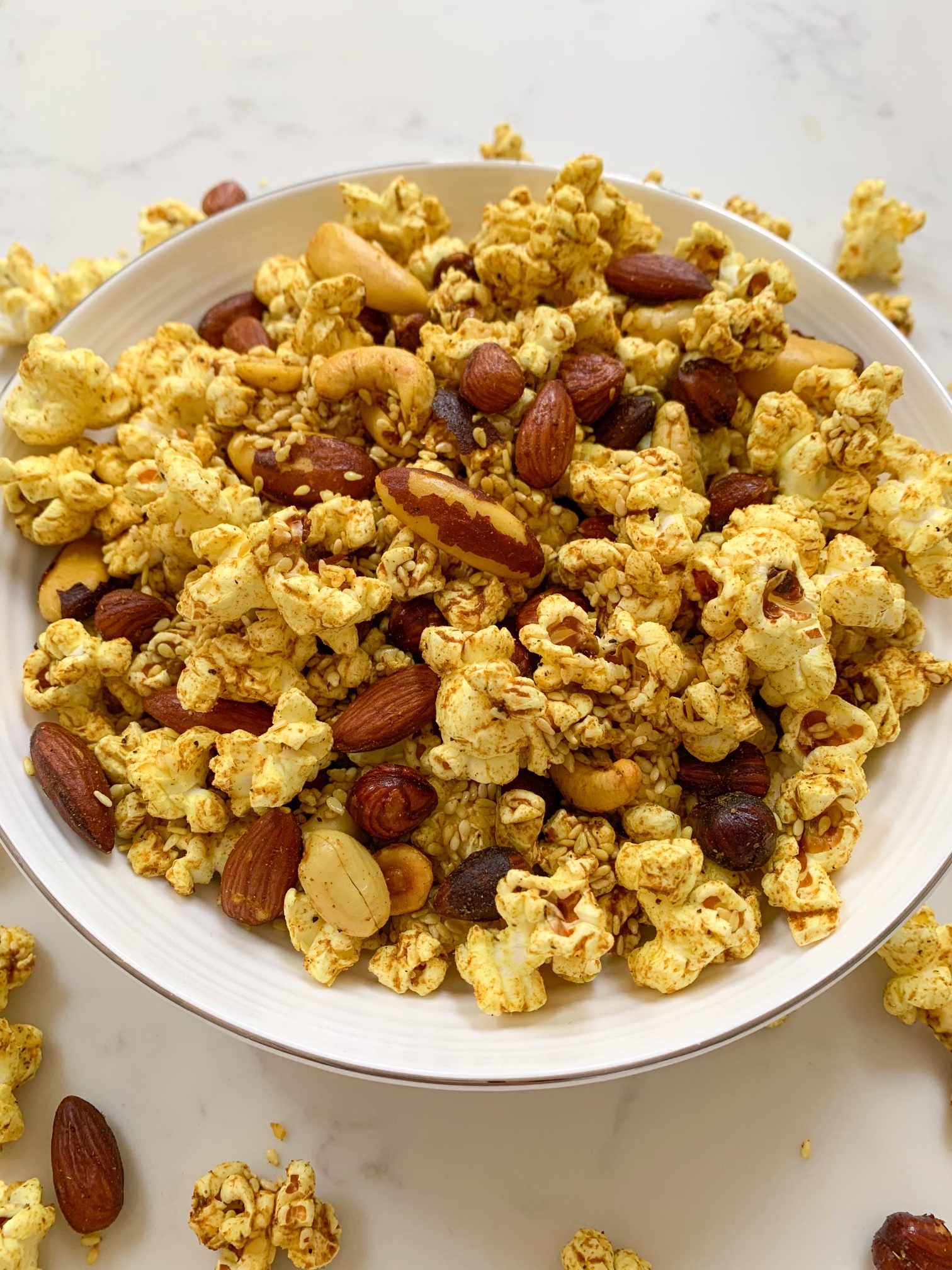 Recipe 
Ingredients
50g ready made salted popcorn (e.g. Propercorn) OR 1/2 cup corn kernels popped in 2 Tbsp. hot oil
4 Tbsp. coconut oil
1 tsp. curry powder
1 tsp. turmeric powder
2 tsp. cumin powder
2 cups mixed nuts (e.g. cashews, almonds, pecan nuts)
4 Tbsp. sesame seeds
2 Tbsp. mixed seeds (e.g. sunflower, pumpkin seeds and linseeds)
Sea salt and black pepper
Heat coconut oil in a large pan over medium heat. Add turmeric, curry powder, cumin, nuts, sesame seeds and mixed seeds. Cook for 2 minutes while stirring. Add the popped popcorn and toss well so that everything is coated evenly. Remove from the heat. Season generously with salt and pepper.
Allow to cool, serve and enjoy! xx
This can be stored in an airtight container – if there's any left! 😉
If you try this recipe, please do share and tag me on Instagram so I can see your delicious creations!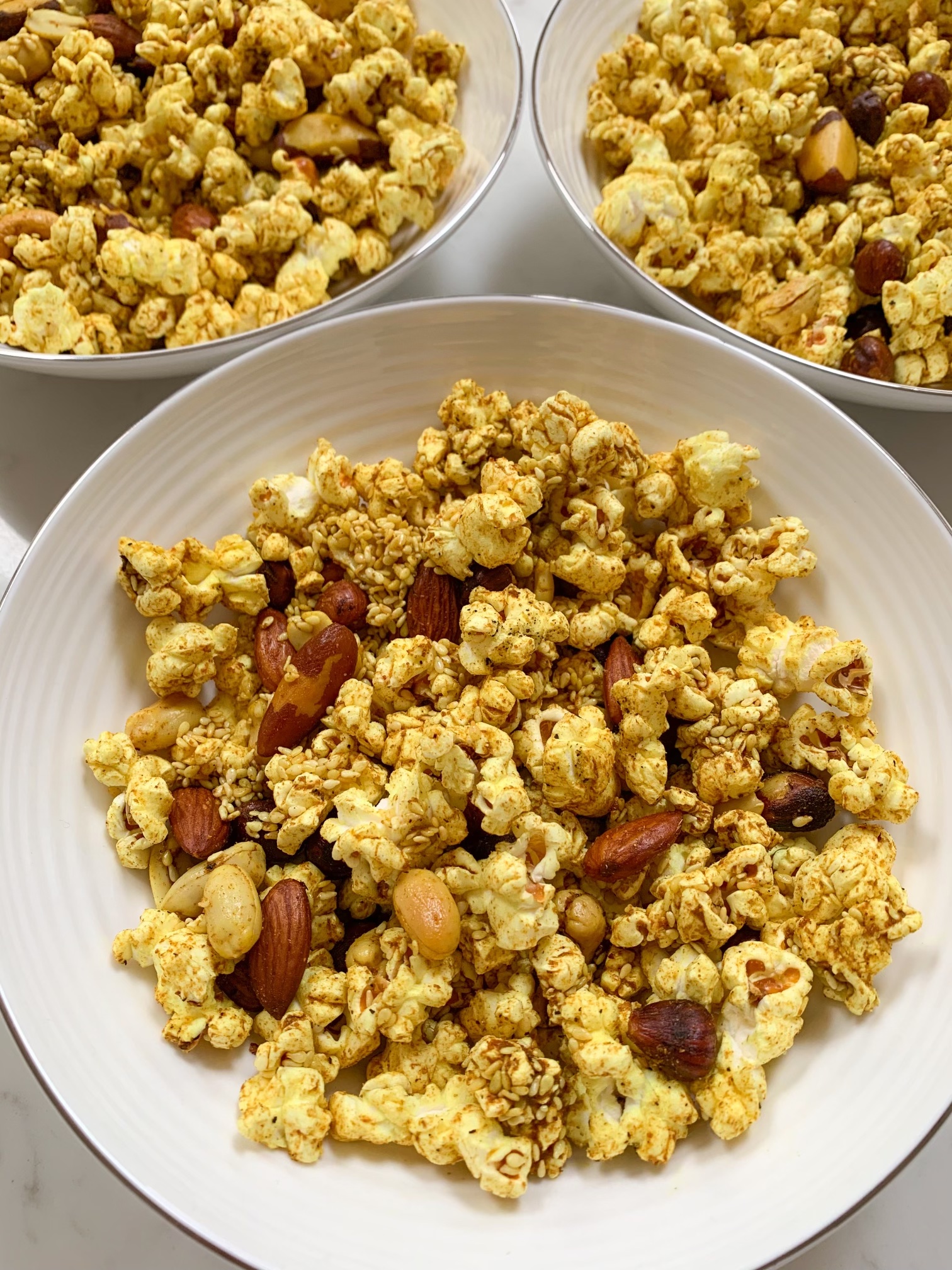 Comments are closed.