EASIEST EVER SHAKSHUKA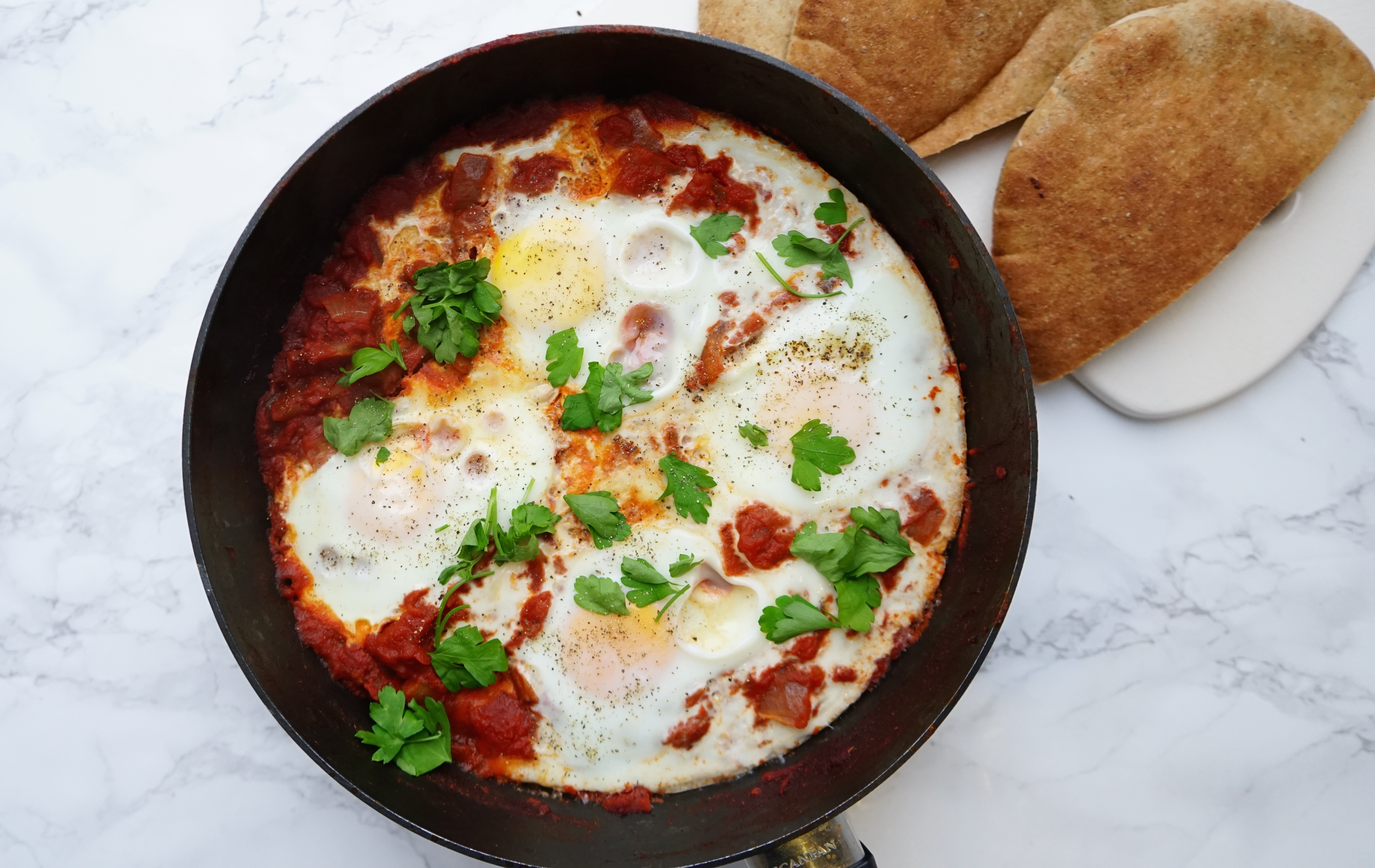 See my updated: EASIEST EVER SKIN GLOWING SHAKSHUKA post here!! 
If you've never heard of or tried Shakshuka, you are seriously missing out!  Shakshuka is a traditional Middle Eastern dish (now served across cafes & restaurants in London, and worldwide!), that consists of a thick tomato sauce with poached eggs cooked inside.  Some good bread alongside for dipping is obligatory!!  Lucky for you carbs are allowed on The Food Effect Diet! 😉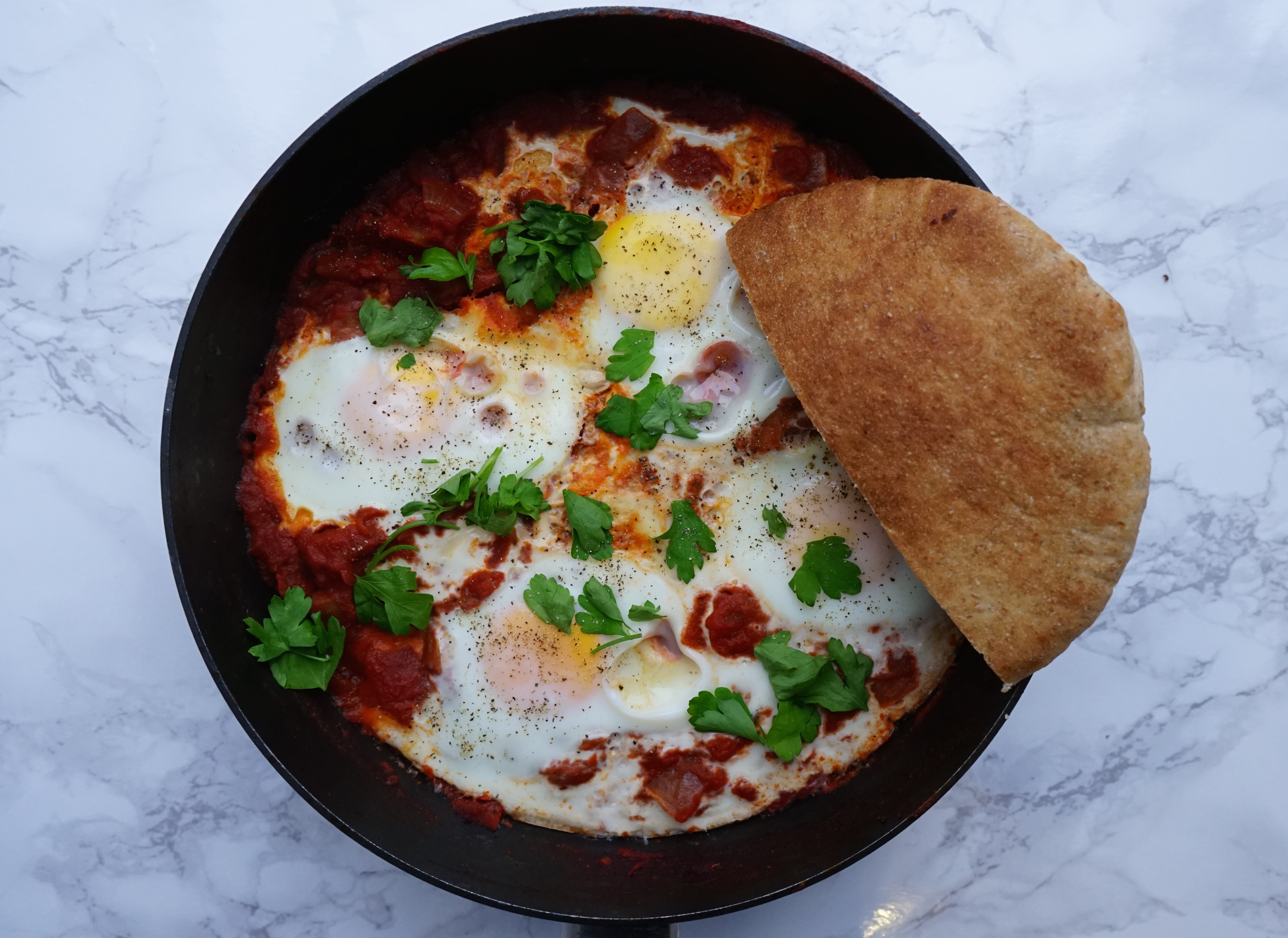 Back to Shakshuka… it's the best breakfast or brunch dish ever… (or make that dinner too!) and also the easiest meal to whip up mid-week or on the weekend.
If you only ever order it in restaurants, it looks like a fancy complicated dish, but it's actually incredibly easy once you learn how to make it yourself!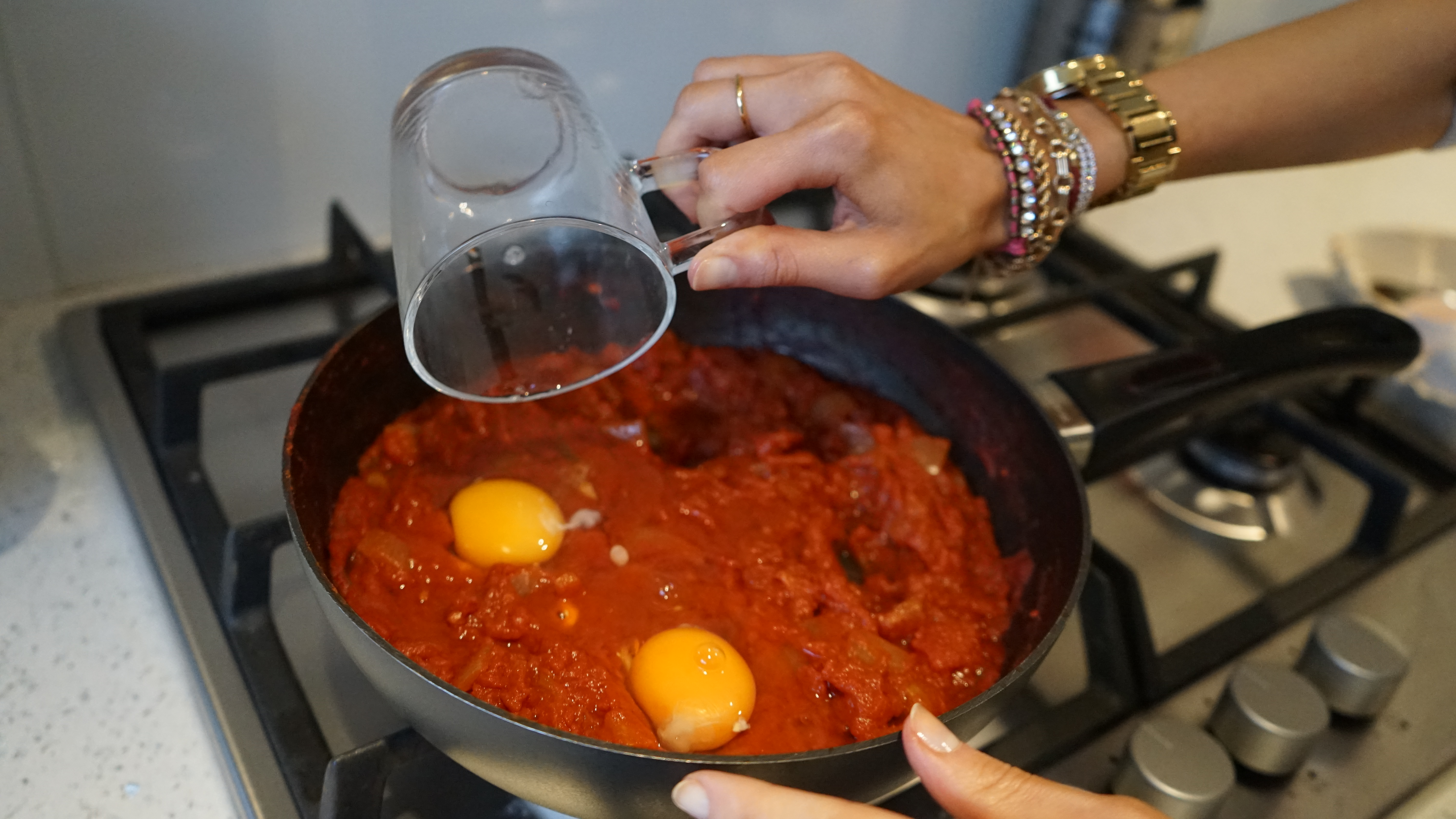 Eggs are a great source of protein (the most complete source second to human breast-milk), low in fat and carbs, and a fantastic source of folate, iron, zinc, selenium, Vitamin D, B Vitamins, choline and lutein.  Choline helps ensure proper functioning of the brain and combats inflammation, while lutein is a carotenoid that is good for your eyes.  B Vitamins make eggs a good food for your hair and nails and Vitamin D boosts immunity, facilitates the absorption of calcium and phosphorus and keeps your bones, teeth and muscles strong.
Aside from the protein, all this nutritional goodness is packed into the yolk, which is also home to tons of essential but hard-to-get nutrients and antioxidants that have been shown to help prevent macular degeneration and cataracts.  In fact, the protein in egg whites is not as nutritious without the yolks (which themselves contain ~3 grams of hunger-busting protein) – not to mention the fact that when eaten on their own, they also aren't as satiating.  Abandon them and you're likely to feel less satisfied, which can cause you to eat more later on.  So Shakshuka is a perfect way to abandon those "egg white only" omelettes and start enjoying the whole egg!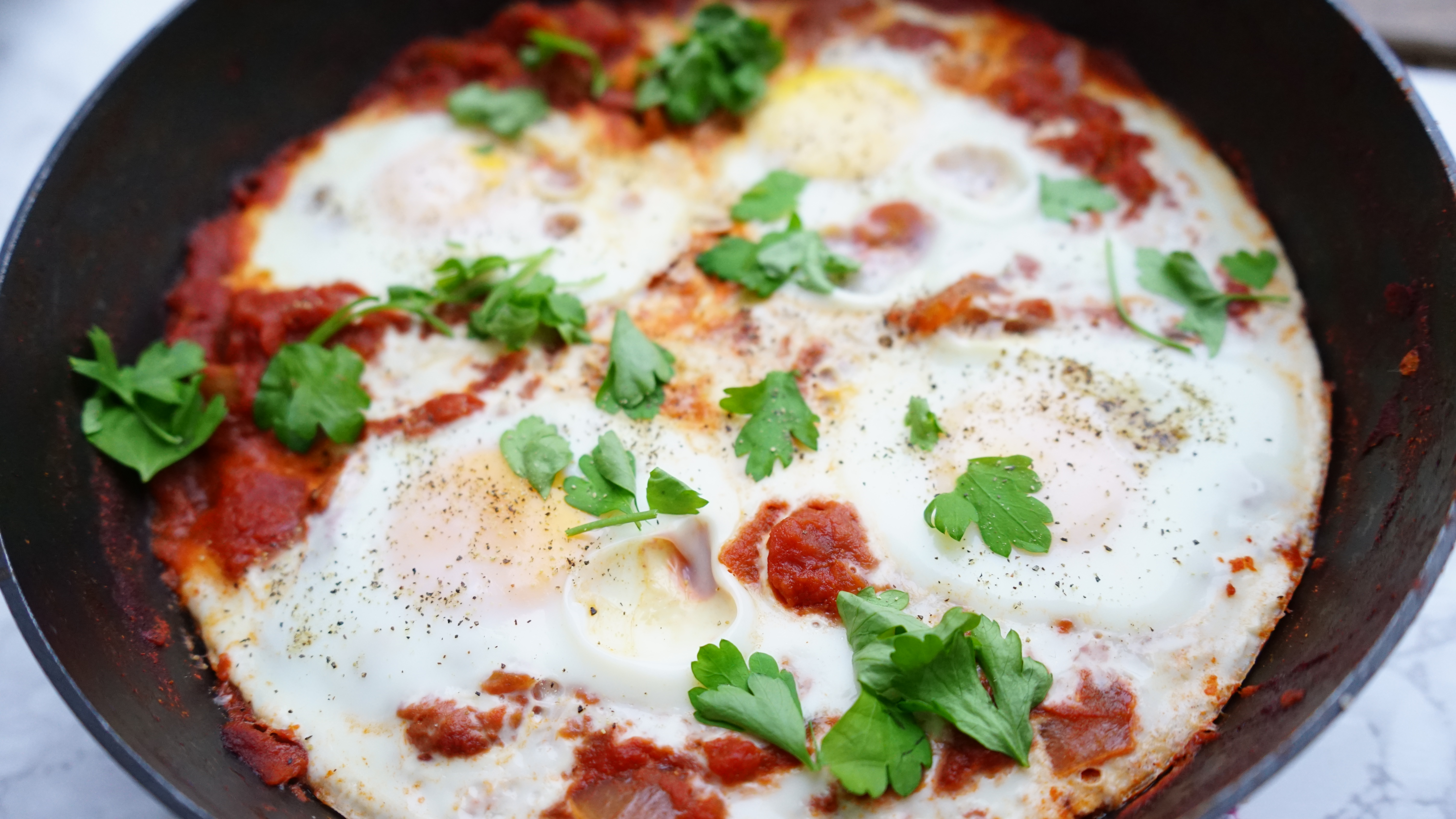 Another added bonus to whipping up this delicious dish at home, is that you can control the amount of oil that goes in, making it much more waistline friendly than restaurant version! 😉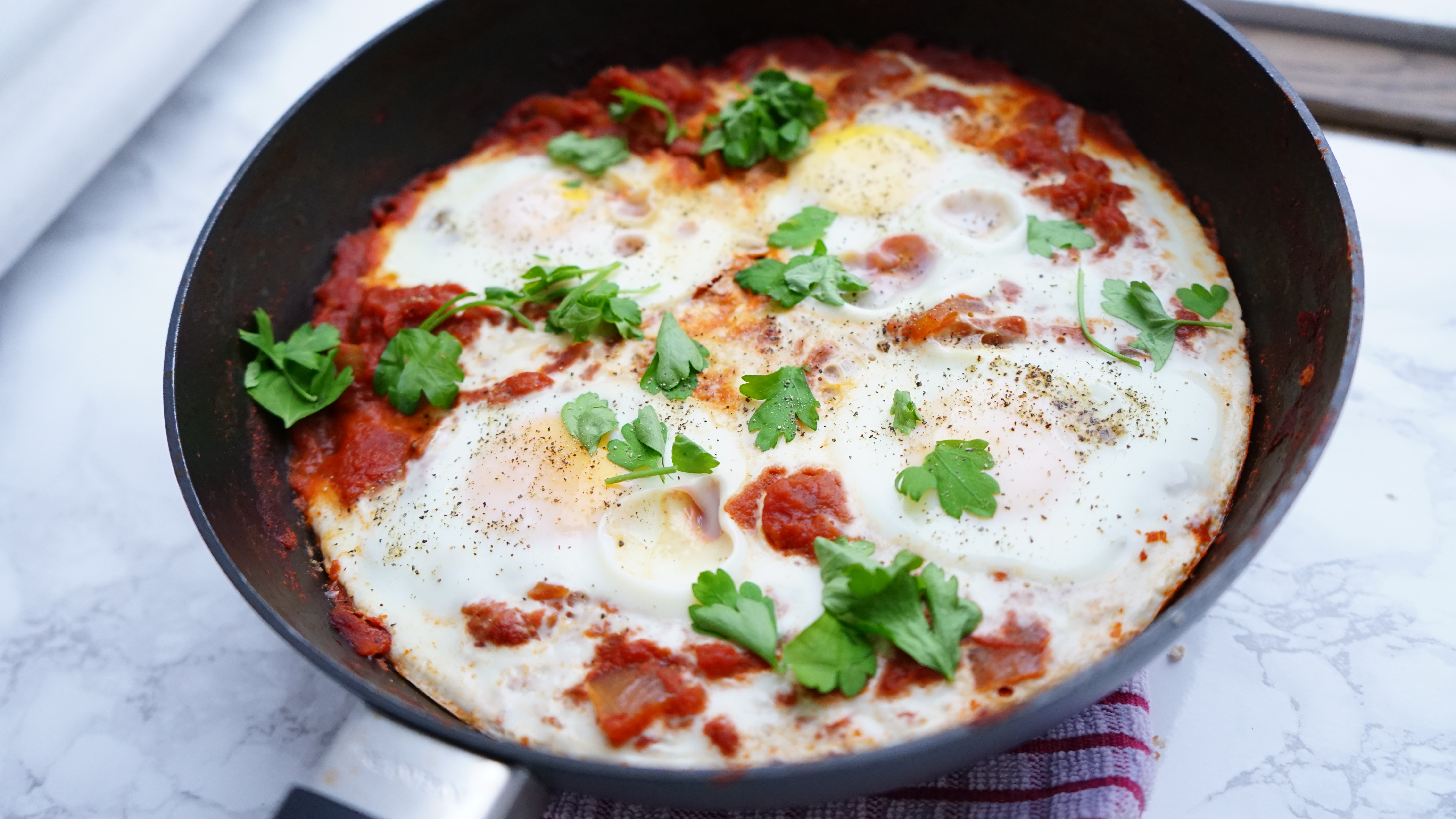 Basically Shakshuka is goodness, health and happiness in a pan… so go ahead and try it for yourself! 😉
RECIPE
Serves 2
1 tbsp olive oil
1 medium onion, sliced
1 clove of garlic, crushed; or ¼ tsp. garlic powder
2 x 400g tins of chopped tomatoes
1/2 tsp. harissa paste (or 1 tsp. chilli powder) – both optional (omit if you don't like spice)
1/2 tsp. cumin
1 tsp. paprika
1/2 tsp. sea salt (plus extra to season)
4 large eggs
2 tbsp fresh chopped parsley
Salt and fresh black pepper, to taste
Thick whole-meal or sourdough bread, or pitta bread – to serve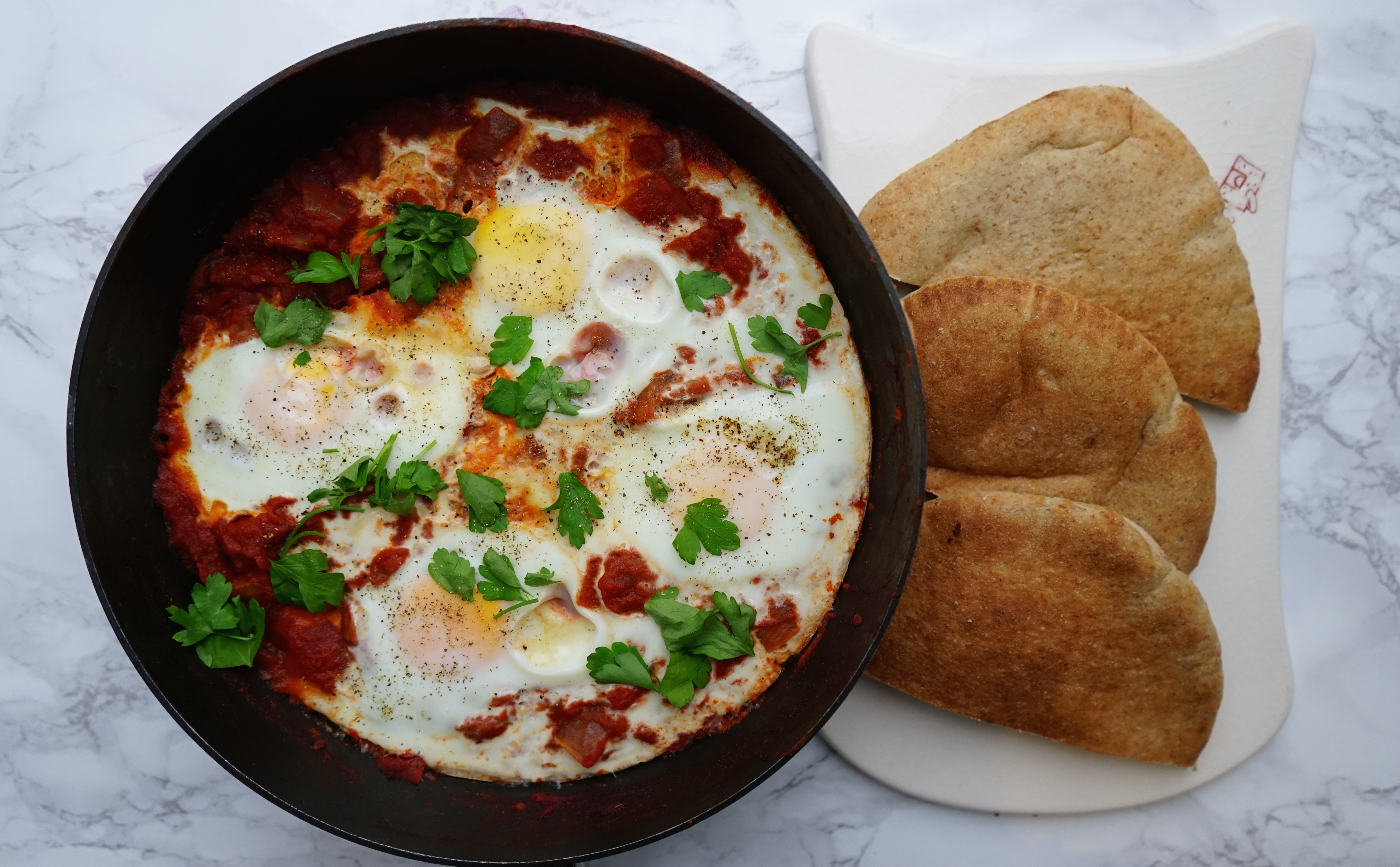 Heat the oil in a large lidded frying pan over medium heat.  Add the onion and sauté for around 5 minutes or until translucent. Add in the garlic (or garlic powder), harissa paste (or chilli powder), cumin, and paprika and cook for 1 minute.
Add the tinned chopped tomatoes and sea salt and bring to a boil. Reduce the heat simmer for 20-30 minutes, or until broth has thickened completely.  Create 4 small "pockets" in the sauce for the eggs and break the eggs directly into wells.  Season them lightly with salt and pepper.  Turn the heat down very low and cover the pan with a lid.  Let cook for about 8 minutes, or until the eggs are just set on top (cook for longer if you prefer more well done eggs).
Top with fresh chopped parsley and black pepper.  Serve immediately with plenty of fresh bread or pita for dipping.
Optional extras:
Add a pinch of cayenne pepper to the sauce (along with the additional spices) if you like things hot and spicy!!
Add sliced red or yellow pepper (or both!) when sautéing the onions.
Add feta cheese on top before serving.
Add sliced avocado on top before serving.
Top with olives (black or green, or both!)
Let me know if you make it. I am on Instagram @thefoodeffectdr if you do make it please share and tag me in your creations, I'd love to see! xx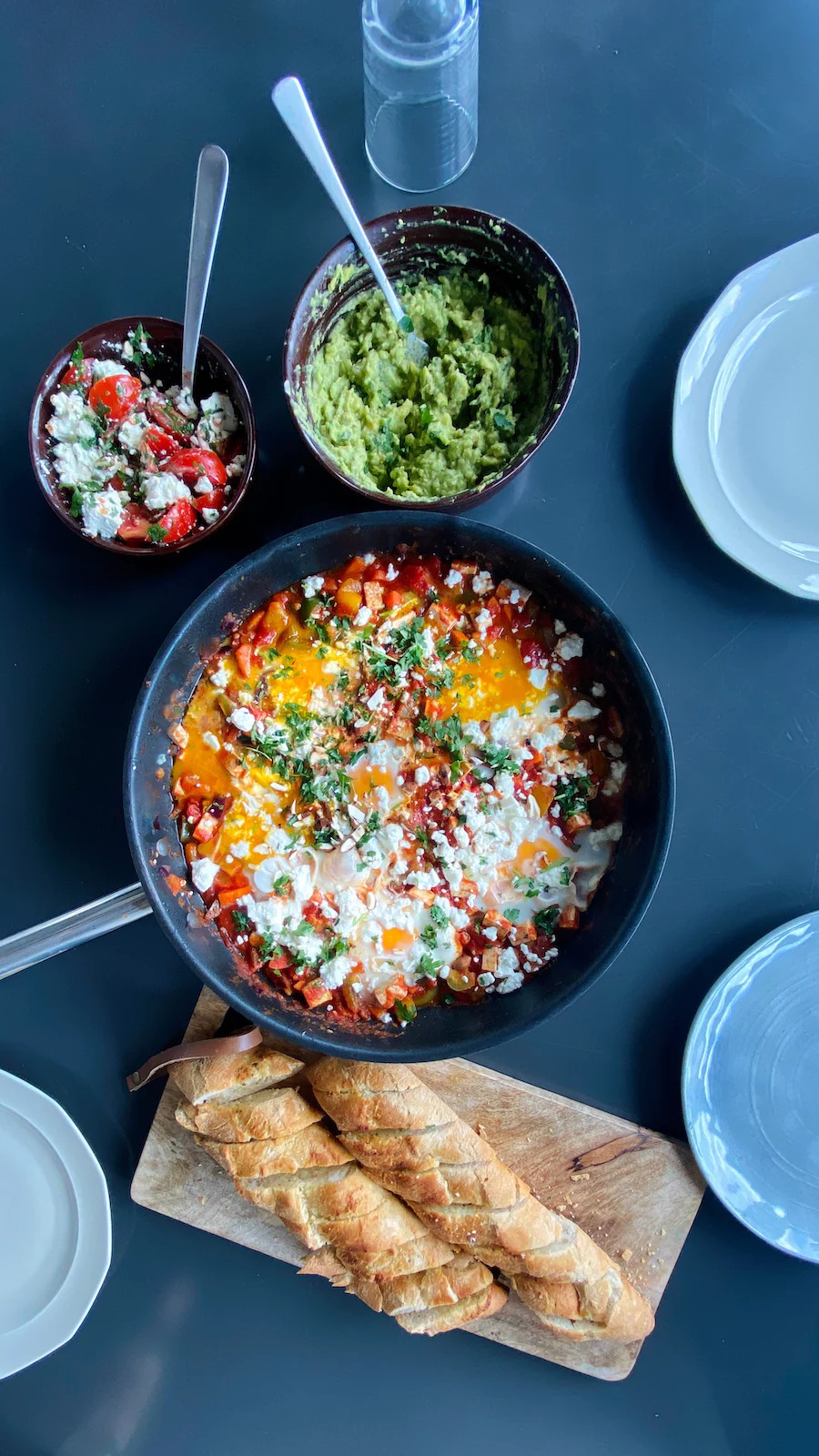 Leave a Response
You must be logged in to post a comment.